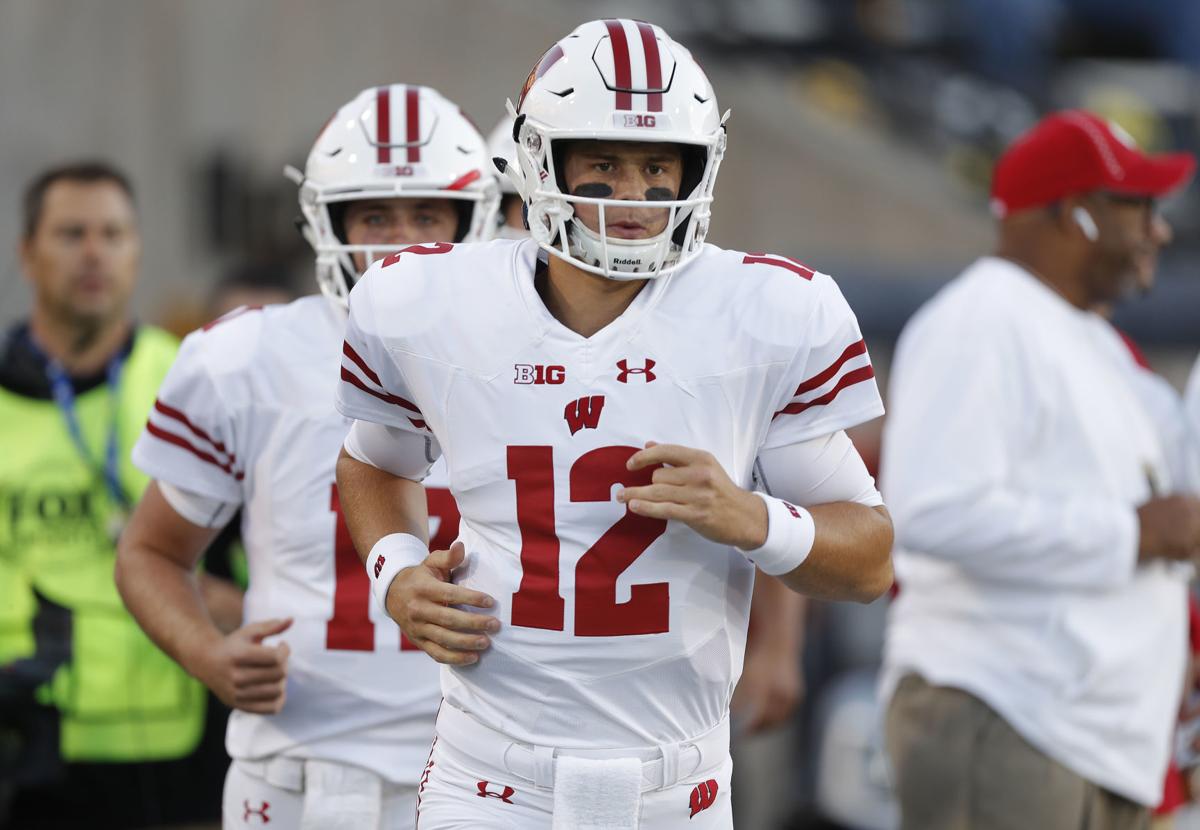 It isn't often a three-year starting quarterback transfers prior to his senior season.
With or without Alex Hornibrook in 2019, however, the University of Wisconsin football team likely needs much more from the position in order to turn around an offense that fell far short of expectations last year.
"If you want to take the quarterback position from last year," UW coach Paul Chryst said, "there was some good, but I think every part of it's got to improve."
Chryst spoke to reporters Monday on the eve of the Badgers' first spring practice set for Tuesday morning — a fresh start for a team that lost five times last season after beginning the year ranked fourth in the country.
In nine games last season, Hornibrook completed 59.5 percent of his passes for 1,532 yards with 13 touchdowns and 11 interceptions. Despite fighting through back and head injuries throughout the season, he participated in UW's winter conditioning.
Less than two weeks following his Feb. 27 announcement that he'd transfer, Hornibrook had already committed to Florida State. Just like that, both parties were looking at a new future after Hornibrook compiled a 26-6 record in 32 starts for the Badgers.
Hornibrook will transfer after graduating from the UW School of Business in May.
"We certainly had a number of conversations with him and his folks, and a lot of that I'll just keep between us," Chryst said. "Every guy goes through things, and certainly we appreciate what he did here. He's going to graduate with a heck of a degree. He was a contributor to some really good teams and good moments. We wish him well as he goes forward, and I'm excited with the group that we've got here."
That group includes four scholarship quarterbacks — junior Jack Coan, sophomore Danny Vanden Boom, redshirt freshman Chase Wolf and true freshman Graham Mertz — all of which Chryst said will receive reps this spring.
UW's first three practices are closed to the media, with the first open session set for April 2.
Van Lanen, Biadasz to sit out spring practice
Left tackle Cole Van Lanen and center Tyler Biadasz are nursing injuries and won't participate in spring ball, leaving UW without its top six linemen from last season for practices over the next five weeks.
Chryst said Kayden Lyles and Jason Erdmann will both take reps at center this spring with Biadasz out.
You have free articles remaining.
Outside linebacker Christian Bell will also sit out after suffering an injury during bowl prep in December, while defensive end Garrett Rand and running back Bradrick Shaw are among those expected to be limited.
Rand missed the entire 2018 season after tearing his Achilles last summer. The Badgers expected him to start at a position full of youth and inexperience, and even felt the need to switch Lyles to the other side of the ball for one year in Rand's absence.
Rand, a former four-star recruit, played as a reserve nose guard during his first two seasons in Madison before moving to his more natural spot at defensive end shortly before his injury.
"You want to see what's he going to be," Chryst said. "I really don't know kind of what his pitch count will be exactly. Garrett's a guy that, he's one that you're kind of curious. That's why, how limited? You hope less limited because he's played good football and he missed a whole year. He's a good player, and I think he can add a lot to us. Last year, we were going to be young anyways on the D-line spot and ended up playing even younger than we thought."
Shaw tore his ACL against Minnesota in November of 2017. He initially hoped to be back by the start of Big Ten play last year but missed the entire season.
Grady, Currens among those to switch positions
Per usual when a new year begins, some UW players have changed positions since the end of last season.
Most notable are Griffin Grady's switch from inside linebacker to outside linebacker and Seth Currens' move to inside linebacker from safety.
With the losses of T.J. Edwards and Ryan Connelly at inside linebacker and Andrew Van Ginkel at outside linebacker, both Grady and Currens should compete for a spot in the two-deep at their new positions.
Isaac Guerendo and Stoughton High walk-on Brady Schipper both moved from wide receiver to running back. The pair redshirted last season but saw limited playing time on special teams.
Chryst explains elimination of spring game
The Badgers won't hold a spring game this year. Instead, they'll open up their practice to the public April 13 at Camp Randall Stadium free of charge.
Chryst was asked about the change Monday.
"I don't really know when it stopped, but it stopped kind of becoming a game," he said. "You want to have something where it's open, so that's why we're going to have an open (practice), and then people don't have to pay money for it. You just come in and hopefully see it, but also you're not misrepresenting it by calling it a spring game."
UW canceled last year's spring game due to inclement weather.​