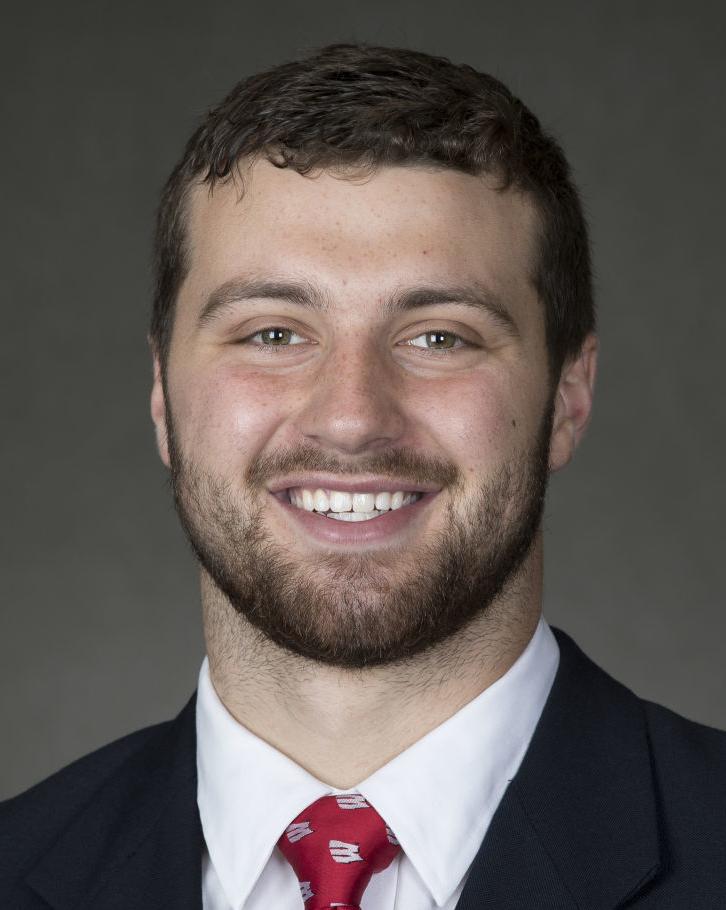 Jake Ferguson's primary goal heading into the 2019 season was to show he can be a complete player, the type of tight end who can be on the field on third-and-short, second-and-long and every situation in between.
The sophomore got his wish in the University of Wisconsin football team's 49-0 victory over South Florida in last week's opener, playing 53 snaps on offense and another eight on special teams.
Some of that heavy workload was out of necessity because UW's tight end group turned into a M*A*S*H* unit during training camp. But it also was a credit to Ferguson, who proved to the coaches in the offseason he could be the every-down player he set out to be after a promising redshirt freshman season in 2018.
"The thing I like about Ferg is he is competitive and he does want to be the best tight end he can be," UW coach Paul Chryst said Thursday. "I think part of it was truly being an all-down tight end, so I think he has done a good job of embracing it."
Ferguson likely will be asked to do a lot again Saturday when the No. 17 Badgers (1-0) host Central Michigan (1-0) at Camp Randall Stadium.
UW will be without junior tight end Luke Benzschawel (right leg) for the second consecutive week. Senior Zander Neuville, who joined the team late after being granted a sixth year of eligibility by the NCAA, is working his way back from a left leg injury and isn't ready to make his 2019 debut, either.
"With Ferg, kind of the tough part is what he's doing isn't easy," UW offensive coordinator Joe Rudolph said. "That's not an easy position to play every snap. He did the majority of that in the (Pinstripe Bowl) and that's a bowl game, you don't have to line up the next week and play. You've got a lot of time to get ready to go into that game.
"What he was able to do in the (South Florida) game was really great for him (from) an experience standpoint. I know (tight ends coach Mickey) Turner, there's some things consistency-wise wants to see him do. But if he grows from that one, we'll be just fine."
It's important to remember Ferguson also is dealing with a significant injury. He tore a ligament in his left thumb during the second week of camp and had to undergo surgery.
Ferguson, who is wearing a splint on his thumb, was proud to miss only two days of practice. Still, the injury may have been a factor in two negative plays from the opener.
You have free articles remaining.
Register for more free articles
Stay logged in to skip the surveys
UW's only turnover of the game came in the second quarter, when Ferguson caught a pass over the middle and was stripped for a fumble. He also dropped a pass in the third quarter.
"I prepared for it all week, or at least was trying to prepare for once I caught the ball, being able to tuck it away because it is difficult in the splint hand," said Ferguson, who finished with three receptions for 22 yards. "This week, I've been focusing a lot more on that and how I need to transition that ball into that hand when I need to. That's been a big focus for me the past two weeks. I need to tuck it away from a defender, just using both hands and almost just not even using my arms to run, just using it to protect the ball and not worry so much on run after the catch and (more about) securing the ball."
Rudolph joked nobody will be happier when Neuville returns than Ferguson, whose workload should get lighter with another veteran in the mix.
Neuville continues to do more in practice and, considering UW is off next week, a potential target date for his season debut could be the Big Ten Conference opener against Michigan on Sept. 21.
"Just being able to talk to him a lot and gain his knowledge back in the tight end room has been a big boost for everybody," Ferguson said. "He's been gone for a year and he still knows the ins and outs of the offense. It's good to have him back."
Williams out
Sophomore nose tackle Bryson Williams will miss Saturday's game with a left leg injury.
Williams joins an injury list that includes three other starters who are listed as out: sophomore right tackle Logan Bruss (left leg), sophomore outside linebacker Izayah Green-May (right arm) and sophomore safety Scott Nelson (left leg). Senior inside linebacker Chris Orr (right leg) remains listed as questionable.
UW used two defensive linemen and five defensive backs against South Florida and likely will rely heavily on that package against a Central Michigan offense that uses a lot of run-pass option plays.
Williams' absence likely will mean more playing time for freshman nose tackle Keeanu Benton, a former Janesville Craig standout who made his debut last week.
"For his first snaps, I thought he did some good things," Chryst said.