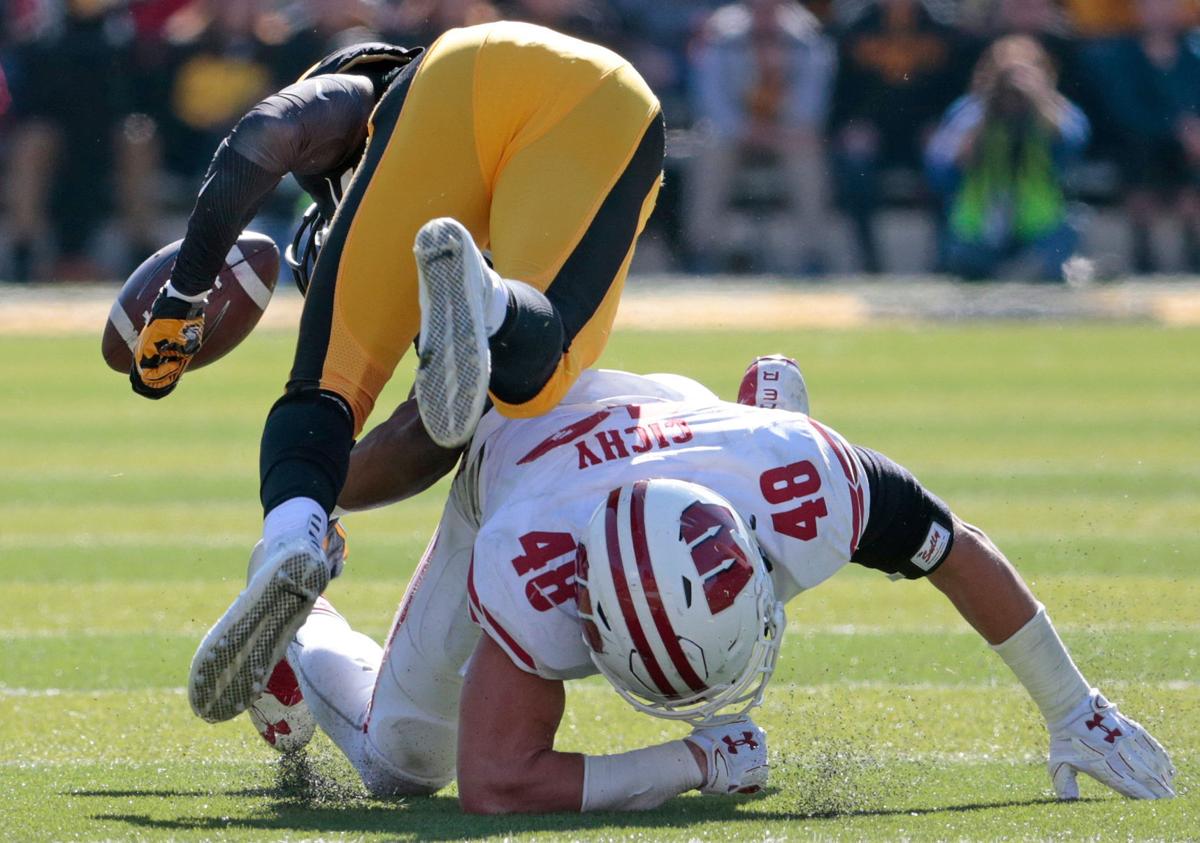 University of Wisconsin inside linebacker Jack Cichy, who's more than five months removed from tearing his pectoral muscle, said he feels 100 percent healthy.
"If we had a game tomorrow, I definitely could go," Cichy said. "But it's just being smart and letting the other guys get some reps. I do everything except the full-go stuff. It's not a necessity for me. I've put enough on film and put in a body of work where I think they trust me."
Following UW's win over Iowa in October, Cichy immediately responded "no" when asked if the injury would cause him to miss time. This was despite the fact that he played the majority of the second half without the use of his left arm.
The injury occurred late in the first half, and he only had an arm brace and some ibuprofen to help him overcome excruciating pain the remainder of the game. The coaching staff finally pulled him in the fourth quarter after he missed a couple tackles due to the injury.
"I probably should have taken myself out, but that's easier said than done," Cichy said. "It was one of the most painful things I've ever experienced. When it happened, luckily I went into shock. But as the second half went on, it became more and more painful. I couldn't lift it. I couldn't really even move it. When I was taking my pads off in the locker room after the game, I had to have someone manually lift it for me and take my pads off. So by that point I should have known that I (was going to miss time). … I'm back to lifting normal, doing everything normal. Six months is kind of right where we wanted to be."
Passing game up and down
UW's passing game began the spring impressively, but it wasn't clicking early on during Thursday's practice.
Starter Alex Hornibrook completed just 6-of-18 passes during team drills, although four of those incompletions were drops. Hornibrook threw an interception to cornerback Nick Nelson during 7-on-7 drills and safety Patrick Johnson nearly intercepted him during team drills, but Hornibrook also threw six touchdowns on 9-of-15 passing during 7-on-7 red zone drills.
Early enrollee quarterback Jack Coan fared well in team drills later in practice, completing 5-of-9 passes and throwing touchdowns to running back Garrett Groshek and tight ends Kyle Penniston and Luke Benzschawel.
From the infirmary
Outside linebacker Andrew Van Ginkel did not practice Thursday after leaving Tuesday's practice early with a left wrist/hand injury, while inside linebacker Nick Thomas left Thursday's practice with what appeared to be a left knee injury.
Early enrollee cornerback Faion Hicks (shoulder) remained out with a sling on his left arm, and fullback Alec Ingold was a partial participant after sitting out of Tuesday's practice. Starting safety D'Cota Dixon returned after being out the last two practices.