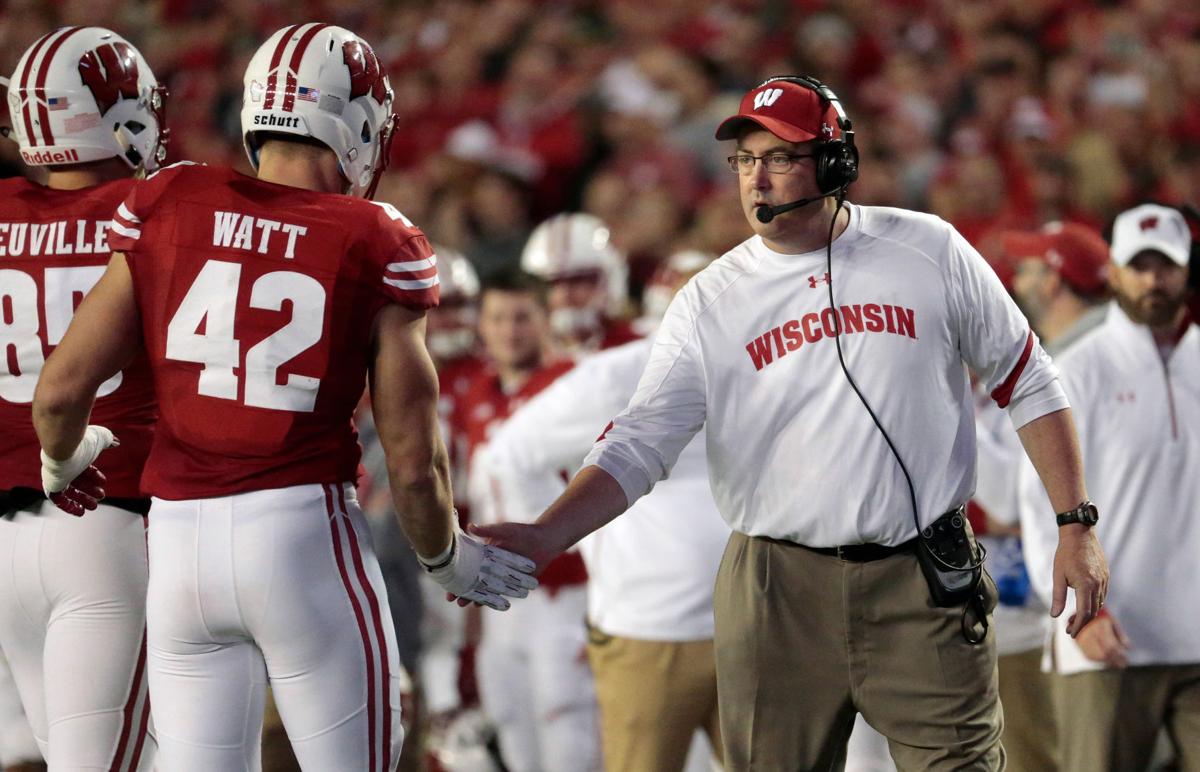 The College Football Playoff committee's public opinion of the University of Wisconsin didn't surprise anyone Tuesday night when the group released its initial rankings.
The Badgers came in at No. 8, the same spot they're currently ranked in the Associated Press and USA Today Coaches polls, and now have five weeks to convince the committee that they're one of the top four teams in the country.
UW (6-2, 3-2 Big Ten) must win its remaining regular-season games, win the West Division and win the Big Ten Championship Game to give itself a chance at making the playoffs, a scenario that some believe would guarantee the Badgers a spot.
"Wisconsin, if they win out from this point on, they get in," ESPN college football analyst Joey Galloway said. "The winner of the Big Ten, if it's Wisconsin, Ohio State or Michigan — or probably even Nebraska at this point — gets into the playoff. And I don't know that the committee cares one way or another who that team is."
That opinion is a highly debated one, however. Some scenarios could put UW's place in question even if they do finish the year as a two-loss conference champion.
Three highly ranked teams — No. 1 Alabama, No. 2 Clemson and No. 5 Washington — could still be undefeated at that time, while Texas A&M is at No. 4 with one loss and would not go to the SEC title game if the Aggies and Crimson Tide both win out.
No. 9 Auburn also has the opportunity to knock off Alabama on the final day of the regular season before heading to the SEC's title game, which would leave the Crimson Tide as a worthy one-loss team that did not win its conference.
One-loss Florida, currently No. 11, could win out and knock off either Auburn or Alabama to win the SEC title.
If third-ranked Michigan finished the year 11-1 and was beaten out in the Big Ten East Division by Ohio State, the Wolverines could also make a strong case after beating UW earlier this season.
"I think there's other teams that would be in contention for that spot," ESPN college football analyst David Pollack said. "If Auburn runs the table, they're in the SEC Championship Game, and it's the same debate versus (Wisconsin). Now you've got a one-loss Alabama team that would be fighting to get in. I think Wisconsin's going to need a good bit of help. I don't think it's as easy to say that just because they run the table that they're going to be in the college football final four. I think there's going to be several others that are fighting for that spot as well."
You have free articles remaining.
It leads to the question of how much value the committee places on winning a major conference, versus strictly viewing schedules from a game-to-game basis.
"I think we can't say that it's the end all, be all, just because we don't know the opinions and thought processes of these individual human beings in the room," Pollack said. "Some people are going to put an insane emphasis on that, and it's going to be very, very important. Some people don't care about that as much and they care about just big wins and who you beat. I don't think it's just as simple as saying a championship is going to represent everything to somebody. I think it's going to be different. I think it's going to be the best teams."
The debate will continue to thicken if the Badgers keep winning and chaos doesn't ensue ahead of them.
UW's players and coaches, meanwhile, don't expect to get involved in the banter. They're focusing solely on their game Saturday at Northwestern, where the program hasn't won since 1999.
If the Badgers lose that game — or any of their next five — their playoff hopes vanish anyway.
"All the discussion, none of that matters," UW coach Paul Chryst said. "It doesn't help you play the game.
"You've got to play your season out, and then at the end of that season, you earn the right to play another game, and what type of game you're playing in depends on what you do. … I think at the end of four weeks, you can look up and see where you're at."
Tailback commits
UW got its third and fourth oral commitments of the week.
Salem (N.J.) High running back Jonathan Taylor and Iowa Western Community College defensive end Andrew Van Ginkel became the 14th and 15th members of the Class of 2017 when they committed within hours of each other Tuesday night.
Taylor, at 5-foot-11 and 208 pounds, picked the Badgers over Virginia Tech, Harvard and Yale, according to BadgerNation. UW offered him following his commitment to Rutgers in May.
All major recruiting sites rate Taylor as a three-star prospect. Van Ginkel ranks as a four-star junior college prospect by Rivals, while Scout and 247sports rate him as a three-star.
The commitments came one day after Texas wide receiver Emmet Perry's and two days after long snapper Adam Bay pledged to the Badgers.
The map below shows a look at Wisconsin's verbal commitments for the Class of 2017.
Click on a player within the map for more details and to reveal links to their highlight videos and commitment stories. Use the filters to the right to further categorize the map.