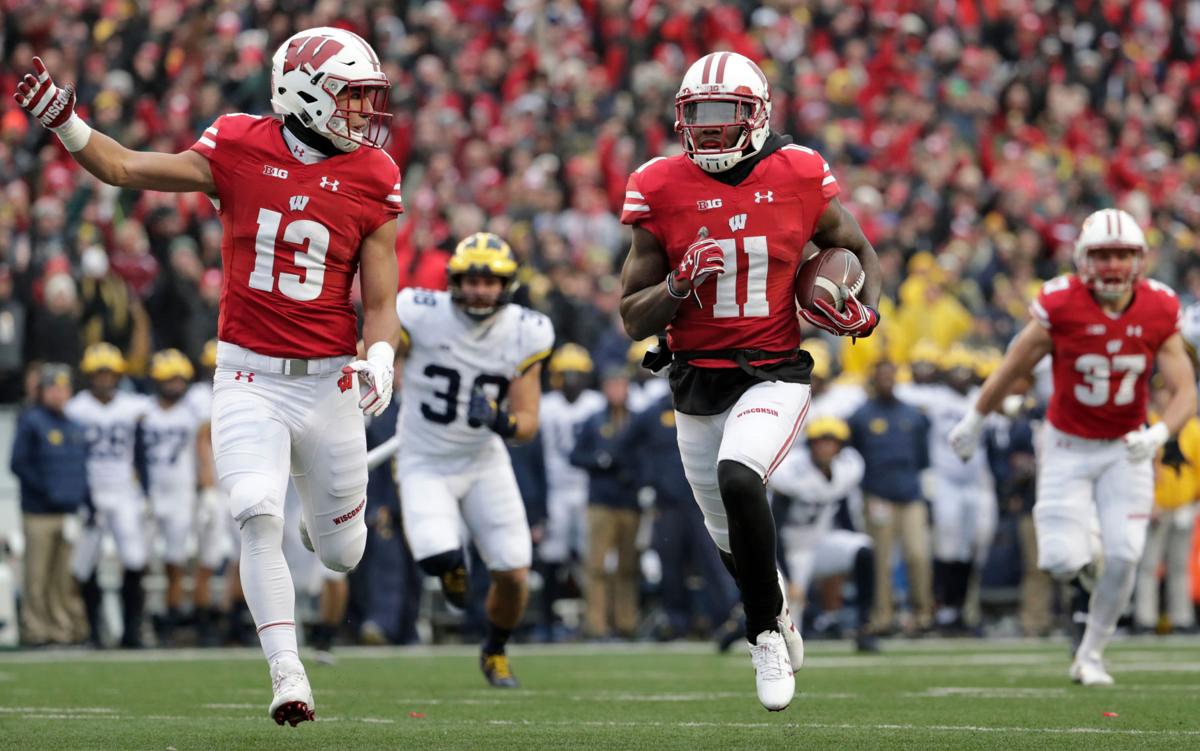 Wisconsin State Journal reporter Jason Galloway collected some of the best tweets from the Wisconsin Badgers' 24-10 victory over the Michigan Wolverines on Saturday at Camp Randall Stadium in Madison.
Here's what fans were saying on Twitter on Saturday:
"More complaining about Wisconsin's strength of schedule coming up Tuesday..."
— Biscuits (@wisconsinferno)
"Tough team. Incredible defense."
— David Roelke (@DavidRoelke)
"They might be for real, folks."
— University and State (@UnivAndState)
"Amazing D. Enough else to win. Can't believe they're 11-0."
— Mark Wolfgram (@markwwolfgram)
Photos: Wisconsin Badgers 24, Michigan Wolverines 10
The Wisconsin Badgers beat the Michigan Wolverines 24-10 on Saturday at Camp Randall Stadium in Madison. 
"We need that Hornibrook against Ohio State."
— name cannot be blank (@ImVatic)
"By far the best win of the year. Now they have to avoid the trap game next week and keep their eyes on the prize."
— Russ Evansen (@waunaruss)
"Jonathan Taylor for Heisman."
— Mark Hanson (@biasauth)
"Cannot dog Hornibrook. The guy just keeps playing football, no matter what the circumstances. And the #Badgers defense showed (again) why they're of the best units in the country."
"No way in hell we beat whoever in #BigTenFootball chip if Hornibrook doesn't play a COMPLETE game #badgers"
— Nate Andree (@NateAndree)
"Stepped up second half as always. Congrats Bucky"
— JaneyinMadtown (@JaneyinMadTown)
"Don't let down for the Axe game!"
"You have to give Hornibrook his due. He came up big today. That was a very high-quality defense. ... Michigan's defense is a lot tougher than Ohio State's. This team may be for real."
— Bill_Woj (@Slough_Creek)
You have free articles remaining.
"Hornibrook MVP of game today"
"Badger D is fantastic!!!!!"
— Chris Janusek (@Janusek1)
"This will end up looking like a mediocre win if UM ends with 4 losses."
— Rich Zanon (@rich_zanon)
"Unreal turnaround. Happy for this group"
"Imagine this team with a quarterback."
— Jarryd Rutter (@JarrydRutter)
"Unbelievable the resolve this team has. This would have been a game we lost last year. Horni had to make throws in the second half to win and he did."
— Matthew B. Anderson (@mbanderson83)
"In last two weeks Badgers beat two ranked opponents in dominant fashion. Deserve to be in the CFB playoff conversation. Meanwhile, Bama & Clemson take on Little Sisters of the Poor and Waukesha South, respectively."
— Michael Martin (@mjmartin557)
"Such a great W. Nobody can fault our defense."
— Tyler Bouressa (@TylerBouressa)
"Handled the up front. 2nd half Hornibrook came through on some huge throws. I think Chryst said it best, 'It took everyone to win.'"
— Bill Knoche (@KNOCKS26)
"Flipped a switch halfway through 3rd and took it to another level. Need more consistent play out of QB. Defense is a force/MVP/heart of this team."
"Great to see #Badgers start to take over line of scrimmage in 4th qtr."
— Bob Lewis (@AppletonTech)
"Typical Hornibrook game: some terrible decisions, resilience and some of the best throws you'll see."
— ryebadger (@ryebadger1)
"Hornibrook played better in second half. Two more wins."
— Marlon D (@dfsqdindo21)
"That overturned call on Davis reception was TERRIBLE"
— Yung Daddy (@hotcheese262)
"First defensive battle of the year. I'm going to run out of beer."
— Mark Bomkamp (@Bomber1325)