She was 700-plus miles away and, for most of the week anyway, shut off from contact with the sibling who had decided the best way to eliminate distractions was to put his cell phone on airplane mode.
No calls, no texts. Not even a congratulatory group FaceTime chat with his parents, brother and sister after letting his family know, with zero fanfare, that he'd been named the starting quarterback of the University of Wisconsin football team. "Sorry," Alex Hornibrook texted them before going into shut-down mode as he prepared to step onto the biggest stage of his life to date, "I'm going to watch film."
So Mackenzie Hornibrook watched it all play out from afar, the big sister growing more proud by the moment.
There was Alex on Saturday afternoon, doing his part to help the Badgers remain unbeaten with a 30-6 romp at then-No. 8 Michigan State. The left-hander played 67 snaps in all, looking nothing like a redshirt freshman making his first career start.
And there he was on SportsCenter the following morning, doing a phone interview to recap the Badgers' second victory over a Top 10 opponent in a span of 22 days to start the season.
What you could gather from watching Hornibrook during his 192-minute debut at Spartan Stadium or listening to him during his brief appearance on ESPN was he is poised beyond his 19 years.
Where does that composure come from? He'll tell you it helps to have good bloodlines.
His uncle was a quarterback at Miami (Fla.). Google "Gator Flop" and you'll see a play in which almost the entire Florida defense takes a dive during a game in 1971. The beneficiary of that bizarre move — Florida wanted to get quarterback John Reaves back on the field so he could break Jim Plunkett's NCAA passing yardage record — was one John Hornibrook, who took the snap from center and trotted into the end zone untouched for an 8-yard touchdown.
Hornibrook's aunt, Megan Davis (nee McGonagle), played soccer and lacrosse at Rutgers and later served as the head coach in both sports at Marist. Her husband, Ben Davis, was the No. 2 overall pick in the 1995 Major League Baseball first-year draft.
Jeff Hornibrook, Alex's father, was an offensive lineman at Temple before a back injury ended his career. His wife, Dawn, played basketball at Gettysburg College.
Mackenzie, who is 19 months older than Alex, is a senior on the Penn State women's swimming team and, according to Alex, "probably works harder than anybody I know." Their youngest sibling, Jake, is the starting right tackle at Malvern Prep, the same Philadelphia-area program where Alex was a standout.
Jeff and Dawn encouraged their children to participate in several sports. No pressure, just have fun.
"Our parents have always encouraged us to work hard and be humble," Mackenzie said. "Believe in yourself."
That explains why Alex, the quiet middle sibling, shrugged off the pomp and circumstance last week and went about getting ready to do his job.
"It's just funny now to see the difference in him and how much he's grown up," Mackenzie said. "I still think of him as my goofy little brother."
Bye, bye, baseball
That goofy little brother appeared headed for a career in baseball until he quit the sport after his freshman year in high school.
"I was better at baseball when I was younger," Hornibrook said. "Even when I stopped playing I was better at baseball, but I just liked playing football a lot more."
Hornibrook's parents were shocked and asked him to reconsider. "It was like, did he have to give up one to do the other?' " Dawn said. "He felt like he had to."
Jeff admits he didn't take the news too well — "Couldn't put that one in print, wouldn't be politically correct," he said — but Uncle Ben may have been more crushed than anybody.
Davis, who like Alex had been a star at Malvern Prep, appeared in 486 games over seven seasons in the majors from 1998 to 2004. A catcher, Davis' best season came in 2001, when he hit .239 with 11 home runs and 57 RBIs with the San Diego Padres, the team that drafted him.
The scouting report on Hornibrook as a baseball player, according to Davis: very fluid first baseman who was solid around the bag, solid hitter and a good pitcher.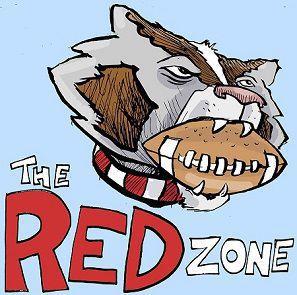 "But he just loved football so much and he shut baseball down," Davis said. "I said, 'Are you kidding me?' The only good thing that happened was my son, who's also left-handed, got Alex's brand-new Rawlings first baseman's mitt. So we made out in the deal."
Davis said he wasn't all that surprised Alex walked away from baseball.
"I was thinking he was going to have a future in baseball, but he chose a different path," he said. "That's all he ever thought about was football and wanting to be a quarterback."
Even Jeff, who fought the decision at first, had to agree his son was right on this one.
"Great move," he said, "no question."
'He's a sponge'
Roughly 2½ years after deciding to focus on football, Hornibrook had another life-altering decision to make: Where to play that sport in college?
Hornibrook had committed to Pittsburgh over scholarship offers from UConn, Rutgers, Akron and Yale, but he wavered on that decision after coach Paul Chryst left the Panthers to return to UW, his alma mater.
Time was running out. It was mid-January, and Hornibrook already had delayed his early enrollment at Pitt by a couple of weeks.
"It was the 11th hour and his classes were picked out and his dorm was assigned and he had a student ID," Dawn said. "Deep down, he felt so much trust for coach Chryst and the staff and who he was as a person. You're not supposed to go for the coach, but …"
But the connection between Chryst and Hornibrook was that strong.
"(Chryst) was kind of a laid-back guy," said Hornibrook, who enrolled at UW in January 2015. "He didn't hype anything up or he didn't try to sell anything. He just kind of told you how it was, and if you liked it, you liked it. And I bought it."
Aaron Brady, who coached Hornibrook at Malvern Prep, believed Hornibrook would excel in Chryst's pro-style offense in time.
"Super leader," Brady said. "One of those guys you want to hang out with. Great teammate. Always got the best out of anyone around him. You can see now, he's very in control of the situation and shows great confidence. But it's not to the point of being arrogant. It's just he's a very confident person."
Malvern ran the Wing T offense when Hornibrook was a junior. Then Brady arrived from Gonzaga College High School in Washington D.C. and installed a spread offense, which excited Hornibrook for obvious reasons.
"That adjustment is tough for anybody," Brady said. "But he handled it well. He's one of those guys you have to kick out of the office. He's a sponge, he just wanted to know everything. Anytime you wanted to meet, he was ready."
During the 2015 season, Brady had five former quarterbacks at Division I programs: Kevin Hogan at Stanford; Nick Johns at Virginia; Connor Ennis at Washington State; Hornibrook; and Christopher Schultz at Bryant College, a Football Championship Subdivision program.
Brady said Hornibrook and Hogan, who was a fifth-round draft pick of the Kansas City Chiefs and is now on the Cleveland Browns' practice squad, have a similar mental makeup.
"Kevin wasn't a big rah-rah guy. He was quiet, like Alex is," Brady said. "But on the field, they knew when it was time to assert himself and take charge. They knew when it was time to go. Guys would follow him. To have talent and also have that kind of an 'it' factor, that's the difference."
Next step
Dawn cried when she saw her son running onto the field last Saturday at Spartan Stadium. She became emotional again earlier this week while telling the story.
She couldn't help think back on all the hard work, all the early mornings.
There was some reluctance on the part of Hornibrook's parents to be interviewed for this story. They were nervous about coming off as overzealous parents, concerned attention on their son would overshadow the efforts of his teammates.
So if you're wondering how Hornibrook has been able to remain humble as the spotlight has gotten brighter, start with the people who raised him.
"To handle himself the way he did, it just speaks volumes about his character and what he's made of internally," said Davis, his uncle. "If there's one kid who's going to stay grounded, it's Alex."
Jeff encouraged his son to follow the same plan as last week as the No. 8 Badgers (4-0, 1-0 Big Ten) prepare for a game at No. 4 Michigan (4-0, 1-0) on Saturday: no calls, no texts.
"It's just daunting because there's a lot ahead," Dawn said. "One day at a time."