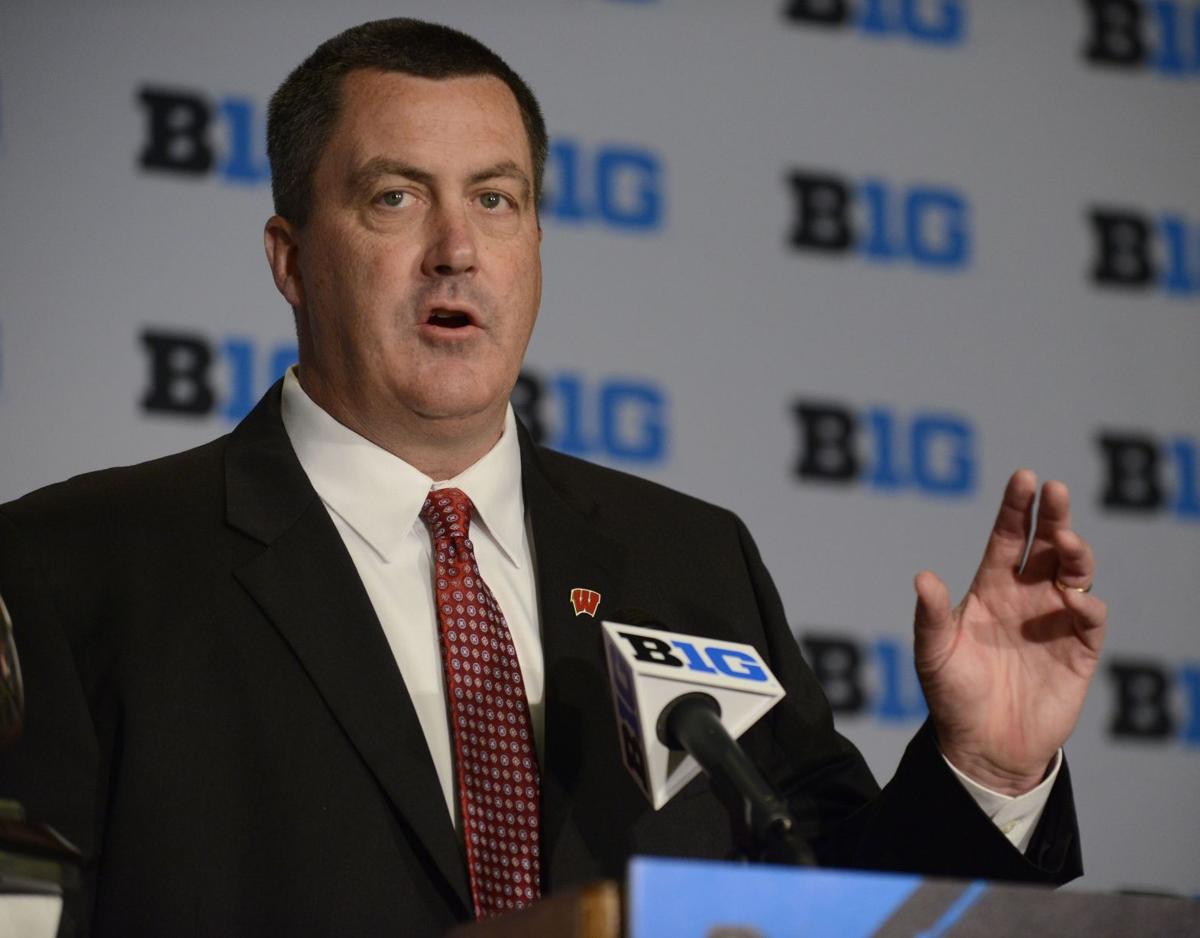 CHICAGO – University of Wisconsin football coach Paul Chryst would have liked the opportunity to stand before the school's office of admissions and recruitment and explain why he thought Jordan Stevenson would be a good fit at UW.
Chryst never got that chance. Meanwhile, Stevenson, a highly regarded running back out of Texas, was denied admission into UW last week and announced on Thursday afternoon that he'd be attending Nebraska.
So not only did the Badgers miss out on another high-profile recruit because of academics, they watched Stevenson latch on with one of their rivals in the Big Ten West Division.
Despite spending a significant portion of his first appearance at Big Ten Media Days talking about a player who will never take the field for the Badgers, Chryst didn't appear bitter on Thursday and even said that he was glad Stevenson landed at a quality program so late in the recruiting process.
But both Chryst and UW athletic director Barry Alvarez made it clear they'd like to change the process of how appeals on behalf of prospective student-athletes who are on the borderline academically are handled.
"No one's got more of a vested interest in our student-athletes who we're recruiting to succeed than us," said Chryst, a UW alum who landed his dream job in December when he was hired by Alvarez to replace Gary Andersen. "We know these kids and I know and love and appreciate and respect this university. I'm not going to put the university in a bind.
"But I do think it's right if we can speak on behalf of (the student-athletes). We all want the same thing. We want the kid to succeed. They want to make sure whoever's admitted can succeed. I want to be able to speak on behalf of those players."
Alvarez said the appeals process between the athletic department and the admissions office changed about five years ago and he'd like to go back to the old way.
Previously, UW coaches could make appeals on behalf of prospective student-athletes to individual schools and colleges within the university.
"You had coaches who knew student-athletes and recruited them and had been through the screening process — they've done the screening," Alvarez said. "That's what we tried to emphasize. Our coaches understand the profile of our incoming student-athletes (and) the profile of the students who are on campus. And they feel that certain people will have success or have a chance for success and they can present that case because they know and have researched these individuals to the individual colleges.
"Now, with the way we've been doing it, they don't talk to coaches. They look at score, they look at numbers, they look at whatever they see and at times make decisions before there is a verbal appeal."
Alvarez didn't mention anybody in the admission office by name, but it's worth noting that Adele Brumfield was named UW's director of undergraduate admissions and recruitment in May of 2010, just over five years ago.
Chryst said Stevenson did everything he was asked, retaking a test and even raising his score. But it wasn't enough to gain admission into UW.
Andersen admitted his issue with UW's admission standards was one of the reasons he bolted for Oregon State after two seasons, a shocking departure that opened the door for Chryst to return to Madison. Alvarez told the State Journal last December that Andersen was particularly frustrated he couldn't get Sun Prairie defensive tackle Craig Evans, who ended up at Michigan State, into school.
Would anything have changed in regards to Stevenson or other high-profile prospects who were denied admission into UW had the appeals process been different?
"I don't know that," Alvarez said. "It certainly would have given an opportunity to be heard."
Alvarez was asked if the admissions standards have adversely affected UW's ability to compete.
His blunt answer, after pointing out that the UW men's basketball program is coming off a trip to the NCAA tournament title game and the football team has appeared in three of the four Big Ten titles games: No.
But that doesn't change the fact that he'd like to return to the old appeals process and hopes changes are in place by the end of this football recruiting cycle. UW will announce its 2016 class in February.
"I'd like to do it the old way, because I think it's only fair to our coaches and some student-athletes that their voices should be heard," Alvarez said. "They should have the right to have an appeal."
Alvarez had advice for fans who might be confused and/or frustrated.
"Our fans shouldn't worry about it," he said. "They should just worry about the ones that are there. To sit down and try to explain all of that to a fan is very difficult. They want to know bottom line. So the bottom line is let's look at the guys that we have there and support them. That's all we can do right now."
Chryst remembers his days as an assistant when going to bat for recruits during discussions with representatives from schools and colleges within the university resulted in UW landing "significant, poster-type guys in the program" who otherwise might not have been admitted.
Chryst would have liked the opportunity to make a case for Stevenson. Instead, he'll see Stevenson on the opposite sidelines for the next few seasons every time UW plays Nebraska.