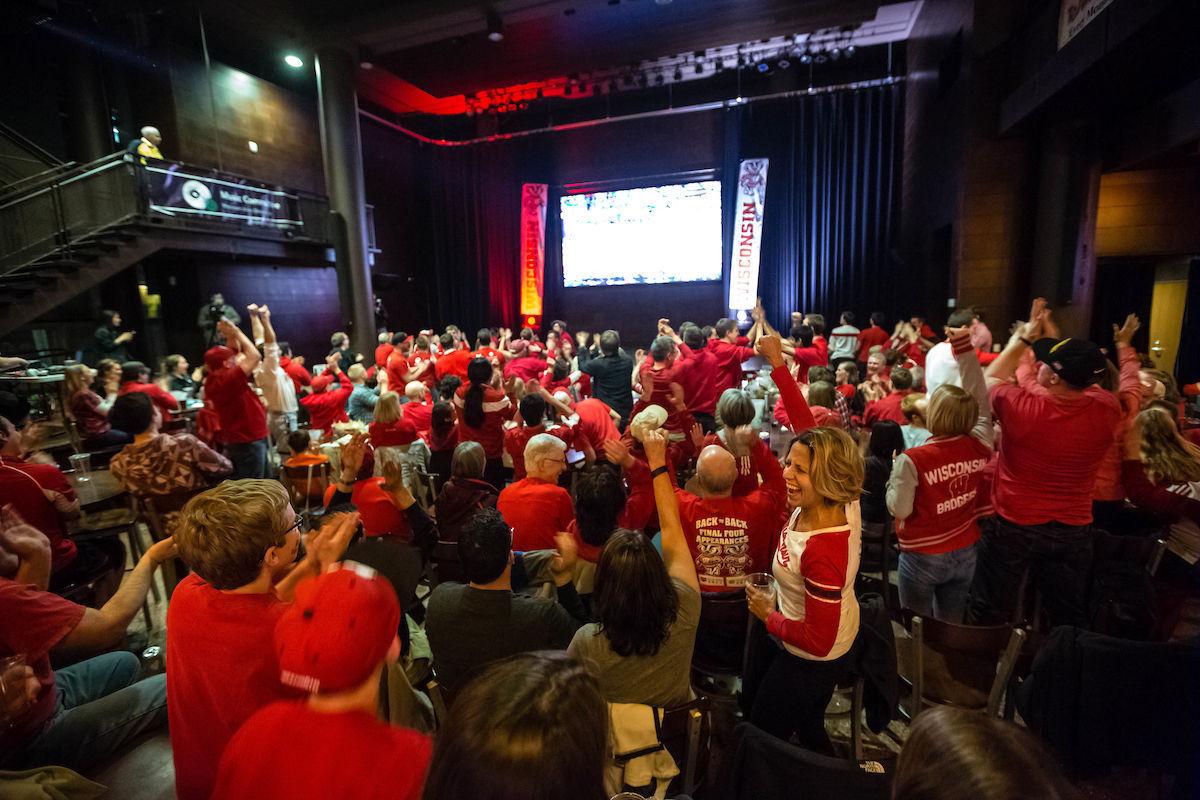 In a college football town as fervent as Madison, there are no shortage of places to watch an important game. And with the Wisconsin Badgers heading to their first Orange Bowl Saturday in Miami against the Miami Hurricanes, fans are making their watching plans.
Kickoff from Hard Rock Stadium is set for 7 p.m. on ESPN.
For those unable to get the game on their home televisions or who just prefer watching with big groups of vocal fans, here are some places to go. Some of them have drink specials or raffles, but this being Madison, most serve some excellent bar food.
The Wisconsin Union will host an Orange Bowl game watch on the Sett's big, 18-foot screen at Union South, 1308 W. Dayton St., starting at 5 p.m. and running until 30 minutes after the game ends. There's no charge to get in.
Beer, burgers, sandwiches, appetizers and other pub food will be available at the Sett, with Babcock ice cream at the Daily Scoop. The game will also be shown on seven additional televisions in the Sett, three TVs in the Sun Garden and one in the Prairie Fire Lounge.
You have free articles remaining.
Lucky's 1313 Brew Pub, 1313 Regent St. "What better place to watch the Badgers get their 13th win than Lucky's 1313?" asks owner Rod Ripley. The bar and restaurant's main TV is 85 inches, plus, the main area is wide open so customers can see any of the 16 TVs in the brew pub room. Lucky's also has seven TVs in its banquet room. Food specials that day are going to be pepperoni and sausage pizza rolls for $7.95 and a chicken bacon ranch wrap with side for $8.95
The Red Zone, 1212 Regent St., with its 35 TVs, will have a 50/50 raffle benefiting an animal shelter in Sun Prairie called ARVSS Animal Rescue & Veterinary Support Services. The raffle will be at the end of the game, with half the money going to the charity and half going to the winner. The bar is working with Bud Light on a prize package that will include a Yeti cooler. It's working with Smirnoff vodka on a package that will include a vintage cooler filled with a Bloody Mary kit. Among drink specials will be 16-ounce aluminum bottles of Bud Light for $3.50 or five for $15. There will also be $3.50 Smirnoff mixers and $8 mini buckets of Smirnoff. Baskets — burger, brat, chicken sandwich or hot dog — and fries will be available for $7.50. "Keep it simple," said Ryan Hoelker, one of the bar's owners.
Sconnie Bar, 1421 Regent St. The bar, with its 37 TVs, is partnering with Wisconsin Brewing Co. in Verona. At halftime, bartenders will pour Wisconsin Brewing's Badger Club Amber for five minutes straight, and everyone in line will get a free beer. (Don't worry about the free beer running out. General manager Lucas Simon-Wambach said that everyone who wants a beer will get one.) During the fourth quarter, the bar will hold a raffle and everybody who bought a Badger Club during the game will get a raffle ticket. The raffle will include various gift cards and swag from Sconnie Bar and Wisconsin Brewing and some Badgers basketball tickets.
Jordan's Big 10 Pub, 1330 Regent St. With its 22 TVs, the bar will feature pitchers of Spotted Cow beer on special for $12. It will also offer four daily food specials and hold a fourth quarter raffle where customers will get a raffle ticket for every beer they buy. Prizes will include hats, shirts, gift cards, board games, a remote control car and a turntable.
Players, 2013 Winnebago St., with its 9 big-screen TVs, will feature its Badger burger topped with caramelized fried onions, cheddar cheese, bacon and its Bulleit bourbon barbecue sauce. The $9 burger comes with fries and is a special whenever the Badgers play. The bar will also offer free Jell-o shots for Badgers touchdowns. On game days, the bar offers its domestic taps (Miller Lite, Budweiser, Coors Light and Pabst) for $2. Every quarter, the bar will hold a drawing where winners get to choose a Players sweatshirt or T-shirt.
Babes, 5614 Schroeder Road., with its 24 TVs, will have food and drink specials including $4.50 mimosas and Badger Backers, which is vodka and cranberry juice. The bar will also offer $5.50 personal pitchers, or 24-ounce servings of Miller Lite or Pabst Blue Ribbon. Food will include a $7 Wisconsin brat and chips as well as a few discounted appetizers.
LJ's Sports Tavern & Grill, 8 N Paterson St., with its 17 TVs, will have drink and wing specials. Sixteen-ounce cans of Bud, Bud Light, Rolling Rock, Pabst Blue Ribbon and Labatt will be $3. The bar will also offer $5.50 Moscow mules, $5 mojitos, $5.50 mimosas and $2 cans of Old Style, with $1 going to firefighters Local 311. Wing specials will be eight wings for $6.95, 16 for $11.95 and 24 for $15.95. Owner John Kavanaugh said for the Big Ten Championship Game on Dec. 2 the bar had a line out the door two hours before kickoff.