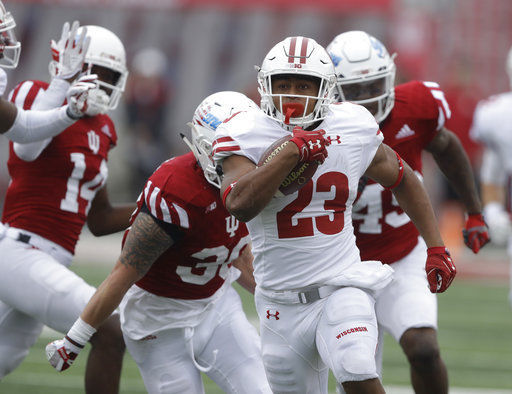 CORAL GABLES, Fla. — When it comes to confronting the big, bruising offensive force of Wisconsin in the Orange Bowl, the Miami Hurricanes won't have to look hard for a model to emulate.
It was last month that the Hurricanes dismantled a supposedly unstoppable power running game in the 41-8 rout of Notre Dame.
The parallel is obvious as Miami prepares for the stop-us-if-you-can Badgers in the Orange Bowl, Dec. 30 at Hard Rock Stadium.
"They're similar to Notre Dame; they're big, tall, long," Miami defensive lineman RJ McInosh said Wednesday, adding that the formula will be to "Play like we've been playing — be physical, be fast. I think our quickness is definitely a plus for us in beating this team."
The 12-1 Badgers' rushing attack, ranked second in the Big Ten and 21st in the nation, is propelled by three All-American linemen: Junior right guard Beau Benzschawel and tackles David Edwards and Michael Deiter.
Wisconsin has a history of superlative offensive lines but hasn't had a trio of All-Americans since 1921.
This group has cleared the way for freshman running back Jonathan Taylor to lead the Big Ten with an average of 142.1 yards a game (No. 3 nationally). With 1,847 rushing yards, Taylor is 79 yards away from breaking Adrian Peterson's Football Bowl Subdivision freshman record.
"Apparently (he's) a hard guy to tackle. You've got to really wrap him up and drive through his legs," sophomore linebacker Zach McCloud said.
You have free articles remaining.
Taylor, who has 13 touchdowns, averages 6.8 yards a game. But most recently, he was stymied by Ohio State (41 yards on 15 carries) in the Big Ten championship game, Wisconsin's only loss.
Edwards told the Wisconsin State Journal that the Badgers were unable to create needed push in that game, and that Miami may present a similar challenge to the Buckeyes.
"They're super athletic. They've got big, physical guys. They've got guys that will come in and do a good job for them, regardless of who it is," Edwards told the newspaper.
That was the case for Miami against Notre Dame, which had a similarly beefy offensive line and arrived at Hard Rock Stadium averaging 325 yards a game rushing.
Josh Adams, gaining 8.7 yards a carry to that point, managed only 40 yards on 16 carries against UM in that Nov. 11 stunner.
While there are comparisons to be made, Miami can't count on the same success against Wisconsin, which is ranked No. 6 and favored by 6 1/2 points. Notre Dame, then No. 3, turned out to be over-ranked and has slipped to No. 14.
Wisconsin rolled over their first 12 opponents before hitting a wall against Ohio State. The Hurricanes are watching film of that one with particular interest.
"Like every other player, we look at them on film and try to find weaknesses," McIntosh said of the Wisconsin linemen. "To me, they're like any other player."
Perhaps the comparison most favorable to the Hurricanes is that, like against Notre Dame, they will be playing on their home field. They were also an underdog in that one, by three points.
"We're going to be playing at night time, but nice (warm) weather, big crowd at (Hard Rock) stadium," defensive lineman Chad Thomas said.