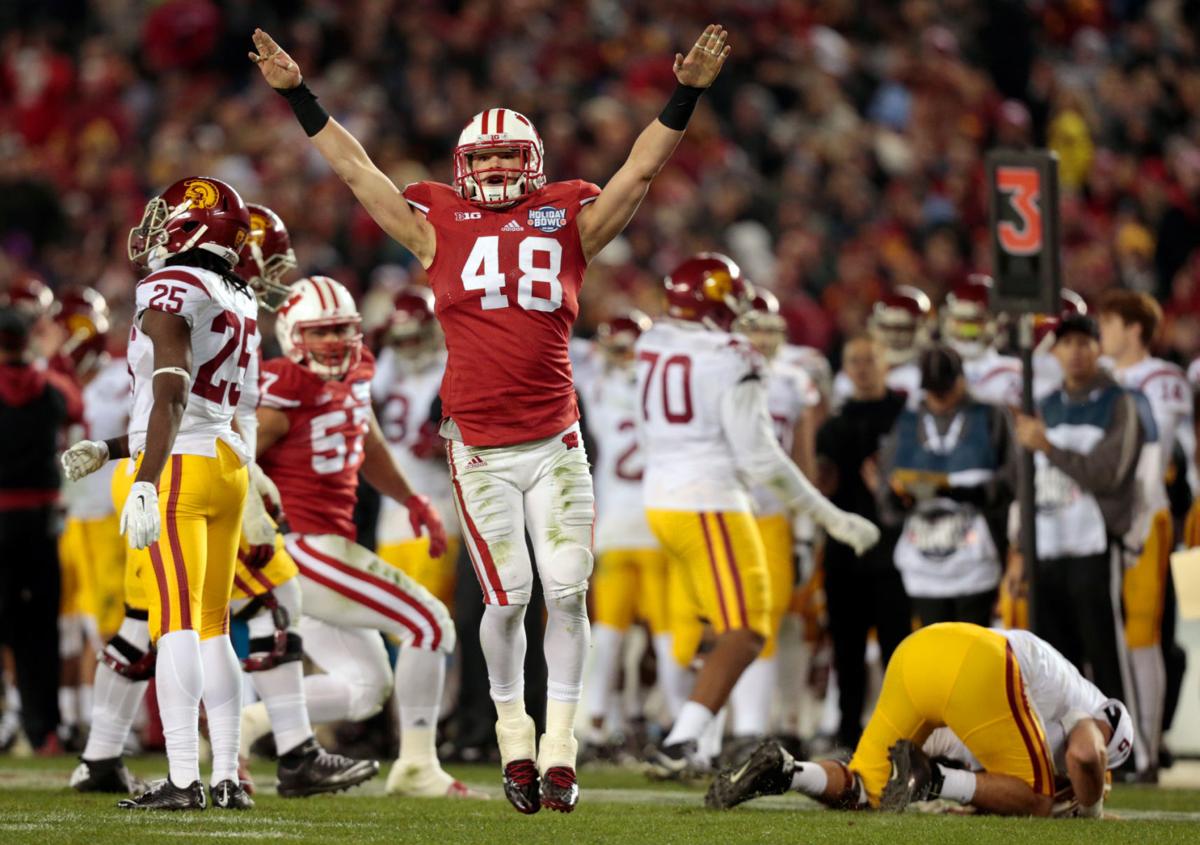 University of Wisconsin inside linebacker Jack Cichy does not plan on applying for a sixth year of eligibility and will enter the 2018 NFL Draft.
Cichy announced the decision through a Players' Tribune article Tuesday, writing, "I'm going to take my shot and see what happens."
"I love Wisconsin," Cichy wrote. "And, in one way, that's what makes (my decision) so tough. ... I'm excited for what's to come, but I can tell you that deciding to leave Madison was one of the most difficult decisions I've ever had to make. This place has become my home. And there are so many moments I've experienced here that will remain with me forever."
Cichy was playing at an All-American level during the 2016 season before tearing his pectoral muscle midway through the year, causing him to miss the remainder of the season. He then tore his anterior cruciate ligament during fall camp this year, ending his season before it began.
NCAA rules state a player must miss two full seasons due to injury in order to receive a sixth year of eligibility, but Cichy played in seven games last season. He still could have petitioned the NCAA for an extra year but will instead move on from Madison after recording 121 tackles, 15 for loss, and 6.5 sacks for the Badgers over his career.
Being sidelined for the last 1.5 seasons due to injury makes it difficult to predict where or if Cichy will ultimately be drafted in April. The NFL Combine and UW's Pro Day will be held only six or seven months after Cichy's ACL tear, so the Somerset native likely won't be able to work out for scouts between now and the draft.
In his Players' Tribune article, Cichy compared this decision with the one he made to attend UW. He came to the Badgers as a walk-on rather than choosing more early playing time at a smaller school. He described himself as a kid everyone doubted who wanted a shot to prove everyone wrong.
"I took a big risk, and anything could have happened," Cichy wrote. "I'm in a similar position. I'm going to take a risk and give it everything I have."
You have free articles remaining.
Cichy also discussed his reaction to his ACL injury in the Players' Tribute article.
The senior was running a special teams drill during practice before hearing his knee "pop" and "crack." He still finished practice and even participated the next day as well, but Cichy wrote that he thinks he knew the injury was serious all along.
He wrote that when MRI results confirmed the worst, he "cried like a baby."
"After hearing that confirmation from the surgeon all I could do was cry," Cichy wrote. "It was one of the lowest points in my life.
"As soon as our orthopedic surgeon came into the room and told me that I had torn my ACL, that I would be done for the year, it was almost like my brain couldn't process anything he said after that. I just heard the news and then kind of tuned out for a minute or so. When I came back around and really put it all together, I excused myself to another room and ... sobbed."
Cichy said the next day he believes he got a hug from every single person affiliated with the UW football program — players, coaches, trainers, graduate assistants, support staff, etc.
He mentioned that fellow inside linebacker T.J. Edwards especially served as his "rock" and there were days where Cichy "cried on his shoulder for five minutes straight."
"Those interactions meant something to me," Cichy wrote. "Every single one of them. ... When something like what I experienced that day at our facility happens — just an outpouring of love and well-wishes coming at you all at once — it makes you realize just how special and amazing people can be.
"It's also the type of thing that doesn't just happen at any old place. Wisconsin is special."