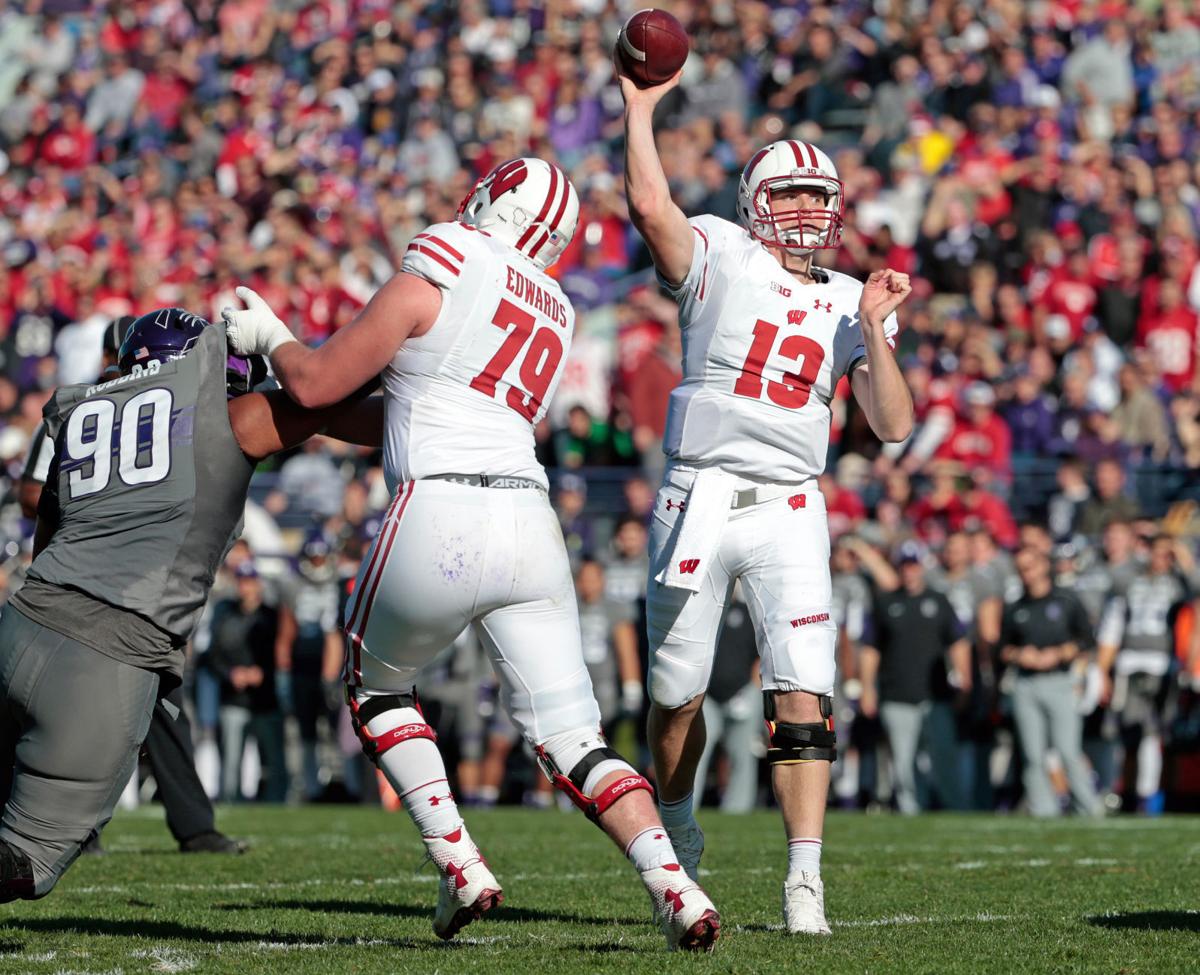 The University of Wisconsin continued to limit mistakes in pass protection during its 21-7 win at Northwestern on Saturday, and the Badgers' offensive line is starting to look more solid than it did just weeks earlier.
That's not to say the group has arrived at where it needs to be. Not even close. While still inconsistent in a lot of areas, though, Alex Hornibrook and Bart Houston are finding much more time to throw than the few games before UW's bye week.
You don't see too many mental errors along the Badgers' offensive line. It's a well-coached bunch made up of players who know what they're doing — something that shouldn't be taken for granted. Mistakes against the Wildcats on Saturday seemed to have more to do with individual technique.
In the more difficult circumstances — when Northwestern either blitzed or stunted its defensive line — the Badgers were usually up to the task.
Per Pro Football Focus, opponents have blitzed UW on 29 percent of passing plays this season, a lower percentage than all but three teams in the Big Ten.
There are a couple reasons that could explain that number. First, Hornibrook has shown an ability to get the ball out quickly and accurately against pressure, which we saw on numerous third-and-long conversions against Michigan State. As I noted in our film room story following the Ohio State loss, the Buckeyes appeared to back off from bringing heavy pressure after Hornibrook burned them for a long touchdown pass to Jazz Peavy against a six-man rush early in the game.
In other cases, however, that number was lower because UW's opponent didn't need to blitz in order to get to the quarterback. The most glaring example of this was the Badgers' loss at Michigan, where the Wolverines' front completely dominated all game. Ohio State also falls under this category, as Hornibrook was under loads of pressure even after the Buckeyes began sticking to a four-man rush.
Consistently winning those straight-up, one-on-one battles is an area the right side of UW's offensive line still needs to improve in, even though Beau Benzschawel and David Edwards have seemingly already come a long way in that department over the last few weeks.
Benzschawel had one of his best pass-blocking games of the season Saturday, but Edwards did struggle a bit in the second half after stringing together solid performances in UW's last two games.
While opponents blitz the Badgers less often than average, only three Big Ten teams — Rutgers, Illinois and Penn State — allow a higher quick-pressure rate than UW (23 percent), per PFF. A quick pressure is defined as a pressure that takes less than 2.5 seconds to create.
The running game still isn't at a level one would typically expect from the Badgers, but they're producing less negative plays than earlier in the conference season. Per PFF, the percentage of running plays in which UW gains less than 1 yard is down to 14 percent, which actually ties Michigan for the second-best mark in the Big Ten behind Ohio State.
Now that the Badgers have seemed to finally settle on their best five guys, you have to wonder if the continuity of the unit will start to improve over the next few weeks. If the offensive line — and quarterbacks, for that matter — can reach another level of consistency by the end of this month, UW will give itself a much better chance of avenging one of its two losses in a potential Big Ten Championship game.
Let's take a look at what else we saw when re-watching the Badgers' win at Northwestern.
— I wrote after UW's win at Iowa that I didn't think nose tackle was a natural position for Conor Sheehy, so I feel the need to point out how well he played Saturday.
The three starters on the Badgers' defensive line were all impressive, but Sheehy stood out as one of the best players on the field against Northwestern.
Look at the power he shows on the following plays. In the first video, he fights through a double team to make a play, and in the second he pushes past the right tackle to help stuff a fourth-and-1 run.
Sheehy was also a handful for center Brad North on a number of passing plays, from a nose tackle position and in nickel packages.
Sheehy's overall PFF grade of 82.6 was the seventh highest among FBS defensive linemen last week. Starting nose tackle Olive Sagapolu remains out again this week, but it probably won't matter if Sheehy continues to play as well as he did Saturday.
— UW was setting up Jazz Peavy's end-around handoff that went for a 46-yard touchdown from the very first drive of the game.
Check out these two stretch plays from the Badgers' first two possessions of the game — where they pull center Michael Deiter and the strong-side tackle to create an outside lane for the running back — and compare them to Peavy's big play.
Peavy has legitimate 4.4 speed and is one of UW's fastest players. I'm a little surprised the Badgers didn't hand the ball off to him a few more times in this game. They did try another end-around with A.J. Taylor, but Northwestern stayed at home this time and stuffed the play behind the line of scrimmage.
A few more quick-hit notes from the re-watch of Saturday's game:
— Hearing commentators continue to mistake Tim Tibesar for Justin Wilcox is quite comical.
— T.J. Watt's fourth-down stop of Northwestern running back Justin Jackson was truly an amazing play. Not only did he whip Jackson down with one arm and turn him so the ball didn't cross the first-down marker, but he kept his leverage against left tackle Blake Hance using only his arm/shoulder that was wrapped and in pain for much of the day.
— Ryan Connelly had another nice day, particularly against the run, and I thought Lubern Figaro had one of his best games of the season.