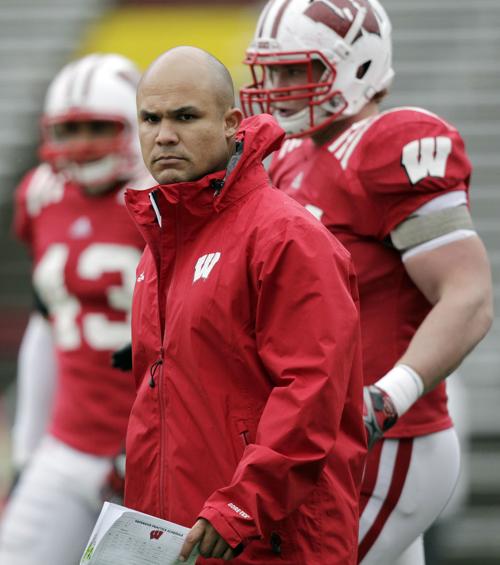 University of Wisconsin football coach Dave Aranda is leaving for the same position at LSU, the Tigers announced on Friday.
Aranda, who has been with the Badgers for three seasons, directed a unit that finished its season atop the nation in scoring defense.
"This is a great hire for us," said LSU coach Les Miles, whose team beat UW in the 2014 season opener and will face the Badgers again to kick off the 2016 season on Sept. 3 at Lambeau Field. "Dave has an outstanding track record of producing some of the best defenses in college football. We've seen him up close and understand how difficult it is to have success against him.
"He's everything that we were looking for in a defensive coordinator. He's youthful with tremendous enthusiasm; our players are going to love him. He brings great defensive knowledge to our staff both as a technician and as a strategist. We are thrilled that he's joining us."
Aranda replaces Kevin Steele, who left for a similar position at Auburn after one season with the Tigers. According to a USA Today database, Steele earned more than $1 million in 2015, almost double Aranda's $520,000 salary at UW.
Aranda joined the Badgers in 2013 as defensive coordinator and inside linebackers coach, following former Gary Andersen from Utah State. He reportedly was offered a chance to go with Andersen to Oregon State a year ago, but elected to stay in Madison as a part of new coach Paul Chryst's staff.
Under the native of Redlands, California, the Badgers allowed just 13.7 points per game in 2015. That was the top mark in the Football Bowl Subdivision until Alabama moved ahead of UW at 13.4 points per game allowed after shutting out Michigan State in the Cotton Bowl on Thursday. UW will reclaim the No. 1 spot if the Crimson Tide give up 19 points or more to Clemson in the College Football Playoff championship game on Jan. 11.
You have free articles remaining.
The Badgers also finished in the top five in the nation in total defense, rushing yards allowed, and passing efficiency defense.
Since Aranda's arrival, UW has been in the top seven nationally in total defense every year and has never been outside of the top 25 in any major defensive category.
Over Aranda's three-year tenure, the Badgers lead the nation in total defense, ranking third in passing yards allowed and fourth in rushing yards allowed, and are second to Alabama in scoring defense.
"He's done some exceptional things," UW junior cornerback Sojourn Shelton said in an ESPN.com article last month about Aranda. "The players here, they want to play for him. He gets the players to believe in themselves. And even in some down times when players go through things, he's always there for you. That's the type of coach that he is. He's definitely done a great job. If he was to leave, I think we all can understand and respect him for that."
Aranda's future has been the source of much speculation among Badgers fans. With the success that he has had at UW, his departure was seen as inevitable, with the only question being whether he would leave for a head coaching job, a defensive coordinator position at a marquee program, or possibly jump to the NFL. Aranda interviewed with the Green Bay Packers last winter for a spot on Mike McCarthy's staff, the Milwaukee Journal Sentinel reported in February.
LSU will be Aranda's sixth defensive coordinator position, following stints with UW, Utah State, Hawaii (2010-11), Delta State (2007) and California Lutheran (2005-06), his alma mater.
The Tigers finished 42nd in scoring defense this year, and 25th in total defense. LSU could potentially return nine defensive starters.
"Dave will bring different packages and an attacking style to the field," Miles said. "Watching his defense play, they are tough to move the ball on and they are sticky in every situation. His defenses do a great job of getting off the field.
"He's going to be a great fit for our personnel. He's a players' coach and we are really excited that he's going to be a LSU Tiger."