University of Wisconsin coach Paul Chryst said he'll never forget talking to Ginny Tolzien about her experience at games while her son, Scott, played quarterback for UW from 2006 to '10.
During Scott Tolzien's first three seasons in Madison, when he hardly played and attempted just eight total passes, Ginny expressed how much she loved being part of the atmosphere at Camp Randall Stadium.
"And then I asked her (again) about three games into (Scott's) junior year when he was starting," Chryst said. "I said, 'You still having fun at these games?' ... Every quarterback I've coached here takes (criticism)."
Sixth-ranked UW (12-1) enters Saturday night's Orange Bowl against No. 11 Miami (10-2) with a chance to win a 13th game for the first time in program history. The Badgers came within one drive of reaching the College Football Playoff and a shot at the national championship.
And yet, sophomore quarterback Alex Hornibrook endured a season-long barrage of disparaging comments and tweets about his play from the pessimistic section of UW's fan base.
"It's surprising to me because I think there's so much to be excited about with this team and this season," said Dawn Hornibrook, Alex's mother. "You hear it everywhere. If you're wearing a Wisconsin shirt, people will say things to you. You'd be shocked what people would say to a parent. It's just unbelievable.
"Some people maybe don't see him as a person but see him as a performance. That is kind of hard, but it is what it is."
Alex Hornibrook has completed 61.6 percent of his passes this season for 2,386 yards and 21 touchdowns with 15 interceptions.
Those 15 interceptions do stand out as something Miami will attempt to take advantage of after forcing more turnovers than any other Power Five Conference team this year. Hornibrook certainly committed some game-changing errors this season and threw three picks that were returned for touchdowns.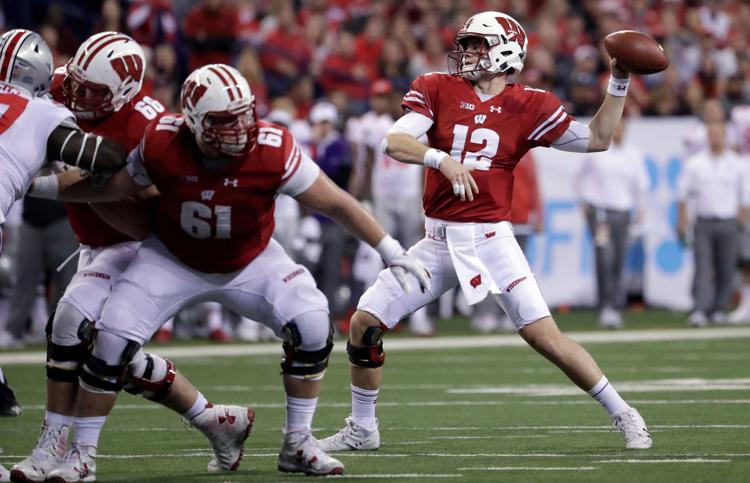 He also created plenty of moments that silenced his critics — such as his startling performance at BYU in which he completed 18 of 19 passes for 256 yards with four touchdowns and no interceptions, and the clutch throws he made against a stingy Michigan defense that helped overcome a second-half deficit and save the Badgers' playoff chances.
One thing Hornibrook has undoubtedly excelled at? Avoiding the flak directed his way and brushing off what he does see. The West Chester, Pennsylvania, native knows what's out there, but he said he stays off social media more during the season while negative opinions are at their peak.
"I don't really hear too much," Hornibrook said. "It's usually just a few 12-year-olds or 50-year-old men that are trying to get onto my Instagram or something like that, but I don't really interact with it."
On and off the field, Hornibrook is about as even-keeled as they come, and that's certainly helped him in the situation he's found himself in as UW's full-time starting quarterback this season.
If he let harsh words get the better of him, Hornibrook might have crumbled after throwing interceptions — the plays that bring his haters out in full force.
But those big-time throws late against Michigan, for example, came immediately after throwing a pick that allowed the Wolverines to take the lead. In many instances throughout the season, he's followed up his poor plays by more than making up for them.
"He doesn't really dwell on a lot of things," Dawn Hornibrook said. "He doesn't get too high and he doesn't get too low. I've heard that said about him before, but it's true. That's who he is."
You have free articles remaining.
Register for more free articles
Stay logged in to skip the surveys
Looking forward
When Hornibrook makes a mistake — no matter the situation — he never reacts negatively or even expresses any outward reaction at all. Body language affects yourself and everyone around you, Hornibrook said, and there's no point in whining or complaining about what's already happened.
It's a trait not too common among young college athletes, but it's one those close to Hornibrook say he's always had. Aaron Brady, the quarterback's high school coach at Malvern Prep, said Hornibrook reminds him of former Stanford quarterback Kevin Hogan in this way. Brady also coached Hogan in high school.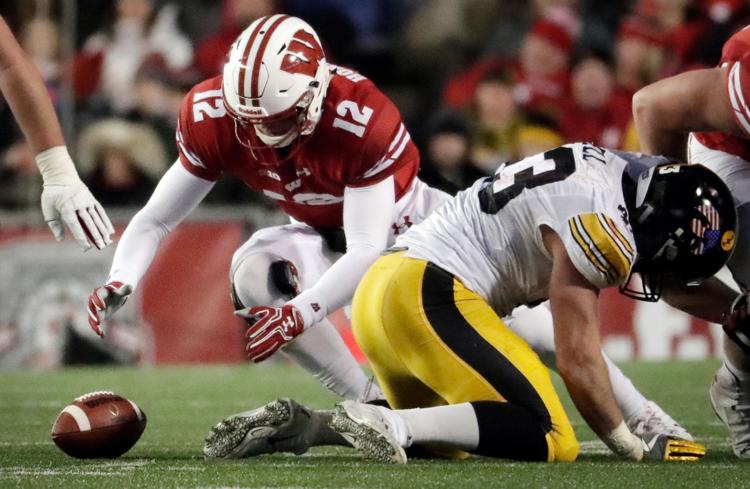 Like Hornibrook, Hogan, now with the NFL's Cleveland Browns, faced loads of criticism during his time with the Cardinal for not living up to lofty expectations others placed on him.
"I think that's something (Hornibrook's) always had in him as an athlete," Brady said. "He's not afraid to go back out there. You're going to make mistakes when you play at a level like that, take some risks. But he's willing to come right back.
"At the end of the day, to me, is (Hornibrook) managing the offense? Are the kids believing in him? Obviously they are or they'd put somebody else in there. It's Division I football. You always have other guys. When Hogan was at Stanford, every year they tried to replace him with a new recruit, and Wisconsin's going to do the same thing because you want to be competitive as possible."
Despite outcry from a portion of the fan base, finding a better option than Hornibrook, especially now with multiple years of experience on his side, won't be easy.
Even with his 15 interceptions, Hornibrook has put together one of the best statistical seasons for a UW quarterback since Russell Wilson in 2011.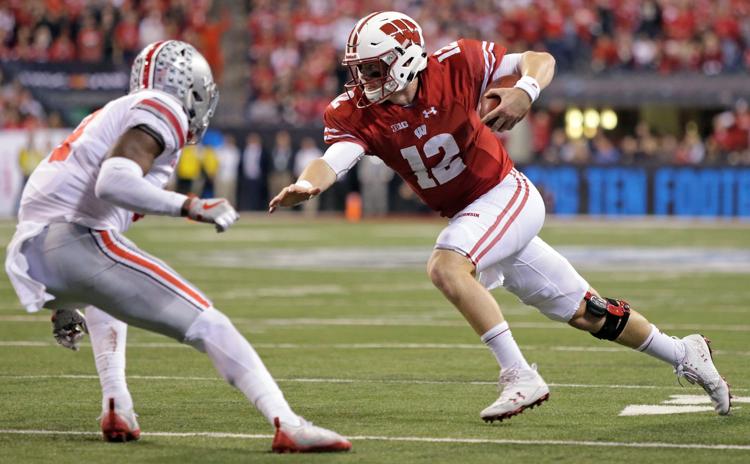 If he's able to cut down his mistakes — especially considering the offensive weapons returning next year — Hornibrook appears capable of taking his game to the next level after another offseason to improve his game.
If Hornibrook starts throughout the next two seasons, he very likely could break Darrell Bevell's school records for passing yards (7,686) and passing touchdowns (59). Hornibrook needs just 13 more victories to become UW's all-time winningest quarterback, a feat he could approach by the end of his junior year.
"It reminds me of (Carolina Panthers quarterback) Derek Anderson," said Chryst, who served as Anderson's position coach during Chryst's final two years at Oregon State. "Derek was at Oregon State and was the all-time leading passer, and I know what was being said. Alex, and I think our guys in general, they know what's happening. Alex has done a ton of great things. And there are areas that he wants to work on, and he will continue to do that."
That's all Hornibrook's worried about — getting better. This past offseason, he spent his entire spring break and a chunk of his summer — the few "off" periods players are given throughout the year — seeking outside help on his mechanics. He transformed his body by eating 6,000 calories per day. And by all accounts, he's typically the last guy out of the film room.
However fans remember Hornibrook after he leaves Madison, he appears a good bet to maximize his potential while he's there.
"I think you've just got to take (the criticism) as it comes," Hornibrook said. "Coach Chryst said something along the lines of, 'Just be good and you have nothing to worry about.'
"I think I've definitely progressed from last year, but I'm still not anywhere close to where I want to be. There's still a lot of things that I need to get better at and that I will get better at."