Graham Mertz had to face the music after his worst collegiate performance two weeks ago at Northwestern.
The University of Wisconsin's redshirt freshman quarterback was under difficult circumstances against the then-No. 18 Wildcats — his top two receivers were out with injuries, starting tight end Jake Ferguson got banged up during the game and Northwestern's run defense was its typical stingy self.
Still, Mertz made some crucial mistakes that cost the No. 18 Badgers (2-1) a chance at an ugly win in Evanston (Is there any other kind?).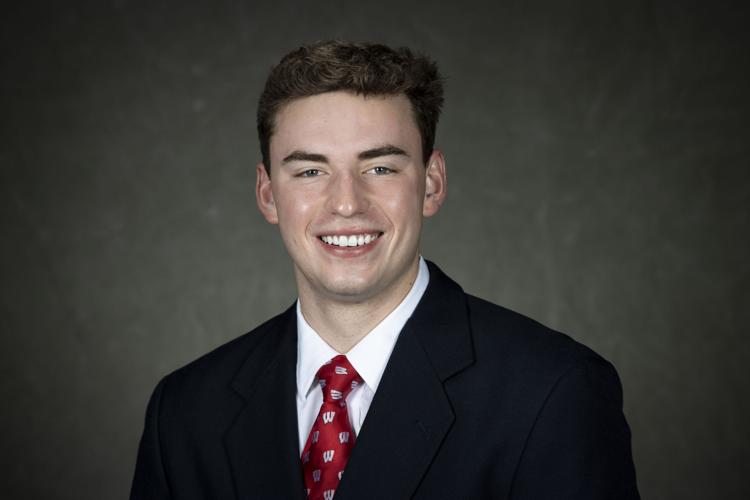 To his credit, Mertz has owned those mistakes in news conferences, saying his footwork and timing weren't up to par and he was dedicated to correcting those mistakes. He had two weeks to do so after the Badgers' game against Minnesota was canceled, but the challenge he faces against No. 10 Indiana this week is about as difficult.
The Hoosiers (5-1) have tallied 16 interceptions and 20 sacks in six games this season, so Mertz will have his hands full avoiding pressure and being smart with his throws.
"For me the big thing was timing and how I could play with better timing and really just work through progressions and be confident in the progression, knowing that I've got something back there that's going to pop open for me," Mertz said Monday. "For me, that's tying my feet and my eyes together and playing with great timing. I think it's been a great week and a half working from that learning experience, and I'm looking forward to keep working this week."
So what kind of mistakes does Mertz need to avoid Saturday? Let's open the film room and take a look:
Situation: First-and-10 at the UW 45, early first quarter
Play: Mertz sacked by Blake Gallagher for a loss of 7 yards, fumble, recovered by Trevor Kent
Breakdown: This is a play-action pass with eight men blocking for Mertz and two going out for pass routes. It's a similar concept to a play that went for a 49-yard touchdown to Chimere Dike earlier in the first quarter, but here it results in a turnover.
Northwestern sends two blitzers — Gallagher comes from his linebacker spot closest to the bottom of the screen and the safety behind him also comes. That's important to note because Indiana does a lot of similar delayed blitzes and often sends inside linebackers on rushes.
Mertz still is looking deep when the pressure comes and he steps up in the pocket looking to throw. Mertz's issue here is ball security. He has two hands on the ball and he's trying to shake off the pressure, but the ball is away from his body enough that Gallagher's hard wrapup jars it loose. Mertz just needs to eat this sack in the future, but in fairness, that's a feel for a situation that only comes through playing at game speed.
Situation: First-and-10 at the Northwestern 36, late second quarter
Play: Mertz pass tipped by Paddy Fisher, intercepted by Brandon Joseph
Breakdown: Here's an example of Mertz's footwork being off.
As Mertz drops back, there's a bit of pressure immediately off the right side. That rush actually gets picked up when left guard Jon Dietzen comes over and stops the stunt, but Mertz overreacts and takes a few steps to his left instead of going straight back or to his right.
When he throws, his body weight still is leaning left — look how his left foot comes up and straight down instead of stepping toward his target. It's impressive that Mertz still is able to get a good throw off, but the angle he created by stepping left allowed Fisher to get back into the throwing lane and tip the ball just enough to throw off kilter intended target Hayden Rucci and the ball to pop in the air.
These are the kinds of plays Indiana has feasted on this season — tipped passes, minor mistakes, etc. — and the Hoosiers' secondary aggressively attacks the ball in the air.
Situation: Third-and-8 at the UW 49, late second quarter
Play: Mertz pass is intercepted by Brandon Joseph
Breakdown: At this point in the game, UW has made a number of mistakes on offense and played poorly overall, but its defense has made stands and kept the score tied. But this turnover, an example of poor timing from Mertz, ended up leading to a go-ahead touchdown.
Receiver Jack Dunn weaved through the linebackers' zone to get separation on this over route, but Mertz threw it too early and obviously too high. You may need to manually drag the video player to see this, but if Mertz waits an extra beat — which he has because there's a clean pocket in front of him — he could've thrown this ball on a line toward the numbers and Dunn runs under it for a big gain.
Mertz trying to get the ball in a tight window over the linebacker's leap and under the safeties is exceedingly difficult, and the window is made even smaller given that Dunn is 5 foot 7 and isn't going to win many jump balls in the middle of the field.
Situation: Third-and-3 at the UW 36, early fourth quarter
Play: Mertz pass incomplete
Breakdown: Not every mistake from Mertz was a turnover.
This is a timing issue, one probably caused by being a little rattled by the events of the game before this. We obviously have the benefit of slow motion, but this is a timing route and Mertz has to deliver the ball to the outside receiver, fullback Mason Stokke, as soon as he turns his head to the left.
With a good throw toward the outside shoulder, Northwestern's DB between the hash marks and numbers doesn't have a chance to make a play on the ball. Mertz instead hesitates, the windows closes and his eventual throw is a dangerous one.
Because of how he played against Illinois and Michigan, it's easy to forget Mertz is first-year starter and isn't immune to the swings of a game like the one he played at Northwestern.
Situation: Third-and-6 at the UW 42, mid-fourth quarter
Play: Mertz pass incomplete
Breakdown: Mertz said he was waiting on his first read too long against the Wildcats and this play exemplifies it.
ESPN's Todd Blackledge shows on the telestrator where Mertz should've gone with the ball, throwing to Dike the second he breaks his route back toward the sideline. But look at Mertz's head/eyes — they're down the middle of the field looking for Ferguson (84), who gets knocked off his route by a linebacker then blanketed by a safety.
Ferguson has been a reliable third-down target all season for UW, so it makes sense why Northwestern paid so much attention to him. Mertz has to recognize the first read wasn't there quicker and move on.