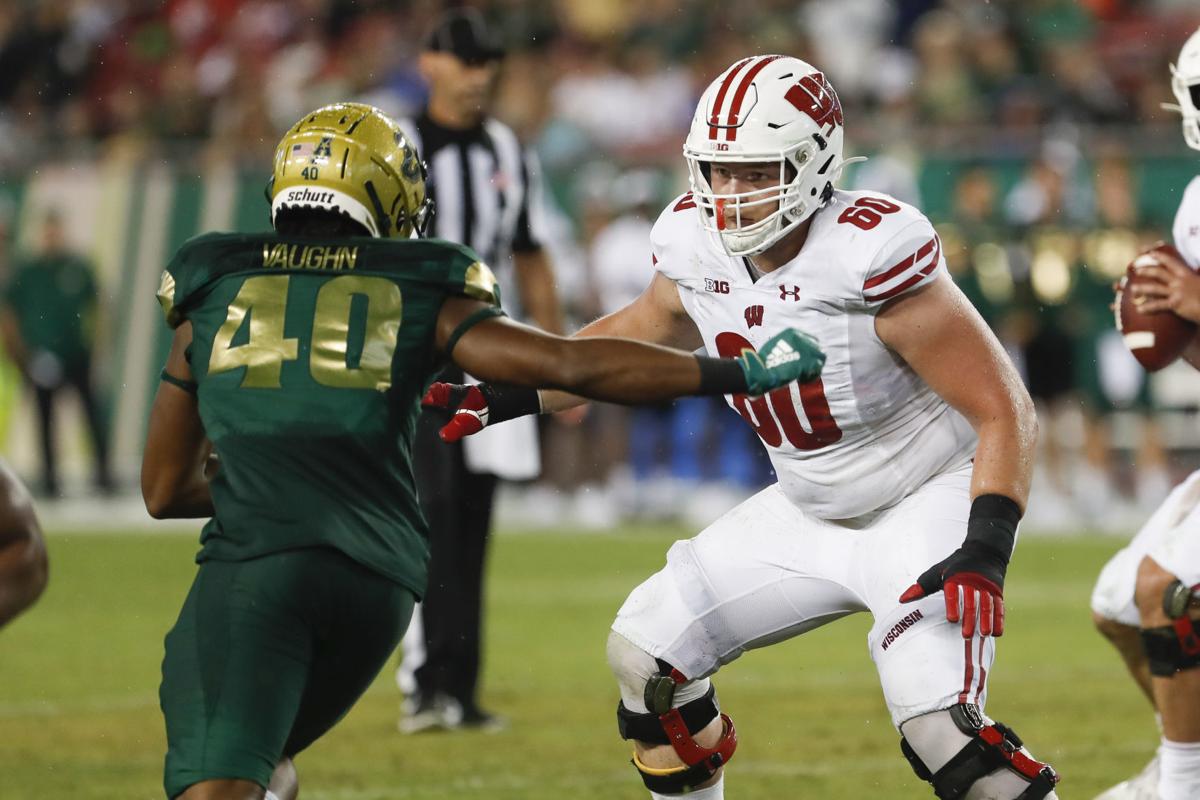 Logan Bruss doesn't quite have the name recognition as other offensive linemen on the University of Wisconsin football team.
Even though the sophomore right tackle from Appleton has been a starter from Day 1 this season, missing only the Central Michigan game due to a left leg injury, Bruss was still a question mark outside the locker room when the year began. He started three games last season when David Edwards dealt with a shoulder injury, and was solid for a player getting his first snaps.
Now, as his experience grows, Bruss has been a bright spot for the offensive line. He's shown versatility as well, playing at guard when injuries called for it. But that doesn't necessarily mean he's getting his proper due from opponents.
"A lot of guys might look at Bruss on the other team and say, 'Oh, I can beat him.' And then when they actually try to go beat him, he's technically sound and they're jammed up in their chest like, 'What's going on?'" UW junior tailback Jonathan Taylor said. "I think he does a great job of using leverage and having great hand placement."
Bruss has the size and power needed for his position, but the 6-foot-5, 310-pounder's quickness has also been on display. He was used on pulls against Iowa last week, and is nimble enough to maintain proper footwork when he gets to linebackers at the second level.
The details with which Bruss plays are what stand out to Joe Rudolph, the team's offensive coordinator and offensive line coach.
"I think he's playing at a really high level, to be honest with you. There's always a few plays you go through that you need to clean up, but he's playing explosive, he's playing pads out. He's been very consistent in his play. I'm really excited about his progress," Rudolph said.
Bruss would rather let his play do the talking, but he said Monday he feels he's made a significant step forward in his first season as a starter. It's the room he still has to grow that keeps him motivated.
"I like the progress that I've made. From the first game, I've made a huge jump," Bruss said. "At the same time, you think at the film and you see a ton of things you can improve on, so as a player, it's kind of exciting to see what you need to improve on and then you have something to work towards every day."
Last season's line, which produced three NFL players, provided a model for how to prepare in practice and for games, Bruss said. That's continued with line-mates such as Tyler Biadasz and Cole Van Lanen, he said.
But Bruss also had to get comfortable with his own mental routine, and doing that as a starter took time to learn, he said.
"There's a lot that goes into it. It's more than just technique and assignments. You just have to kind of get that feel for the game. It takes time to get," Bruss said.
Bruss and the offensive line, along with stellar play from fullback Mason Stokke, opened big holes last week. The Badgers (7-2, 4-2 Big Ten Conference) racked up 300 yards rushing — their third 300-yard performance this season — including 250 from Taylor after a pair of sub-par performances on the ground against Illinois and Ohio State.
Focus was better in practice throughout the week preparing for Iowa, Bruss said, and UW will need that to continue for the final three games of the regular season. That starts Saturday with Nebraska, whose defensive linemen average 6-2½ and 320 pounds.
"I just felt that the whole week of preparation just felt different. I think it was the best week of preparation we've had in a long time, if not the whole season. So I think that's the main reason why we were so successful. Hopefully we can build off that and keep going," Bruss said.
Even if opponents are underestimating Bruss, as Taylor posed, the Badgers are well aware of the value he brings.
"He's definitely developed really well. He's an outstanding player. I trust him with everything I've got," quarterback Jack Coan said. "I know when he's out there, he's going to put it all on the line for us."
Be the first to know
Get local news delivered to your inbox!