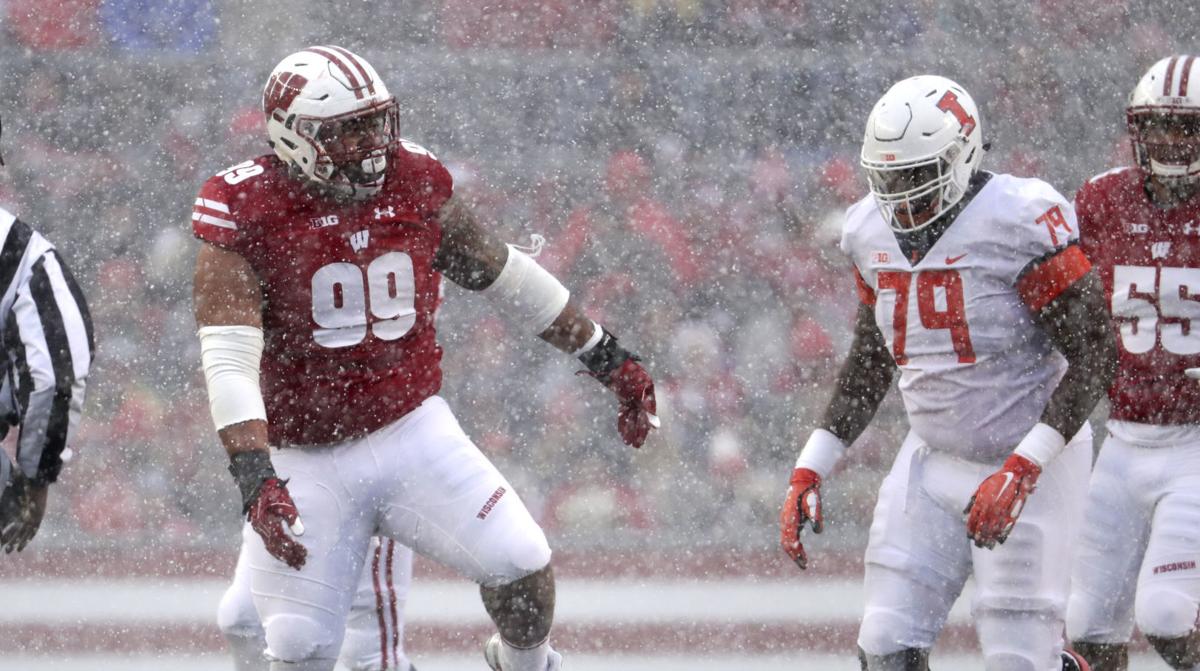 The University of Wisconsin added yet another defensive starter to its injury report Monday.
Nose tackle Olive Sagapolu, who left Saturday's 49-20 win over Illinois at Camp Randall Stadium with a left leg injury, is questionable to play at Northwestern this week.
The senior joined safeties D'Cota Dixon (right leg), Scott Nelson (right leg) and Reggie Pearson (left leg) and cornerback Faion Hicks (left leg) as those who may not play against the Wildcats.
Defensive end Isaiahh Loudermilk (left leg) and cornerback Travian Blaylock (right leg) won't play Saturday. It'll be the third straight missed game for Loudermilk and second consecutive time the Badgers have ruled him out early in the week.
"He's making progress," UW coach Paul Chryst said of Loudermilk. "We'll continue to find out and see. It's really that with all the (injured players), kind of see what happens as the week progresses."
Loudermilk, Sagapolu, Dixon, Nelson and Hicks are all regular starters, even when the defense is at full strength.
Freshmen Matt Henningsen, Bryson Williams, Deron Harrell and Rachad Wildgoose could see significantly more playing time if Loudermilk, Sagapolu and Hicks are out. Williams could make the first start of his career in place of Sagapolu.
If the trio of Dixon, Nelson and Pearson are all out for the second straight game, it likely leaves Eric Burrell and Evan Bondoc to start at safety again.
"You'd like to think the focus stays the same," UW inside linebacker T.J. Edwards said. "Those guys come in and are well-prepared physically and mentally. We have 100 percent faith in them that they're going to do what we ask of them, and we have to do our job as well."
You have free articles remaining.
UW looking for consistency in punt game
Kicking wasn't an easy task at Camp Randall on Saturday, as snow and strong winds affected special teams throughout the game. Punter Anthony Lotti even bobbled and dropped a snap in the first quarter, leading to an off-balance, 13-yard punt that gave Illinois the ball at midfield.
While the elements were much to blame last week, UW ranks 13th in the Big Ten and 99th nationally at 39.4 yards per punt this season.
The Badgers did down a Lotti punt on the 3-yard line in the fourth quarter, however, and Chryst said the junior has impressed at times this season.
"We've had our moments that have been really good and then we've had some where we'd like to be better," Chryst said of the punting game. "I think each guy kind of owns their part of it, for the good and the areas where we can get better. I think Anthony, he's had a number of really good punts, and probably like a lot of guys on our team, some that he'd like to have back. So we just need him to focus on the moment and focus on the little things that he can do to help himself that helps our team."
Rutgers kickoff time announced
UW's game against Rutgers at Camp Randall Stadium next week will kick off at 11 a.m. and be televised by the Big Ten Network, the schools announced Monday.
It will be just the third-ever matchup between the programs, with the Badgers winning 37-0 in 2014 in Piscataway, N.J., and 48-10 in 2015 in Madison.
The Badgers' game at Northwestern on Saturday will be televised by FOX, UW announced Monday. The contest's 11 a.m. kickoff time was announced last week.
Former Badgers inside linebacker Jack Cichy, now a rookie with the Tampa Bay Buccaneers, tore his ACL in the third quarter of Sunday's game against the Browns.
Cichy missed his final season at UW with the same injury, which he suffered during fall camp last year, and also sat out the last seven games of the 2016 season after tearing a pectoral muscle against Iowa.