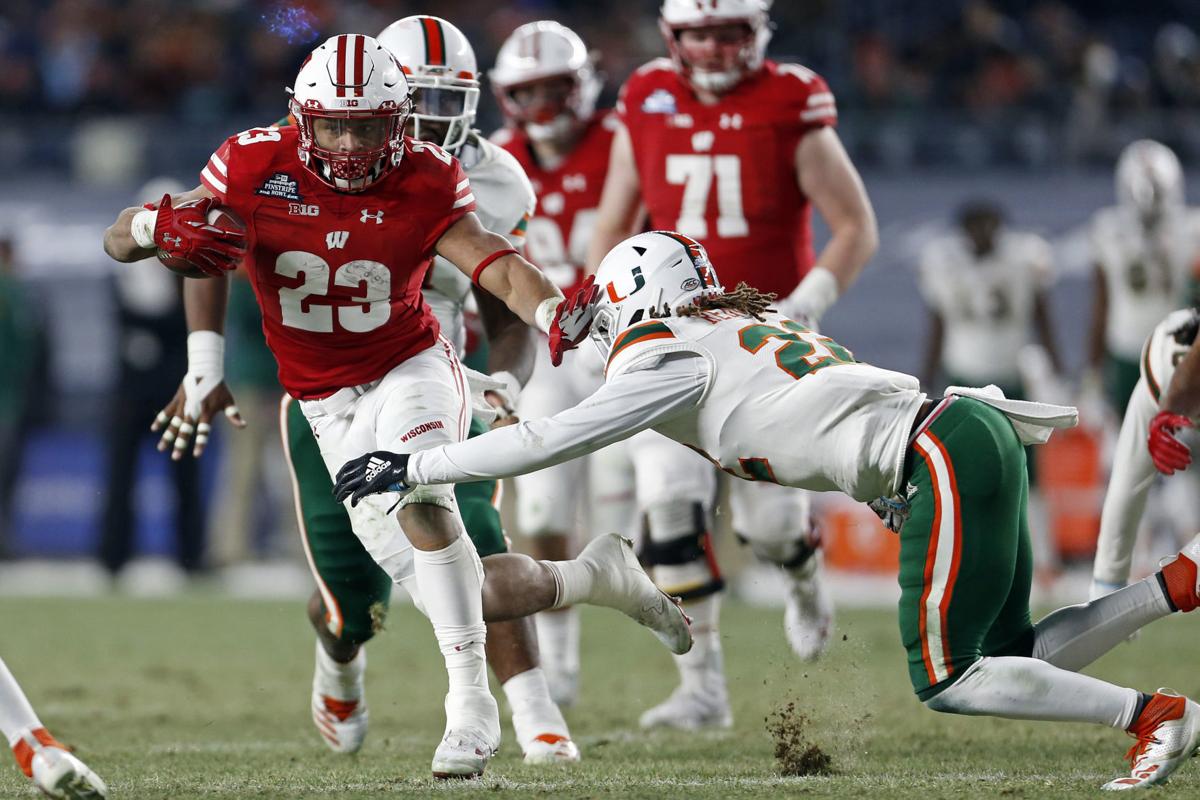 NEW YORK CITY — The University of Wisconsin may need a turnover chain of its own after Thursday's Pinstripe Bowl at Yankee Stadium.
The Badgers (8-5) recorded five takeaways in a 35-3 victory over Miami (7-6), capping the year with a fifth straight bowl win and a dominant performance in a season that didn't produce many of them.
"You definitely saw (Miami's offense) start to lose their willpower," UW inside linebacker Chris Orr said. "Especially when our offense keeps driving the ball and scoring. You definitely see them start to give up and lose a little hope."
UW's first defensive snap Thursday at Yankee Stadium foreshadowed what was to come throughout the night for a struggling Hurricanes offense — when Eric Burrell stepped in front of a Malik Rosier pass and returned it 30 yards to the Miami 7-yard line to kick off arguably the Badgers' best defensive outing of the year.
Jonathan Taylor, who finished with 205 yards on 27 carries, his fifth 200-yard day of the season, punched it in on the next play, giving the Badgers a 14-0 lead three and a half minutes into the contest. UW quarterback Jack Coan hit Kendric Pryor for a 35-yard touchdown on the game's first possession.
The Wisconsin Badgers rolled to a 35-3 victory over the Miami Hurricanes in the Pinstripe Bowl on Thursday at Yankee Stadium in New York. 
Rosier, who lost his starting job earlier this season, completed 5-of-12 passes for 46 yards with three interceptions in his first action since Nov. 3. Freshman N'Kosi Perry, who faced criticism in the lead-up to Thursday's game for posting a sexually-explicit video on social media, replaced him late in the third quarter.
Perry didn't help matters for Miami, as he finished 1-of-5 passing for two yards and an interception.
"I feel like N'Kosi's still navigating how to become the starting quarterback, on the field, off the field," Miami coach Mark Richt said. "I didn't feel like he deserved the opportunity to start. Malik practiced really well, and I felt like he was going to give us the best shot."
The final 26:30 of the first half became, like much of this season, full of missed opportunities for UW's offense. The Badgers ran the ball seven straight times to begin their next possession, putting UW in field-goal range, before Coan tossed an interception to Jaquan Johnson after escaping pressure to get outside the pocket.
An 11-play drive the next time out led to no points after Badgers kicker Rafael Gaglianone missed a 41-yard field goal, and the senior also missed from 39 yards out later in the second quarter.
UW's defense continued to do its part, though. The Badgers forced three takeaways on Miami's first six drives. Along with Burrell's early interception, Orr picked off Rosier at the Miami 42 with 7:23 left in the half, and outside linebacker Andrew Van Ginkel forced running back Travis Homer to fumble on the Hurricanes' next drive before inside linebacker T.J. Edwards recovered.
Miami's best chance at the end zone came when Van Ginkel lost containment on a second-quarter read-option, allowing Rosier to run 62 yards to the UW 30-yard line, but the Badgers still held on to force a 33-yard field goal and take a 14-3 lead into the half.
"Going into halftime, we knew we left some points on the board," Taylor said. "But one of the biggest things was they were all correctable. It wasn't anything that was out of our control. It was all within our control. So going into halftime, it was just a matter of resetting, coming back together and understanding that we need to capitalize on every opportunity we get to put these guys away."
The Hurricanes found themselves in great field position on their second possession of the third quarter when DeeJay Dallas picked up a punt off the turf and returned it 35 yards to the UW 40.
That led to Miami's fourth turnover, however, when Rosier tossed the ball into the hands of Edwards. It marked the 10th interception of Edwards' career, more than any other linebacker in UW history.
Rosier's night ended on that play, but Perry couldn't spark Miami's offense. He threw a bad interception to Caesar Williams on third-and-7 early in the fourth quarter, and UW capitalized with another touchdown. Coan rushed in from 7 yards out to give the Badgers a 28-3 lead with 9:59 remaining, and Taiwan Deal added a 1-yard touchdown run in the final seconds.
The Hurricanes finished with 169 total yards, including just 48 through the air.
"People have been doubting us all season," UW cornerback Rachad Wildgoose said. "We dominated today, as you can see. It felt good — I ain't gonna lie."