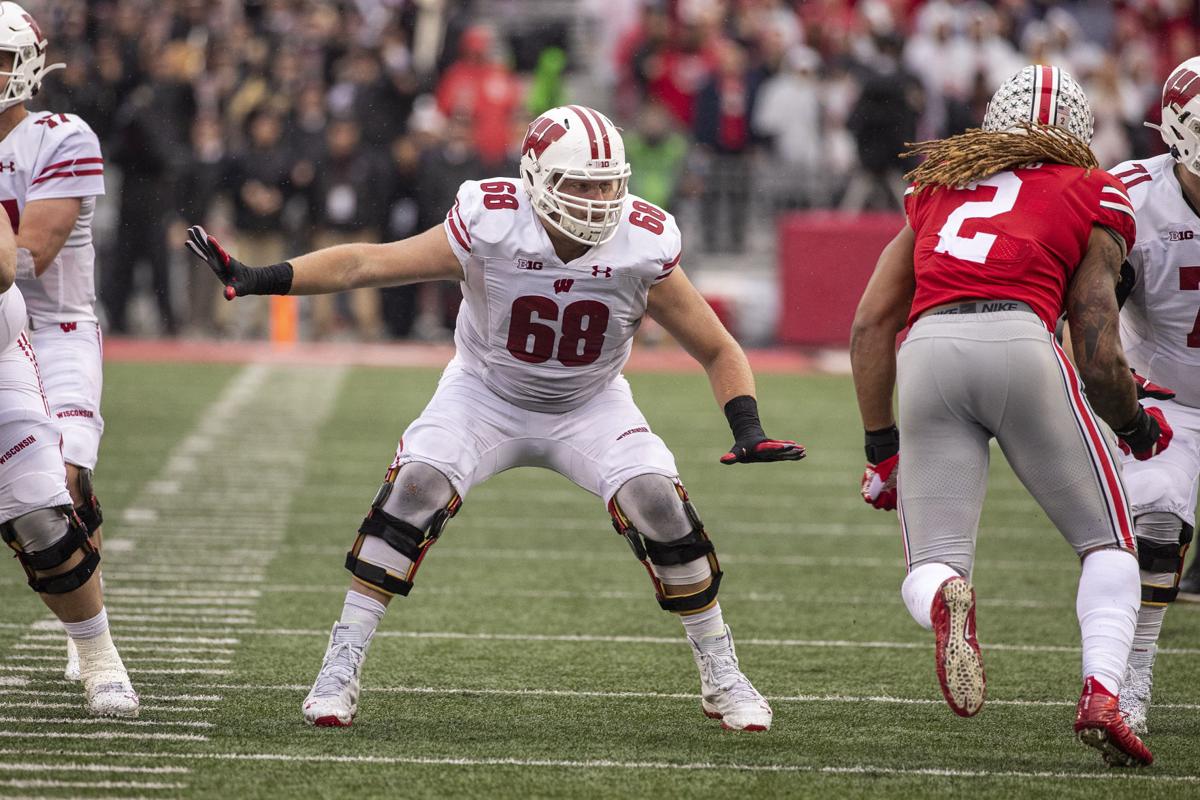 Throughout his career with the University of Wisconsin football team, David Moorman has been viewed as a Mr. Fix It.
Need a spot tackle when a starter goes down? Moorman was on it. Need a player who can serve as the backup on both sides of the line and fill in seamlessly? Moorman's your man. Need a tight end when depth becomes an issue? Moorman's done that, too.
But the fifth-year senior was asked to do a couple of things that were a little out of the ordinary last month. First, play left guard, a position he knew how to play but wasn't as experienced at, and be the game-in, game-out starter. His adaptability shone through again in his new role, and he's embraced the chance to make a greater impact as his college career comes to a close.
"It's been a dream come true, honestly. You come here to play in big moments, you come here to get on the field as best you can. Earlier in the season, I was just pumped to help the team whenever I can. To be able to really take over a starting job and make it my own, it's been a blessing. I love doing it," Moorman said. "It's been an honor, too, to have my coaches and my teammates trust me. I think I've done a good job to this point, but I can still get better, need to get better each week."
Moorman was inserted as the starter at left guard for No. 13 UW (9-2, 6-2 Big Ten Conference) in the lead-up to its game at Ohio State on Oct. 26. It was part of a new strategy with the offensive line for position coach and offensive coordinator Joe Rudolph. Instead of rotating a trio of players at guard, Rudolph stuck with the same five players throughout the game — Cole Van Lanen at left tackle, Moorman at left guard, Tyler Biadasz at center, Jason Erdmann at right guard, and Logan Bruss at right tackle.
Moorman's debut didn't go well for him or the rest of the offensive line as the Buckeyes dominated up front and cruised to a lopsided win. But the bye week that followed allowed the unit time to get rested and get on the same page.
Since then, the Badgers have had three of their best offensive performances in Big Ten play:
A look at how the Badgers used the wildcat formation to add variety to the offense against Purdue.
473 total yards, with 300 on the ground, in a 24-22 win over No. 19 Iowa.
482 total yards, with 320 rushing, in a 37-21 victory at Nebraska.
606 total yards, with 403 rushing, in a 45-24 win over Purdue.
You have free articles remaining.
Moorman said he's enjoyed being able to focus his attention on just one position each week, as opposed to preparing for multiple roles and not knowing which one might come up on game day.
"When I was playing tackle, guard, tight end, you definitely have your base skills that transfer to every position, but for the most part you're just trying to cut it loose. You're just like, 'All right, maybe I don't have perfect technique, but I'm just going to out-physical this guy and get the job done,'" Moorman said. "Now it's been really nice to really lock in on the different techniques I need to do."
Having a consistent role also allows him to narrow down the film he watches, Moorman said. He can focus on particular matchups with linemen and linebackers, and that's helped him glean more actionable information.
Biadasz, a junior who is a finalist for the Outland Trophy, said he's seen Moorman's confidence bloom in the full-time guard role.
"I think he's done a great job of really feeling what he needs to work on and improving each week. He definitely has," Biadasz said. "It's always steps forward, it's never steps back. I think he's done a great job in solidifying that role and making that his."
Moorman's path to being a regular starter mirrors Erdmann's. Both were valued reserves throughout their careers, and played often in a variety of positions. But now the pair of fifth-year seniors have a chance to end their careers on a high note — the winner of Saturday's game at No. 9 Minnesota (10-1, 7-1) wins the West Division and will play Ohio State in the conference championship game.
Moorman said Erdmann's influence and guidance as he moved into his new role have been invaluable.
"I think it was after the Iowa game, we're holding that trophy and we just looked at each other and we're like, 'Man, who would've thought that you and me would be holding this trophy right now?'" Moorman said.
"We were roommates when we traveled for the first four years of our careers, so being able to have the relationship that we have, it definitely applies to the field and transfers on there. It's definitely been a nice transition for me coming to guard, having a guy like him who's played guard and center for most of his career, just has experience, bouncing ideas off him has definitely helped me as a player."
UW coach Paul Chryst said he values what Moorman brings and his willingness to embrace new challenges.
"What I've appreciated and enjoyed this year about David is that, like a lot of our seniors, (he) went all in," Chryst said. "'How can I make this the best year I can make it?' I think it comes from, 'What can I give this team?' And he's done that. He approached the offseason that way, he had a heck of a spring, carried it forward in the summer and so it's been fun to watch. He's certainly been giving us good play."