MINNEAPOLIS — Caesar Williams already had a feeling the ball was coming his way when he lined up against Minnesota receiver Tyler Johnson near the goal line early in the fourth quarter Saturday.
Williams, a junior cornerback for the No. 13 University of Wisconsin football team (10-2, 7-2), had studied enough tape to know that when the Gophers were deep inside the red zone, Johnson was the player they trusted to win one-on-one battles and create plays.
On top of that knowledge, he also saw something on Minnesota's sideline that gave him a good idea that he was going to be tested.
"Me being a little bit undisciplined, I saw P.J. Fleck, he was crouching on the sideline looking at me," Williams said. "So I looked back at him and I nodded my head. I was like, 'Let's get it.' The way he was looking at me, I knew the ball was coming over here."
Williams said Fleck, Minnesota's coach, looked at him on third- and fourth-plays that Gophers' quarterback Tanner Morgan tried to get Johnson the ball. Williams broke up both passes, which stopped the Gophers' momentum and helped spark UW's runaway, 38-17 win at TCF Bank Stadium.
The victory secures not only Paul Bunyan's Axe for the Badgers, but also the Big Ten West Division title and a berth into next week's Big Ten Championship Game. 
Williams' back-to-back pass breakups were just a couple of his highlights against Minnesota. He intercepted a pass in the second quarter that set up a UW field goal, and he almost had another interception in the middle of the field.
He was playing in a multitude of roles as the Badgers dealt with an injury to fellow cornerback Rachad Wildgoose that kept him off the travel roster. Williams played both in the slot and on the outside to help account for Wildgoose's absence.
"The challenge was just having to learn that new position that quick, making adjustments," Williams said. "Usually playing on the outside and using different techniques, it was a challenge. I messed up a couple times, but if they need to put me in there again, I'll do whatever for the team."
State Journal columnist Tom Oates grades the 13th-ranked Wisconsin Badgers' performance in their 38-17 win over the 9th-ranked Minnesota Golden Gophers on Saturday at TCF Bank Stadium in Minneapolis.
You have free articles remaining.
Register for more free articles
Stay logged in to skip the surveys
Williams was the standout of a secondary that had more good plays than bad against a powerful No. 9 Minnesota (10-2, 7-2) offense. Williams finished with four pass breakups, while safety Eric Burrell had three breakups.
The secondary knew it was in for a battle against Minnesota because of Johnson and sophomore receiver Rashod Bateman, and each of them scored a touchdown Saturday. But the Badgers' front was able to make Minnesota one-dimensional by shutting down the inside running game that is the centerpiece of the offense.
"As a D-line, I feel like we had a great week of preparation," said defensive lineman Isaiahh Loudermilk, who tallied four tackles and half a sack. "What Minnesota was going to throw at us wasn't a very big menu, so we were able to focus up a lot on certain things."
Loudermilk and junior Garrett Rand were on the field often as UW's down linemen in its 2-4-5 nickel defense. Their ability to contain the run took away a significant chunk of the Gophers' run-pass option offense. Minnesota had 96 rushing yards on 25 attempts, not counting the 20 yards lost on five sacks of Morgan, and 59 of those yards were on two runs.
Rand finished with seven tackles, including a strip sack that UW recovered at the Gophers' 18 that allowed the offense to tack on another late touchdown.
Loudermilk and Rand also snuffed out a pair of tunnel screens Minnesota tried to use to supplement its run game, stopping those plays for gains of 3 and 5 yards.
"We go into any game and our main goal is to stop the run," Rand said. "I think we just did a good job of preparation this week and during practice. I think that's what it comes down to, practicing really well, reading the blocks, knowing what you're going to get."
---
Photos: Wisconsin Badgers take back Paul Bunyan's Axe from Minnesota Golden Gophers
Badgers 38, Golden Gophers 17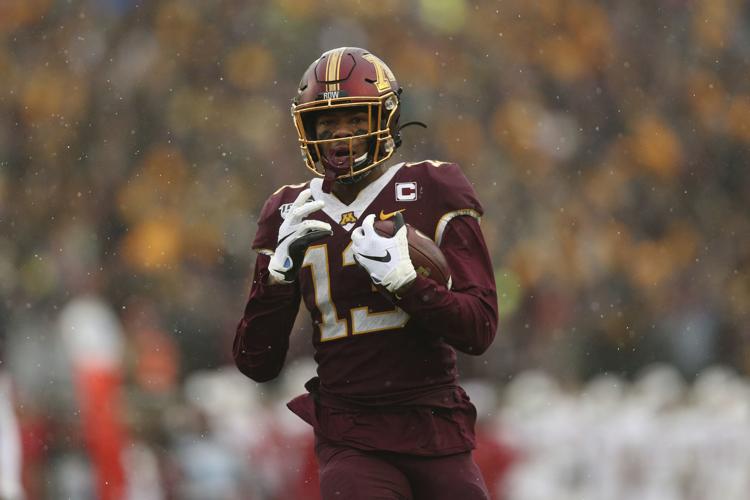 Badgers 38, Golden Gophers 17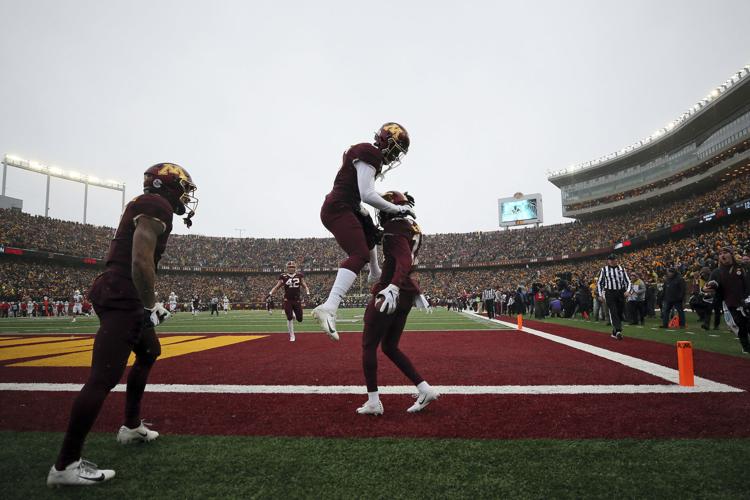 Badgers 38, Golden Gophers 17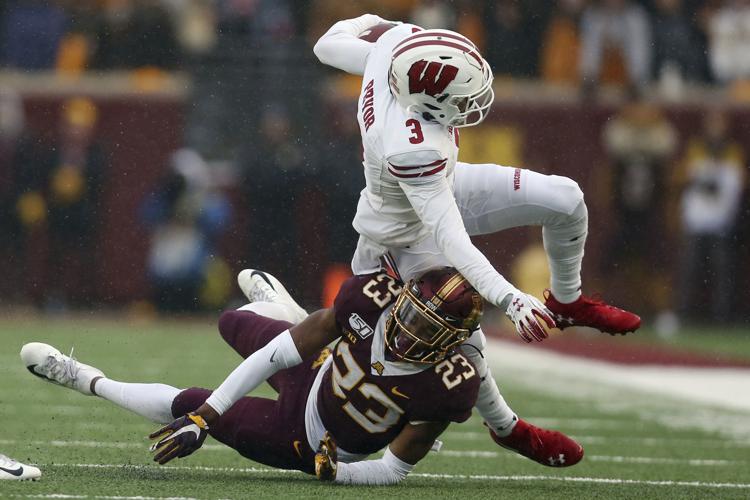 Badgers 38, Golden Gophers 17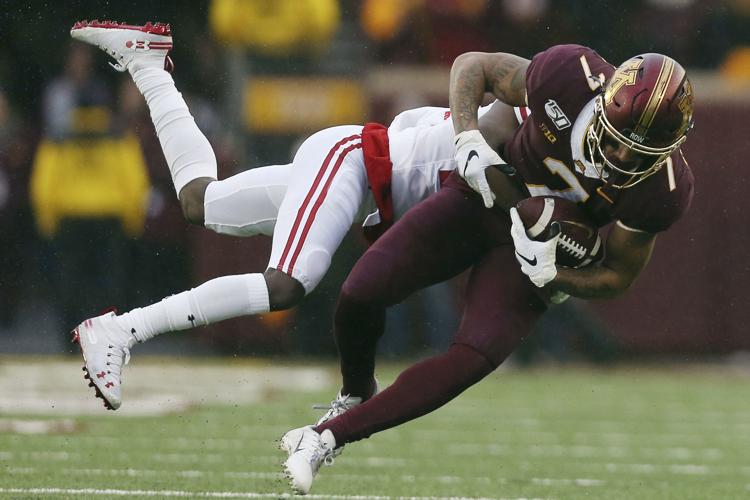 Badgers 38, Golden Gophers 17
Badgers 38, Golden Gophers 17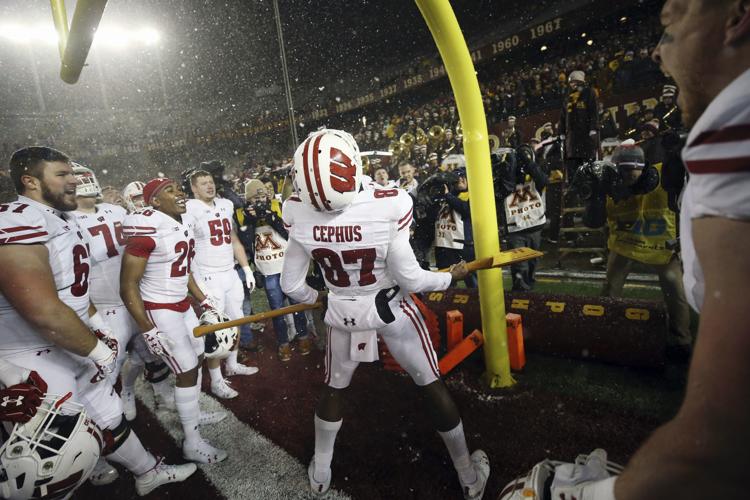 Badgers 38, Golden Gophers 17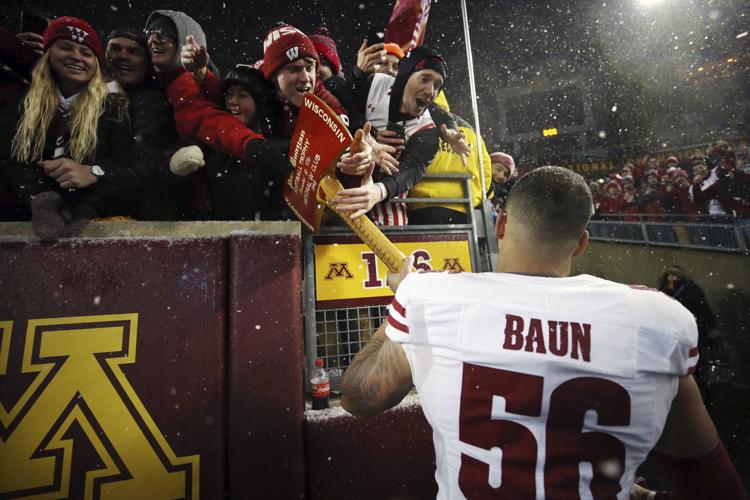 Badgers 38, Golden Gophers 17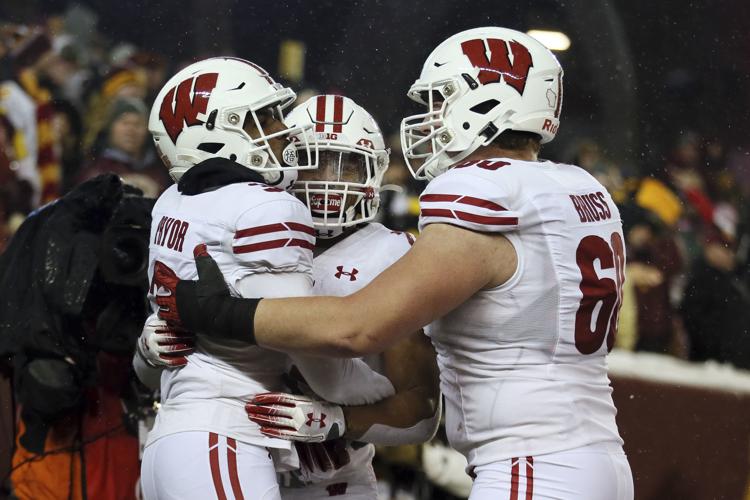 Badgers 38, Golden Gophers 17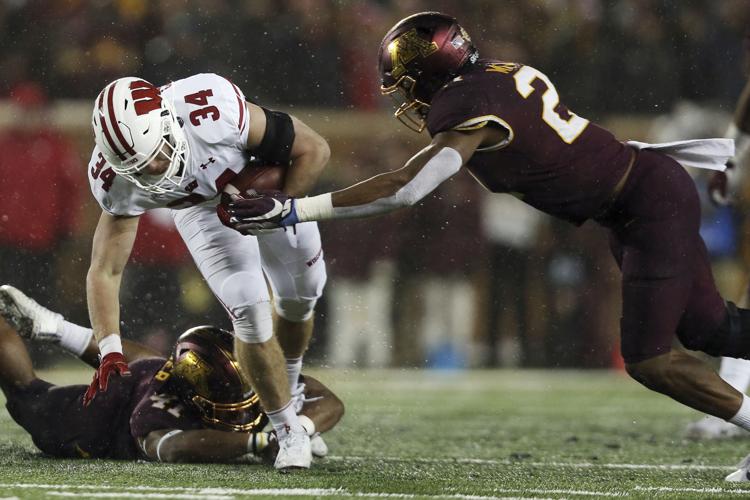 Badgers 38, Golden Gophers 17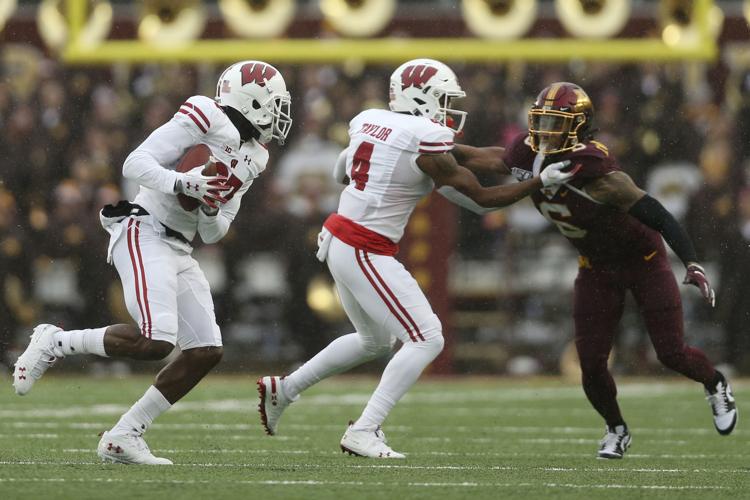 Badgers 38, Golden Gophers 17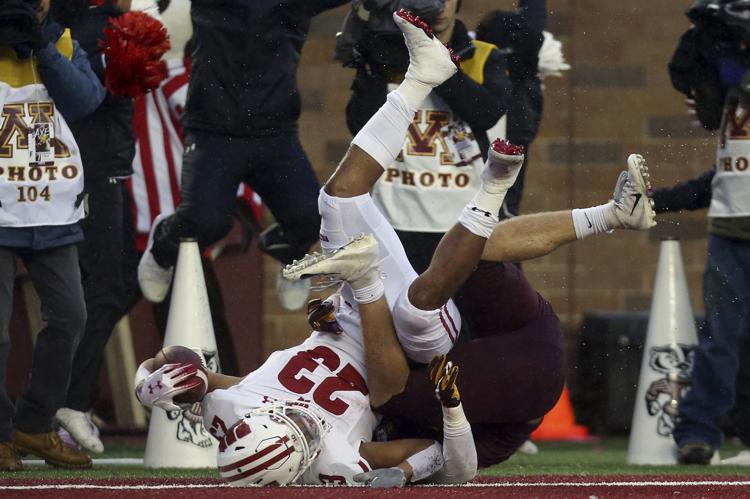 Badgers 38, Golden Gophers 17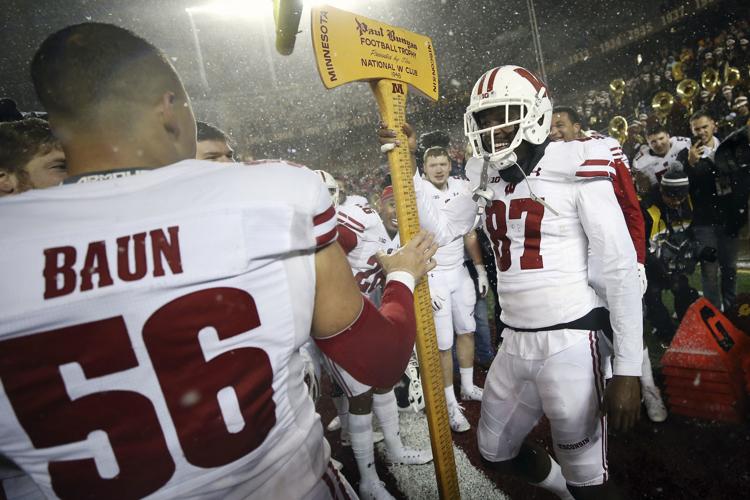 Badgers 38, Golden Gophers 17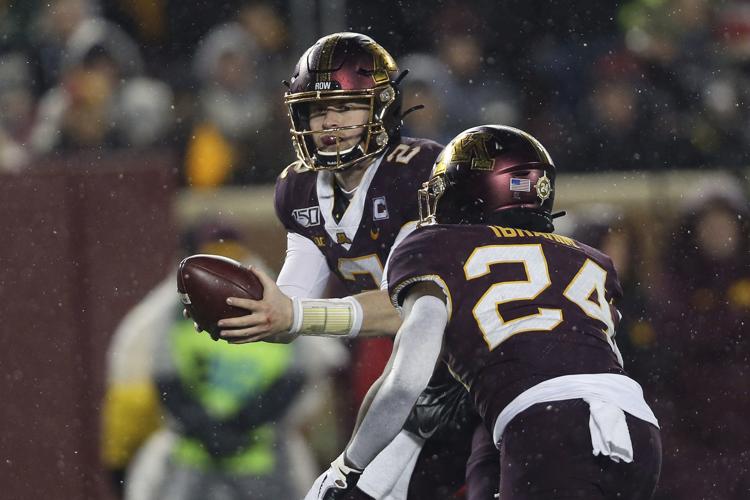 Badgers 38, Golden Gophers 17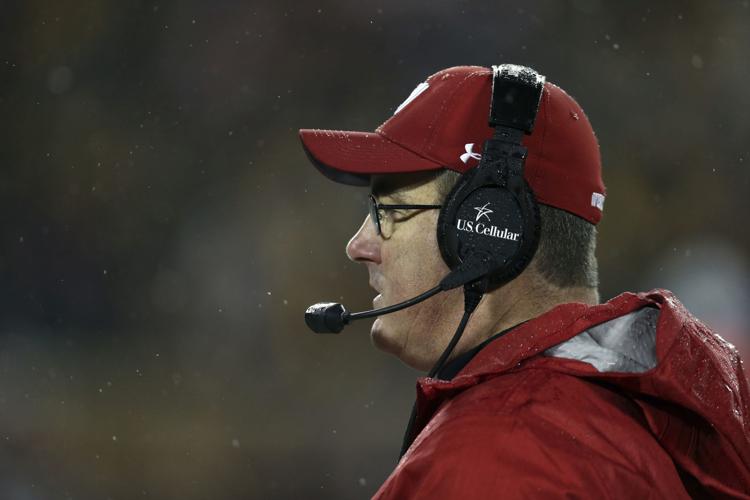 Badgers 38, Golden Gophers 17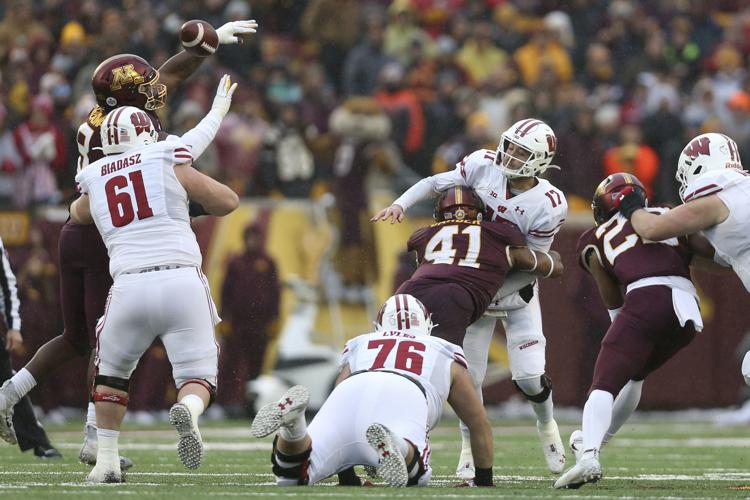 Badgers 38, Golden Gophers 17