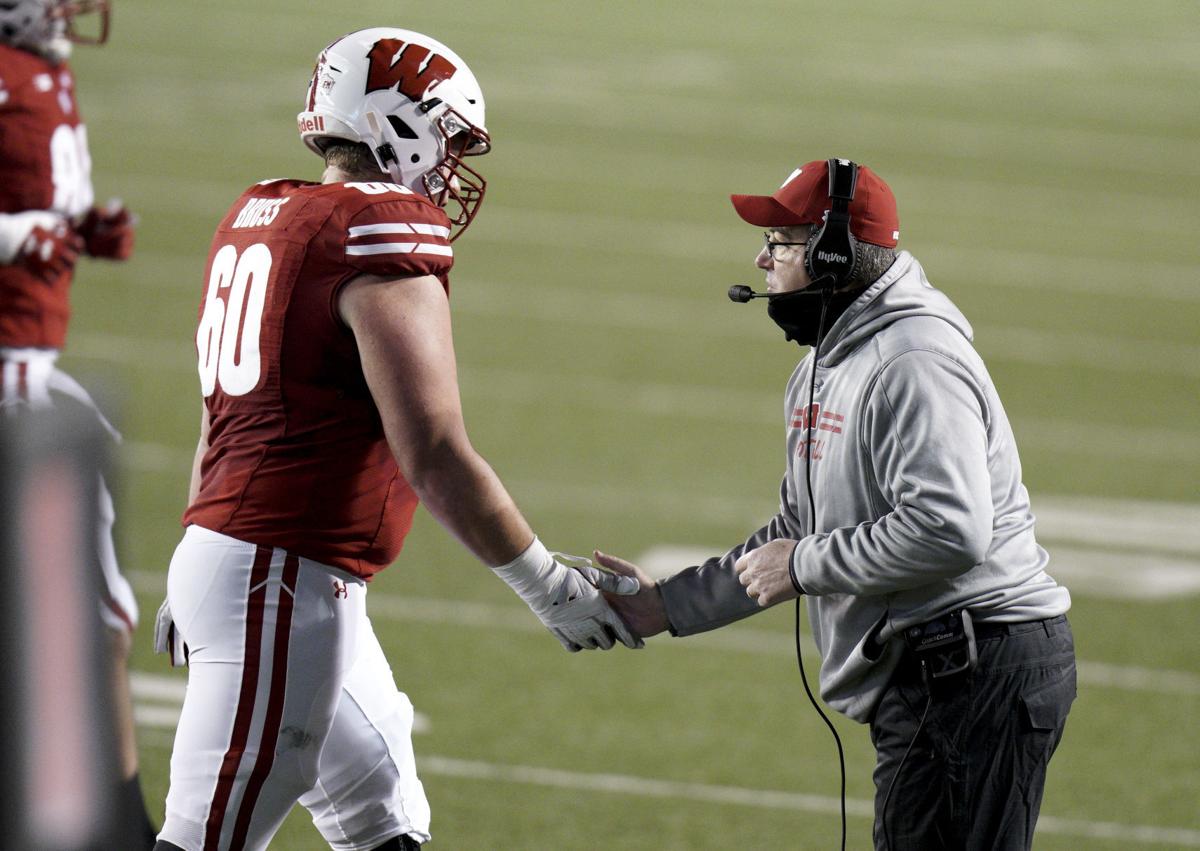 As Badgers fans wait with bated breath on news regarding redshirt freshman Graham Mertz's status after an initial positive COVID-19 test, University of Wisconsin football coach Paul Chryst said he won't comment on the situation.
"I will not and cannot and should not, therefore, comment about anything dealing with our testing and coronavirus," Chryst said on a Zoom call with reporters Monday morning.
"Certainly as a team, a program, we're following the guidelines that were set in place by the Big Ten. A lot of work went into those and I feel confident with that. As a team, each day you try to keep working on things you can do to best take care of everyone in the program."
State Journal sources said Mertz's positive COVID-19 test came from a rapid antigen test that No. 9 UW and other Big Ten Conference teams are using daily this season. Big Ten protocols state after an individual tests positive with a daily test, he is removed from team activities and a PCR nasal swab test must be done in order to confirm the diagnosis.
The status of Mertz's PCR test is not known.
However, Public Health Madison and Dane County told the State Journal that 57 COVID-19 cases are identified as being associated with UW football — 54 players and three staff members. The dates of those positive tests range from early June when UW allowed student-athletes back on campus to Monday, Oct. 26. The city-county health department reported 42 cases among players and staff on Sept. 16, meaning there have been 15 new cases in the past 40 days.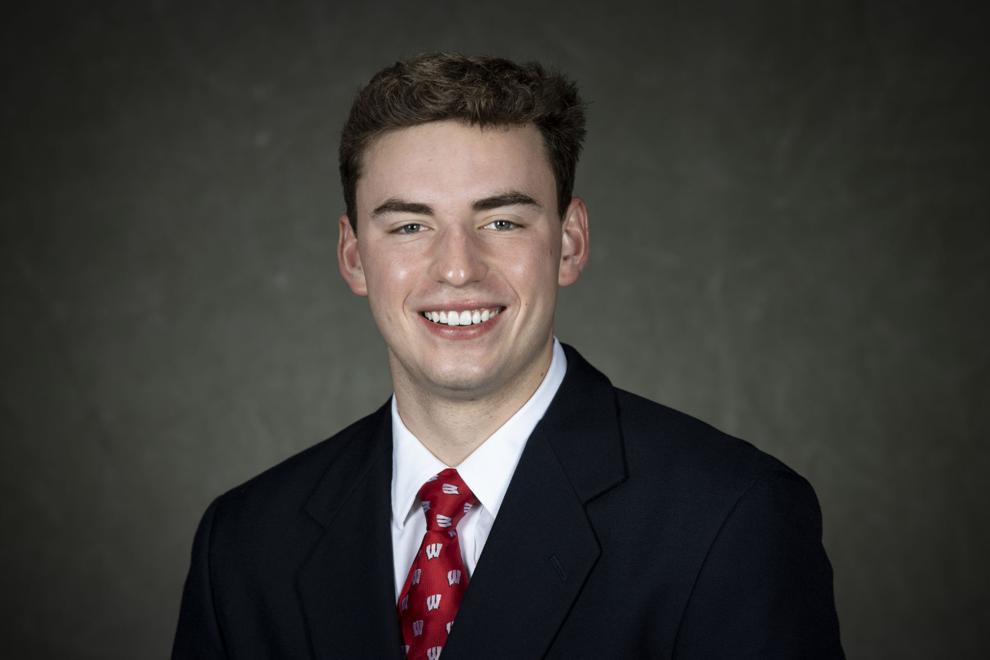 If Mertz's PCR test comes back positive, he'll have to self-isolate for 10 days, and sit out of practices and games for 21 days. In that time, he would undergo close cardiac monitoring and would have to be cleared by a cardiologist before returning to action. He would miss games against Nebraska, Purdue and Michigan.
Mertz's first career start Friday against Illinois, a 45-7 rout, was nearly perfect. He tied school records with five touchdown passes and 17 consecutive completions — his first 17 attempts — and set a program record with a 95.2 completion percentage.
Mertz and UW players weren't made available to reporters as originally scheduled Monday.
The Big Ten's policy of a 21-day absence for players who test positive is the longest such standard in the Power Five conferences. But Chryst — who was part of the committee that helped bring Big Ten football back after it was initially canceled this fall — said he supports the rule.
"The No. 1 concern for the league — and I appreciate this — was how do we best keep everyone as safe as possible regarding the virus. Then, how do you manage the impacts of it once someone has it. Admittedly, they told us it was more conservative. If that helps one person, then that's a good thing for us," Chryst said.
"You don't want anyone to miss a game, but at the same time, more so you don't want anything to happen maybe you look back and say (you) might have been able to do something about it. (I) don't spend a lot of time and energy trying to overthink what's been done. I trust the doctors. Dr. (Jim) Borchers from Ohio State and a lot of people spent a ton of time and energy, the chancellors and the presidents and other doctors at every school — this is what we came up with, and this is what's allowed us to play."
Possible false positive
Mertz's PCR test could come back negative, which would clear him for action assuming he tests negative on subsequent daily antigen tests.
Nebraska coach Scott Frost — whose team faces the Badgers on Saturday at Memorial Stadium in Lincoln, Neb. — said his program has had false positives since the Big Ten's daily testing protocol began on Sept. 30.
"I hope for their sake that he's OK. I hope for his health that he's OK. We've had false positives here, too, so my guess is that's what it is," Frost said of Mertz's situation. "Whether he plays or not, they've got a lot of really good players and they're a really good team and I don't think their offense would probably change even if he wasn't playing. But he obviously has a good debut and I hope he's doing OK."
There's some evidence supporting the false positive theory.
Chryst told reporters he was confident UW would be able to play against Nebraska this weekend, indicating a large breakout had not occurred in recent weeks. As the starting quarterback, Mertz was in close contact almost every offensive player, but UW said in a statement Sunday no players had tested positive or reported symptoms before the Illinois game.
Illinois coach Lovie Smith told reporters Monday his team had no new positive COVID-19 tests after their game against UW. Mertz was sacked twice and tackled on one run, along with other contact throughout the game.
Chryst didn't confirm or deny the Badgers have had false positives this year, but State Journal sources said there have been at least a handful. The SOFIA 2 SARS rapid antigen test used by Big Ten teams reports a 96.7 percent accuracy rate, according to its manufacturer, Quidel Corporation.
Big Ten teams are allowed to test 170 people each daily between players, coaches and other staff members. If all 14 teams tested the maximum 170 people on a particular day, it would be reasonable to expect more than 70 inaccurate tests per day, or about five per team.
Eyes on the QB room
With Mertz's status in question, redshirt sophomore Chase Wolf would be next in line to start. If he weren't available, junior Danny Vanden Boom is the next option.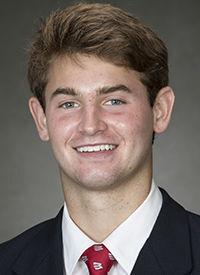 Senior quarterback Jack Coan, who injured his foot during training camp, is still out indefinitely.
When Coan was injured, Wolf said he was preparing as if he was the starter despite Mertz taking the first-team reps. Vanden Boom has been working with the second- and third-string units since Coan's injury.
The only other quarterback on the roster is walk-on true freshman Daniel Wright.
"It doesn't matter what position, right? As long as I've been a part of football, there's opportunities that come. We saw it with Jack getting hurt, and it's no different than any other position. Obviously this year, there's some things that will be unique; hopefully it's unique just to this year. You don't know going forward," Chryst said.
"I've appreciated what that whole room of quarterbacks has done, kind of how they've approached everything. It starts with coach (Jon) Budmayr's done a great job, but Jack, you've heard me talk about it a ton, he's a leader and shows a great way to approach the game. I think the No. 1 thing that that room does that all (of them) — Jack, Graham, Chase, Danny — they care, first and foremost, most about this team. They're all different individuals, they all will play a bit differently, and you want them to. You want each guy to play his way. They're all good; we brought them here for a reason. We like them all. Whoever is underneath center, their No. 1 responsibility is to this team."
---
How the Big Ten's daily testing procedure works
There's a pre-dawn start
The testing staff arrives to the Badgers' training facility around 4:45 a.m. to start setting up. Starting at 6 a.m., there are scheduled times for players, coaches and staff to provide a sample for the testing process.
They can return to team rooms while awaiting results.
"That portion of the day adds just a tiny bit of time to their schedule," Moll said.
Testing is capped at 170 people
Under Big Ten regulations, the football team each week identifies 170 people who will be tested and can be in close contact as part of practices and games. Those who have tested positive for COVID-19 in the previous 90 days and have recovered aren't subject to testing, Moll said.
The group of 170 is considered to be Tier 1. A Tier 2 group includes other essential game personnel that aren't present on practice days but are required for games. The latter includes officials, team physicians and video staff, and they're tested both on game day and the previous day.
After a short wait, it's a quick test
Once the sample is collected, a reagent is added and the sample is placed on a card. After sitting for 15 minutes, it's inserted into a diagnostic machine that provides a result in about a minute.
The Big Ten said it is using Quidel's Sofia 2 SARS Antigen FIA test system. This video from Quidel shows how it works:
Moll monitors the test results and reports them to the football staff to confirm who can be on the field for that day's practice or game.
There's more testing if the result is positive
A positive rapid test triggers Moll to put the subject into isolation as a polymerase chain reaction test, which is considered more accurate but takes longer, is conducted to confirm the result.
If the PCR test also is positive, the person is put into 10 days of isolation and monitoring before cardiac testing and follow-ups with physicians.
A minimum 21-day absence is required if a positive is confirmed
A confirmed positive test requires a minimum 21-day absence from competition under Big Ten protocols. That could take a football player out from one-third of the nine-game schedule if he tests positive during the season.
"The message that we've tried to encourage our student-athletes to understand is to take every precaution to try to avoid this right now," Moll said.
It's not to be confused with a vaccine
Even with the enhanced testing, Badgers officials are stressing to athletes that they need to avoid situations where they could be infected with the coronavirus or risk a long absence from competition.
"It's important to note, and I know our student-athletes have taken this to heart: In no way, shape or form is there a belief that testing is a vaccine," deputy athletic director Chris McIntosh told the Athletic Board.
"Testing gives us the ability to practice and to compete in an environment that greatly reduces or eliminates the transmission of the disease. But it does not prevent the disease. For that, we need our student-athletes and our staff and our coaches to make responsible decisions."
A 'drastically different' look is ahead for 2020 game days
McIntosh extended the precautionary message to the team's fan base.
"Games in and around Camp Randall this fall are going to look drastically different than what we've all become accustomed to," he said. "There won't be tailgates taking place around our stadium. There won't be Badgerville. The union won't look like Union South normally looks on a game day.
"We would encourage everybody to stay at home and watch the game on television and cheer us on. We'll come back in the fall of '21 in a big way and get back to normal. But we all need to participate in the role that we can to make sure that we have a chance to play. We feel good about our chance right now but there's not a guarantee."