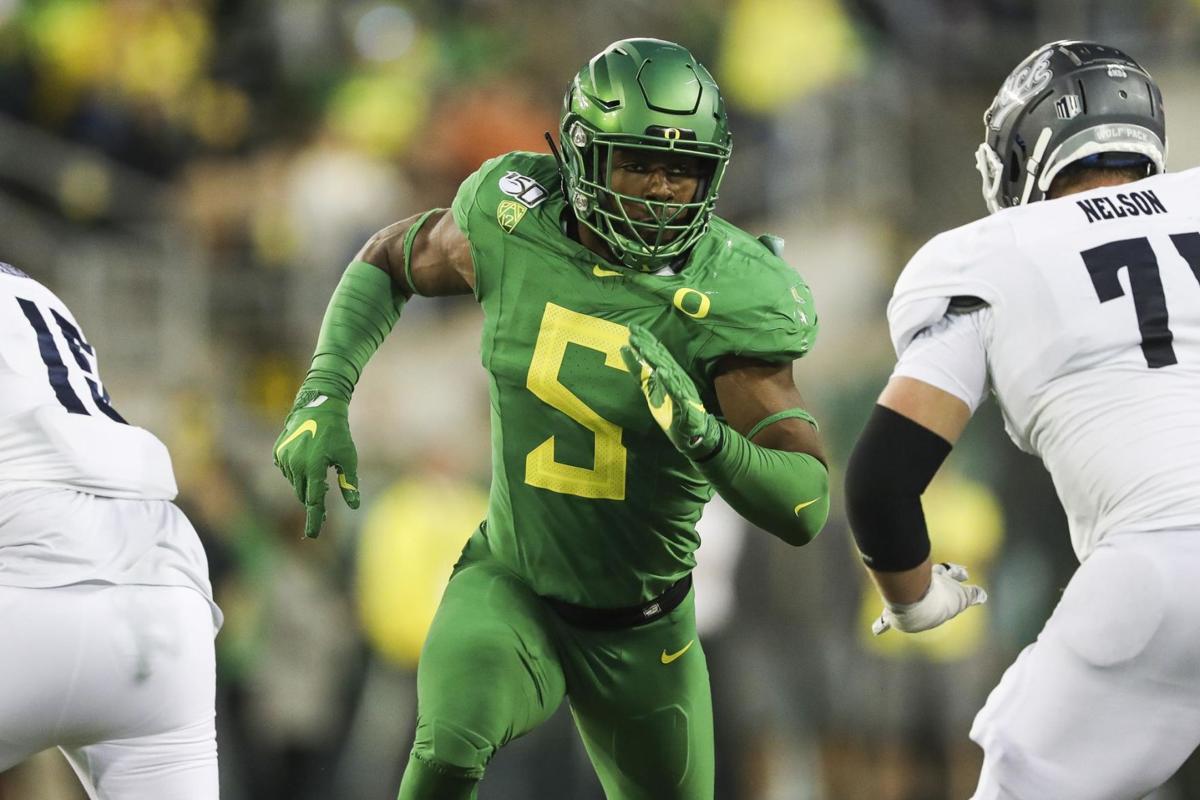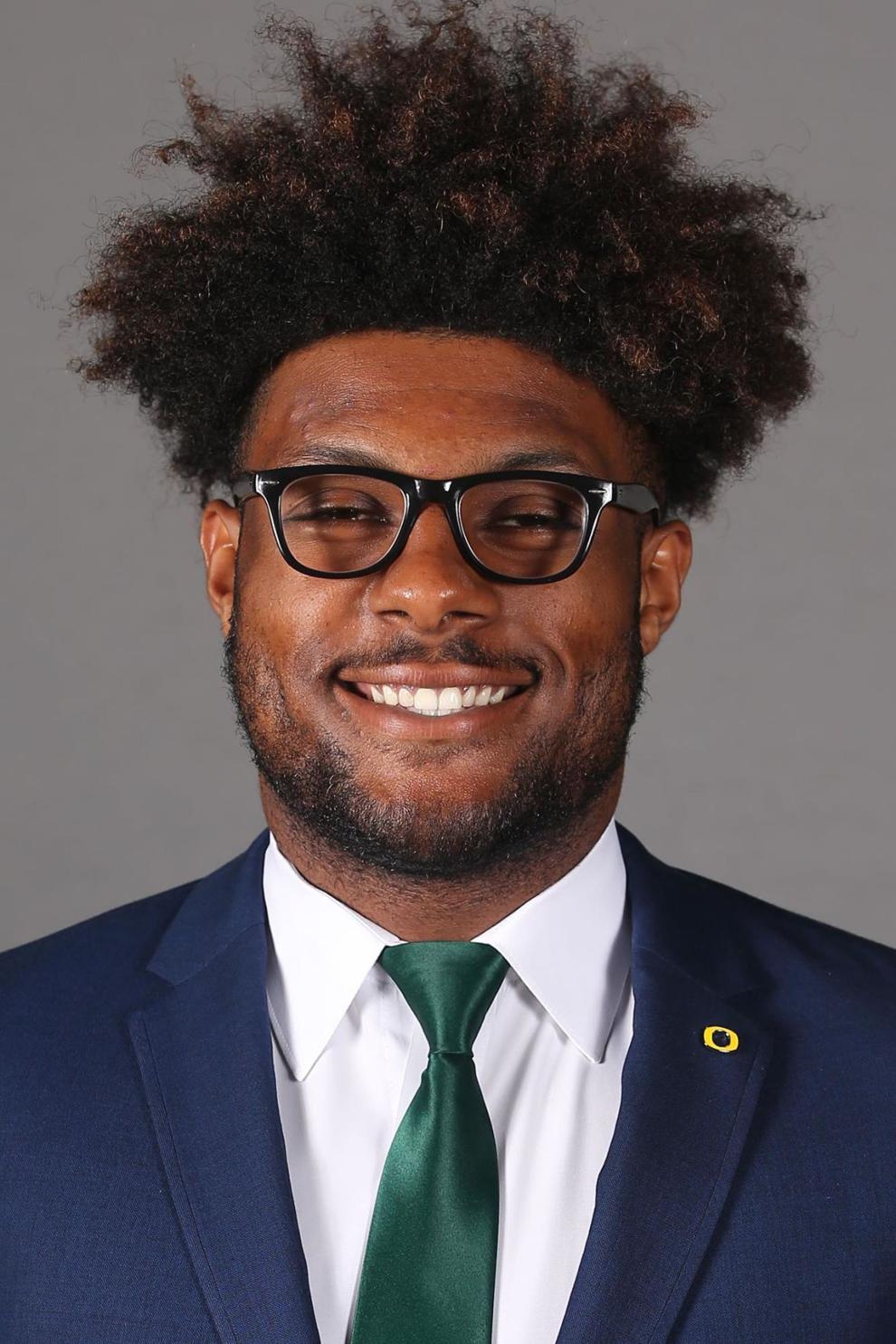 LOS ANGELES — Kayvon Thibodeaux wears his origin on his left arm.
The tattoo depicts part of what the Oregon freshman defensive end saw growing up in Los Angeles. Palm trees and the L.A. skyline sit atop the L.A. Dodgers' logo in the image. He's proud of where he's from and what he's accomplished in his first year with the program.
He said Friday at a news conference going to college was far from a given growing up.
"For me, college wasn't even a dream," Thibodeaux said. "I guess for a lot of kids that come from where I come from, you don't even have the hopes for college."
His journey through his first year as a college football player is about to come full circle when Oregon (11-2) takes on the University of Wisconsin (10-3) in the Rose Bowl. While Thibodeaux went to Oaks Christian High School in the L.A. suburb of Thousand Oaks, he was raised in South Central L.A. — across the street from the Los Angeles Memorial Coliseum, he said.
He didn't get to go to any Rose Bowls as a child, but he remembers seeing buses roll through his neighborhood filled with Rose Bowl-bound teams. This will be the second time this season Thibodeaux has played in the L.A. area, with the Ducks' game at Southern Cal the first.
Thibodeaux was a prized recruit, the top-rated player in California and a top-10 prospect nationwide by the major recruiting services last year. He was the most heralded recruit in Oregon's history. After enrolling early, he quickly made an impression.
"I think it was when we were doing some conditioning and he was running like a gazelle, and I was like, 'Man, that kid is going to be special,'" senior inside linebacker Troy Dye said. "Because when you can run really well, you can practice well, you have good cardio, you are bound to make it."
Junior safety Brady Breeze remembers the first snaps Thibodeaux took in a No. 1 offense vs. No. 1 defense setting. Thibodeaux bolted around the edge and would've sacked quarterback Justin Herbert in a game setting.
"It was like, 'Wow, dude, he just put a move on one of our linemen,'" Breeze said. "The guy is a baller. He's somebody we're proud of."
Thibodeaux has played in all 13 games, with five starts, for the Ducks; he's listed as a starter for the Rose Bowl. His nine sacks are a program record for a freshman, and he has 14 tackles for loss. He's been especially productive in the past four games, accounting for 5½ of his sacks in that stretch, and had the best game of his career against Utah in the Pac-12 Championship Game.
Against the Utes, Thibodeaux had 2½ sacks, five tackles and he blocked a punt. He was voted the Freshman Defensive Player of the Year in the Pac-12.
Thibodeaux said he was hesitant to start the year, not fully trusting himself in a new scheme and in the college setting. But once things clicked in the second half of the season, he became a game-changer.
"In the beginning of the year, I feel like I didn't contribute enough," he said. "There was a lot more I could've done. I was kind of hesitant because of the (starting) situation and I didn't really know about college football. As the season went on I got more confident and I was able to just play the game."
Oregon defensive coordinator Andy Avalos knew he had a special athlete on his hands when he saw how Thibodeaux — listed at 6-foot-5 and 242 pounds — got off the ball. The quickness of his movements on the snap were rare, Avalos said. Thibodeaux just needed to find ways to refine those raw traits.
Thibodeaux was active in trying to find ways to improve. Dye said Thibodeaux was consistently getting extra work before and after workouts and practices, going through hand-fighting and footwork drills.
"When a young guy is doing that at 18 years old, you can tell they'll have a really good career because if you're starting off young like that with that work ethic, it'll last for the rest of your life," Dye said.
UW has seen its share of great defensive ends this season. To name a few: Ohio State's Chase Young, whom the Badgers played twice, was a Heisman Trophy finalist; Iowa's A.J. Epenesa is slated to go in the first round of the NFL draft; and Michigan State's Kenny Willekes is expected to be a mid-to-late-round NFL draft pick.
But the Badgers know Thibodeaux presents unique challenges because of how the Ducks shift their defense before the snap.
"They're probably the most aggressive defense we've seen all year, with different shifts and different disguises and things like that and how multiple they can be with their fronts," running back Garrett Groshek said. "In the Big Ten, you weren't getting as much shifting and things like that where they do a lot of it. And it makes you be honest and having to watch the extra film to see if there's any keys or anything like that to what they're doing."
Keeping quarterback Jack Coan clean has been one of UW's best attributes this season. The offensive line has allowed 20 sacks and just five multi-sack games, two of which came against Ohio State.
The Badgers need to keep Thibodeaux away from Coan as much as possible and keep him from reaching a pair of goals he's set for himself — notching a 10th sack on the season and breaking the Rose Bowl record with more than three sacks in the game.
"God willing, I'll try to break it," he said.
---
Preview: Three keys to Badgers' success in the Rose Bowl
Three keys to the Wisconsin Badgers winning the Rose Bowl
1. Feed Quintez Cephus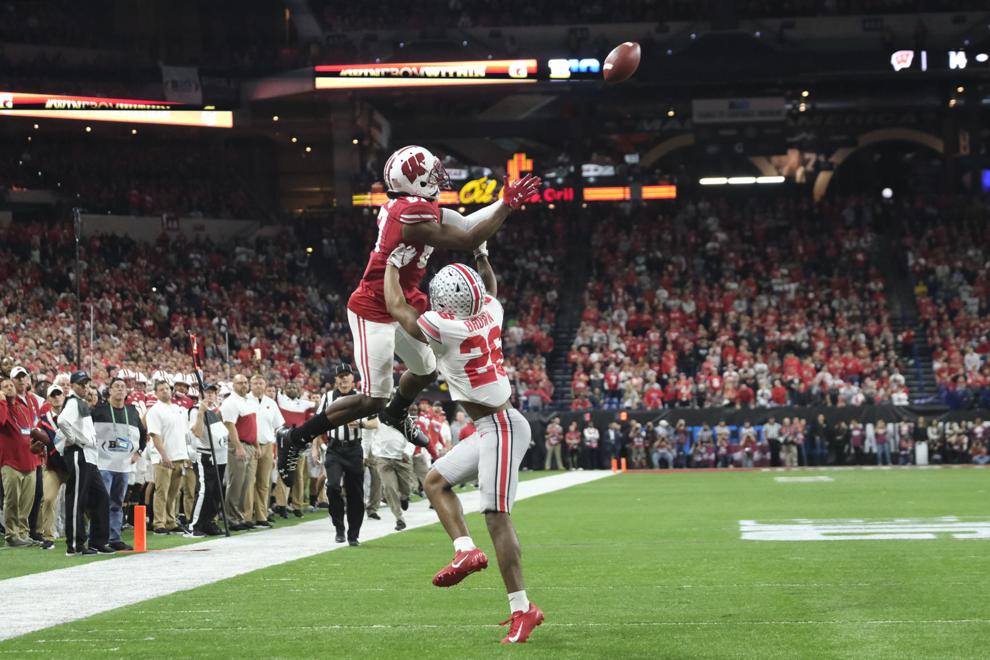 Though Jonathan Taylor is unquestionably the most important piece to the Badgers' offense, getting Quintez Cephus, a junior wide receiver, involved early and often is crucial for UW's success.
If quarterback Jack Coan can get Cephus (above) going, it opens things up for the rest of the offense, including Taylor. That's the formula that worked for a little over a half against Ohio State in the Big Ten Championship Game, when Cephus was targeted 14 times, made seven catches and gained 122 yards.
Cephus' 842 yards this season are the most for the Badgers since Alex Erickson's 978 yards in 2015.
With a big showing against the Ducks, Cephus has a chance to become UW's first 1,000-yard receiver since Jared Abbrederis in 2013.
His ability to make contested catches makes him a difficult cover for any defensive back, and UW has done well moving Cephus into a variety of positions so defenses have to adjust. He'll see a number of corners based on his alignment.
2. Slow down CJ Verdell
The passing game of the Ducks gets a lot of the publicity, but make no mistake, Oregon is a balanced team. When at its best, the running game adds an explosive element that helps Oregon keep the throttle down on opponents.
While the Ducks' depth chart lists four running backs as potential starters, sophomore CJ Verdell (above) is the front man in the backfield. Verdell, who hails from Chula Vista, Calif., has scored eight touchdowns and has a team-best 1,171 yards on 180 carries this season.
Verdell had one of the best games of his collegiate career last week in the Pac-12 title game, rushing for 208 yards and three touchdowns. However, that was his first game of over 100 yards in five weeks.
Oregon has been kept under 160 yards rushing in six games this season despite rushing nearly 34 times a game in those contests. Late-season games against Nebraska and Ohio State hurt UW's rushing defense statistics, but it is still ranked eighth in the FBS, allowing 102.4 yards per game.
3. Stay creative offensively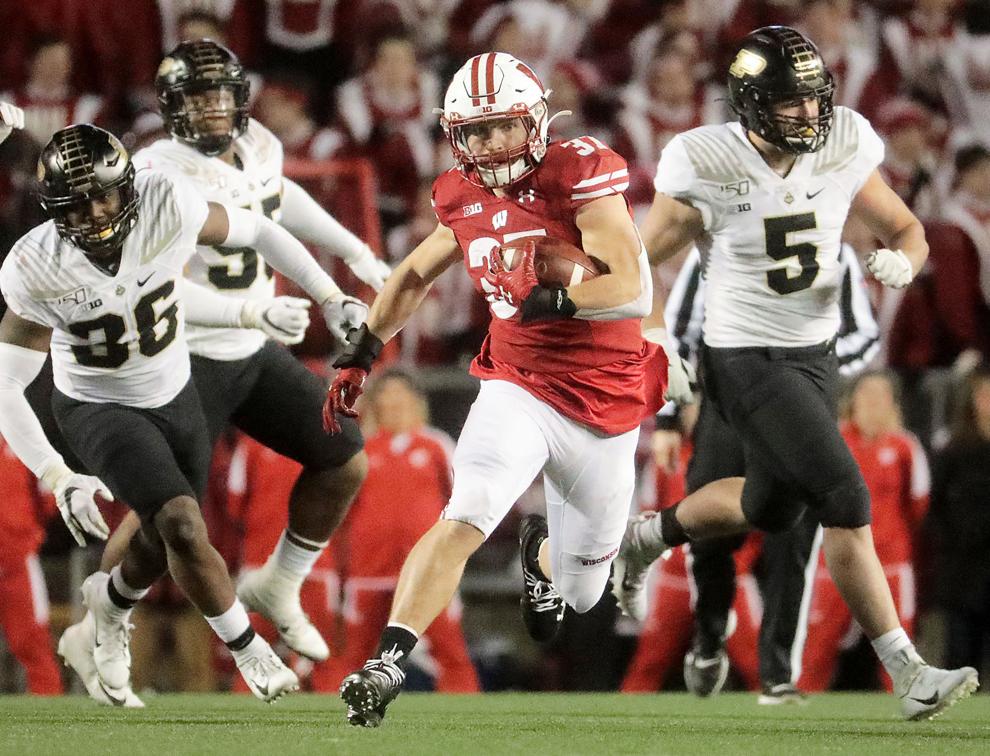 Arguably the biggest factor in the Badgers' 4-0 run in November that got them into the Big Ten title game was the variety of looks the offense gave opponents.
Coach Paul Chryst and offensive coordinator Joe Rudolph have made jet motion and jet sweep runs a staple, using them on over 20 percent of snaps in the past four games. That allows chances to get dynamic receivers the ball with space to run, as well as forces defenses to play honest on the edge instead of loading up the middle against tailback Jonathan Taylor. They've also used a wildcat package with receiver Aron Cruickshank at quarterback to create explosive plays, and a similar look with running back Garrett Groshek (above) at QB in short-yardage situations.
New layers to the offense they devise during the three-week stretch of bowl preparation could be crucial, as will getting Taylor the touches he needs to impact the game. In what looks to be his final game at UW, Taylor will need the offense to continue being varied to help him put a fitting end to his college career.