MINNEAPOLIS — It's rare that a defense sees a receiver as skilled with his footwork, body control and catching as Tyler Johnson.
It's equally as rare that a defense must combat a receiver who has the speed, athleticism and route-running ability of a Rashod Bateman.
The University of Wisconsin football team must handle both Saturday when it travels to Minnesota in its regular-season finale. Playing Minnesota always takes on extra meaning for the No. 13 Badgers (9-2, 6-2 Big Ten), as bragging rights in college football's longest-running rivalry and Paul Bunyan's Axe hang in the balance. This year's meeting has even higher stakes — the winner clinches the West Division's bid into the league's championship game.
Beating Minnesota (10-1, 7-1) at TCF Bank Stadium will require UW to find a way to slow Johnson and Bateman, one of just two sets of teammates to have 1,000 or more receiving yards this season. Both stand 6-foot-2 and weigh around 210 pounds, and have skill sets that will test the pass defense.
"They're big-play machines. They can take a dig and take it to the house. They can catch a fade over people. They're a really, really talented group. Probably the most talented that we've seen up to this point," UW senior linebacker Chris Orr said.
Johnson, a senior, and Bateman, a sophomore, are a unique challenge because the Gophers put them in a variety of positions and design plays to isolate them with defenders. Both routinely line up outside and in the slot, making it difficult for defenses to provide safety help on both players.
Badgers junior safety Eric Burrell said the UW secondary has a great deal of respect for what Johnson and Bateman can do, and he believes the game will swing on how the unit handles them.
"I think it'll come down to the DBs, whether or not we want to execute our opportunity," he said. "I'm excited, all the rest of the DBs are excited. I think it'll be a great time for us."
Correcting mistakes
The pivotal matchup comes on the heels of some tough outings for the Badgers' secondary.
Last week, Purdue was able to hit a pair of trick plays for big yardage. Freshman receiver David Bell tallied 12 catches for 108 yards and a touchdown, while tight end Brycen Hopkins had eight catches for 127 yards and two scores. The week prior against Nebraska, the Badgers allowed 220 yards on 13 completions, nearly 17 yards per catch. Iowa also hit a big play through the air early this month. A 75-yard touchdown in the fourth quarter brought the Hawkeyes within two points.
A common theme throughout those games was a lack of eye discipline, defensive coordinator Jim Leonhard said.
"We've gotten loose with our eyes in some situations and that happened on a couple of the trick plays, but even on some other ones, just getting your eyes where they need to be and winning where you need to be, where you need to win," Leonhard said. "We need to win on every route in every coverage. So getting our guys back to being locked in on that and the execution has to be there."
Maintaining proper eye discipline will be especially important against the Gophers, whose offense uses a heavy dose of run-pass option plays and play-action. Johnson and Bateman are also adept at double moves, getting defensive backs to bite on their fakes and creating separation when they truly break into their routes.
"It's just all eyes," sophomore cornerback Rachad Wildgoose said. "You've just got to have your eyes on the correct spot, and then it'll be hard for people to beat you."
Mistakes catching up to the secondary is frustrating, Burrell said.
After allowing just 139.4 yards per game through the air in its first eight games of the season, UW has allowed 251.3 in the past three. Burrell said he wants the secondary to come with its best focus on Saturday.
"Obviously haven't really seen, at least throughout this season, the DBs haven't really had a dominant performance," he said. "But I'm going to try my best to rally the guys together and hopefully this will be the best time. Whatever I can do to let the DBs let it loose this weekend, it'll be fun."
Practices early this week had some of the most energy and hype of the season, Wildgoose said.
Limited availability
UW won't be coming into the Minnesota matchup at full strength in the secondary.
Cornerback Faion Hicks was listed as questionable on Monday's status report. Safety Reggie Pearson is dealing with shoulder issues that flared up after a hit he put on Hopkins in the second half against Purdue, and safety Collin Wilder will be out for the first half against the Gophers after being flagged for targeting last week. Wildgoose also was nursing a heel injury that had him wearing a walking boot as a precaution this week.
That leaves Caesar Williams, Deron Harrell and Donte Burton as the healthy cornerbacks with the most experience, and Burrell, Pearson and redshirt freshman John Torchio as the safeties.
"Welcome to November football," Leonhard said. "That's kind of everybody at every position. There becomes a pain-management aspect to football late in the season, because nobody feels their best and you've got to learn how to win despite that."
Even when fully healthy, Leonhard has been keeping reps at cornerback spots open for competition.
Williams has come on in the second half of the year and started the past four games. He said playing with confidence has been the biggest difference for him.
"Going out there knowing that I can dominate these people, dominate my opponent. Just trusting my preparation and every week trusting what my coaches telling me I can do, and putting it out there," Williams said.
That's the kind of attitude Leonhard said you have to have to play corner, especially against talented receivers such as Minnesota's.
"That's the name of that position, confidence and technique. Do I know where to win and do I have the right attitude to get that done against a guy that we're not seeing in practice?" Leonhard said. "You're not seeing him on the scout team. You're seeing guys that are All-American-caliber receivers this week. It should look dominant throughout the week when you're not going against those guys to give yourself a chance."
Help from all levels
Slowing down Johnson and Bateman can be made easier for the corners if UW's pass rush can affect Minnesota quarterback Tanner Morgan.
It's a balance that the Badgers have taken advantage of throughout the season — pressuring quarterbacks to give its secondary some help, and the secondary sticking to receivers to give the rush time to get there.
UW may even get some help from the weather — snow and rain are forecasted throughout the weekend for Minneapolis, which may make it tougher for the Gophers to get its dynamic duo downfield.
Whatever happens, Leonhard said he wants to see his defensive backs handle this challenge and the magnitude of the moment.
"There's no question that guys are going to be locked in this week, and then you've got to go out there and execute it. That's why all of those little things have got to show up, because emotions will be high," he said. "You've got to get guys to think through that, and to execute even though the excitement is a little bit higher than some other weeks."
---
No. 13 Badgers vs. No. 9 Minnesota: Who has the edge?
WHEN THE BADGERS HAVE THE BALL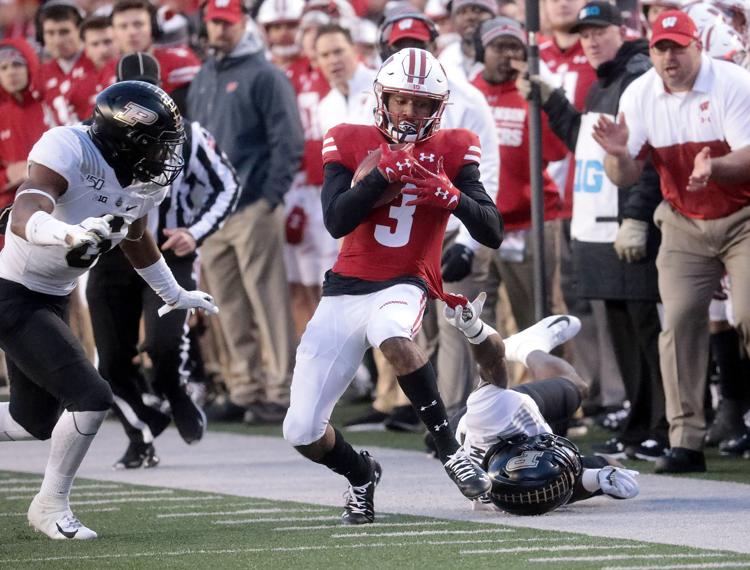 The Badgers' offense has been clicking since their late-season bye at the beginning of the month. Powered by a combination of scheme creativity to get playmakers the ball and outstanding production from Jonathan Taylor and the offensive line, UW has averaged 35.3 points and 520.3 yards of offense per game in November. Taylor has been on a tear, posting three consecutive 200-yard rushing games for the first time in his career. His 5,856 yards as a Badger are the most in any three-year span in Football Bowl Subdivision history.
UW used jet motion on 25 percent of their non-kneeldown snaps against Nebraska two weeks ago and 23.2 percent of their non-kneeldown snaps against Purdue. Kendric Pryor (above) tallied 56 rushing yards against Purdue, most of which came on a jet sweep that gained 49, and 47 receiving yards to post his first game with 100 or more scrimmage yards this season.
Outside of an interception in the second half, quarterback Jack Coan had one of his best games last week, going 15 of 19 for 203 yards and two touchdowns. Coan will need to take care of the ball against the Gophers' ball-hawking secondary, whose 14 interceptions are tied with Ohio State for the Big Ten lead and tied for seventh-most in the FBS.
Antoine Winfield Jr. has been Minnesota's top defender, leading the team with 76 total tackles and seven interceptions.
EDGE | UW
WHEN THE GOPHERS HAVE THE BALL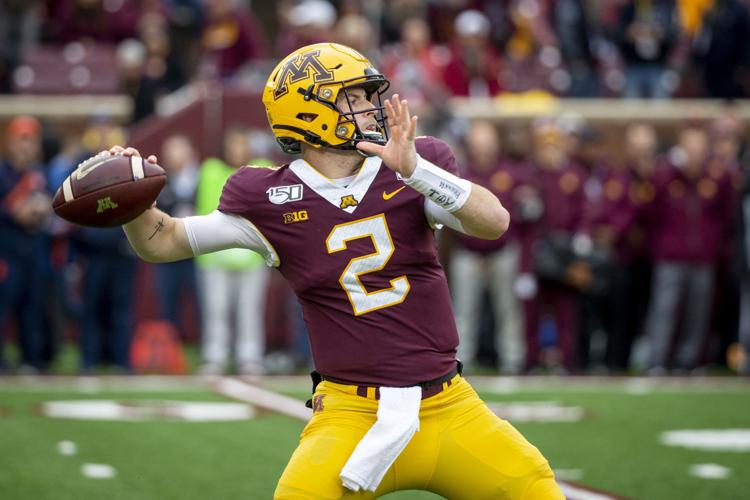 Tanner Morgan (above) wasn't projected to be Minnesota's starting quarterback, but when Zack Annexstad seriously injured his foot during training camp, Morgan took over. He's put together one of the best seasons by a quarterback in program history — his 2,679 passing yards are tied for the most in a season by a Gophers' QB, and his 26 touchdowns are a single-season program record. Morgan leads the Big Ten in passing, and has two top-tier wide receivers at his disposal.
Senior Tyler Johnson (1,025) and sophomore Rashod Bateman (1,023) are one of two pairs of teammates to have 1,000 or more receiving yards apiece this season, and each has 10 touchdowns. Johnson is 6-foot-2 and 205 pounds, while Bateman is 6-2 and 210 pounds, and their physicality at the point of the catch is tough to match.
A stout running game (184.7 yards per game) behind an offensive line that averages 6-foot-6 and 340 pounds only makes it more difficult to commit to slowing down Johnson and Bateman. Running back Rodney Smith has 1,063 yards on the ground. That massive line will test UW's pass rush, which had trouble getting to Purdue's Aidan O'Connell last week as he was quick to deliver passes.
Chris Orr leads UW with 64 total tackles and 11 sacks.
EDGE | MINNESOTA
SPECIAL TEAMS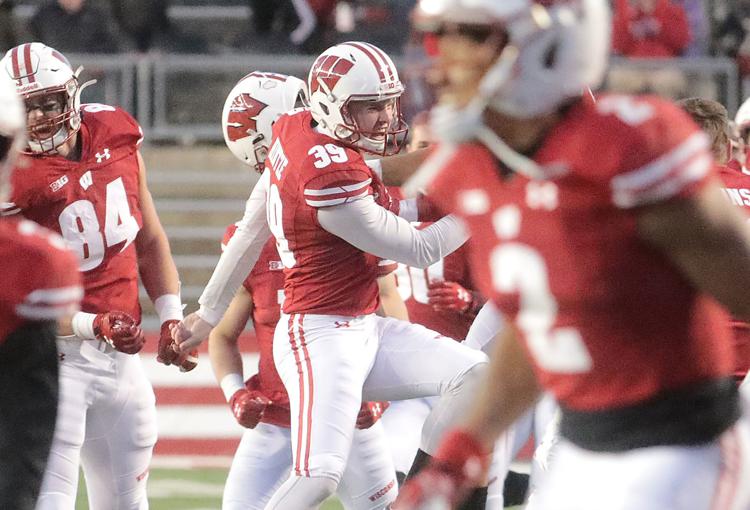 Zach Hintze (above) provided a special play on special teams for the Badgers last week when he booted through a 62-yard field goal to set a modern-era program record.
Anthony Lotti didn't have to punt against Purdue, as UW scored on seven possessions, lost four turnovers, and ran out the clock on its final drive last week. Kicker Collin Larsh is 7-for-9 on field goals and 16-for-16 on extra points in his last five games.
Minnesota uses a pair of freshmen kickers — Michael Lantz and Brock Walker — and they're a combined 9 of 13 on field goal tries this season. Less than half of Grant Ryerse's kickoffs have gone for touchbacks, so UW kick returner Aron Cruickshank should have chances to make an impact.
EDGE | UW
COACHING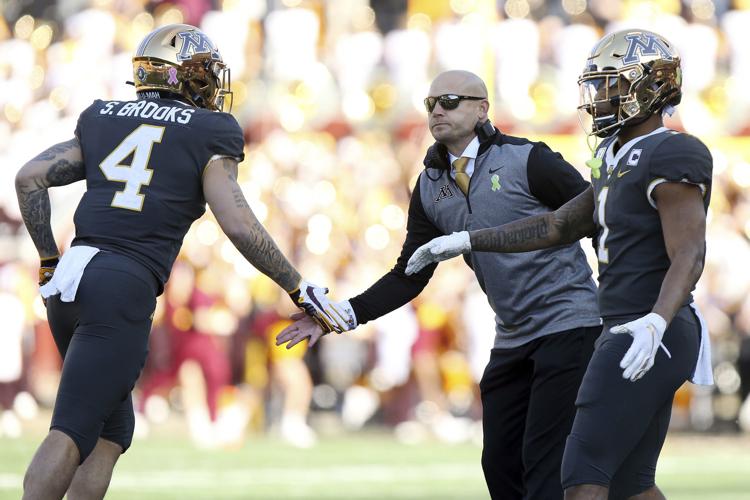 His catchphrases and relentless attitude are what draw headlines about Minnesota coach P.J. Fleck (above), but the job he's done with the Gophers this season is commendable. Minnesota is seven points per game better offensively this season over last, and its defense is 5.5 points per game better. The Gophers have won 12 of their past 13 games.
UW coach Paul Chryst got his team to right the ship after back-to-back losses to close out October. The Badgers' offense has been resurgent and created space on the ground to close out games with second-half touchdowns.
How UW's defense, led by coordinator Jim Leonhard, schemes to slow the Gophers' offense, and how the players execute that scheme will be the keys to the game for UW.
EDGE | UW
INTANGIBLES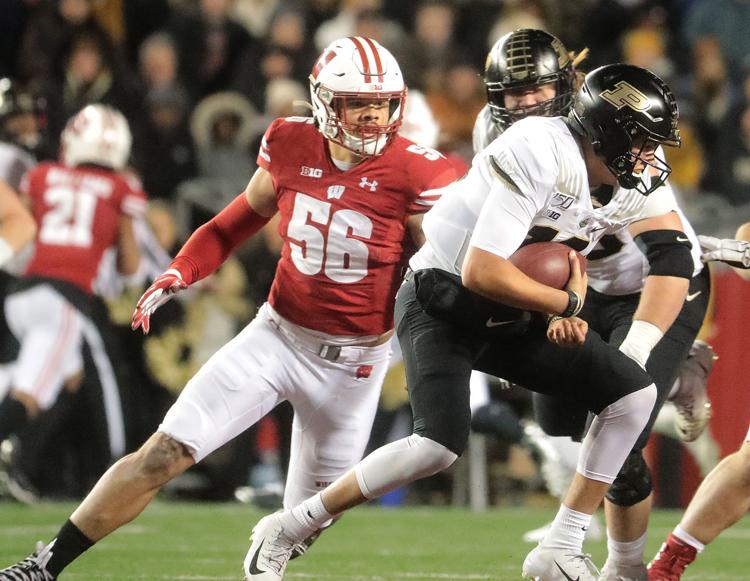 This will be one of the most hyped games of the season for either team. ESPN's College GameDay will be in Minneapolis for the first time, and the winner moves on to play Ohio State in the Big Ten Championship Game.
Badgers like Zack Baun (above) spoke about having a bad taste in their mouth from last season's loss to Minnesota, a game in which the Gophers tallied 201 rushing yards and scored three times on the ground.
Expect a loud TCF Bank Stadium to play a role, as it did when the Gophers beat Penn State at home earlier this year.
EDGE | PUSH
STATE JOURNAL'S PICK
Outside of Ohio State, this will be the Badgers' toughest game of the season. Minnesota's receivers are a major challenge for UW's secondary and the Badgers can't afford to have giveaways like they did against Purdue. This may come down to who has the ball last.
BADGERS 24, GOLDEN GOPHERS 21
THE NUMBER (UW)
676: Rushing yards for junior Jonathan Taylor in the last three games.
THE NUMBER (MINNESOTA)
20.1: Yards per catch for Rashod Bateman (above), which leads Big Ten receivers with more than 40 catches.
KEY STAT (OFFENSE)
Fourth-down conversion percentage: UW leads the nation at 84.6 percent conversion (11 of 13), a fact that could loom large in what figures to be a close game.
KEY STAT (DEFENSE)
Passing efficiency: Tanner Morgan is up to No. 6 in the FBS in passing efficiency, with a rating of 187.6.
Video: Badger Sports Report with Paul Chryst — UW 45, Purdue 24
Video: Badgers football Chapter 12: AXE
Be the first to know
Get local news delivered to your inbox!