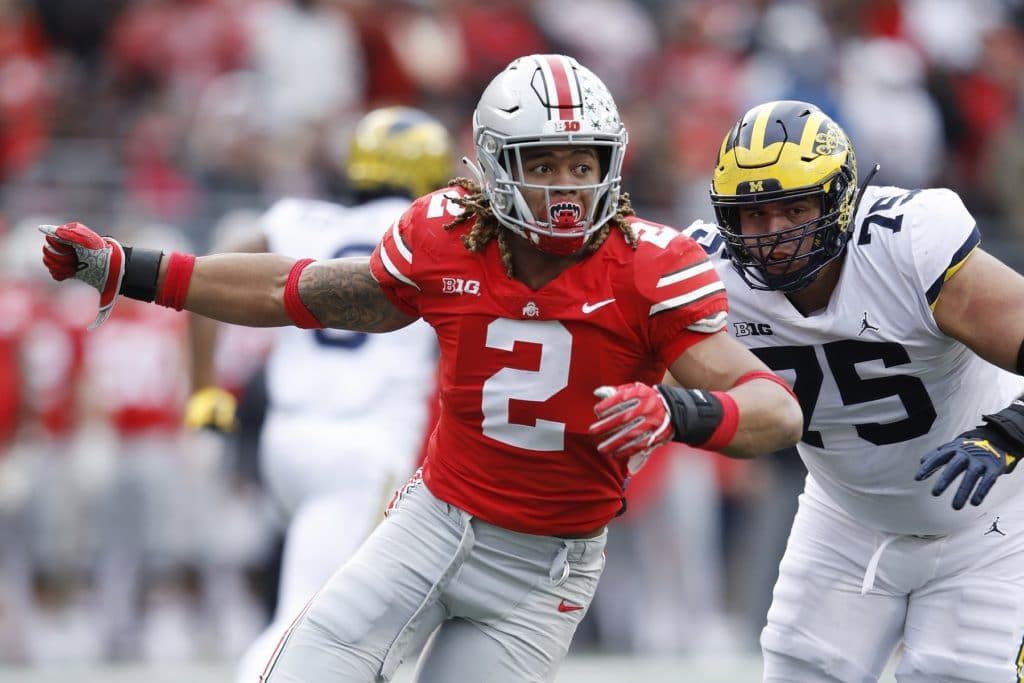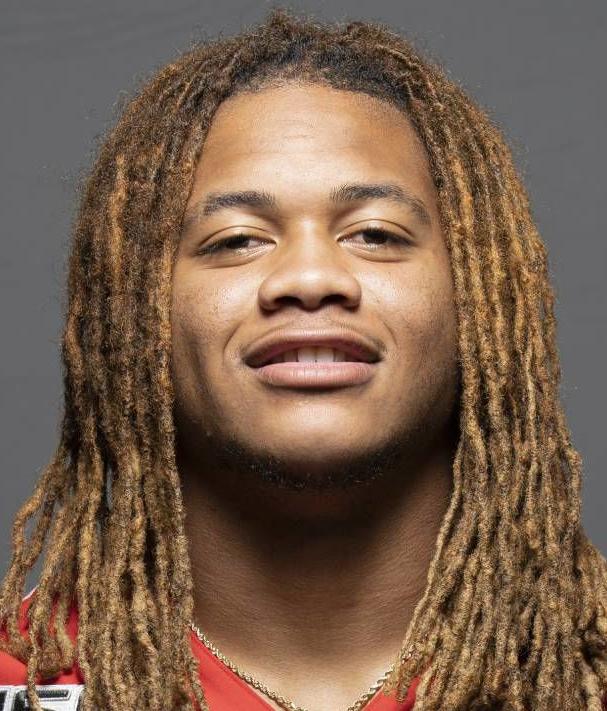 COLUMBUS, Ohio — Chase Young presents a problem.
That has been the case for every team he has played against throughout his career at Ohio State, and it will be the case Saturday when the No. 13 University of Wisconsin football team plays the third-ranked Buckeyes at Ohio Stadium.
Young is arguably the best defensive player in college football. The 6-foot-5, 265-pound defensive end is at or near the top of many major NFL mock draft boards and he's been the anchor of an improved Ohio State defense that rivals UW's as the nation's best. Young has 9½ sacks, which is tied for the most in the Football Bowl Subdivision, and he has forced three fumbles.
In short, he's a game-wrecker, and the Badgers have to account for him on every play.
"He's, obviously, really talented. He plays with great effort. He's got good size, length, explosive. I think like any good player, has that confidence. He's done it and has that confidence," UW coach Paul Chryst said.
Entering last week's Ohio State blowout of Northwestern, Pro Football Focus had Young winning 36.9% of his pass rushes, meaning he is getting cleanly past his blocker on more than one-third of opponents' pass attempts. The pressure Young and his running mates in the Buckeyes' front get has resulted in 29 sacks, tied for second-most in the FBS, and has aided Ohio State in creating 15 turnovers.
Blocking Young and not allowing him to take control of the game will be a major factor in the Badgers' chances of pulling off an upset. It also will have to be a combination of efforts from three levels of UW's offense.
On the line
Young typically lines up on the edges of the Buckeyes' four-man front, meaning he will be facing off with UW tackles Cole Van Lanen and Logan Bruss often.
Van Lanen and Young played in the teams' last matchup, the 2017 Big Ten title game that Ohio State won 27-21, but this will be the first time Bruss has seen Young.
"(Young) is an extremely great athlete. He's good with his hands, he's fast, he's the true prototype edge rusher," Van Lanen said. "It's going to be a good contest for me, and I'm ready to take it on. I'm excited to have a challenge like this."
Bruss has been solid at right tackle this season for UW (6-1, 3-1 Big Ten), and he took snaps at guard last week as well. Bruss said playing against a rusher such as Young brings out the best in a player.
Reggie Pearson, a redshirt freshman, will play a key role in No. 13 UW's attempt to stop No. 3 Ohio State's running game on Saturday.
"You know you definitely have to be on your A-game. Guys like that have a lot of different things they can do, a lot of ways they can beat you. So a lot of it is just trusting your technique and trusting the guys next to you," Bruss said.
UW's plan offensively could involve players such as Tyler Beach getting reps at tackle. He filled in when Bruss was out against Central Michigan on Sept. 7 and got the start at tackle last week at Illinois.
Ohio State makes slowing Young even more challenging by moving him around. He has gotten pressure when lined up over guards as well, so identifying where he is on each play is a responsibility for junior center Tyler Biadasz.
You have free articles remaining.
"As a college football player that watches college football, I mean, yeah, you do see him in multiple spots making multiple tackles and sacks," Biadasz said. "We'll have a good plan for him. I'm positive of that. We're going to do our best to protect it up. He's a great player and we're going to have a great game plan for him."
UW offensive coordinator and offensive line coach Joe Rudolph can help his players on the line with chip blocks from tight ends, double teams and other schemes. But Rudolph says UW linemen will simply need to make the blocks when called upon.
"Account for (Young) and hopefully have an idea of where he'll be and make the adjustments we can," Rudolph said. "There's going to be times we've just got to block him."
RBs must be ready
Young will likely win on the line of scrimmage some plays regardless of what UW does — he's that talented and effective. When that happens, Badgers' running backs need to help pick him up.
In most passing situations, that responsibility comes to junior Garrett Groshek, as he's established himself as one of UW's best pass-blocking backs. He showed how effective he is in that role last week against Illinois, crossing the formation to pick up a blitzer and allowing quarterback Jack Coan to hit receiver Quintez Cephus for a 28-yard gain on a third down in the first quarter.
Justin Fields, a transfer from Georgia, has been the trigger man for a Buckeyes offense that averages 49.7 points and 526.7 yards per game.
"You can't relax. They'll take advantage of it, as they should. It's really trying to find different ways to sort of get creative with your blocking schemes and keep them a little honest, so they can't anticipate it as well," Groshek said of slowing Young and the Buckeyes' rush. "It's just finding those ways to, whether it's helping an offensive lineman getting a chip, something to keep them honest and keep them on their toes."
Groshek has built trust with his linemen in pass protection through the years, and that is especially important when taking on great pass rushers.
"We can trust that we can put a protection on and put him on that guy and he's going to make the play. It showed up big on Saturday, so that's awesome to have him in the backfield, the communication's great and you know he's going to get the job done," Van Lanen said.
Coan on high alert
Rudolph said Coan won't be solely responsible for setting protections, as he's got a lot on his plate already against Ohio State's defense. But he will need to know where Young is and what protection schemes the line is planning to use each play.
Coan also can help negate Young's impact by moving in the pocket. Rudolph and Chryst have used Coan's mobility with rolling pockets and bootlegs this year, and those could be used to scheme Young out of a play.
UW's offense is averaging 39.7 points per game, its highest average through seven games since 2013.
Coan said another key will be to stay disciplined and not try to hold the ball too long.
"You definitely have to have that timer in your head of knowing when to get the ball off. You also need to trust your guys up front. We've got a great offensive line, so I'm going to trust them," Coan said.
Coan's biggest impact could be being smart when pressure does occur. He can't afford to allow sacks, fumble or to try to force a throw into coverage while under pressure.
"As long as we keep 17 up, I feel as confident as we can be. It's a completely different feeling when you've got Jack there and you know that he knows exactly where to go with the ball and knows how to read a defense," Groshek said. "It comes down to doing your job and trusting that he'll do his."