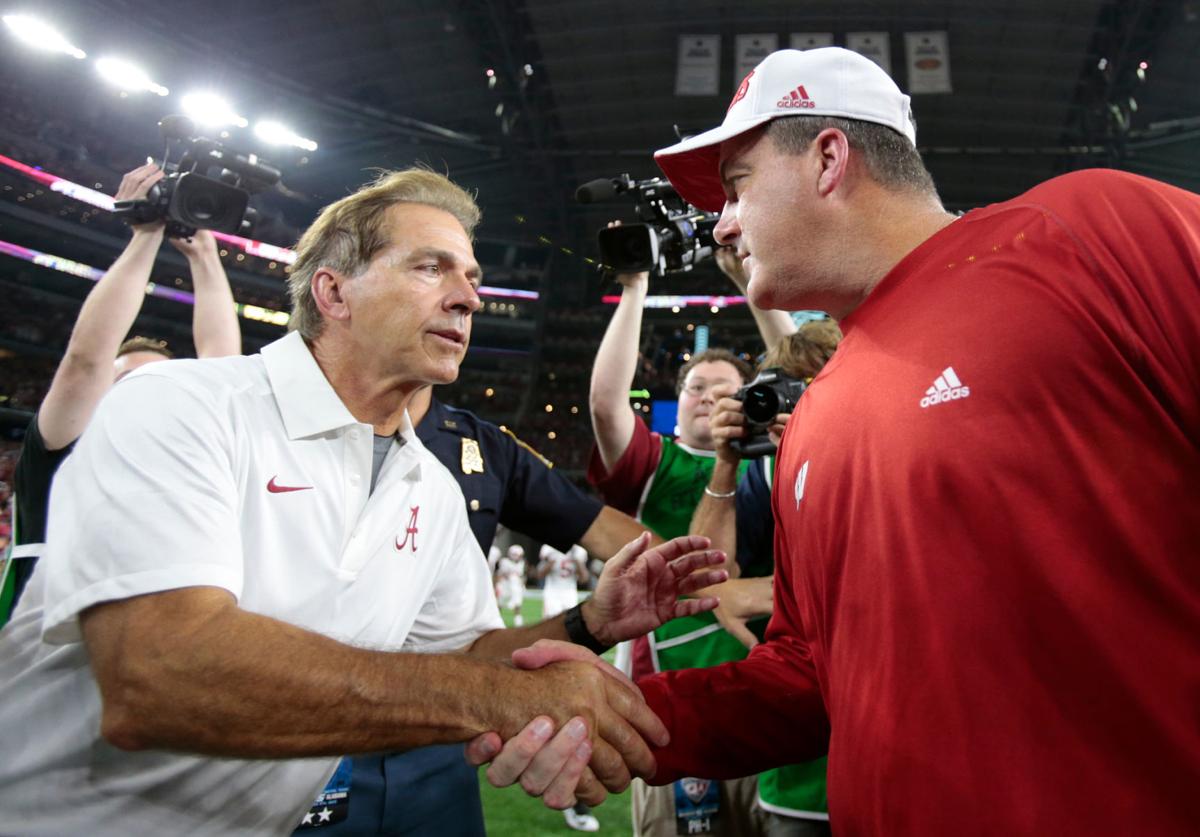 The University of Wisconsin football team has scheduled a home-and-home series with Alabama for the 2024 and 2025 seasons.
The Crimson Tide will travel to Madison on Sept. 14, 2024, before the Badgers play at Bryant-Denny Stadium on Sept. 13, 2025.
Those dates are when UW was previously scheduled to play Virginia Tech. Per a release from the Badgers, that series will now be played in 2031 and 2032.
UW athletic director Barry Alvarez told UWBadgers.com that Alabama athletic director Greg Byrne first initiated contact on the idea of a home-and-home series with a text to Alvarez "a year or so ago."
"It did surprise me when I was called about doing a home-and-home," Alvarez told UWBadgers.com. "We've said all along it's hard to get these games. It's hard to find someone who's willing to do it, and then, once you do, it's hard to make it fit in both schools' schedules. A lot of things have to fall into place."
The Crimson Tide currently owns an 11-year streak of winning at least 10 games and has won five of the last 10 national championships.
Alabama will be the first SEC team to play in Madison since 1971, when LSU defeated UW, 38-28. The only other two SEC games at Camp Randall Stadium came in 1928 (Alabama) and 1931 (Auburn). A 1972 game at LSU is the only time UW has played in an SEC venue.
The Badgers and Crimson Tide last faced off to open the 2015 season at AT&T Stadium in Arlington, Texas. Alabama won, 35-17.
UW owns a 5-11-1 all-time record against SEC foes, including a 4-4 mark since 2005.
Alabama joins a long list of Power Five opponents on UW's future schedules. The Badgers are also set to play Notre Dame (2020 and 2021), Washington State (2022 and 2023), Pittsburgh (2026 and 2027) and UCLA (2029 and 2030), along with the postponed Virginia Tech series now set for 2031 and 2032. All of them, with the exception of Notre Dame, are scheduled as home-and-home series.
"We're sensitive to what our fans are looking for," Alvarez told UWBadgers.com. "... You're going to sell your season tickets every year but to get people to go through the turnstiles, they want to see good competition. They don't want o see an FCS team. They don't want to see teams that you're going to drub. They want to see good competitive football, and I don't blame them."