Not much went right for the University of Wisconsin football team the first time it played Ohio State this season.
Its offense never got rolling, and despite the defense keeping the Badgers in the game until the third quarter, the Buckeyes proved to be too much and pulled away with a 38-7 win.
Ohio State junior defensive end Chase Young — a Heisman Trophy hopeful and the Football Bowl Subdivision's leader in sacks this season with 16½ — controlled that October game. He produced four sacks, two of which forced fumbles that Ohio State recovered. That performance still bothers UW offensive linemen Cole Van Lanen and Tyler Biadasz.
"I think as an O-line we need to be smarter in the way we set, understanding the down-and-distance situations. We didn't do that. I think we weren't prepared for what they brought us on defense and I know we will be this time," Van Lanen said. "We're just weren't playing our football. We weren't playing together. We're so much of a better team now and we're just ready to get that second chance."
Biadasz lamented the errors the line made, including false starts and a snap infraction he was flagged for after a slick ball squirted out of his hand.
"We just weren't on. We weren't playing our best ball. We had some dumbfounding mistakes where we've just got to be better technique-wise and be on the same page," he said.
The No. 10 Badgers (10-2, 7-2 Big Ten) get a chance to rectify that outing on Saturday when they face the No. 2 Buckeyes (12-0, 9-0) in the Big Ten Conference Championship game at Lucas Oil Stadium in Indianapolis.
That poor showing might have been the wake-up call that the offensive line needed. Since the loss to the Buckeyes, the UW line has gotten back to controlling the line of scrimmage the way it did early in the season. In four November wins — over Iowa, Nebraska, Purdue and Minnesota — the Badgers averaged 36 points and 503.5 yards.
Junior quarterback Jack Coan was sacked just two times in November, and junior tailback Jonathan Taylor posted three consecutive 200-yard rushing outings entering last week's game against the Gophers.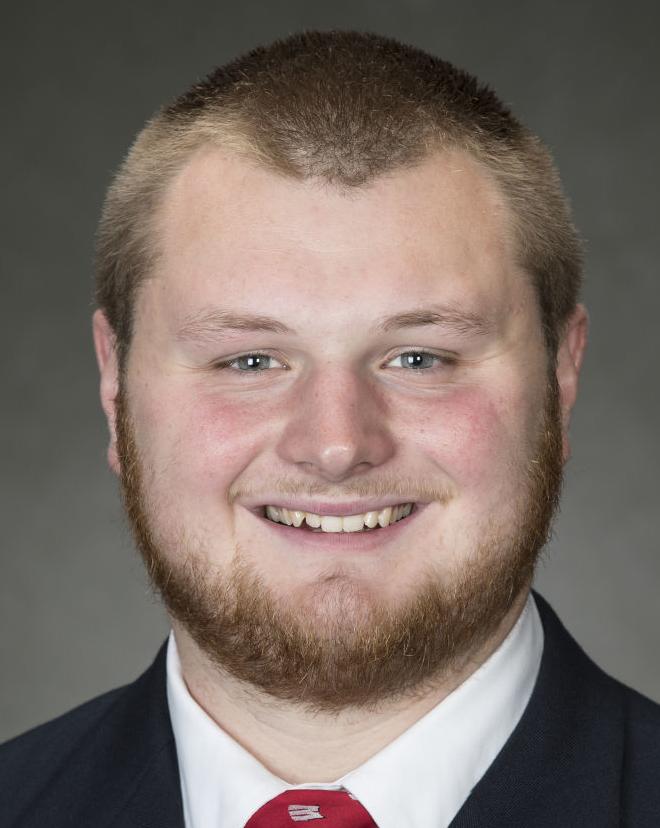 Van Lanen had to miss the victory against Purdue due to a head injury, but he started against the Gophers. He said he's excited to show how the line has improved since losing to the Buckeyes.
"I think since our second bye week, we've been able to get a lot of things rolling. I think we're starting to play our football again, like we did at the beginning of the year. I think we're playing together and we're understanding situations better," Van Lanen said. "This is kind of it, so we need to put everything we have on the table, so that's what we're doing. It's been a lot of fun, especially when we put all the pieces together, it shows what our team can do."
No matter how well the offensive line feels it has bounced back, it knows handling Young is still going to be a challenge.
Young was suspended for two games in November after violating NCAA rules by accepting money from a person Young called a family friend. Young returned to the field on Nov. 23 and showed his ability to dominate a game against No. 12 Penn State as he recorded three sacks, four tackles for loss, nine total tackles and a forced fumble.
However, Young was nearly silenced last week against No. 17 Michigan. The Wolverines used multiple players to block Young on almost every snap, and he was held without a tackle. He produced two quarterback hurries in the team's 56-27 win, but the rest of the Buckeyes' front made up for Young's quiet day with nine tackles for loss and two sacks.
Ohio State first-year coach Ryan Day said he and his defensive coaches — led by co-coordinators Greg Mattison and Jeff Hafley — go into games expecting Young to be the opponent's focus.
"If they're going to chip him or slide to him, those other guys better show up in that spot," Day said. "Any time you're overcompensating for one guy, there's another area that's short."
For the Badgers to fare better in the rematch against Ohio State, Coan needs time to operate. He showed he can create plays with UW's receivers against Ohio State, most notably his 26-yard touchdown pass to senior A.J. Taylor in the third quarter and his 35-yard completion to junior Quintez Cephus in the fourth.
Playing at a neutral field will help some against Young, Van Lanen said. Communication issues led to some of the mistakes in containing Young earlier this season, but the Badgers know from their experience in the 2017 Big Ten title game that Lucas Oil Stadium gets loud as well.
"We're going to have to practice some silent count and stuff. It'll be nice not being at their home. It's going to be a different environment, neutral site, it's going to be fun," Van Lanen said. "It's going to be loud, but it'll be nice to have a crowd of our own too."
From the infirmary
Senior offensive lineman David Moorman, senior receiver A.J. Taylor and sophomore cornerback Rachad Wildgoose were listed as questionable on the status report Monday.
Wildgoose missed last week's game at Minnesota due to his heel injury, while Moorman (left leg) and Taylor (right leg) were injured during the game against the Gophers.
Sophomore nose tackle Bryson Williams, who injured his left knee against Iowa, was ruled out for the season.
Ticket prices high
The average purchase price for Big Ten Championship Game tickets was at $176.43 Monday afternoon, according to TickPick. If that holds, Saturday's game will be the most expensive Big Ten title game ticket since 2015. The cheapest ticket is $84.
Be the first to know
Get local news delivered to your inbox!