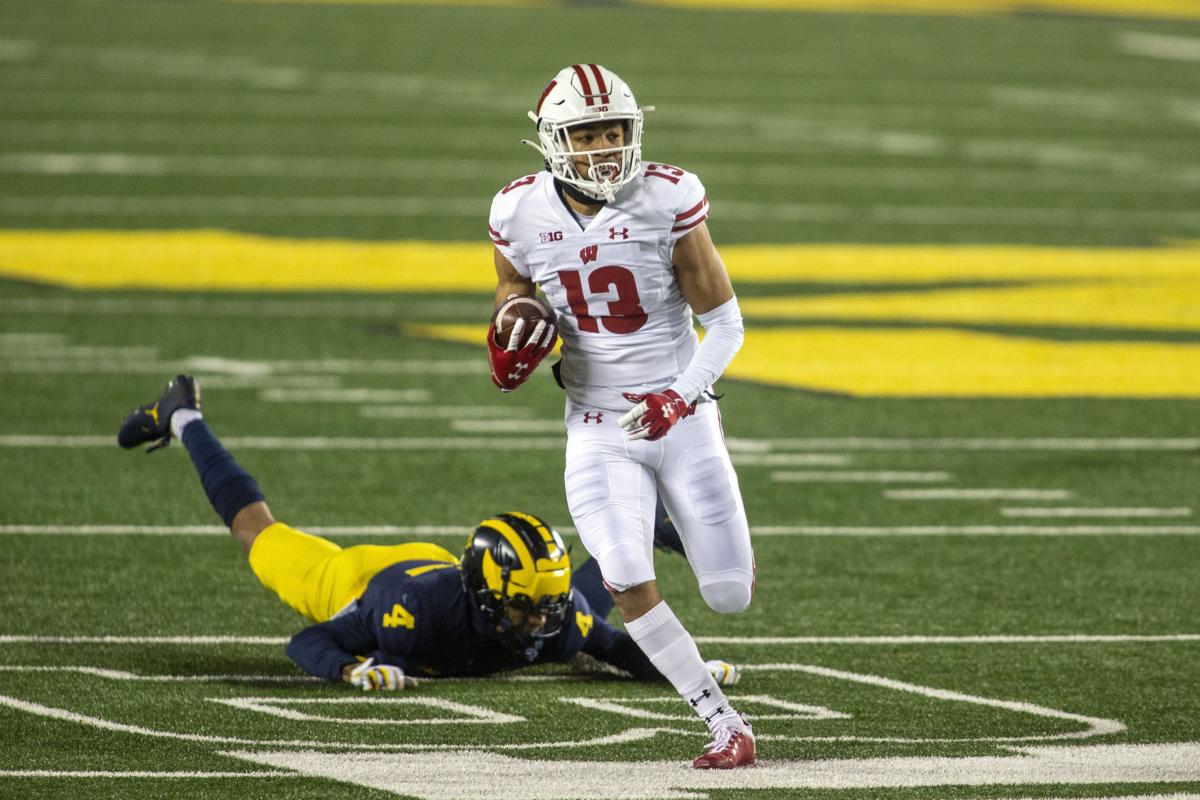 The University of Wisconsin displayed in dominant fashion its place in the Big Ten Conference hierarchy.
Its 49-11 win over Michigan at Michigan Stadium Saturday night showed that even after a COVID-19 outbreak cost the team two games, the Badgers (2-0) are legitimate contenders. UW's 38-point margin of victory was its largest against Michigan in program history and its 49 points were the most its ever scored against the Wolverines.
The blowout win also gave UW fans and the conference a glimpse into the future. UW was without starters and other key contributors on both sides of the ball, but its lines controlled the action and got big contributions from two talented true freshmen — running back Jalen Berger and wide receiver Chimere Dike.
"We knew coming into the week that those two were going to be significant. I think both, obviously came up big in a number of different ways," UW coach Paul Chryst said of his freshmen standouts. "They knew they'd be part of it … It was really good for them. Obviously it was important for us."
About an hour before kickoff, UW's availability report listed 10 members of the normal two-deep roster as not available: Quarterbacks Jack Coan and Chase Wolf; running backs Garrett Groshek and Isaac Guerendo; receiver Jack Dunn; guard Josh Seltzner; defensive end Garrett Rand; outside linebacker Izayah Green-May; cornerback Rachad Wildgoose; and safety John Torchio.
With the exception of Coan, who is recovering from foot surgery after a preseason injury, all of those players appeared in the opener against Illinois. Then the team lost two more starters, receiver Kendric Pryor (upper body) and defensive end Matt Henningsen (left elbow), during the game.
Thin on play-making options, Berger and Dike were featured heavily.
Berger tallied a team-best 87 yards on 15 carries, including a 23-yard touchdown in the fourth quarter. He added 13 receiving yards on two catches, both of which came in the first half. Dike produced all his yardage in the first half, finishing with 30 rushing yards and 29 receiving yards.
Berger and Dike were not made available to reporters after the game.
"Jalen adds a lot of speed to the running back position," sophomore Nakia Watson said. "He's still young right now. Once he gets everything going for himself, he's definitely going to be a great back."
Redshirt freshman quarterback Graham Mertz, who was one of the players who contracted the virus in the past month, made his return after sitting out 21 days of game action per Big Ten protocols. He finished 12 of 22 with 127 yards and two touchdowns.
UW led 28-0 at halftime, the largest halftime deficit for the Wolverines (1-3) at home since Michigan Stadium opened in 1927, according to the Elias Sports Bureau. The win sets up an important showdown for UW next weekend at Northwestern (4-0), which leads the Big Ten West.
Michigan's defense couldn't find a way to slow down the Badgers' rushing attack, but it wasn't a traditional ground game. Receivers and fullbacks added significant yards to the effort. Senior Danny Davis tallied 65 yards and a touchdown and fullback John Chenal had 71 on six carries. Davis was especially effective on a jet sweep run to the left side that the Badgers ran numerous times throughout the game.
UW tallied 341 yards on the ground and five ball-carriers had more than 30 yards.
"Rudy (offensive coordinator Joe Rudolph) did a good job of kind of packaging (the jet sweeps) up and complementing it with different things that go with them," Chryst said.
The Badgers first got on the board in an eerily similar fashion than they did in their opener against the Illini.
Safety Scott Nelson, a Michigan native, picked off a pass on the Wolverines' first play and set up the offense inside the Michigan 35. Fellow safety Eric Burrell imitated the contact that popped the ball in the air and Nelson made a diving catch to give UW the ball at the Wolverines' 33.
On the second play of the ensuing drive, Dike took a pitch on a reverse, got a block from Mertz and gained 30 yards on his first college carry to give UW a first-and-goal at the 3-yard line. Watson punched in the touchdown two plays later.
Sophomore linebacker Leo Chenal nabbed his first interception of the year on the next series, and his 31-yard return gave UW the ball at the Michigan 14. Fullback Mason Stokke caught a 1-yard touchdown pass four plays later. Leo Chenal's interception marked four consecutive drives with an interception thrown by Michigan QB Joe Milton going back to last week.
"I was not expecting that," Leo Chenal said with a laugh. "When I caught it I was like, 'Wow, what just happened.' My teammates gave me a hard time for not scoring a touchdown."
Michigan's offense ran seven plays and gained 1 yard in the first quarter. Things got better for the Wolverines offense as the game went on, but senior end Isaiahh Loudermilk stuffed Milton on a run from the 1 to deny Michigan's only shot at a touchdown in the first half.
The Wolverines finally scored on the first possession of the second half, a 46-yard field goal by Quinn Nordin.
Milton was pulled in the third quarter. He finished 9 of 19 for 98 yards passing. His backup, Cade McNamara, engineered a quick scoring drive, going 3-for-3 for 74 yards on his first series.