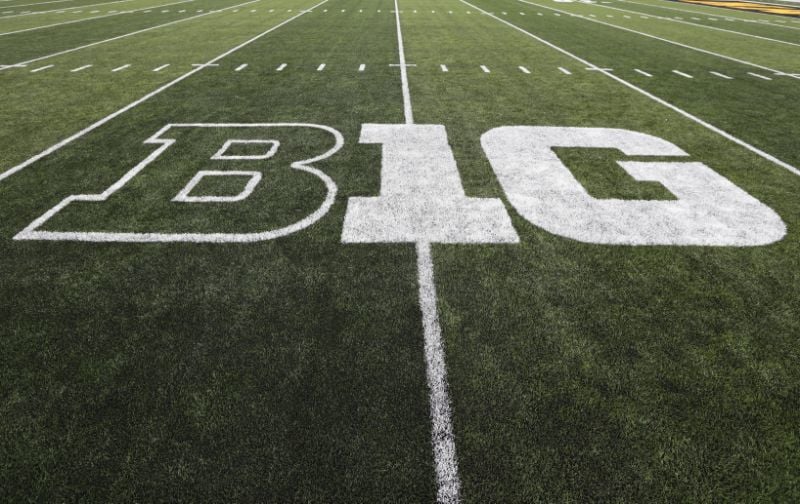 The Big Ten Conference has the most restrictive rules of any Power Five conference on when a football player can return to the field after a positive COVID-19 test.
The reasons behind requiring a 21-day layoff involve the timing of cardiac testing established by medical officials and a week-long period of reacclimation.
The six University of Wisconsin players who tested positive in a five-day period ending Wednesday all face the same three-week layoff from playing regardless of whether they're exhibiting symptoms, according to the Big Ten's protocols.
State Journal sources said quarterbacks Graham Mertz and Chase Wolf have had positive tests. UW coach Paul Chryst said Wednesday he has tested positive but is not experiencing symptoms and is isolating at home. Five other football staff members also have had positive diagnoses, according to UW.
Chryst faces a 10-day absence from the team, which started a seven-day shutdown Wednesday because of a rising number of coronavirus cases. Saturday's game at Nebraska has been canceled.
Players who test positive, however, have a longer period away. The Big Ten requires that players wait at least 14 days from their initial diagnosis to go through a cardiac screening that can clear them to start working back toward competition.
Concerns about the effects of the coronavirus on the heart were among the reasons why Big Ten school presidents and chancellors originally postponed the season in August. They later reversed course after getting assurances about testing protocols for the coronavirus and cardiac monitoring.
Jim Borchers, the team physician at Ohio State who was co-chair of the Big Ten's return to competition medical subcommittee, said experts told the conference that cardiac testing and evaluation couldn't start until two weeks after diagnosis.
The Big Ten also built in seven more days for players to build back toward competition after being cleared in the cardiac testing.
"And certainly if you look at our recommendations if athletes are symptomatic or have other issues, that would be even longer," Borchers said of the 21-day wait on Sept. 16 when the Big Ten announced its return to play. "It's to provide some clear guidelines from our medical experts around those evaluations and how we would safely get an athlete back to competition."
For those who test positive, Big Ten protocols call for lab work, an echocardiogram and a cardiac MRI.
Starting with when Badgers players returned for voluntary offseason workouts, UW used many of the post-diagnostic protocols that were formalized for the Big Ten season, assistant athletic director for sports medicine Michael Moll said in September.
In the testing two weeks after a positive diagnosis, doctors look for signs of heart inflammation and elevated levels of troponins that can indicate heart injury, Moll told an Athletic Board committee in September.
He said the 21-day layoff was a reasonable timeline.
"There will be some athletes that potentially will be ready to go before that and will be wanting to do more before that," Moll said. "There will be some that that is a very appropriate timeline. And there will be others that may take longer to get back than that 21-day time frame."
The minimum absence for a player who tests positive for COVID-19 in the ACC, Big 12 and Pac-12 is 10 days. It's at least 14 days in the SEC.
Big Ten players that are cleared by a cardiologist go into a seven-day return period that Moll said involves a gradual increase in exercise activity.
Per Moll's description of the process to a meeting of the Athletic Board's Equity, Diversity and Student Welfare committee on Sept. 17, it starts with light aerobic activity on a bike, then progresses to involve running.