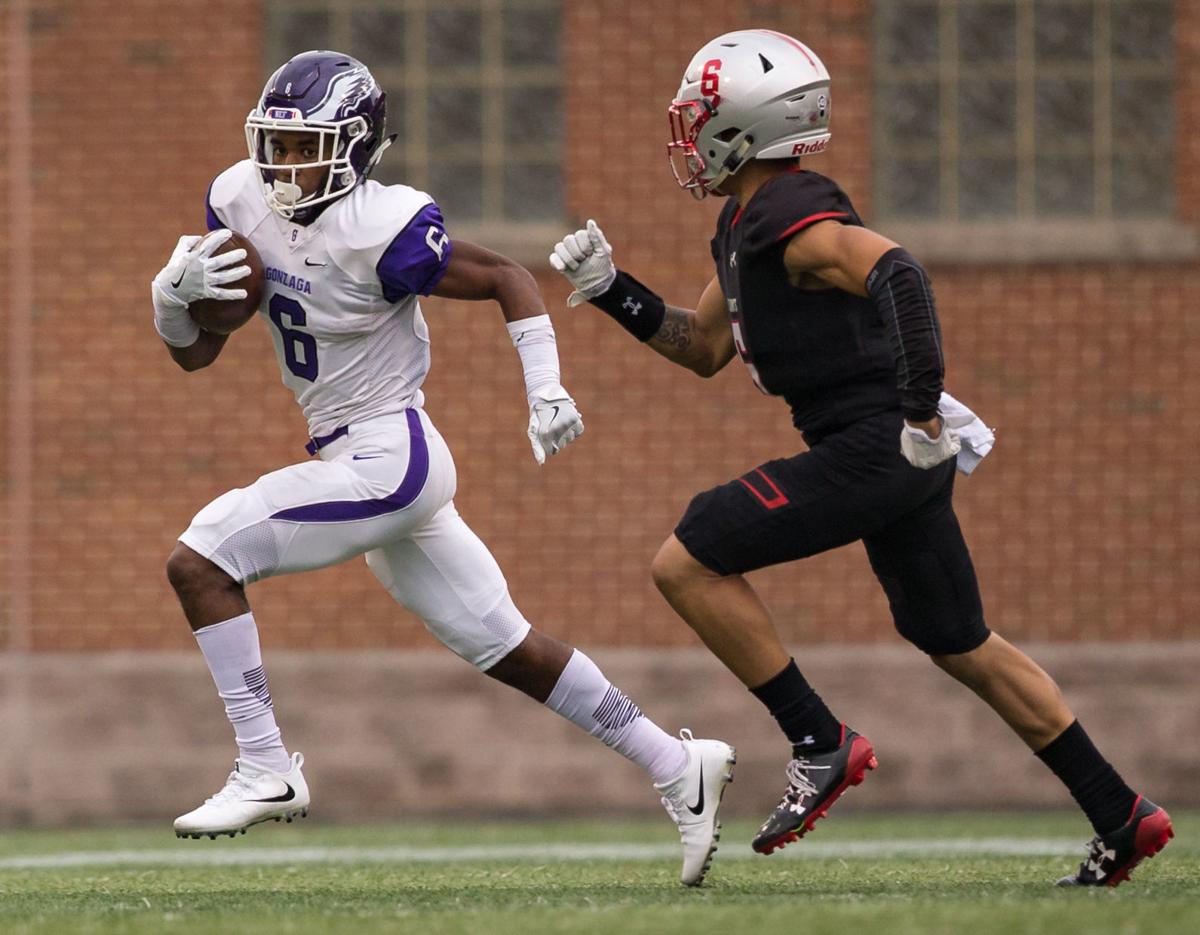 Dean Engram's final few snaps as a high school football player may be the only ones more remarkable than his first.
It took just one play as a freshman at Gonzaga College High in Washington, D.C., for Engram to secure his first career interception, helping the Eagles secure a win in the unveiling of a refurbished stadium.
"We knew early that he was not going to back down from any challenge, from anything," Gonzaga coach Randy Trivers said.
The future University of Wisconsin signee took that initial confidence booster and soon became a sought-after Division I prospect, ultimately moving to Madison this month to join a young, deep group of cornerbacks.
A month before inking his letter of intent with UW, Engram handed his team good field position with a kickoff return in the closing seconds of the Washington Catholic Athletic Conference Championship Game. He then caught a 12-yard pass to set up a successful 53-yard Hail Mary on the final play.
It marked the third lead change in the last 30 seconds, a wild finish that was featured on "SportsCenter" that night and "Good Morning America" the next day.
Through the tangle of bodies in the end zone, Engram was the first to discover his teammate had secured the catch — ripping his helmet off before the official even signaled touchdown and tossing it high in the air.
You couldn't write a much better ending for a season that began so tragically for Engram. His older sister, Bobbi, who fought sickle cell disease throughout her life, died shortly after Gonzaga's first game a few months earlier, and Dean dedicated the rest of the season to her.
The two were so close that many often confused Bobbi, 20 months older, as Dean's twin.
"She was my first fan, my first supporter, really," Dean said. "She was always at the game. She didn't really understand football that well, but she was there just to be there. I appreciate that."
'The biggest part of my dream'
Like always, Bobbi sat in the stands to cheer on her brother in Gonzaga's 47-0 win over Gilman on Aug. 24 of last year.
She appeared perfectly healthy. Dean even described it as "one of the healthiest times I've ever seen her."
Just hours later, however, complications recurred from one of Bobbi's hospital stays five months prior and she suffered a stroke in her sleep.
"At first it was definitely hard to just wrap my mind around because I had just seen her hours earlier at my game before she passed that night," Dean said. "It seemed unreal when it first happened.
"It was definitely the most difficult thing I've ever gone through. Just based off the fact it was so sudden, surprising to myself and to my family."
Sickle cell disease is an inherited red blood cell disorder. Those with SCD may struggle to produce enough red blood cells and experience fatigue.
Cells can also stick to vessel walls, causing a blockage that restricts oxygen to nearby tissues. That could cause sudden, severe pain and require hospitalization.
"That's the main thing — just the pain management, the quality of life," said Bobby Engram, Dean and Bobbi's father. "The thing people don't realize is the pain crisis they go through. It wrecks havoc on the internal organs, and that's the part that's unseen. Whoever's living with that disease goes through a tremendous amount of pain that many of us can't really understand."
UW's class of recruits includes a five-star offensive tackle and the potential quarterback of the future.
Bobby Engram, who played wide receiver for Penn State and enjoyed a 14-year NFL career, said Bobbi's death remains extremely difficult for the entire family. The process of grieving and healing is something they continue to actively work on many months later.
Still, Dean never missed a single class or practice. He said his attempts to carry on immediately were both a sign of his faith in God and because Bobbi wouldn't want him to have "sat around and not done anything."
"Life's 10% what happens to you, 90% how you react," Dean said, "and I chose to react in a different way than most would. In the long run, I think it's helping me."
A versatile talent
His performance on the football field didn't appear to waver. While he'll play cornerback for UW this season, Dean also contributed as a safety, wide receiver, running back, quarterback, kickoff returner and punt returner for Gonzaga on its way to the WCAC championship last season.
"A lot of corners are corners because they don't have great ball skills or else they would have been receivers," Trivers said. "But this guy could very easily be a wideout."
As Dean takes his versatile talents to Madison, he said he still thinks about his sister every day.
His favorite moments to look back on came last summer, when the family took a vacation to Jamaica. He saw Bobbi at her happiest during that time — the way he wants to remember her.
"I'd rather that be one of our last memories than watching her fight," Dean said. "She had a lot of long hospital stays. She would have to fight just to make it out of the hospital. And sometimes doctors didn't think she'd make it out of the hospital. So seeing her not have a needle in her, not in a hospital bed, not missing school, and just being happy, healthy, is definitely one of my best memories with her."
The battle with sickle cell isn't over for the Engram family. Dean's younger sister, 8-year-old Phoebe, also was born with the disease.
Dean has become more involved than ever with the Bobbi Engram Foundation — formerly the Bobby Engram Foundation named after their father — to raise awareness and money for SCD research.
He has participated in keynote speaking events, visited hospitals, talked with others who are struggling with the disease and engaged in other fundraising activities.
"(The foundation) was actually Bobbi's idea," Dean said. "She was in the hospital and she was just like, 'I don't want kids to have to go through this. I don't want this for anyone.'"
Like most Division I recruits, Dean keeps lofty goals for his athletic future, including the hope of following his father's footsteps to the NFL some day.
Those aspirations certainly aren't unrealistic. Dean may find playing time difficult to come by in his first couple years as he joins a crowded cornerback group, but the three-star recruit may hold the raw tools to develop into a key player.
He finds even greater drive within himself, however, to find a cure for sickle cell disease.
"That's the biggest part of my dream," he said. "That's my ultimate goal. I want to take care of my family, and when I say that I don't mean financially. I mean health-wise. ... I don't want to see (Phoebe) go through anything that I can help. That motivates me."
Be the first to know
Get local news delivered to your inbox!