It's difficult for the University of Wisconsin's football program, which dates to 1889, to do something for the first time.
But the Badgers (2-3) will do so Saturday when they host Army (4-1), whose college football history dates to 1890. The programs have never met on a football field.
School officials said there wasn't much of a story behind getting the game set up — Army is an independent Football Bowl Subdivision program, so it has 10 games to fill each season to go with set matchups against Air Force and Navy. Jeff Schmidt, UW's senior associate athletic director for administration and legal affairs, connected with an administrator at Army in 2017 and found a date that worked for both programs. It will be the Black Knights' first game against a Power Five conference program this season.
The Badgers will celebrate military appreciation day Saturday. Along with offering those in or retired from the armed forces the chance to purchase up to a dozen tickets at a discounted price, there will be a pregame flyover by four UH-60 Black Hawk helicopters conducted by the National Guard's 1st Battalion, 147th Aviation Regiment, which is stationed in Madison. The West Point Band also will perform at the game, as will a number of high school bands as part of UW's annual high school band day.
Saturday marks just the fourth meeting between UW and a service academy program and the first since 1979, but all three prior matchups were notable for their own reasons.
UW first played a service academy when it took on No 2. Navy on Nov. 17, 1945, at Municipal Stadium in Baltimore. Navy typically played its home games in Annapolis, but there was enough ticket-buying interest from Badgers fans to move the game to the larger Baltimore site, where Navy would play Army or Notre Dame, according to State Journal reports from the time.
It was the Badgers' second road game against an opponent ranked in the AP top five that season after they lost 12-0 against Ohio State a month earlier. Navy, which was a premier national program at the time, had a significantly deeper roster than UW and it showed. The Midshipmen led 20-7 late in the third quarter when they stopped a UW drive at the 20-yard line then scored 16 unanswered points to pull away with the 36-7 win. Navy scored the most points of any opponent against the Badgers that season.
UW threw four interceptions and went 1 of 9 passing — or on "forwards" as the box score of the time read. Navy's Clyde "Smackover" Scott picked off a pass to end a scoring threat in the first half. Halfback Jerry Thompson led UW with 77 yards rushing and threw a 19-yard touchdown pass to George Fuch for the team's lone score.
The Badgers hosted Navy four years later and the Midshipmen came to Camp Randall ranked No. 18 after defeating No. 14 Duke at home the previous week. UW was in its first season under coach Ivy Williamson and just had lost 35-20 to No. 10 Cal at home the previous week.
Bob Radcliffe's interception return for a touchdown gave UW an early cushion and set the tone for the day as the Badgers ran away with a 48-13 win. The then-capacity crowd of 45,000 people at Camp Randall saw the most points scored by a Badgers team in 19 years. UW's defense forced eight turnovers — five interceptions and three fumble recoveries — and five Badgers ball carriers gained more than 20 yards. Radcliffe added a second pick 6 in the fourth quarter, while Bob Teague and Jerry Schaefer had two rushing touchdowns apiece.
"Wisconsin really went to town they sunk the Navy and near took their oars so they couldn't get back to Annapolis," State Journal columnist Joseph "Roundy" Coughlin wrote.
UW's most recent game against a service academy came in September 1979 when Air Force visited Camp Randall. The freshman-laden Badgers notched the first shutout of Dave McClain's tenure as coach with a 38-0 win. That day also marked the debut of an electronic message board at Camp Randall Stadium.
Freshman tailback Chucky Davis had touchdowns on UW's first two drives before severely spraining his ankle in the second quarter. John Williams — a freshman and converted defensive back — tallied a 40-yard touchdown run on his first collegiate rushing attempt. Williams led the Badgers in rushing each of the next two seasons.
The Badgers recorded three defensive stops inside their 25-yard line, and freshman defensive lineman Tim Krumrie led the charge with 12 tackles. Krumrie — who became a three-time All-Big Ten first-team selection and an All-American as a junior — also recovered a fumble in the first quarter to give the offense a short field, a sign of things to come in his College Football Hall of Fame career.
Krumrie was one of three freshmen to start on defense that day.
"We have some super young talent," McClain said. "And they are going to play. We are going to play the best 22 players no matter who they are."
---
Badgers in the NFL: Check out top performances by former Wisconsin players in Week 5
T.J. Edwards — Eagles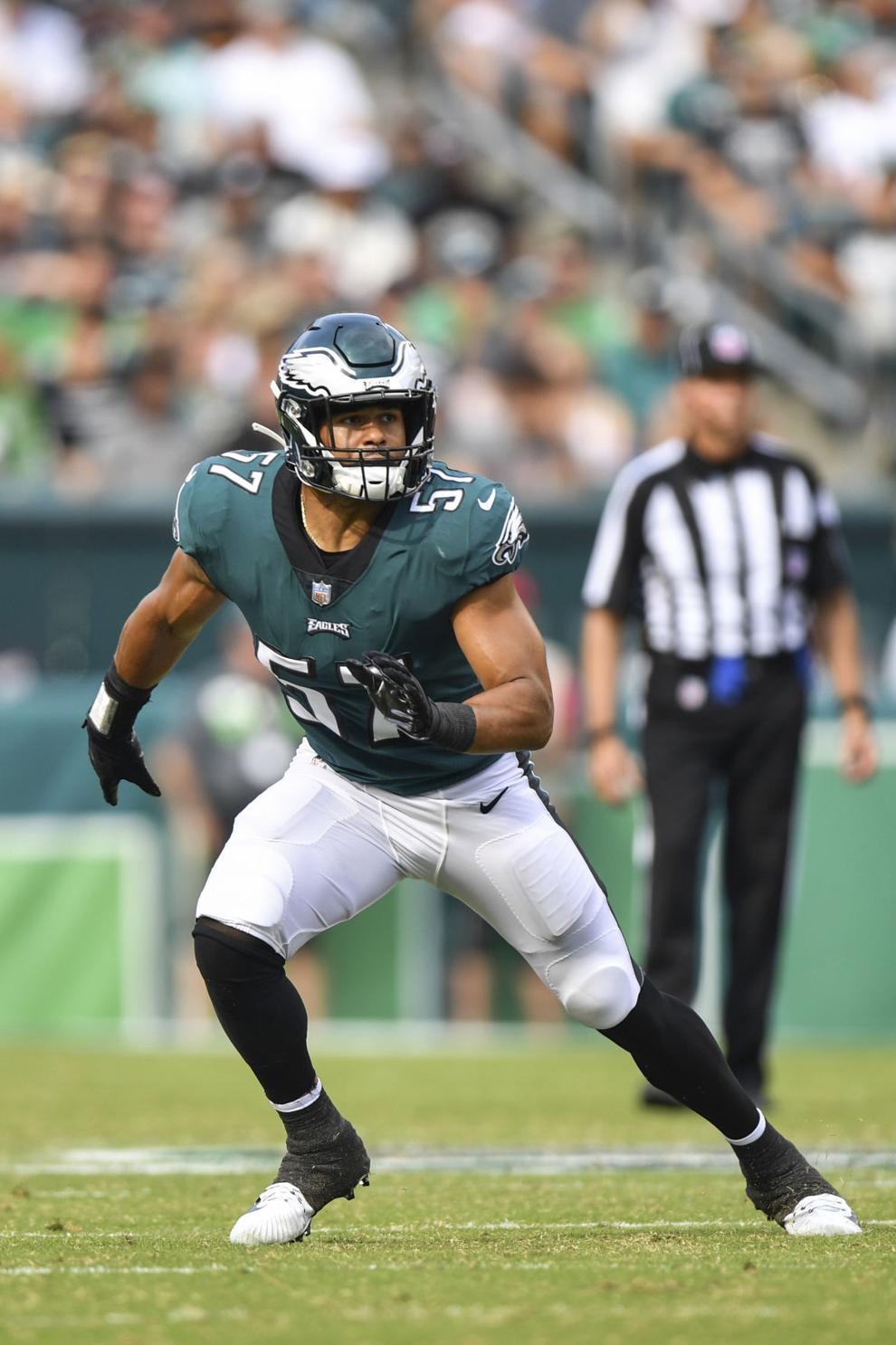 Linebacker T.J. Edwards made a special teams play with his team trailing with 4 minutes remaining that swung the game in the Philadelphia Eagles' favor. Edwards snaked his way through the Panthers' punt team and blocked a punt and teammate Shaun Bradley recovered it at Carolina's 27-yard line to set up the winning touchdown drive. 
Edwards covered 34.6 yards on the play, according to the NFL's next-gen stats. He also had five tackles on the day, giving him 23 this season.
Alex Ericson — Panthers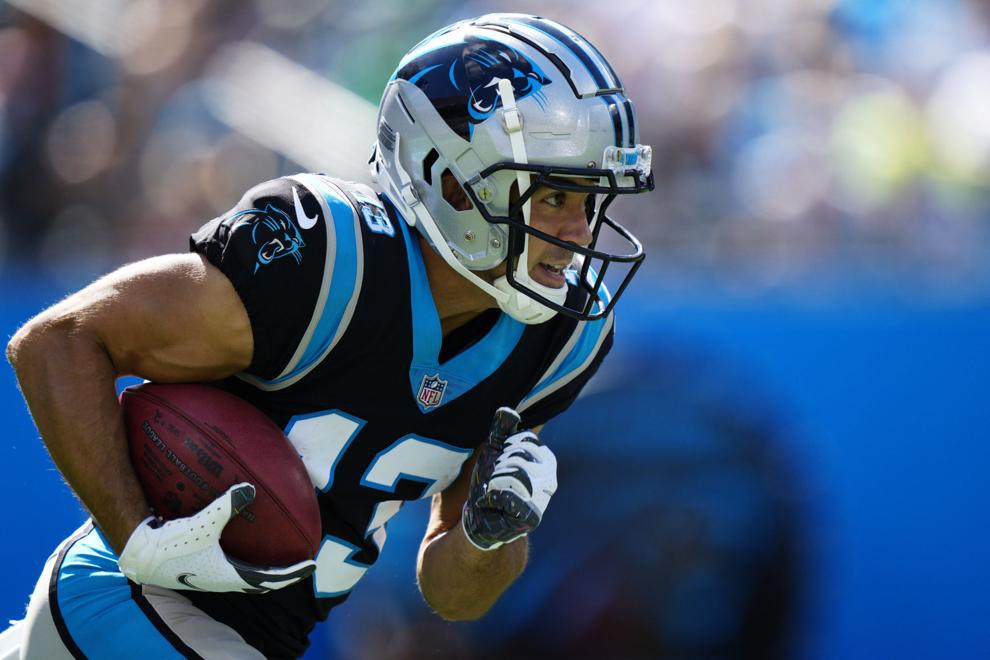 Former UW wideout Alex Ericson primarily has played on special teams since being elevated to Carolina's active roster last month, and he had a couple big returns to help the Panthers in their loss against Philadelphia.
Ericson had two kick returns for 57 yards, including one for 39 yards in the first quarter that set up a touchdown drive, and he had three punt returns for 39 yards.
Jonathan Taylor — Colts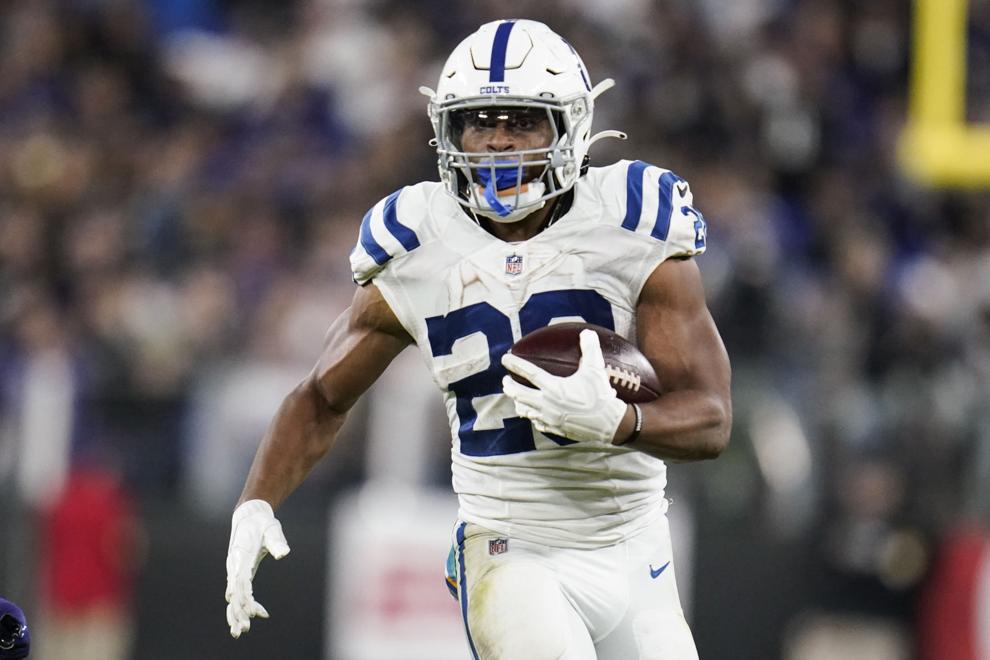 His team lost a heartbreaker in overtime, but former UW tailback Jonathan Taylor played a major role in the Indianapolis Colts' ability to build a lead in regulation.
Taylor had 53 yards and a touchdown on 15 carries and 116 yards and a touchdown on three catches. He took a screen pass on a third-and-15 in the first quarter for a 76-yard touchdown, showing off his acceleration and speed. It was Taylor's first multi-touchdown game of the season.
Andrew Van Ginkel — Dolphins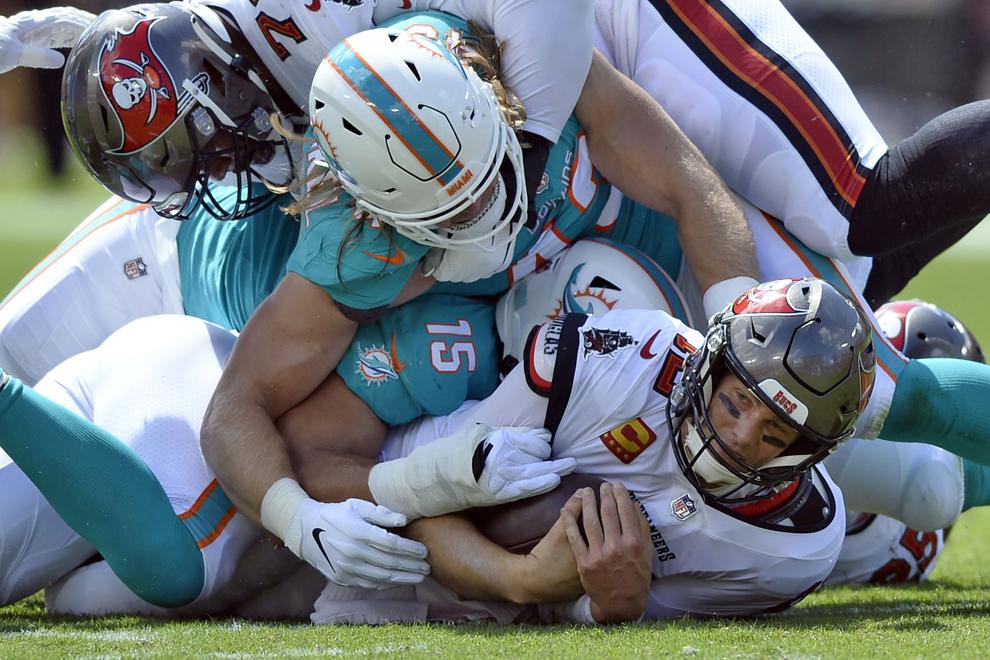 Andrew Van Ginkel has had somewhat of a slow start to his season, much like the rest of the Miami Dolphins, but he turned in a good showing during the team's blowout loss to the world-champion Tampa Bay Buccaneers.
Van Ginkel had three tackles, including one for loss, which pushed him to 21 total tackles this season.
J.J. Watt — Cardinals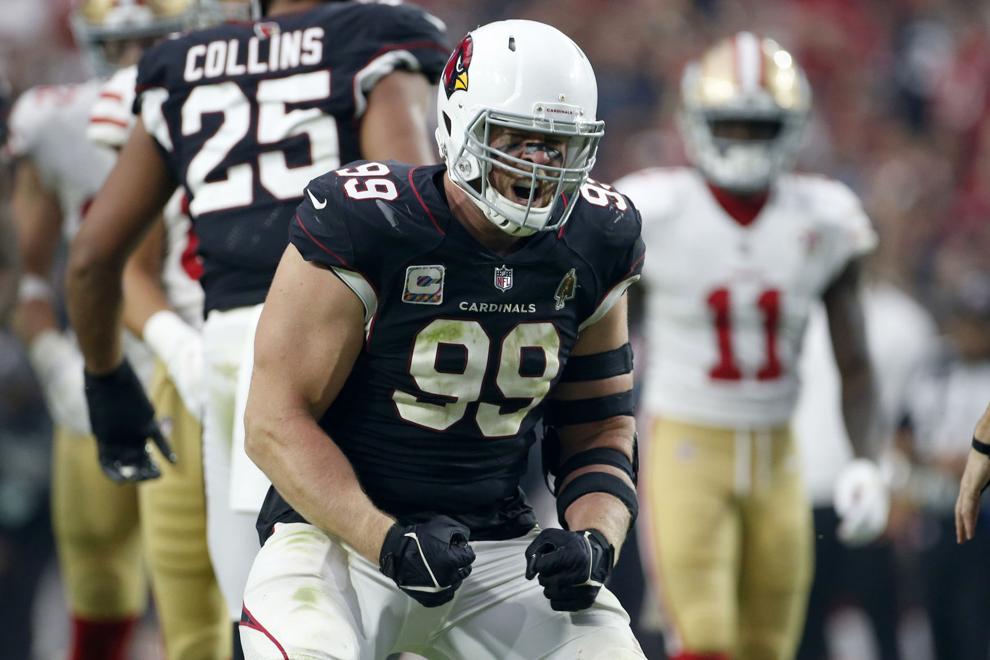 J.J. Watt isn't the most feared player in his team's front seven for the first time in his career. But the combination of Watt and edge rusher Chandler Jones has paid dividends for the Arizona Cardinals (4-1).
Watt had three tackles, two of which were for loss, a pass defended and recorded three quarterback hits in a defensive struggle against San Francisco. Watt hasn't yet tallied a sack this season, but he has been active in the opponents' backfield with four tackles for loss and six QB hits.