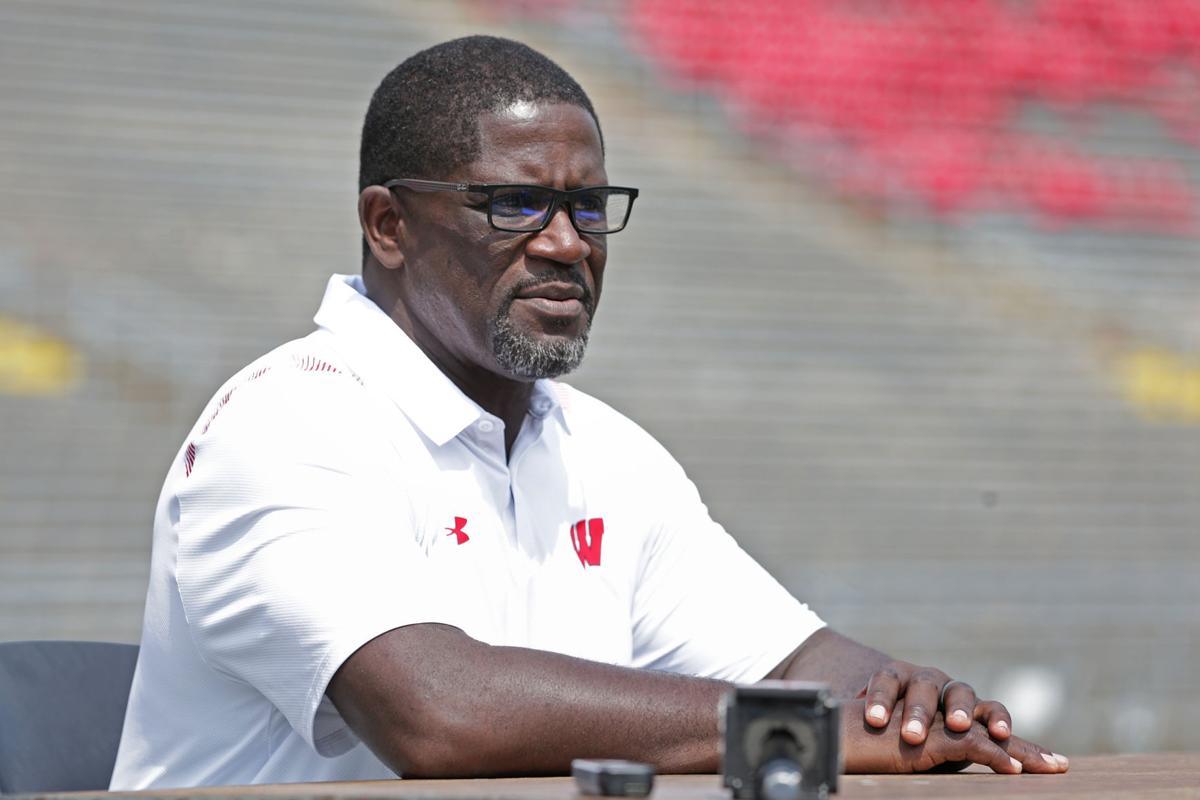 As Badgers football players poured out of the tunnel and onto the field Friday at Camp Randall Stadium, their excitement was palpable.
The University of Wisconsin is 29 days from its season opener on that turf against Penn State, and the team's training camp got underway as Mark Morrison's 1996 hit "Return of the Mack" cascaded from the stadium's speaker system.
Reporters were able to watch the first 30 minutes of Friday's debut practice, most of which was position group warmups and special teams work. Still, there were some interesting bits of information to glean from the first look at this year's Badgers on the field.
RB room healthy
The toughest position for UW coaches to judge this spring was the running backs because none of the players expected to compete for significant roles were healthy.
But position coach Gary Brown had his full complement of 10 tailbacks and two fullbacks Friday. If that remains the case as training camp progresses, the coaching staff can get a true sense of which backs can contribute this season.
The early front-runners are redshirt freshman Jalen Berger, the team's leading rusher last season and one of the prizes of the 2020 recruiting class, and Chez Mellusi, a junior transfer from Clemson. Brown told reporters at UW's media day Thursday that "the sweet spot" to reach would be having a third tailback to rotate in. That role could be filled by junior Isaac Guerendo, sophomore Julius Davis or freshman Braelon Allen.
Brown got the chance Friday to see his whole group and begin evaluating their play on the field rather than tape and potential.
Handful of punt returner options
One of the standouts from the short window of Friday's practice that was open to reporters was punter Andy Vujnovich, who was skying balls deep across the field. His improvement and steps toward more consistency will be a story throughout camp.
The players catching said punts were even more interesting. Special teams coordinator Chris Haering said Thursday the competition was open for the punt returner spot, and four players were snagging balls Friday. Redshirt freshman receiver Devin Chandler, senior receivers Danny Davis and Jack Dunn and sophomore Dean Engram rotated fielding punts. Haering also said sophomore receiver Stephan Bracey will factor into the competition when he returns from a right leg injury.
UW was 13th in the Big Ten Conference last season at 2.9 yards per punt return.
Rucci at left tackle
That makes sense for a player listed at 6 foot 8 and 294 pounds. He was in the second group Friday as senior and projected starter Tyler Beach was in a walking boot and watching practice. Former five-star recruit Logan Brown was working with the first group.
From the infirmary
Redshirt freshman Cole Dakovich, a Waukesha product, is out for the season with a left leg injury, per UW's first injury report. Dakovich didn't play in a game last season, but he was pushing for a rotation spot at tight end behind starter Jake Ferguson.
Long snapper Duncan McKinley, a freshman from Eau Claire, also was confirmed to be out for the season after tearing the ACL in his left leg during spring practices.
Here's a look at the players who were held out of Friday's practice:
OLB Ayo Adebogun (right leg)
LT Tyler Beach (left leg)
S Travian Blaylock (left leg)
WR Stephan Bracey (right leg)
ILB Jake Chaney (right arm)
OLB C.J. Goetz (right leg)
OLB Aaron Witt (right leg)
---
Check out the State Journal's coverage of Wisconsin Badgers football media day
Read all about Graham "Merch," his teammates and coaches — and start counting down the days until Bucky's opener.