The plan is neither final nor finalized, but there is a good chance what the CFP unveiled Thursday is going to be very close to what is implemented.
When? Good question and one of several that needs to be addressed after college football managed to make huge news in the middle of June.
Q: So, when is this happening?
A: There are still a couple steps left to get approval of the plan, which ultimately needs to be green lit by a committee of university presidents. If there are no snags, the plan can become officially official sometime this fall.
When the 12-team playoff would go into effect is probably the biggest unanswered question. Definitely not this season, and CFP Executive Director Bill Hancock has said 2022 is too soon. That leaves 2023 as the earliest possible season.
The latest? That would be 2026, after the current 12-year deal with ESPN runs out.
ESPN officials have made it clear in the past that they would be happy to accommodate any CFP format, but a bigger playoff is going to demand more than the $470 million per year the network is currently paying for two semifinals, a championship game and four other marquees bowl games.
The new format would have 11 games with national title implications per season instead of just three.
ESPN might jump at the opportunity to exclusively negotiate with the CFP and extend its deal well past the current 2025-26 season expiration date. But is it ready right now to pay triple?
Is the CFP better off waiting it out and bringing the new format to the open market, where competition can drive up the price? Or maybe take the NFL approach and have the multiple playoff network partners?
When there are answers to those questions, we'll know when the 12-team playoff will be implemented.
Q: Why play the quarterfinals in bowls instead of on campus?
A: The proposal calls for first-round games involving teams seeded 5-12 to be played on the campus at the team with better ranking. Those games will be played in mid-December.
The highest ranked teams, Nos. 1-4 — which all have to be conference champions — get byes to the quarterfinals to be played on or near New Year's Day, but no home games. They'll only be playing at neutral sites — as many as three if they make it title game.
Big 12 Commissioner Bob Bowlsby mentioned concerns about playing playoff games in winter weather up north and Southeastern Conference Commissioner Greg Sankey said hosting on short-notice in January could be difficult for some college towns.
"I think we've always honored the sanctity and the tradition of the bowl environment, and we have consistently either through the four-team playoff or the New Year's Six games honored that and tried to do things that help everybody in the bowl and college football ecosystem," Bowlsby said.
The 12-team playoff is the most aggressively forwarded-thinking move in the history of college football's postseason. Designing it around bowl games has the feel of building a space ship from the parts of wood-paneled station wagon.
But it's important to note, using the six bowl games to host the quarterfinals and semifinals could help expedite the transition from four to 12.
The CFP already uses a rotation of six bowls — Rose, Sugar, Orange, Fiesta, Peach and Cotton —- to host the semifinals. In the new format, each of those games could be a playoff game every year.
Notre Dame athletic director Jack Swarbrick said this format will allow college football to "reassert ownership" of New Year's Day.
And sentiment and tradition aside, game management becomes a lot easier if the sites of the quarterfinals are predetermined.
Q: Did the Notre Dame athletic director just help create a system where the Fighting Irish can never be a top-four seed and earn a bye?
"I look forward to never hearing again about how we played one less game or don't have a conference championship," Swarbrick said.
Notre Dame wants to be an independent, which means it will not play on the first weekend of December when most playoff contenders are playing their 13th game for a conference championship.
Swarbrick said the tradeoff works for Notre Dame. Instead of getting a bye to the quarterfinals, the best the Irish can do is a home game as the No. 5 seed with a guaranteed extra week of rest.
"I do think it's helpful to us to be able to say, look, Alabama put its position at risk in its title game, or Oklahoma put its position at risk in its conference title game. We're doing the same thing in the first round," Swarbrick said.
The Irish have not won a national title since 1988. To end that drought in a 12-team format it will have to win four playoff games. But with six at-large spots available, getting into the playoff shouldn't be too tough for the Irish.
Q: Is this good for the teams outside the Power Five conferences that never had a realistic shot at the four-team playoff?
A: Definitely. With the six highest-ranked conference champions guaranteed a spot that means at least one team from the Group of Five will be in the field of 12 and the door is open to more.
Last season, for example, the Pac-12 champion was ranked behind both the American Athletic Conference champ Cincinnati and Sun Belt champ Coastal Carolina.
"This proposal, which treats all FBS conferences equally, has real merit," AAC Commissioner Mike Aresco said in a statement. "Under this plan, we would have made the Playoff in five of the seven years of the Playoff era. It affirms our P6 positioning."
But don't get too excited, G5 fans. Since the CFP was implemented in 2014, using the final selection committee rankings as a guide, 2020 was the only season more than one Group of Five team would have made the proposed 12-team format.
Q: A 12-team playoff could result in teams playing 16 or even 17 games. Is that a concern?
A: The commissioners who put the plan together were quick to point out that most of the teams involved would end up playing the same number of games — 13 or 14 — that top teams already play in a typical season.
But there is no denying that at a time when more attention than ever is on the health and well-being of unpaid athletes, asking even a few teams to play more games than ever will draw criticism.
"To add opportunities to the postseason playoff adds games," Sankey said. "One can observe, this is too many, that's not enough — whether that's opportunities or games. That's always going to be there."
Tom Oates: Only one thing remains unchanged in Big Ten this season — Ohio State's dominance
Top five Heisman Trophy candidates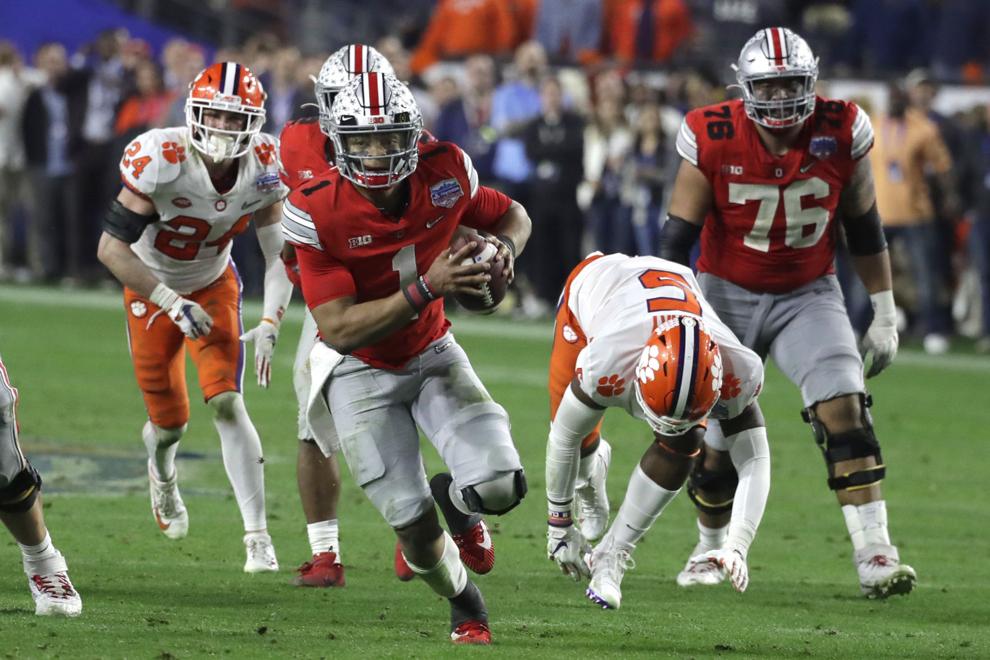 1. Justin Fields (above), QB, Ohio State: Run-pass threat leading a national title contender is a winning Heisman formula.
2. Rondale Moore, WR, Purdue: Injuries limited college football's most electrifying player to four games last year.
3. Rashod Bateman, WR, Minnesota: Supreme deep threat — 20.3 yards per catch in 2019 — opted out, then back in.
4. Master Teague, RB, Ohio State: With J.K. Dobbins in the NFL, Teague should get more than 135 carries this year.
5. Tanner Morgan, QB, Minnesota: Toughest hurdle might be loss of offensive coordinator Kirk Ciarrocca to Penn State.
Top five quarterbacks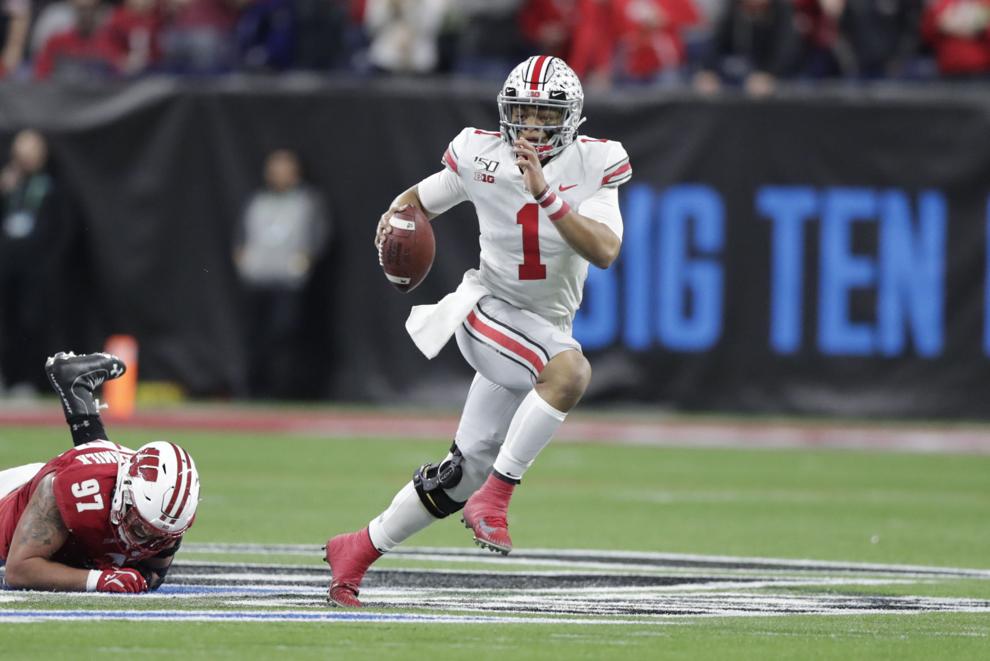 1. Justin Fields (above), Ohio State: In 10 games against Big Ten teams, he threw 30 touchdown passes and one interception.
2. Tanner Morgan, Minnesota: He may not have a big arm, but Morgan is the ultimate gamer, especially in the clutch.
3. Sean Clifford, Penn State: There was little dropoff from Trace McSorley to the strong-armed Clifford last year.
4. Michael Penix, Indiana: Split time with Peyton Ramsey in 2019, but athleticism and arm strength won him the job.
5. Adrian Martinez, Nebraska: Jack Coan's injury opens up this spot for Martinez, who played hurt all last season.
Top five running backs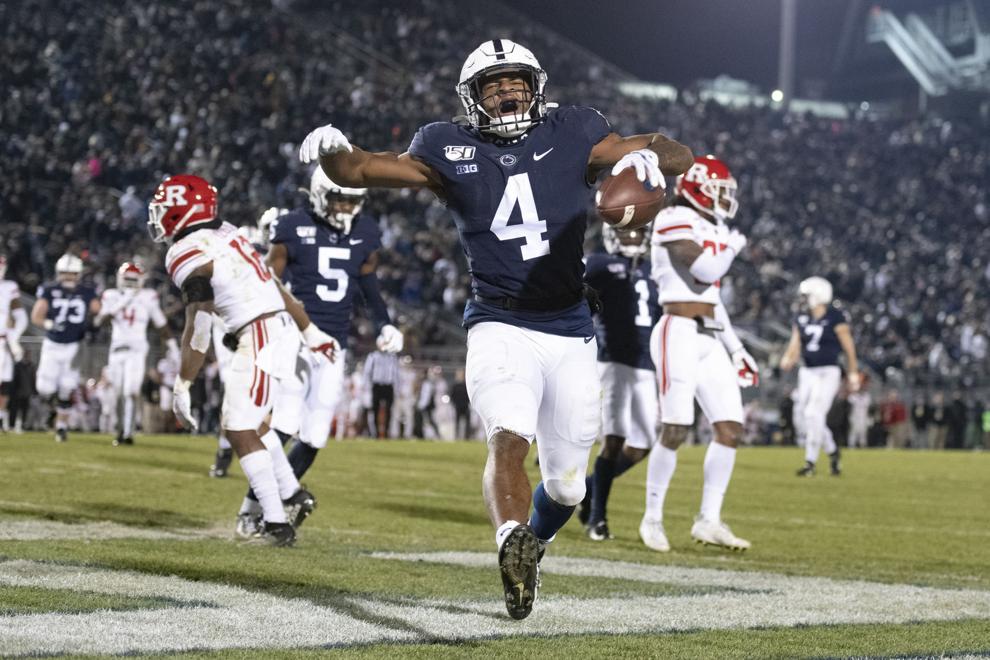 1. Journey Brown (above), Penn State: Averaged 6.9 yards per carry last year, better than Jonathan Taylor or J.K. Dobbins.
2. Master Teague, Ohio State: Had limited touches, but his 5.8 yards per carry made him third-team All-Big Ten.
3. Stevie Scott, Indiana: Leading returning rusher in the conference has effective combination of size and speed.
4. Mohamed Ibrahim, Minnesota: Were those 140 rushing yards against Auburn in the bowl a sign of things to come?
5. Zach Charbonnet, Michigan: He showed a nose for the end zone as a freshman but will be counted on to do more.
Top five wide receivers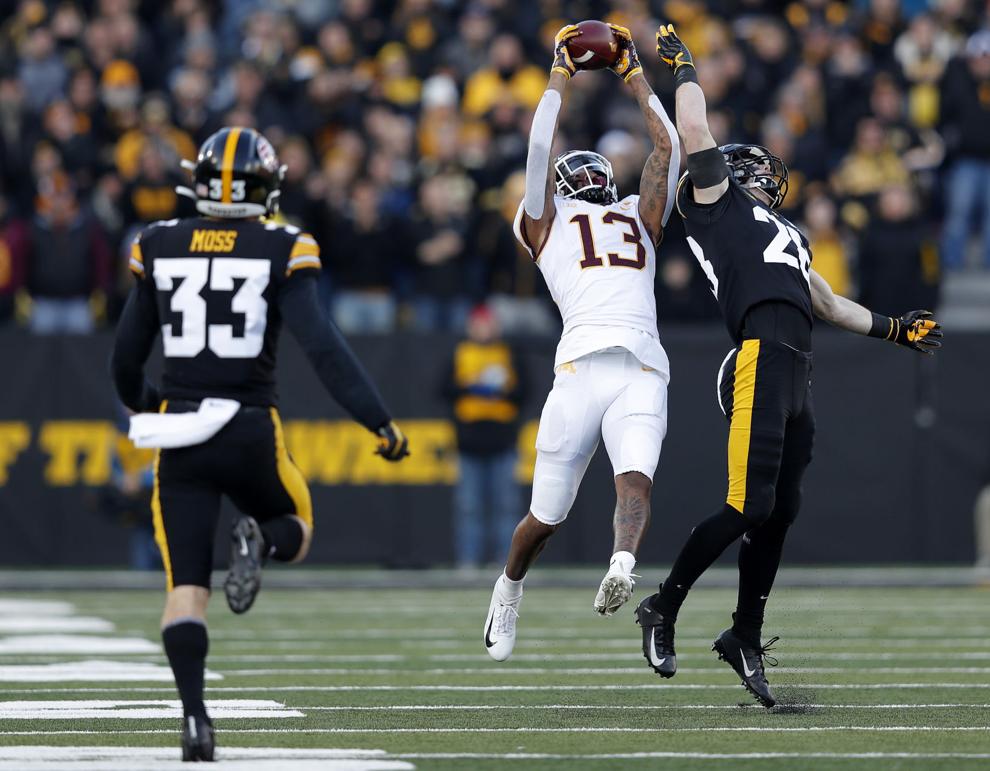 1. Rashod Bateman (above), Minnesota: Had 60 catches for 1,219 yards and 11 touchdowns paired with departed Tyler Johnson.
2. Rondale Moore, Purdue: His 4.3 speed and elusiveness as a runner make him Big Ten's ultimate big-play weapon.
3. Chris Olave, Ohio State: Despite Buckeyes' wealth of talent at wide receiver, Olave was third-team All-Big Ten.
4. David Bell, Purdue: Following in Moore's footsteps, sure-handed Bell was Big Ten Freshman of the Year in 2019.
5. Whop Philyor, Indiana: Philyor, Bateman and Bell were three of Big Ten's four 1,000-yard receivers last year.
Top five tight ends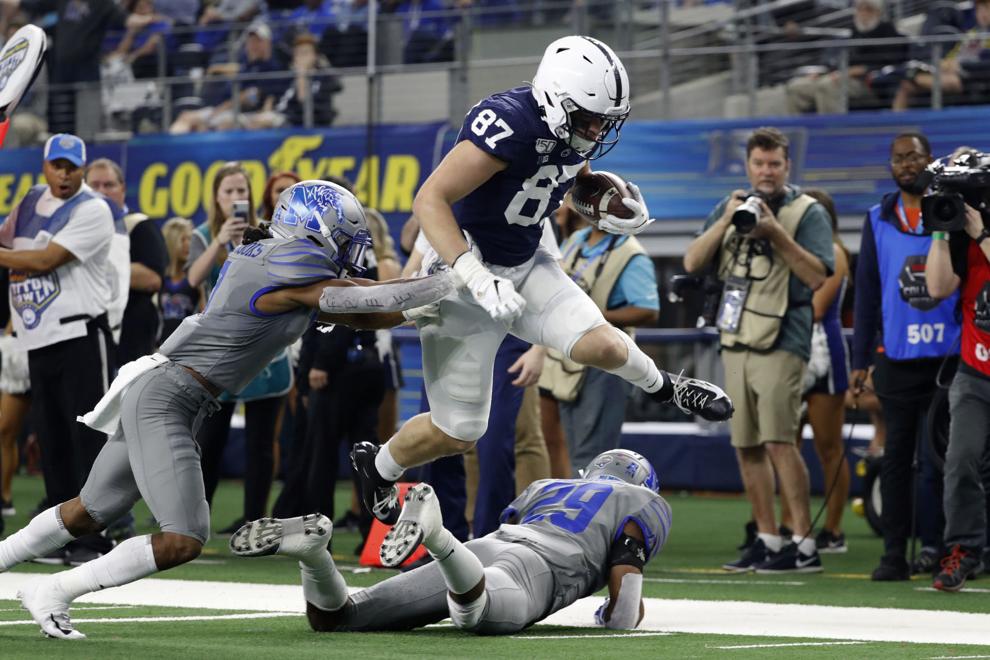 1. Pat Freiermuth (above), Penn State: Hasn't had huge numbers, but he catches everything in sight and moves the chains.
2. Jake Ferguson, UW: With wide receiver Quintez Cephus gone to NFL, Ferguson could become Badgers' go-to-guy.
3. Peyton Hendershot, Indiana: A good fit for Hoosiers offense, his production made him third-team All-Big Ten.
4. Luke Farrell, Ohio State: Although an afterthought in Buckeyes offense, Farrell also was third-team All-Big Ten.
5. Sam LaPorta, Iowa: After emerging late in his freshman season, LaPorta looks like next great Hawkeyes tight end.
Top five offensive lineman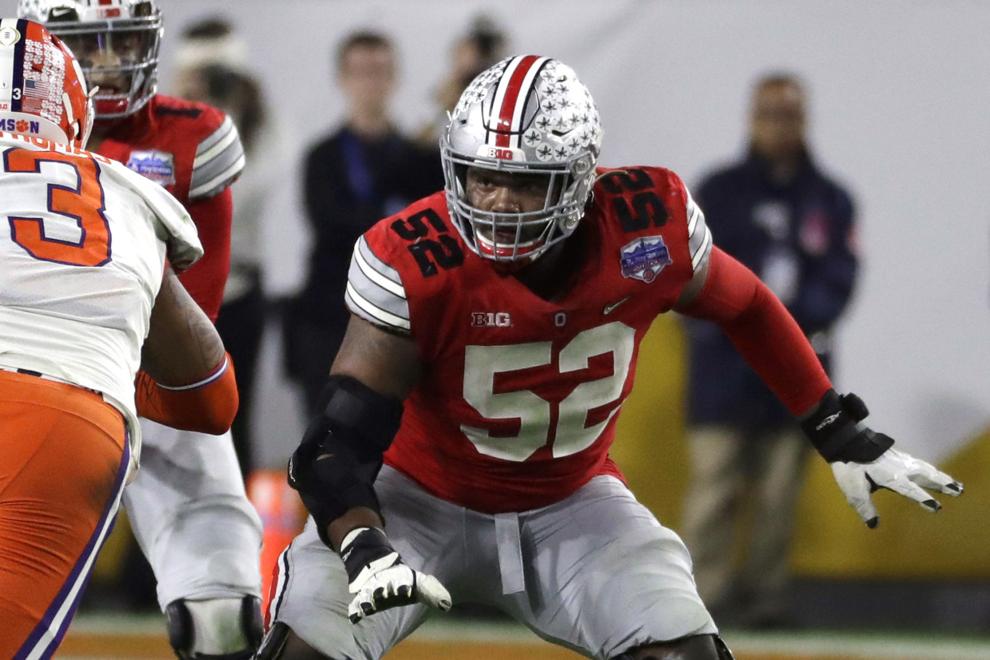 1. Wyatt Davis (above), G, Ohio State: Powerful run blocker returned after considering NFL in January, opting out in August.
2. Cole Van Lanen, T, UW: Injuries limited Van Lanen's effectiveness in 2019, but he's healthy and ready to go now.
3. Alaric Jackson, T, Iowa: Overpowering run blocker was third-team All-Big Ten despite sitting out four games.
4. Josh Myers, C, Ohio State: Third-team All-Big Ten pick leads what should be conference's best offensive line.
5. Jalen Mayfield, T, Michigan: Nasty on-field disposition gives him edge over Ohio State tackle Thayer Munford.
Top five defensive lineman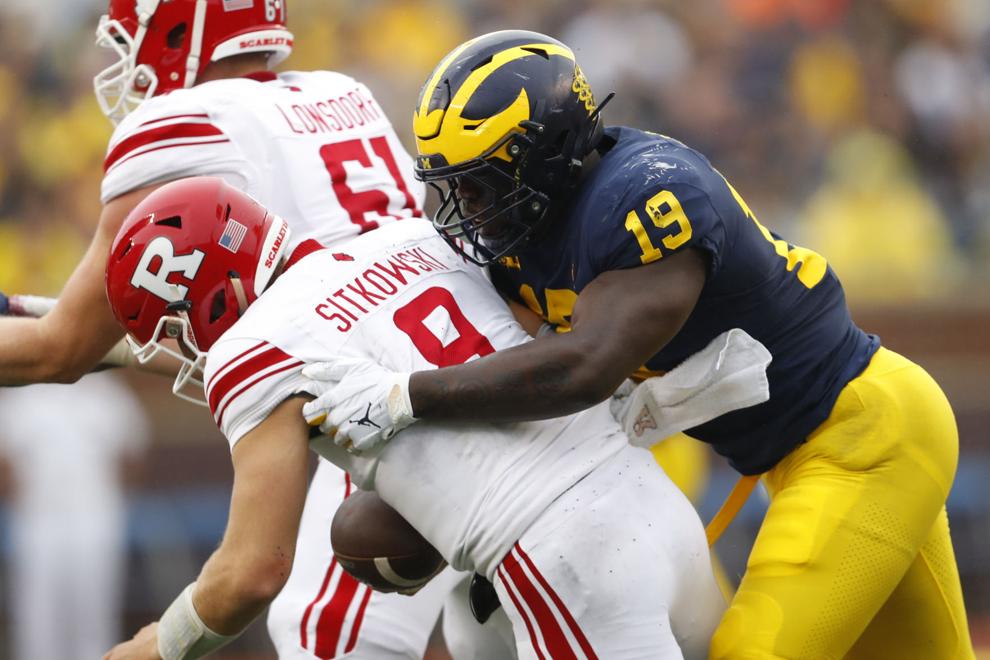 1. Kwity Paye (above), DE, Michigan: Prototypical NFL edge rusher was only scratching surface with 6.5 sacks last year.
2. Shaka Toney, DE, Penn State: Another freak athlete who has amassed 15.5 career sacks for the Nittany Lions.
3. George Karlaftis, DE, Purdue: Made freshman All-America teams after producing 7.5 sacks in his first go-around.
4. Zach Harrison, DE, Ohio State: Program that produced the Bosa brothers and Chase Young now turns to Harrison.
5. Isaiahh Loudermilk, DE, UW: A big man who can move, Loudermilk looks poised to put it all together this season.
Top five linebackers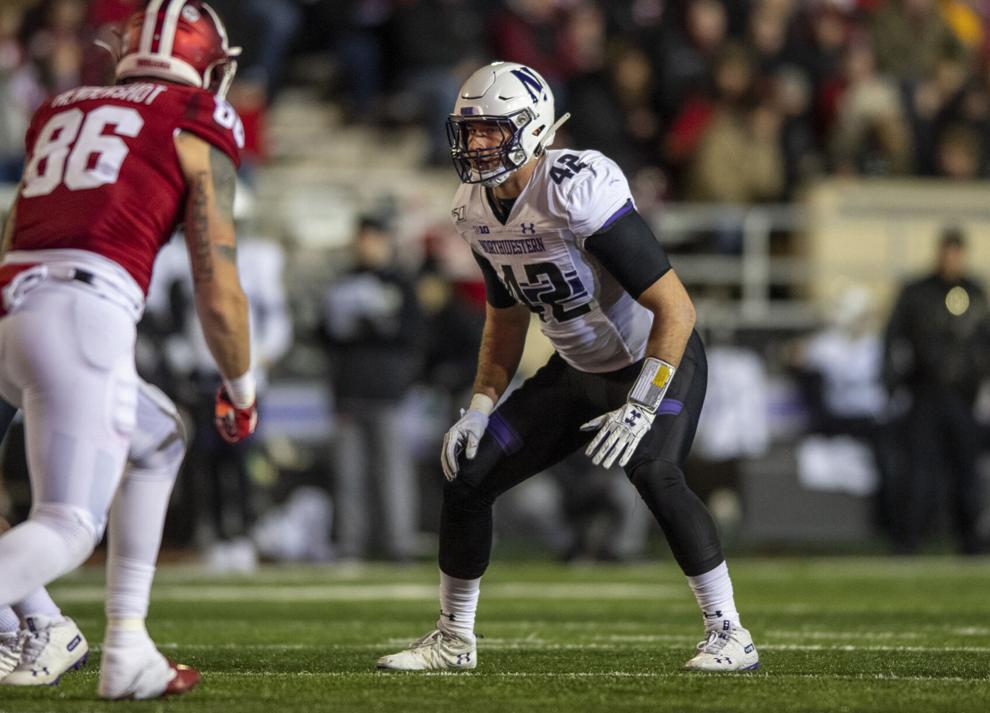 1. Paddy Fisher (above), MLB, Northwestern: Fisher has been around so long he might have played with coach Pat Fitzgerald.
2. Antjuan Simmons, OLB, Michigan State: Played all over last year, even safety, but those 16 TFLs speak volumes.
3. Jack Sanborn, ILB, UW: The next great Badgers linebacker is Sanborn, who plays with speed, toughness, smarts.
4. Cameron McGrone, MLB, Michigan: Anchor of a defense that is expected to be the strength of the Wolverines.
5. Jake Hansen, ILB, Illinois: Veteran tackling machine led all FBS players in forced fumbles last season.
Top five defensive backs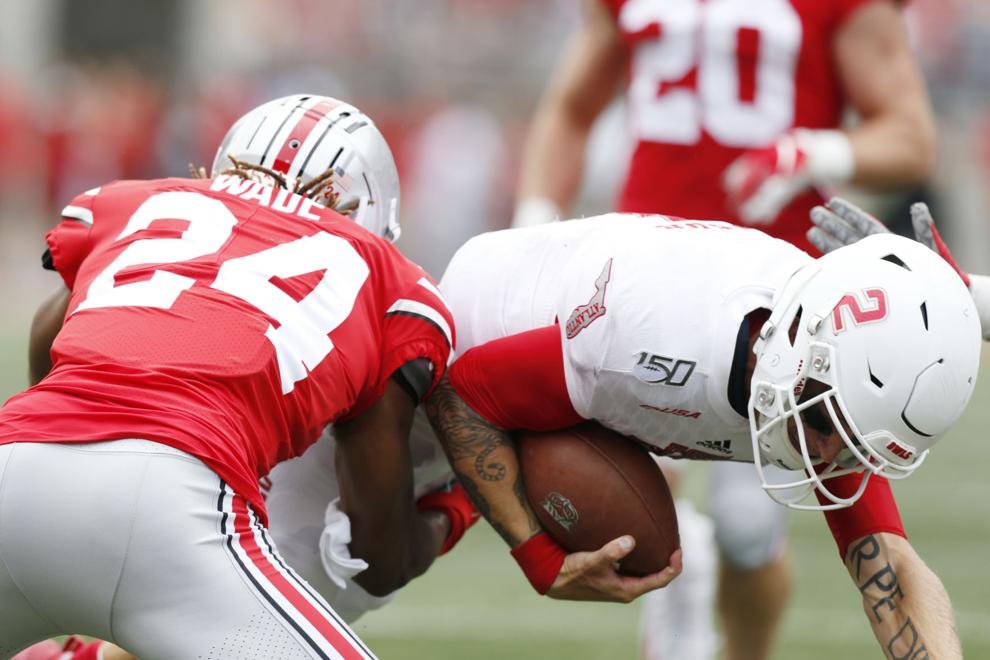 1. Shaun Wade (above), CB, Ohio State: Latest in long line of elite cover corners with great closing speed at Ohio State.
2. Tariq Castro-Fields, CB, Penn State: Thought about heading to the NFL but was limited by injury late in season.
3. Eric Burrell, S, UW: Whether it's interceptions, tackles or TFLs, Burrell can usually be found around the ball.
4. Daxton Hill, S, Michigan: Didn't live up to his 5-star billing as a freshman, but he's a budding star now.
5. Tiawan Mullen, CB, Indiana: Broke up 13 passes last year, tops in the nation among freshman defensive backs.
Top five specialists
1. Keith Duncan (above), K, Iowa: Longest field goal was only 49 yards, but he was good on 29 of 34 attempts last season.
2. Blake Hayes, P, Illinois: Like Duncan, was named first-team All-Big Ten after averaging 44.6 yards per punt.
3. Ihmir Smith-Marsette, KR, Iowa: Blazing fast, he averaged 29.6 yards on kickoff returns, scored two touchdowns.
4. Blake Haubeil, K, Ohio State: Ryan Day usually eschews field goals, but Haubeil was 13-for-15 with a long of 53.
5. Aron Cruickshank, KR, Rutgers: Averaged 29.3 yards per kickoff return at UW, then took his talents to Rutgers.
Top five transfers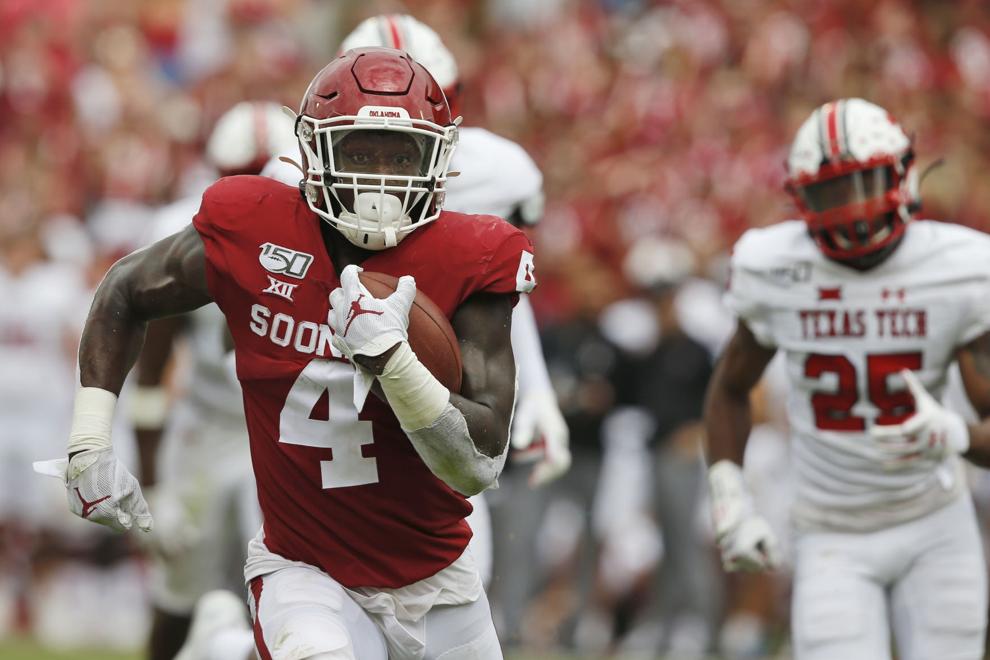 1. Trey Sermon (above), RB, Ohio State: Oklahoma transfer will shine if Master Teague is slowed by spring Achilles injury.
2. Peyton Ramsey, QB, Northwestern: Capable starter for 2½ seasons at Indiana, he could revive Wildcats.
3. Jayden Reed, WR, Michigan State: Sat out last year after being named a freshman All-American at Western Michigan.
4. Omar Manning, WR, Nebraska: Top-ranked junior college receiver is needed immediately after J.D. Spielman left.
5. DaMarcus Mitchell, LB, Purdue: New 3-4 scheme needs linebackers and huge junior college transfer will play outside.
Top five position groups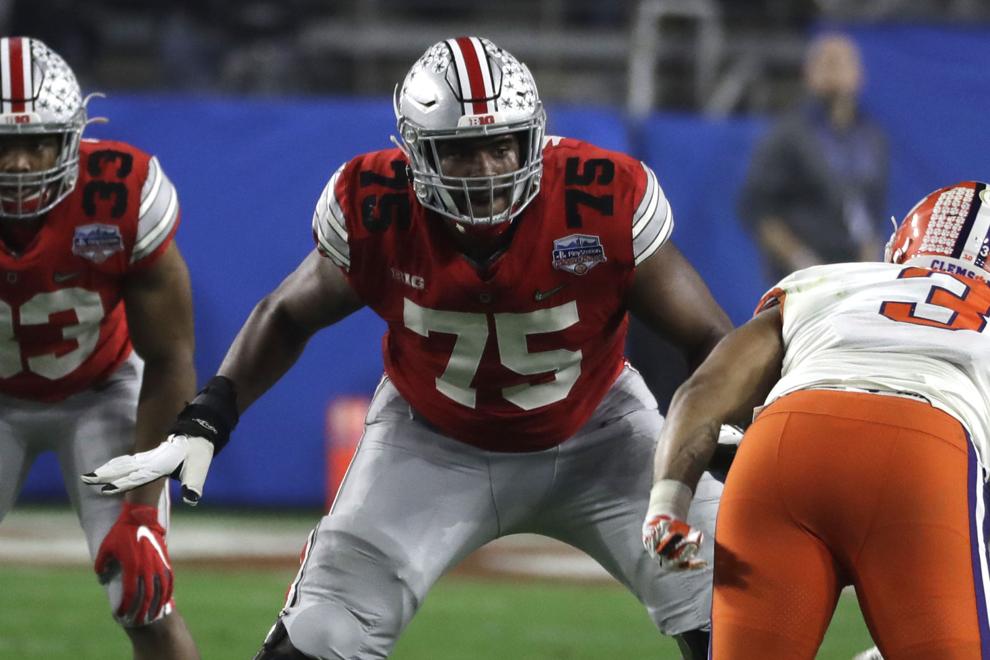 1. Ohio State offensive line: Thayer Munford (above), Wyatt Davis and Josh Myers passed on NFL, will be high picks in 2021.
2. Penn State running backs: Journey Brown, Noah Cain, Devyn Ford combined for 1,647 yards and 6.2 yards per carry.
3. Purdue wide receivers: Rondale Moore was Big Ten Freshman of the Year in 2018, David Bell was the same in 2019.
4. UW secondary: Rising star Reggie Pearson was lost to injury, but unit returns 11 others who have started games.
5. Ohio State linebackers: Nothing flashy about Tuf Borland, Baron Browning and Pete Werner; they're just good.
Top five freshman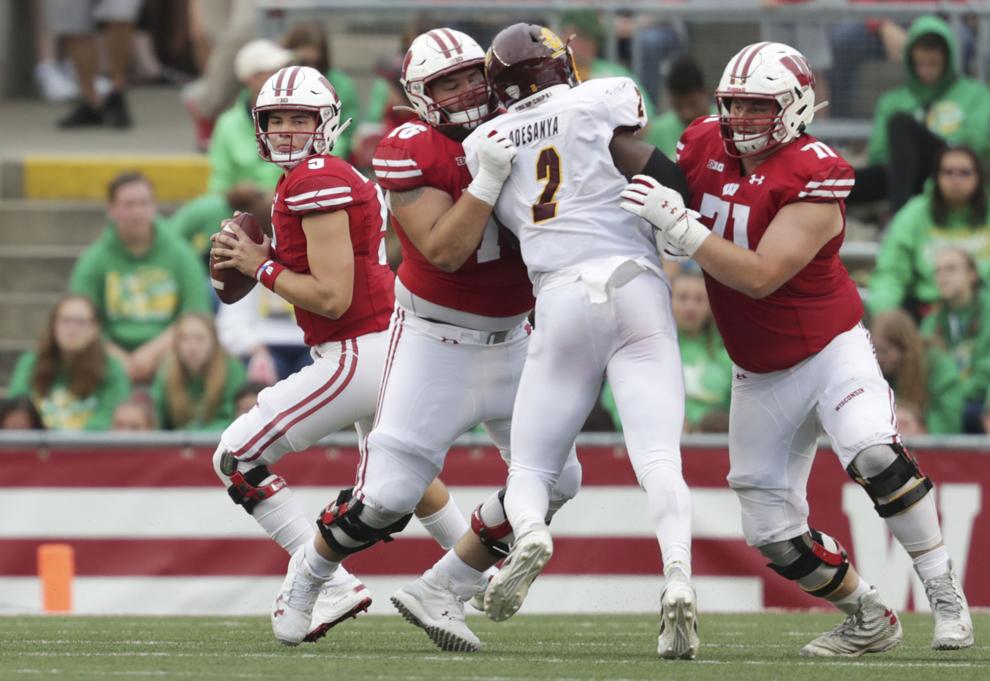 1. Rakim Jarrett, WR, Maryland: First committed to LSU, but changed his mind and stayed home to play for Terps.
2. Jalen Berger, RB, UW: True freshman running backs from New Jersey have a way of making immediate splash at UW.
3. Julian Fleming, WR, Ohio State: Big, fluid route-runner with a 5-star rating will help ease loss of K.J. Hill.
4. Maliq Carr, WR, Purdue: Freshman wide receivers thrive at Purdue and 6-5, 225-pound Carr enrolled in January.
5. Graham Mertz (above), QB, UW: Jack Coan's foot injury thrusts heralded recruit into limelight after redshirt season.
Five best games
1. Ohio State at Penn State, Oct. 31: With apologies to UW and Michigan, this is de facto Big Ten championship game.
2. UW at Iowa, Dec. 12: These teams have won five of the six West titles, could play for another one on final day.
3. Penn State at Michigan, Nov. 28: Home team has won last four in game that usually determines second in East.
4. Minnesota at UW, Nov. 28: This could be West's new rivalry after each team won on road the last two years.
5. Michigan at Minnesota, Oct. 24: Suddenly there is more at stake in this season opener than the Little Brown Jug.
Five easiest schedules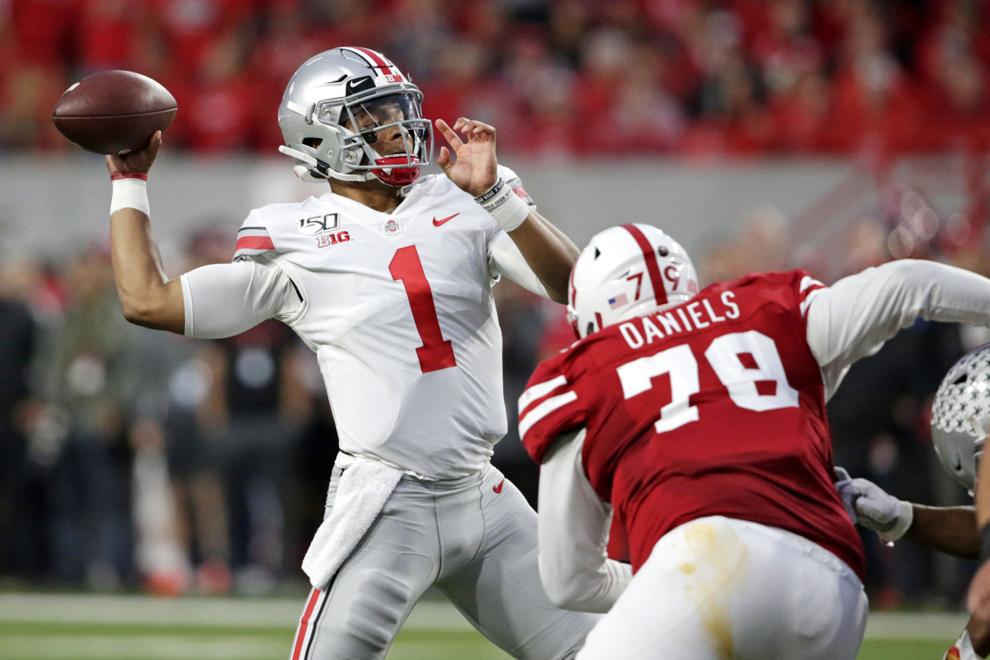 1. Ohio State: Buckeyes' West Division foes are Illinois and Nebraska. Better yet, they don't have to play Ohio State.
2. Penn State: Getting Iowa at State College in a crossover game is nice, getting Ohio State at home is even nicer.
3. Minnesota: Gophers open at home against a Michigan team that has a brand-new quarterback. Toughest test is at UW.
4. Rutgers: With Maryland and Michigan State down and crossovers versus Illinois and Purdue, losing streak could end.
5. Northwestern: Crossovers are Maryland and Michigan State, plus Wildcats get UW at home, where they've had success.
Five toughest schedules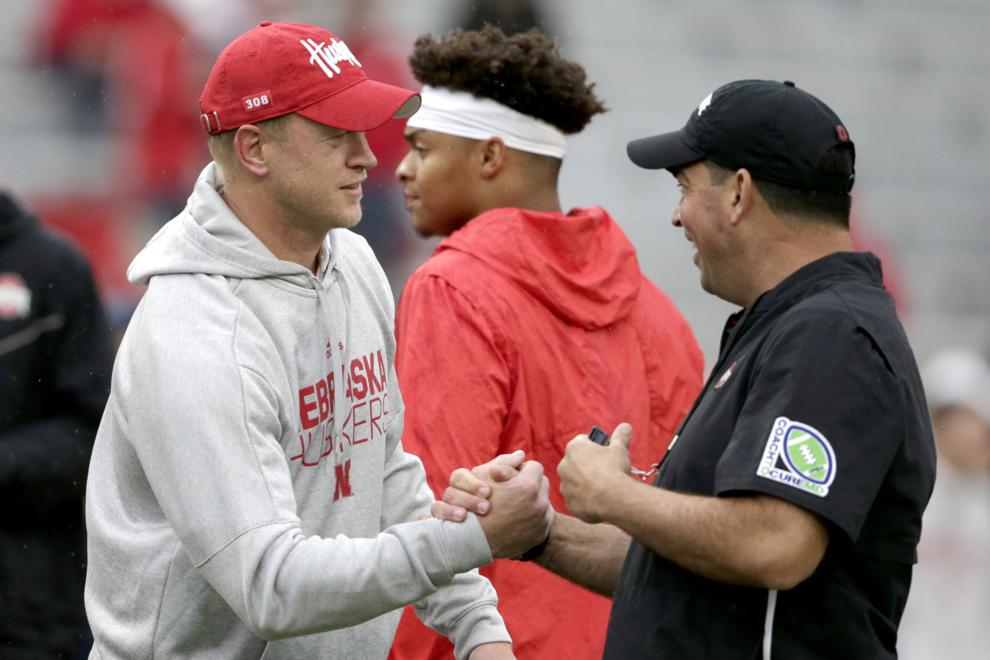 1. Nebraska: Crossover games are Ohio State and Penn State, proof the Big Ten office knows how to carry a grudge.
2. Michigan: Wolverines face UW and Minnesota, the two best teams in West last year, and at recent nemesis Ohio State.
3. Maryland: Terps play Penn State and Michigan on road and have daunting home games against Minnesota and Ohio State.
4. Michigan State: Back-to-backs at Michigan and Iowa early, back-to-backs against Ohio State and at Penn State late.
5. Iowa: Back-to-back roadies at Minnesota and Penn State mar otherwise manageable schedule that ends with UW at home.
Five coaches with something to prove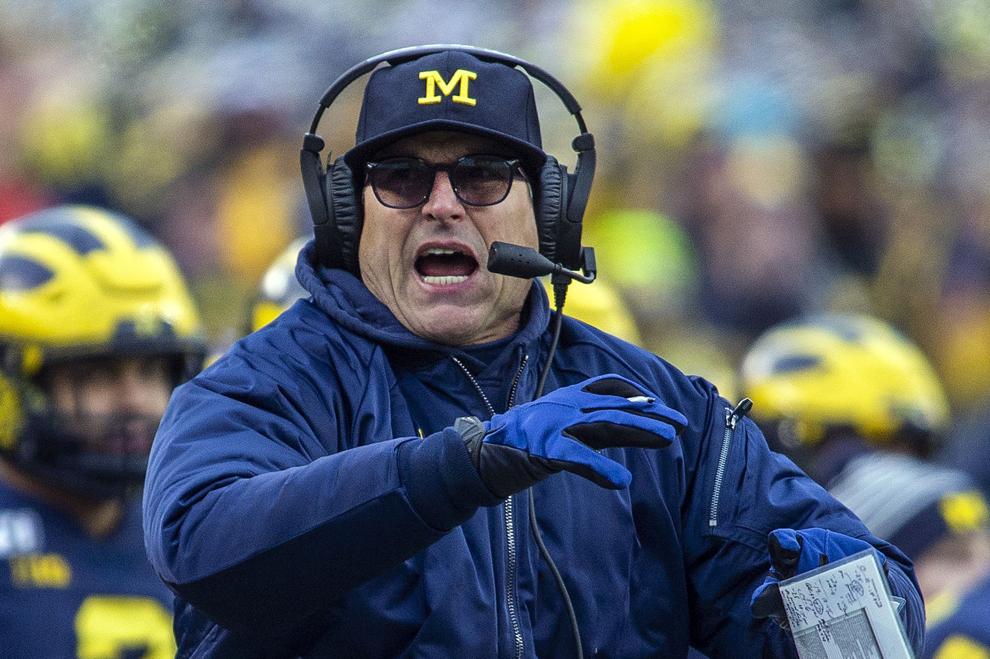 1. Jim Harbaugh (above), Michigan: He's 0-5 versus Ohio State, hasn't reached Big Ten title game and lost a ton of experience.
2. Scott Frost, Nebraska: Allegedly strong recruiting has yet to show on field, where Huskers have 6-12 Big Ten record.
3. James Franklin, Penn State: His 3-9 record against Ohio State and Michigan puts up obstacle to Big Ten title, CFP.
4. Pat Fitzgerald, Northwestern: Wildcats went from first to worst in West, leading some to question beloved coach.
5. Jeff Brohm, Purdue: Purdue's upward mobility stalled in 2019, prompting change to defensive coordinator Bob Diaco.
Five teams with no hope of Big Ten title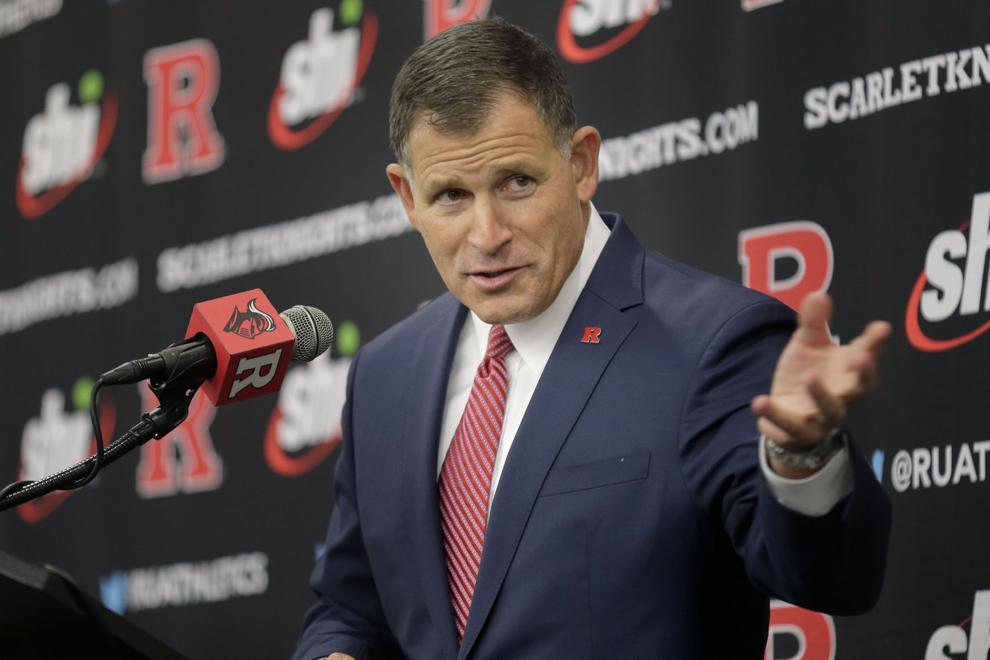 1. Rutgers: There won't be a one-year turnaround under Greg Schiano (above) for team that has lost 21 straight Big Ten games.
2. Maryland: Terps cratered last season, then lost six players to COVID-19 opt-outs, including quarterback Josh Jackson.
3. Illinois: Yes, the Illini won four Big Ten games and went to a bowl last year. No, they won't match that this year.
4. Michigan State: Mel Tucker doesn't have a single recruit on roster and had no spring ball to get to know new team.
5. Indiana: Hoosiers coming off breakthrough 8-5 season, but path in East blocked by Ohio State, Penn State, Michigan.
Top five contenders for Big Ten title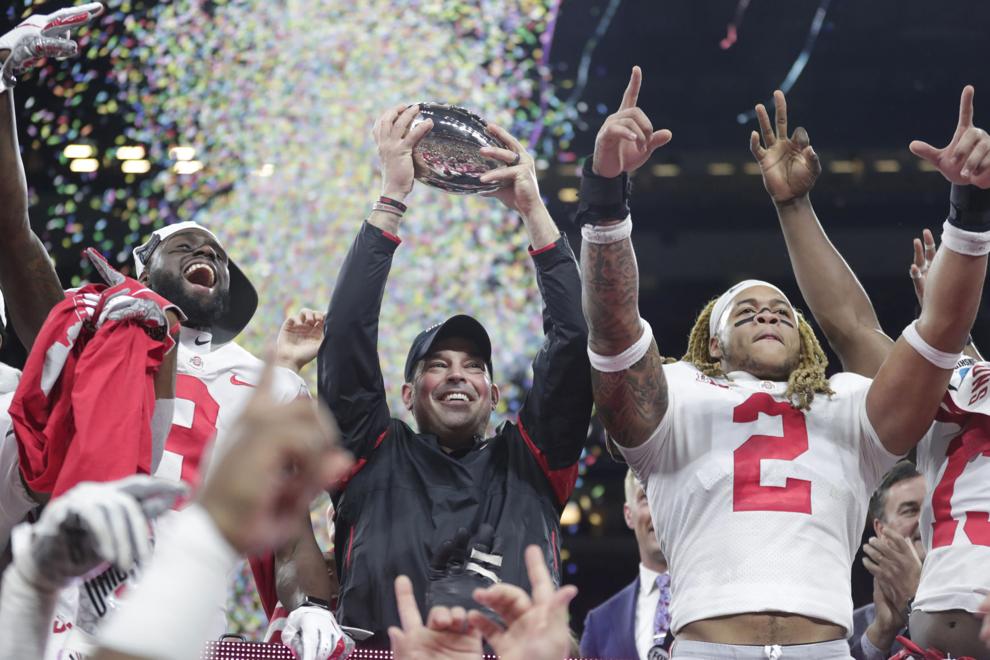 1. Ohio State: Buckeyes didn't miss a beat under first-year coach Ryan Day (above), winning third straight Big Ten title.
2. Penn State: Nittany Lions' chance of unseating Buckeyes in East took hit when linebacker Micah Parsons opted out.
3. Wisconsin: Badgers are deep and experienced, especially on defense, but must replace stars on both sides of ball.
4. Minnesota: Gophers a handful on offense, but will inexperienced defense play well enough to knock off UW in West?
5. Iowa: If Hawkeyes find a quarterback, they could contend in West, especially since they have the Badgers at home.