Jake Ferguson makes a catch over the middle of the field for a first down and gets tackled.
The University of Wisconsin tight end tosses the ball to an official, who instead of placing the ball down on its new spot, throws it to the Badgers' sideline to be sanitized as a new, clean ball comes back into the game.
That's a scenario that could play out this fall as the NCAA, Big Ten Conference and sport as a whole try to conduct a season in the era of COVID-19.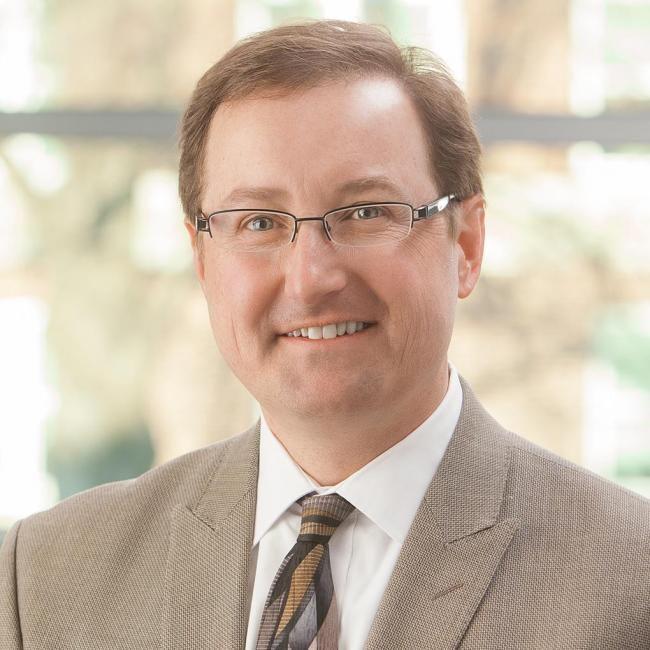 Dr. Christopher Kratochvil chairs the Big Ten's task force for emerging infectious diseases, which was formed in early March and features a representative from each of the 14 universities in the conference. It is putting together a playbook of best practices for conference schools. These aren't formal directives, but provide programs guidance on how to deal with the pandemic when practices and competitions begin.
"Many of us (on the task force) do serve on different committees at our own universities, so we're actively engaged in those discussions, but what happens is by pulling in this information, we can then help inform all those discussions across the Big Ten," Kratochvil said.
Kratochvil is associate vice chancellor for clinical research and professor of psychiatry and pediatrics at Nebraska, as well as the executive director of the Global Center for Health Security. Throughout a conversation Friday afternoon, Kratochvil said as knowledge is gained regarding the nature of COVID-19, decision-makers around the Big Ten have stayed flexible and open to new information.
"Everyone is very open to sharing internal conversations, internal policies and procedures," he said. "It's really an opportunity to discuss what data is available and how that might inform decision-making. That flexibility and the acknowledgement that this in an area of process is incredibly important because clearly the status of the outbreak continues to evolve."
A number of Big Ten universities are at the forefront of the fight against COVID-19, whether it be their research arms developing tests and studying medication, or their hospitals caring for coronavirus patients and using that data to help inform future treatments.
Kratochvil says the conference task force is a chance to aggregate data in each of these areas to make informed, joint decisions down the road.
The NCAA permitted football and basketball athletes to return to their campuses on June 1 if their campuses were in a position to allow it. UW football players are welcome back on campus Monday. Nebraska football players returned to campus on June 1, while Illinois (June 3), Iowa (Monday), Ohio State (Monday) and Indiana (June 15) have also given their players a return date.
The return to campus — especially when players get together in groups — marks an important time of testing and mitigating risks of spreading COVID-19. Pro Football Talk reported Thursday that after about 50 Alabama players worked out together off-campus, at least five have tested positive for COVID-19.
The Big Ten's task force is looking into that case, as well as what happened aboard the USS Theodore Roosevelt, a Navy aircraft carrier that was out of commission for nearly two months due to a coronavirus outbreak.
"There we saw how easily COVID-19 could spread throughout this group of individuals, many of whom were quite young and healthy, not dissimilar to the student-athletes we're working with," Kratochvil said.
As testing ramps up on Big Ten campuses, the task force will see the how the virus spreads, how many athletes are asymptomatic and how that informs their best practices.
Kratochvil said the task force isn't mandating one kind of testing procedure, because access and reliability of tests varies across the conference's 11-state region. Testing methodology and models is the focus of the task force's meeting on Monday.
The task force is still developing its playbook for when practices begin sometime in the late summer, pulling in information from the Centers for Disease Control, the International Olympic Committee, and professional sports leagues. But in the case of contact sports such as football, there's only so much they can do to lessen risk.
"(Contact sports are) going to be where the most significant challenges in managing spread of coronavirus are," he said.
Many Big Ten campuses, including UW, are expecting to have students on site for the fall semester, one that will blend in-person and distance-learning classes. While the task force hasn't specifically addressed classroom scenarios for athletes, Kratochvil believes campus protocols will apply to them. Those will likely include what happens if a student-athlete tests positive for COVID-19.
Risks accompany each decision made as the world continues work to contain COVID-19, and college football will have to deal with them as the season nears. But Kratochvil says each step taken to lessen players, coaches, and others' risk of exposure will help.
"The way many of us approach this is like a slice of Swiss cheese has a lot of holes in it, but the more slices you put on top of each other, the more apt you are to cover the holes," he said. "You could do things like frequently wiping down the ball, you could do things like frequently using hand sanitizer during the game. Each of those kind of variables you impact, you mitigate the risk."