University of Wisconsin athletic director Barry Alvarez said answers to medical questions, not lobbying, will dictate when Big Ten Conference schools can play football.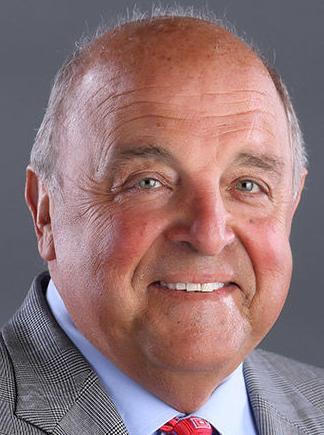 Responding to a question on his monthly radio show this week about what it'll take for Big Ten football to start during the COVID-19 pandemic, Alvarez talked about the development of new rapid testing as a "game-changer."
But first, he said it's up to the Big Ten Council of Presidents and Chancellors, the group that in August ordered the fall season to be postponed, to be convinced that there's a safe playing field.
"It's as simple as that. It's not some magical date or who does the best lobbying. Questions have to be answered."
The Big Ten has faced criticism, some from within its teams, and the threat of lawsuits for its decision to halt its football season while three other Power Five conferences go forward with playing. On Thursday, football coaches Ryan Day from Ohio State and James Franklin from Penn State voiced concerns with the messaging and leadership from the Big Ten.
The Pac-12 also shut down all competition but last week announced a plan to implement league-wide rapid testing through a diagnostic company. On Friday, the Big 12 announced it also was going to use Quidel Rapid Antigen tests, which offer results in 15 minutes.
Alvarez, who chairs the Big Ten's return to play task force, said access to rapid testing would ease fears over transmission of the coronavirus in practice or game situations. Tests could be conducted, he said, before players and coaches arrive for breakfast, with results available before they're done eating.
"That is huge as far as I'm concerned," he said.
Alvarez said Wednesday that the pace of changes has been dizzying but he credited UW coaches for keeping players up to date.
"I can't tell you how some different things have changed in some of the areas I'm involved in, just in the last two days," he said. "It's just the way it is. You have some type of test, then you have something better. Then you can't use it. Or all of a sudden there's somebody testing positive.
"You've gone along for a month without any positive tests, boom, students come back and you have a handful. Then with contact tracing you've got 20 that are sitting and different sports that are quarantining. Every day is a struggle."
Alvarez weighed in on several other topics during his radio show.
The Big Ten aligning with the Pac-12 for a Rose Bowl:
"I was on a call with some of the Pac-12 coaches and commissioner (Larry) Scott, and that was broached. We talked about it. No commitment was made. I think the factor there is would we both complete our seasons at the same time? Would we be in that same area where it matches up so you go play?"
TV models for a delayed Big Ten football season:
"We've worked with Fox. Fox owns our TV rights. We've had a number of different models that have been presented. We let Fox take a look at it, get the results. There are some that we like and some that make sense, and we're continuing to look at that. But the first thing that has to be done is for our presidents and chancellors to feel comfortable."
Setting up the 2021 fall football season:
"That was the first thing on our committee when you talked to coaches, what do you want 2021 to look like? They want to get back to normal. If you're going to play some games this year, you can't go too deep into the spring because it doesn't give you enough recovery time. So that closes your window as you take a look at possibilities. Then you take a look at answering the medical questions with that smaller window. That's what creates the problem."
How long it'll take players to get ready for a football season:
"I don't think it takes as much time as a lot of coaches think. I think Paul (Chryst) and I are on the same page. You give us two weeks, we can get a team ready. Our guys have been working out. The strength coaches have had them. They've done position drills and work all along. So it's not like you've got a group that comes in that's not conditioned. But now you've got to start gradually working them into a contact phase. But because of the fact that they've been working out, we've been working them, we've had them work in helmets, I personally think three weeks would be plenty."
Watching other teams play football while Camp Randall Stadium is empty:
"I enjoy watching it. It eats at you and it hurts you. You're hearing about the leagues that are playing, about the games that are coming up. I listen to sports radio as I'm driving in my car, and it just kills me that the Big Ten isn't mentioned."
<&rdpStrong>Badgers fans weigh in on Big Ten's decision to punt on fall sports amid ongoing COVID-19 concerns</&rdpStrong>
Concerned about COVID-19?
Sign up now to get the most recent coronavirus headlines and other important local and national news sent to your email inbox daily.