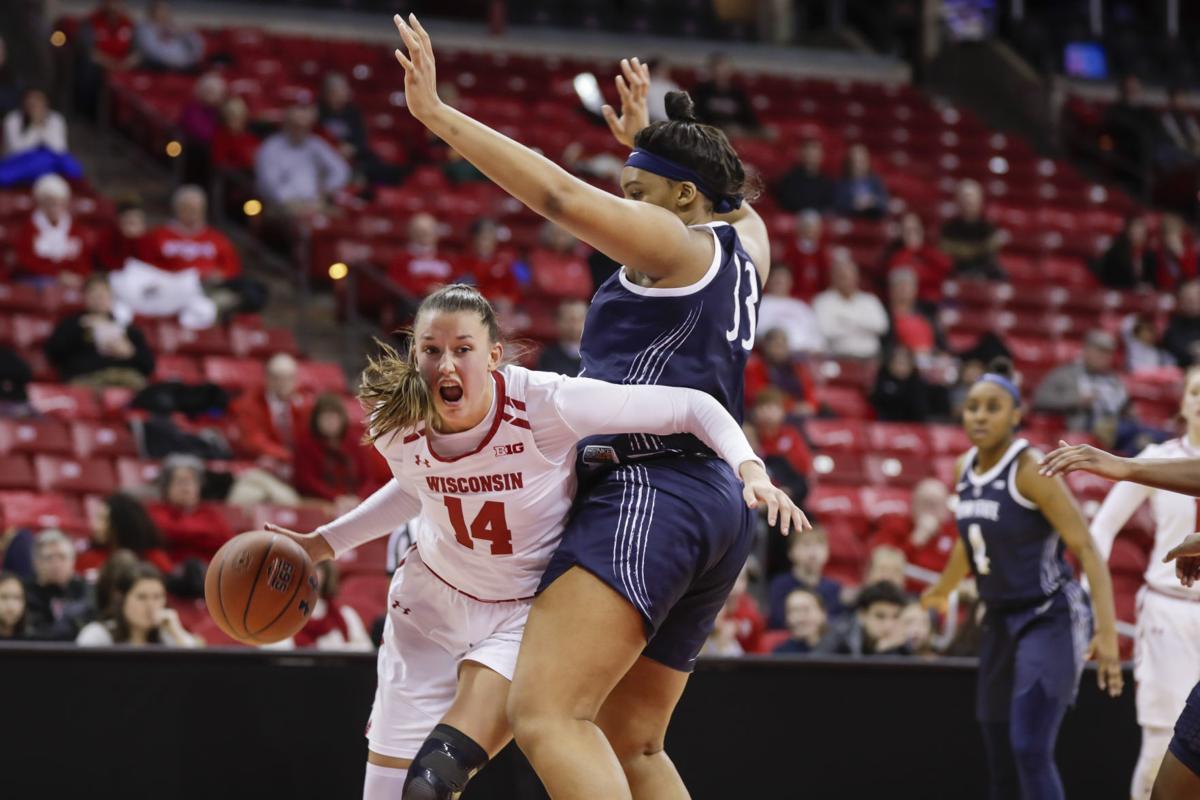 In her first season coaching the post players for the University of Wisconsin women's basketball team, Kayla Tetschlag has been impressed by a lot of what she has seen from junior Abby Laszewski.
She sees an athletic 6-foot-3 player who can run the floor, block shots, rebound and has a deft shooting touch around the basket and out to 17 feet or so.
But there's one thing she would still like to see out of Laszewski.
"There are times when I would just love to see her lay out one of our practice guys, just to be that physical and want it that bad," Tetschlag said. "There are times where she does turn that on. If we can get that more often and for longer stretches, she can be an even greater force."
It's not that Tetschlag is advocating physical violence. It's just that she would like to see a little more assertiveness from Laszewski on a consistent basis. But she understands that it's going against Laszewski's easy-going nature.
"I think she's more of a peacemaker-type person and teammate," Tetschlag said. "That's just her personality. When the ball goes up I think she turns on a little bit of that competitive edge. I always think there's room for more but that's just the coach in me.
"I think that's common with female athletes. They want to be peacemakers. I had teammates like that (at Green Bay), they want to be friends with everybody. But there comes a time when the game starts that it's OK to compete.
"We talk about that quite a bit. You're still going to be friends afterwards, but it's totally OK to compete and want to win and want to knock somebody over because you care that much. It's all those things that we're piecing together. It's just not her personality, so she's learning how to do that while still staying true to herself."
Laszewski's mild-mannered self has been pretty productive for the Badgers (11-13, 2-10 Big Ten) heading into tonight's game against No. 24 Michigan State (17-6, 7-5) at the Kohl Center.
You have free articles remaining.
Her numbers have improved in each of her three seasons, to 6.5 points, 4.5 rebounds and 1.6 blocks per game this season while coming off the bench for senior Marsha Howard and freshman Imani Lewis in the front court.
Along the way, she's shown flashes of being an even more impactful player. And at other times she's been less productive.
It's a combination that has left many around the program with the sense that Laszewski has yet to play her best basketball on a consistent basis. That's an opinion she shares.
"Definitely, which is frustrating," Laszewski said. "Confidence-building has been key for me. That's what I've been working on. I think once I get my confidence up and can be consistent it will naturally up my level of play.
"Coach Kayla and I have talked a few times this season about how if I could be consistently better that would help the team. That's just kind of a challenge for me because I have seen it in spurts that this is the level I can play at and the level I need to play at."
Coach Jonathan Tsipis has seen Laszewski's confidence grow over the years, both on and off the court. And while he understands that she will never be a real physical player underneath, she has increased her strength and possesses a skill set that is hard to find.
As such, he's holding out hope that a breakout season remains possible.
"There's a definite want to be a productive player," Tsipis said. "I've seen it in players that for three years have never gotten as close to that potential as we think they have and then blossom that last year. You can't just say, I'm happy to be part of the team. You've got to say the team has to count on me for this and I have confidence I can do that."
Laszewski is part of a basketball family. Her dad, Jay, played for the Badgers from 1982-86, her brother, Nate, is a 6-10 freshman at Notre Dame and her sister, Emma, is a 6-3 junior at The Benjamin School in Palm Beach Gardens, Florida, who is being recruited by numerous schools, with UW among those that have shown interest.
Laszewski has been able to watch most of her brother's games this year and the two communicate regularly, exchanging text messages most every day and talking about once a week when their schedules permit.
"It's a fun experience to go through together," she said. "We were super close growing up. My dad always had a court set up in the driveway so we would always be getting shots up and we'd go one-on-one. But once he got taller than me it was kind of hard because he'd just hit a 3 on me or then drive in and dunk."