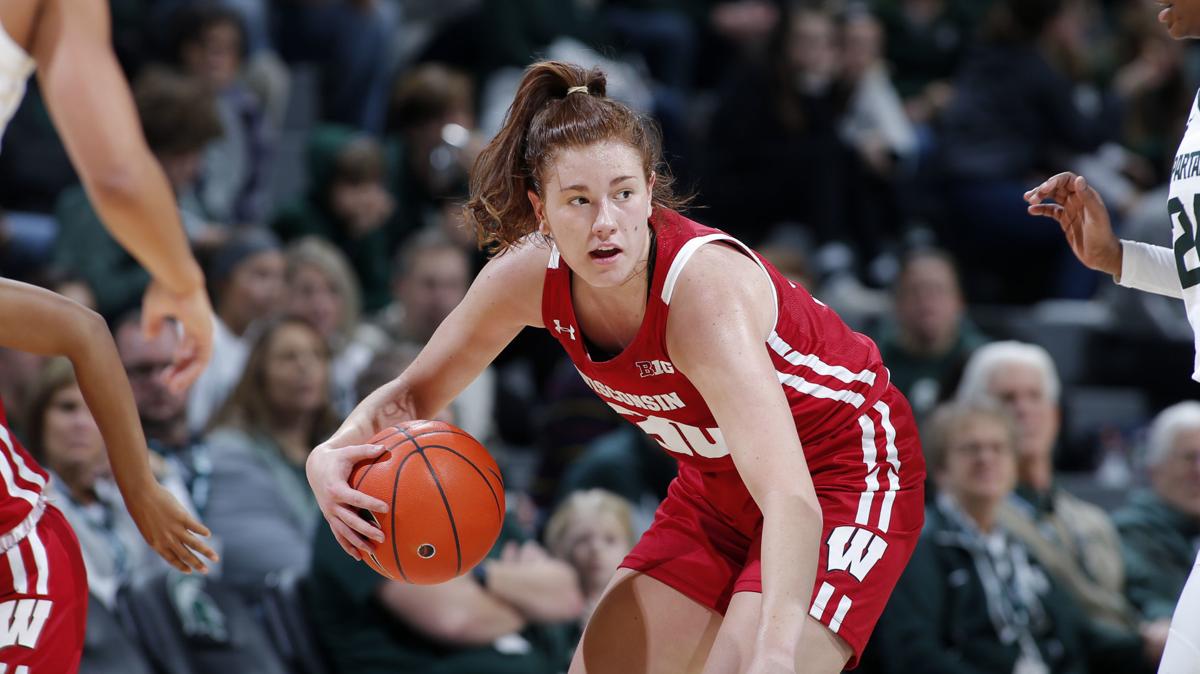 There are certain events in life that tend to stick in the memory bank forever. You know, things like meeting your spouse for the first time or your first look at a newborn baby.
Add to Jonathan Tsipis' list the first time he saw Sydney Hilliard play basketball.
"I can tell you exactly where I saw her first, in Stoughton at an event in the third week of April," Tsipis said.
That was April 2016 and Tsipis was fresh on the job as University of Wisconsin women's basketball coach and was making the rounds on the first recruiting weekend. He went to the AAU event in Stoughton to check out Macy Weaver, who had orally committed to previous UW coach Bobbie Kelsey but would ultimately accept a scholarship from Arkansas.
After watching Weaver's game, Tsipis went over to watch two teams from Wisconsin Academy playing on adjacent courts. Soon his attention was focused on the younger team where a certain red-headed point guard captured his attention.
"I can remember watching her play and I remember the swagger this kid played with," Tsipis said. "The two things that stood out is you don't always see kids with red hair and she had some real colorful Nikes she was playing in, but also I saw how she moved and how confident she was with the ball in her hands. You could just see that she was a kid we had to make sure to watch.
"I remember talking to Reggie Williams, the director of Wisconsin Academy, and saying, 'I am less than three weeks out from saying the best in-state kids need to stay home and that kid has the potential to be one of those kids.'"
Fast forward three-plus years and Hilliard has assumed a starting role with the Badgers and is establishing herself as one of the top freshmen in the Big Ten Conference.
In Tsipis' mind, that's just a preview of coming attractions.
You have free articles remaining.
"I'm excited because I still think she's only scratching the surface," he said. "She's a dynamic scorer and that's going to continue to improve as she trusts herself shooting the ball from the perimeter, getting to the free throw line."
"I've always wanted to be a Badger," she said. "I've said this a million times, just being around this culture and always being a Badger fan.
"It still doesn't really feel real. Even last year I was watching from the stands, seeing how they played and it's crazy to think I'm a freshman here now, doing what they did last year. My senior year of high school just flew by. And this year is really going by fast."
Hilliard is averaging 10 points and 5.2 rebounds, third in each category for the Badgers (11-11, 3-8 Big Ten) heading into Thursday's game against Minnesota (14-8, 4-7) at the Kohl Center.
By her own assessment, it's been an up-and-down season as she's had to overcome a preseason knee issue and a concussion that sidelined her for two games, while transitioning from the Badger Conference to the Big Ten.
"At first, I'm not going to lie, I was a little timid because it's a big step, seeing how big the girls are here and how physical they can be," Hilliard said. "But after playing a few games, realizing I can still do what I did in high school, I felt better about it and I just want to build on that."
She became the second in-state player to commit to Tsipis, following Beaver Dam's Tara Stauffacher, and he hopes her early success will help encourage other state players to follow her example.
"She enjoys playing basketball the right way," Tsipis said. "Younger kids in the state that I think are going to be very good players at the college level look up to her. It's not just here's a state kid, other kids will want to play with her. They want to play with her because of the type of kid she is and how she plays."
While a number of high-profile recruits have chosen to go elsewhere, Hilliard said the advantages of playing close to home are many, beginning with seeing her family and friends at games.
"It's always good to have in-state kids stay in the state," she said. "I guess I didn't realize I was the face of that, but I think being a hometown kid can really influence people if they ask me questions why I came here. I want to be that person to help convince people to be here and want to be here."