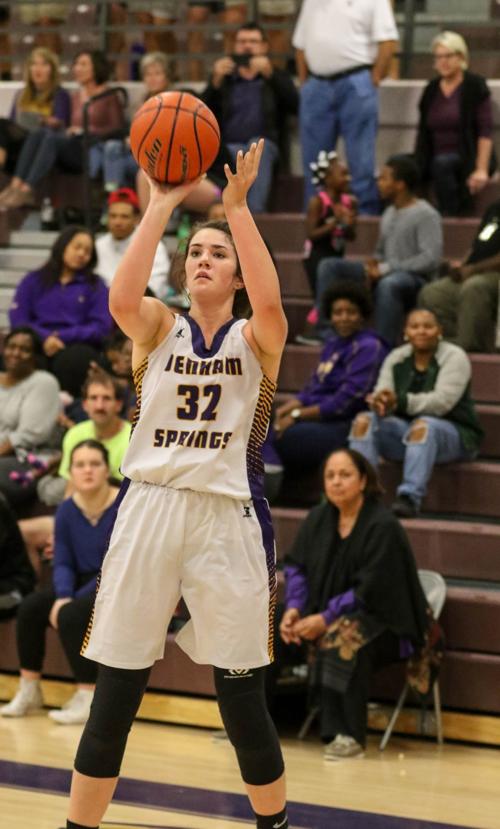 Most college basketball recruiting processes are akin to long-term courtships, with coaches wooing players for many months, or even years, to win them away from other suitors.
But for the University of Wisconsin women's basketball program, the recruitment of Kate Thompson was more of a whirlwind romance.
Thompson, a 6-foot-2 forward from Denham Springs, Louisiana, committed to UW on Sunday as part of the 2020 recruiting class, wrapping up a process that took about three months from start to finish.
"It did come awful fast," said Thompson, who averaged 12 points and 10 rebounds as a junior to help her team get to the Class 5A state championship game.
As the AAU season wound down in July, Thompson had whittled her list of 14 scholarship offers to a final five — Arkansas-Little Rock, Southern Mississippi, Southeastern Louisiana, Nicholls State and Louisiana-Monroe.
"I thought I had all the offers I was going to get and I had taken all the visits I wanted to take," Thompson said.
But then her high school coach Blake Zito talked to her about seeing if he could help generate a little more interest. So he put together a highlight video and sent it out to a number of schools, including UW.
Several schools expressed interest, but none more than UW, with assistant coach Craig Carter taking the lead, texting with Thompson and Zito, who gladly sent along more videos.
"It was really exciting just to know a school that big was interested in me," Thompson said. "I never expected to get an offer like that. It's crazy how things happen."
You have free articles remaining.
Although the UW staff had never seen Thompson play, coach Jonathan Tsipis made a scholarship offer during his home visit in early September, setting up a campus visit for the weekend of September 20-22.
For Thompson, who had previously visited Little Rock and Southern Miss, it was no contest at that point.
"Sitting back and looking at all the pros and cons of each, I just felt like I fit in really well at Wisconsin with the team and the coaches," said Thompson, who had never been in Wisconsin before. "In the few days I was there I got to know them really well. The visit was just really good and I loved the campus and everything.
"They were the only big school that offered me. So it's a little scary going there, but from my visit and them showing how much they want me, I'm not worried. I'm excited and I think it's going to be really good."
Zito is confident that Thompson has the skills and athleticism to play in the Big Ten Conference.
"She's grown into a complete player," he said. "She's been tall all of her life and has been a post player but in high school she started to develop more of her outside shooting and ballhandling and really becoming an all-around player for us. She's a unique player and a special person.
"The best quality about Kate is that she's a competitor. She really competes every play like it's for a state championship. At the end of the day, everybody has their pluses and minuses about what they can do and what they can't do. But that's the one thing that if you don't have you can't fix it. You can't change it, you can't grow it. And she has it.
"No doubt about it, when you go to Big Ten basketball, it's a big jump for anybody. But I think she will do fine there. I see her excelling and I'm excited to watch her in the upcoming years."
That competitive streak extends beyond the basketball court.
"I've always been competitive," she said. "It's just part of my personality. If we're doing something in class, just small competitions, I always have to win because I don't like losing. I don't take it very well. So when it comes to basketball I'll give it my all to win because I don't like losing."
Thompson became the third scholarship member of the 2020 class, joining Brooke Schramek, a 6-2 forward from Benet Academy in Lisle, Illinois, and Halle Douglass, a 6-1 guard from Lake Forest, Illinois. Natalie Leuzinger, a 5-7 guard from Black Hawk, also has accepted a preferred walk-on offer.