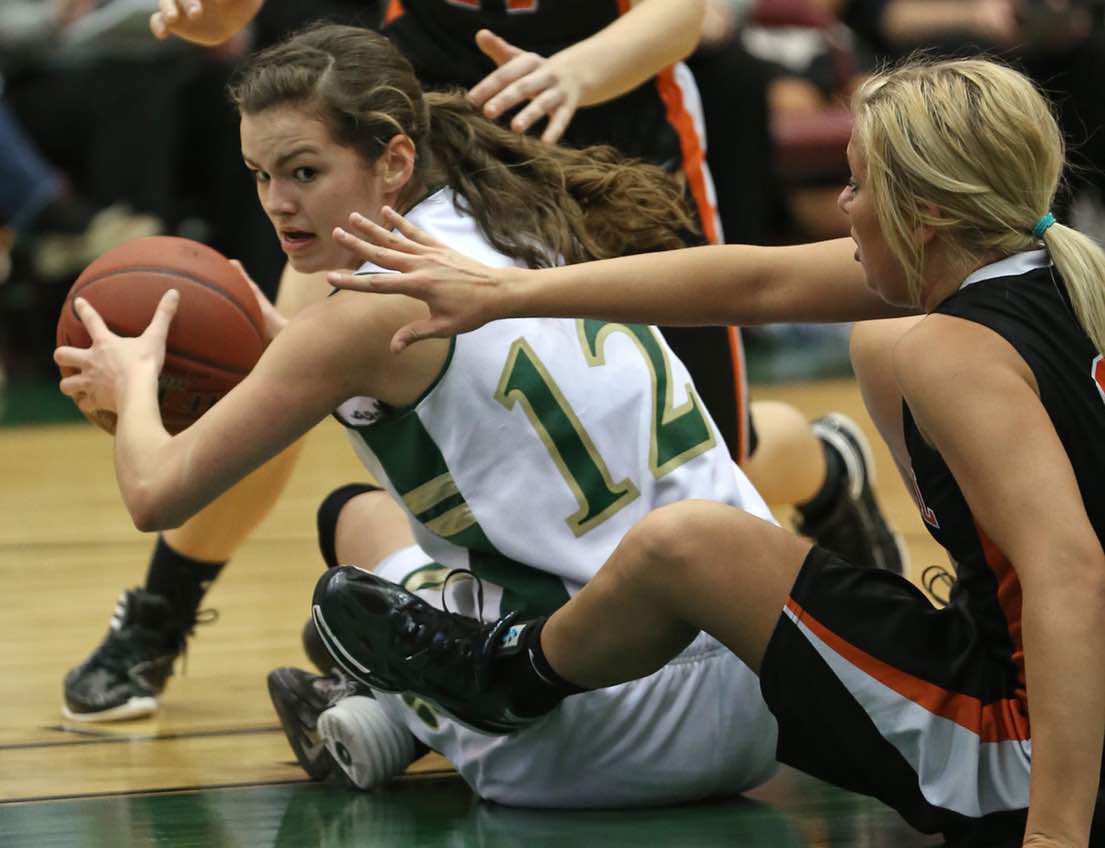 The recruiting gods sometimes work in mysterious ways.
That would help explain why Estella Moschkau, with a deep Wisconsin pedigree, is heading off to Stanford while her lifelong friend and Minnesotan figures to be a major building block for coach Jonathan Tspis' rebuilding effort with the University of Wisconsin women's basketball team.
Carmen Backes, a 6-foot-1 wing from Chisago Lakes High School in Lindstrom, Minnesota, became the first member of UW's 2018 recruiting class this week when she made her oral commitment.
That was the completion of a process that began about a year ago when Tsipis first saw her play while he was recruiting Moschkau, the Madison Edgewood standout who was playing with Backes on the top team for the elite North Tartan AAU program based in the Twin Cities.
While Tsipis would eventually lose out to Stanford in the recruiting battle for Moschkau, he was able to prevail over a large group of suitors for Backes, who had narrowed her choices to Minnesota, Princeton and UW.
"It's crazy how things worked out," said Backes, who made her decision after her official visit to Madison last week. "I think it's going to be best for both of us. Stella needed to experience something new and I can go and stay with her family now. It's going to be awesome."
The Moschkau-Backes connection goes back before they were born. Their mothers grew up together as best of friends and high school basketball teammates in Ladysmith. Their daughters, born a year apart, would spend time together every year.
You have free articles remaining.
"Stella and I have grown up together," Backes said. "Twice a year I would go to her house and she would come to mine and we'd just hang out for a week. We have pictures from when we were like 3 years-old hanging out together."
Backes' basketball journey was temporarily sidetracked in January when she tore the ACL in her right knee in the middle of the high school season. She was among the top scorers (27.4 points per game) and rebounders (11.6) in the state at the time and was coming off a career-high 41-point game.
Backes has devoted herself to the rehab process for the past three months so she'll be even stronger when she's cleared to play in September.
"She's a driven kid and she's going to be hungry to get back on the court," said Bill Larson, director of North Tartan, which has produced a long list of Badgers including current players Cayla McMorris and Courtney Fredrickson. "Whoever she goes against first, I'd hate to be that team."
Backes is one of just three players in North Tartan history to be moved up to the top team as a freshman, joining former UW standout Alyssa Karel in that category.
Gerard Coury, her coach on that team, said Backes will bring a wide array of qualities to the UW program.
"Wisconsin got a great kid," he said. "The culture that coach Tsipis is trying to establish, that's where it's a great fit for Carmen. She's going to step right in and eventually she's going to be a leader in that program. That's just who she is. She's a team-first kid and a breath of fresh air."
Backes is well aware of the Badgers' struggles last year when they finished 9-22 overall and 3-13 in the Big Ten Conference. But she's looking forward to being part of the program's revival.
"Hopefully, people will join me," she said. "That's obviously something I thought a lot about. The history isn't super successful, but I just really believe in what coach Tsipis is trying to do. Just seeing how he turned the program around at George Washington, I believe 100 percent that he's going to do the same thing here."