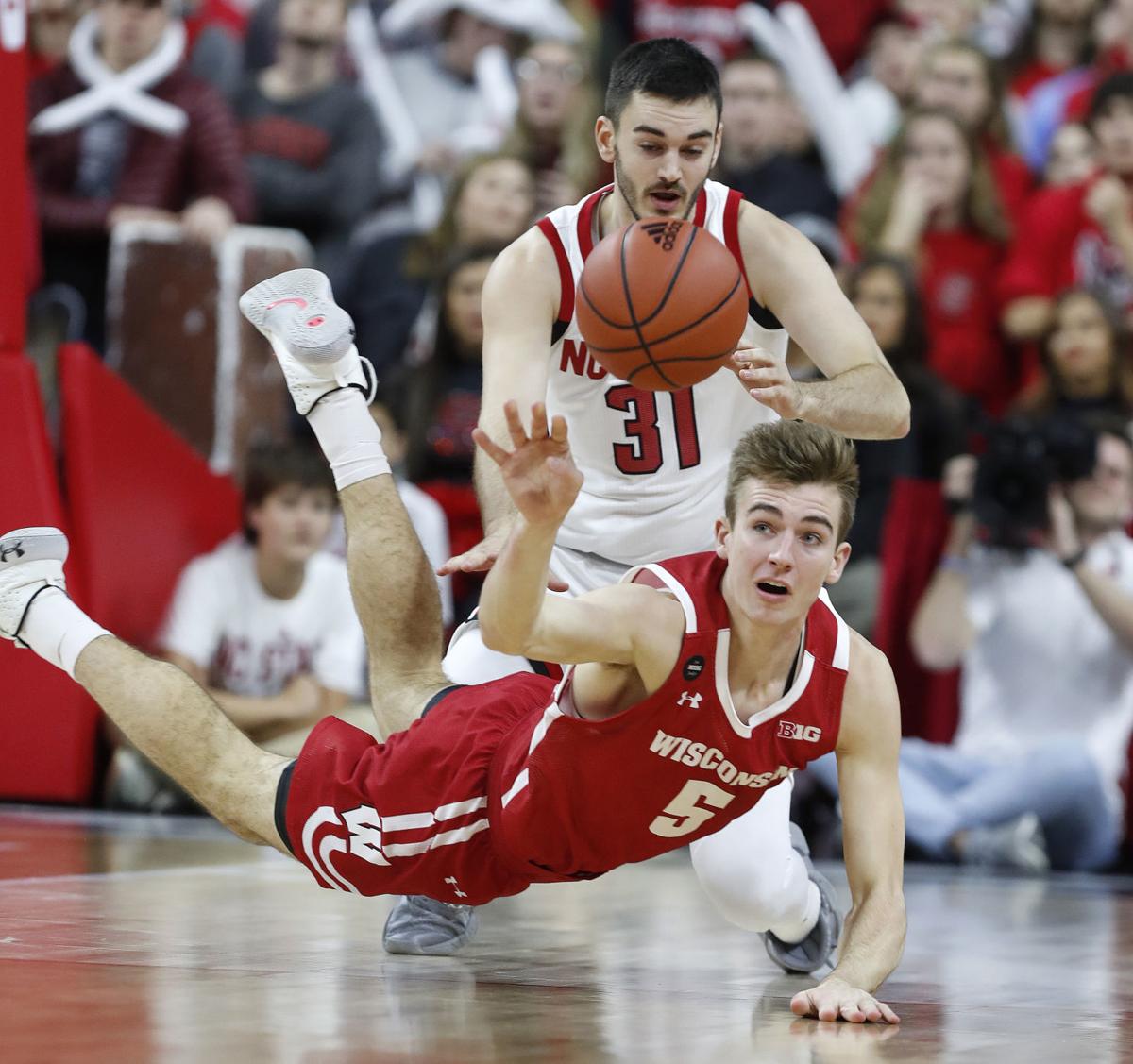 RALEIGH, N.C. — The members of the University of Wisconsin men's basketball program didn't have any great insight into why 3-pointer after 3-pointer after 3-pointer clanked off the rims last week during their trip to New York.
The Badgers took some time off for Thanksgiving, analyzed the two ugly defeats in the Legends Classic once they resumed practice and declared that they'd learn from the experience rather than dwell on it.
Junior guard Brad Davison even offered a prediction of sorts earlier this week prior to UW leaving Madison for another road trip.
"I fully expect our team to be confident," Davison said, "and I'm looking forward to a lot of shots going in the next few games."
The cold streak didn't end Wednesday night at PNC Arena, where the Badgers dropped a 69-54 decision to North Carolina State in a Big Ten/ACC Challenge game.
The defeat dropped UW to 0-4 this season away from home. The Badgers (4-4) will head into the start of Big Ten play this weekend on a three-game losing skid.
Since looking great during a 77-61 home win over Marquette on Nov. 17, UW has struggled mightily to put the ball in the basket. It doesn't look anything like the team that connected 15 times from 3-point range while beating the Golden Eagles that day.
"I feel like we were playing really well, together," UW junior forward Aleem Ford said. "That game — what was it, six guys in double figures? — and I feel like everyone was contributing offensively and making that extra pass and just really playing together and meshing off each other. Once one guy starts going, another guy started feeling it. And right now, I feel like it's the complete opposite. Just not having that same confidence."
After going a combined 9 of 53 from 3-point range in losses to Richmond and New Mexico last week, UW went just 5 of 23 from beyond the arc against North Carolina State. Add it up and the Badgers have shot 18.4 percent from long distance during their losing streak.
It didn't help matters Wednesday that UW, which came into the game shooting 81.1 percent from the free throw line, went 7 of 15 against the Wolfpack.
Ford led the Badgers with 13 points, while Kobe King and Nate Reuvers added 11 apiece.
"It puts so much pressure on your defense," UW coach Greg Gard said. "You almost have to play perfectly when you have a hard time scoring. Obviously, right now we're in a rut that we've got to try to find a way to bust out of."
Offense wasn't the Badgers' only issue against the Wolfpack. Their inability to get enough stops on the other end of the court was just was much of a problem.
You have free articles remaining.
Jericole Hellems scored 23 points to lead the Wolfpack (6-2), who shot 48.2 percent for the game and over 50 percent in the second half. Hellems, who came into the game 5 of 21 from 3-point range, went 4 of 6 from beyond the arc against the Badgers.
Markell Johnson had 12 points and C.J. Bryce added 11 for North Carolina State, which averaged 1.28 points per possession after halftime.
Gard said he was pleased with UW's defense for the most part. The Badgers forced the Wolfpack to take a lot of contested or step-back 2-point jumpers.
But North Carolina State, to its credit, made plenty of those tough shots. That was the biggest difference between the Wolfpack and the Badgers: The former has shot-makers, while the latter can't seem to make anything right now.
Johnson set the tone in the difficult-shot department when he gave the Wolfpack a 32-30 halftime lead by banking in a 3-point prayer at the buzzer.
"It gave them more momentum, more confidence," King said of Johnson's shot, "more than it tore us down."
Hellems drained a 3-pointer from the right wing on the first possession after halftime and scored North Carolina State's first eight points of the second half. Later, Braxton Beverly scored the first six points during an 11-2 run that helped the Wolfpack take control of the game.
After Reuvers scored to end a run of four consecutive empty possessions by the Badgers, Pat Andree answered with a 3-pointer that gave the Wolfpack a 53-41 lead with 11 minutes, 25 seconds remaining in the game.
North Carolina State blew a 12-point lead in the second half of its 79-75 loss last season at the Kohl Center, but the Wolfpack didn't let that happen again. One big difference: Unlike a year ago, when the Badgers went 12 of 20 from 3-point range against North Carolina State, UW was ice cold from beyond the arc and couldn't mount a rally.
The Badgers will try to regroup heading into their Big Ten opener against Indiana on Saturday. The good news for UW? It's a home game.
"Honestly, I think we'll be fine," King said. "I feel a lot of people are kind of in panic mode, but I think we'll be fine. I've seen what we can do, I've seen how we can shoot 1 through 5. We're as talented a team as I've seen since I've been here. We'll figure it out."
---
Photos: Wisconsin Badgers fall to N.C. State Wolfpack in Big Ten/ACC Challenge