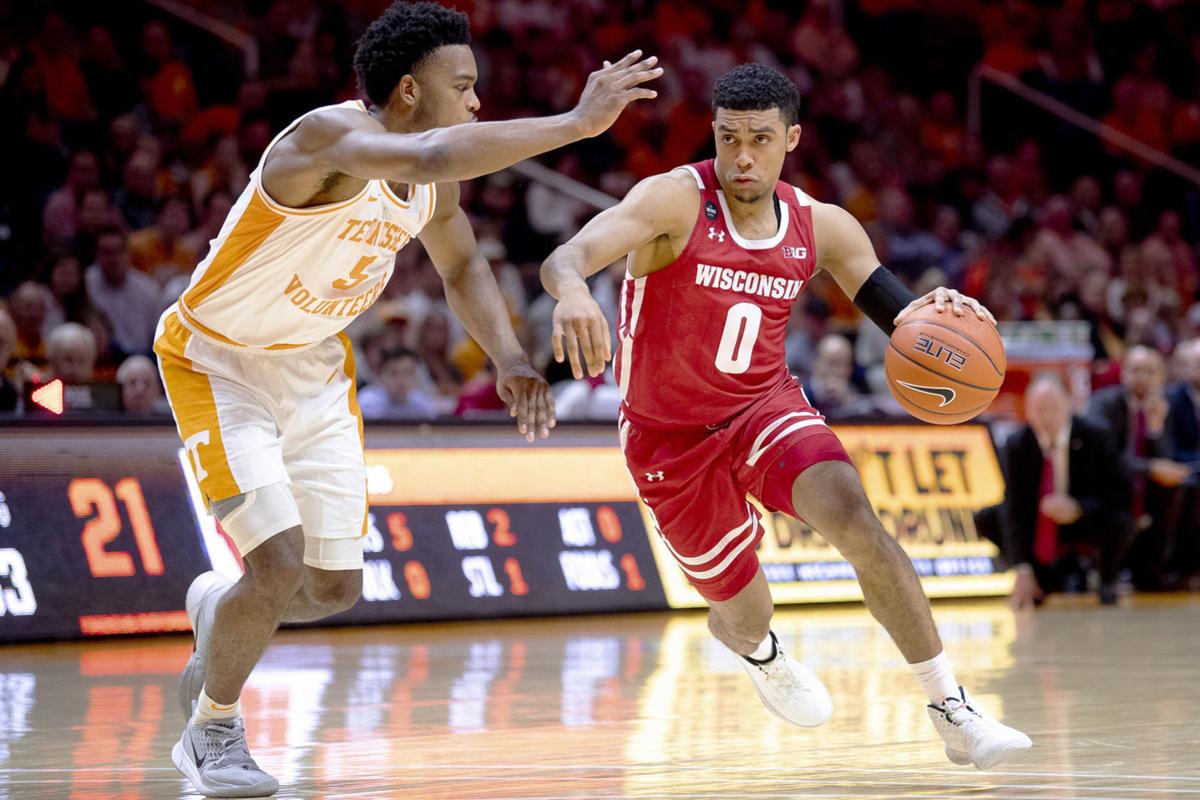 KNOXVILLE, Tenn. — Greg Gard did some serious digging in his quest to figure out why the University of Wisconsin men's basketball team was having such a hard time winning away from home.
"I looked back through every year we've been here, every box score," he said, "just trying to think there was some magical answer for this road Rubik's Cube we were trying to solve."
It may have been a waste of time because, as the Badgers coach suspected all along, winning in enemy territory typically requires following a blueprint.
Gard's team worked the formula Saturday afternoon at Thompson-Boling Arena, where junior point guard D'Mitrik Trice scored 21 points to help UW record a 68-48 victory over Tennessee.
Senior guard Brevin Pritzl added a season-high 17 points for the Badgers, who were winless in their previous five trips away from the Kohl Center. Not only did UW (7-5) end that drought, it produced its most-lopsided victory in a true road game since winning by 24 points at Ohio State in the 2014-15 regular-season finale.
Afterward, Gard went down the list of ingredients in the recipe to win on the road win.
Play good defense? Check.
Take care of the ball? Check.
"I don't think there's any secret to it," Gard said. "This is how we had been playing at home. It's good to see that it wasn't just the curse of the red jersey."
The Badgers hadn't led by more than eight points in any of their previous five games away from home. They led a total of 28 minutes, 25 seconds in those games, and the bulk of that time came during an overtime loss to Saint Mary's in a neutral-site season opener.
It was a much different story against the Volunteers. UW never trailed, led by as many as 28 points and was ahead by double digits for the final 23:23.
"It's about learning from your mistakes," Pritzl said. "We've been in some battles on the road. You're battled-tested, you kind of know what isn't working."
Everything was working for the Badgers on this day, starting with their shooting from 3-point range.
UW went 7 of 13 from 3-point range in the opening half and shot 42.3 percent for the game. Trice and Pritzl each made four 3-pointers for the Badgers, who came into the game shooting 22.9 percent from beyond the arc away from home.
It didn't hurt that UW's opponent is in the midst of transition. The Vols (8-4), playing their first game since senior guard Lamonte Turner announced his career was over due to a shoulder injury, looked lost at both ends of the floor against the Badgers.
The absence of Turner, who averaged 12.3 points and a team-high 7.1 assists, really showed on offense. No Tennessee players reached double figures in points, and the Vols shot 37.5 percent overall and had 17 turnovers while averaging 0.76 points per possession.
How impressive this win will look on UW's résumé when March comes around remains to be seen, but that doesn't take away from the fact that the Badgers got a major monkey off their back by simply winning on the road.
"I think it's going to boost our confidence a lot," Trice said.
Trice picked up where he left off after scoring a career-high 31 points in a win over UW-Milwaukee last week. Even though Trice started the game slowly, Gard thought his point guard set the tone by pushing the tempo and creating scoring opportunities with his passing.
Pritzl, meanwhile, had 12 points by halftime to help UW build a 38-24 lead at the break.
Some of Pritzl's baskets were timely, including a three-point play that stopped a run of four consecutive empty possessions and a 3-pointer that stopped another four-possession drought.
"Him shooting it with a lot of confidence, without hesitation, is just exactly what we need," Trice said. "For him to come out and play like he did is just another thing that showed we have a lot of weapons on this team. Any player can get hot, and it was just Brevin's turn to shine."
More importantly, it was finally UW's time to shine on the road. Gard didn't need to dig into his bag of research to explain this victory.
"We just played really well today," Gard said, "and it's a credit to our guys."
---
Photos: Wisconsin Badgers pick up first win away from home with blowout of Tennessee Volunteers