SAN JOSE, Calif. — The emotions were still raw Friday afternoon when members of the University of Wisconsin men's basketball program were asked to offer perspective on the past and the future.
It was difficult enough in that moment to process the present. The Badgers were less than 30 minutes removed from a 72-54 loss to Oregon in an NCAA tournament opener at the SAP Center, a defeat that ended a 2018-19 season that once held such promise.
From UW coach Greg Gard to departing senior Ethan Happ to some of the young players in the program, looking back and looking ahead generated mostly positive responses.
The bottom line, from the Badgers' perspective, was that they had a rebound season after missing the NCAA tournament in 2018 for the first time in 20 years. UW went 23-11 against a tough schedule and won 15 of 22 games against Big Ten opponents, finishing fourth in a conference that had seven teams win first-round games in the NCAA tournament.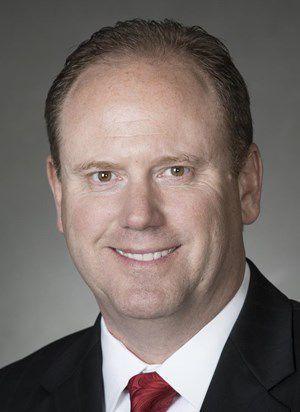 Gard noted that UW showed considerable improvement in two areas that had been part of the program's foundation over the years: defense and taking care of the ball.
"I think the older guys and the whole group in general has done a good job of establishing how we have to play," said Gard, who noted that the Badgers had too many turnovers and defensive lapses against the Ducks. "By and large, we've been pretty good and back to a Wisconsin-like standard."
Still, an 18-point loss to a No. 12 seed will be part of this team's legacy. That, and the fact it was never able to make the climb from good to great.
A postmortem on UW's season includes two really good stretches. The first lasted 18 days in November, with victories over Oklahoma and North Carolina State sandwiched between wins at Xavier and Iowa. The other was a six-game winning streak in the middle of Big Ten play, with UW beating three NCAA tournament teams (Michigan, Maryland and Minnesota) in 19 days.
The rest of the season was rather ordinary for the Badgers, who nonetheless hung around the Top 25 all season and entered the tournament as a No. 5 seed in the South region and the No. 19 overall seed.
"Obviously, it was a pretty successful season, especially after the one that we had last year," UW sophomore point guard D'Mitrik Trice said. "I think people will overlook that, but we've just got to stay true to who we are and remember that the only thing that matters is everybody in this room right now."
Calls for Gard's job are ridiculous, but there's no denying the program is at a bit of a crossroads as he transitions to his fifth season in charge of the Badgers.
The biggest victory of Gard's tenure came against defending national champion Villanova on March 18, 2017, a win that helped UW reach the Sweet 16 for the sixth time in seven seasons. The Badgers haven't won an NCAA tournament game since that shocker over the Wildcats.
Now, UW enters an offseason where the biggest challenge will be replacing Happ, who logged 4,000-plus minutes over four seasons, and fellow senior Khalil Iverson.
You have free articles remaining.
Making roster projections in March is tricky for a variety of reasons, starting with the fact that there could be players added to or subtracted from the mix. UW has had three players leave the program with eligibility remaining since the spring of 2017, and there's certainly a chance that transfer total could increase this offseason.
Meanwhile, while Minnesota forward Tyler Wahl is the only player in UW's 2019 recruiting class as of now, the coaching staff is still exploring possibilities in that cycle.
Gard and Co. also will kick the tires in the grad transfer market, but finding the right cultural fit will always take precedence over adding a player for the sake of filling a need.
Make no mistake, there are major needs. The lack of playmakers on the roster was glaring even before the Badgers were dominated by Oregon's athleticism, and now they must replace the player who's been the focal point of the program the past two seasons.
One logical lineup projection would have Micah Potter replacing Happ and Kobe King replacing Iverson in the starting lineup. UW will file an appeal to the NCAA to try to get Potter, a transfer from Ohio State, eligible in time for the start of the 2019-20 season; if that appeal fails, he won't be eligible until the first semester ends in late December.
Trice, Brad Davison and Brevin Pritzl give UW three experienced guards. The depth beyond that in the backcourt is uncertain because Trevor Anderson will be coming off a major knee injury and Tai Strickland is a major unknown after playing only 50 minutes as a true freshman.
The biggest key in the frontcourt will be the development of Nate Reuvers and King, both of whom are entering their third seasons in the program. If Reuvers and King can make big jumps in the offseason, the outlook of the 2019-20 team changes considerably. UW also needs Aleem Ford to bounce back from a down season. The coaching staff is high on Wahl, and he could find a spot in the rotation.
Joe Hedstrom and Taylor Currie arrived on campus as major projects, and there's little reason to believe either is ready to make a big impact on next season's team.
"We lose a lot of experience, a lot of playmaking ability out of Ethan," UW assistant coach Joe Krabbenhoft said. "We're going to have to learn to play without him because he's been so good for us, doing so many different things on both ends of the floor."
From a schematic standpoint, UW should be more balanced offensively after relying heavily on Happ for the last half of his career. Having King and Potter on the floor rather than Happ and Iverson makes UW better equipped to run the Swing and Flow offenses — or a marriage of the two, as Gard hopes — without opponents being able to clog the paint.
"Obviously, there's a lot of minutes that are going to be out there and I feel like Nate's going to take a big jump," Happ said. "There's a whole number of guys that are going to take a jump. But it's just going to be maybe less isolation, more of the ball popping."
On the flip side, it's going to be difficult for the Badgers to be as good as they were defensively in 2018-19. Happ and Iverson were arguably the two biggest pieces to that success, and they also happened to be the team's two top rebounders this season.
"It's definitely going to be different," Davison said. "But that being said, there's a lot of opportunity there and a lot of opportunity for people to step up. It's hard to be excited for next year right now. But when the time comes, I'll be extremely excited for next year."