ROSEMONT, Ill. – After he wrapped up some post-game interviews Thursday night, Andy Van Vliet turned to head back to the visiting locker room at Allstate Arena when his path was blocked.
In a matter of seconds, the junior forward on the University of Wisconsin men's basketball team was surrounded by a triple-team of young fans. Van Vliet was anything but annoyed; in fact, he had a smile plastered across his face as he posed for pictures.
It's been a forgettable season in many ways for Van Vliet, but he had every right to soak in the kudos after playing a key role in the Badgers' 70-64 victory over Northwestern.
Inserted as a zone buster, Van Vliet did exactly that. He went 4 of 6 from 3-point range and finished with 14 points in a career-high 24 minutes as UW (14-16, 7-10 Big Ten) extended its winning streak to three games.
"I'm really proud of him, just for sticking with it," Badgers junior center Ethan Happ said of Van Vliet, who had accumulated 14 minutes in four Big Ten games this season before being called to action against the Wildcats. "He hasn't been in a while, and then he comes in and does that."
Van Vliet had plenty of help. Happ had all but four of his team-high 19 points after halftime, and junior swingman Khalil Iverson added 16 points for the Badgers.
Meanwhile, sophomore guard Brevin Pritzl scored 11 points and saved his best for last, draining a clutch 3-pointer late in the shot clock to give UW a four-point lead with 27.6 seconds remaining.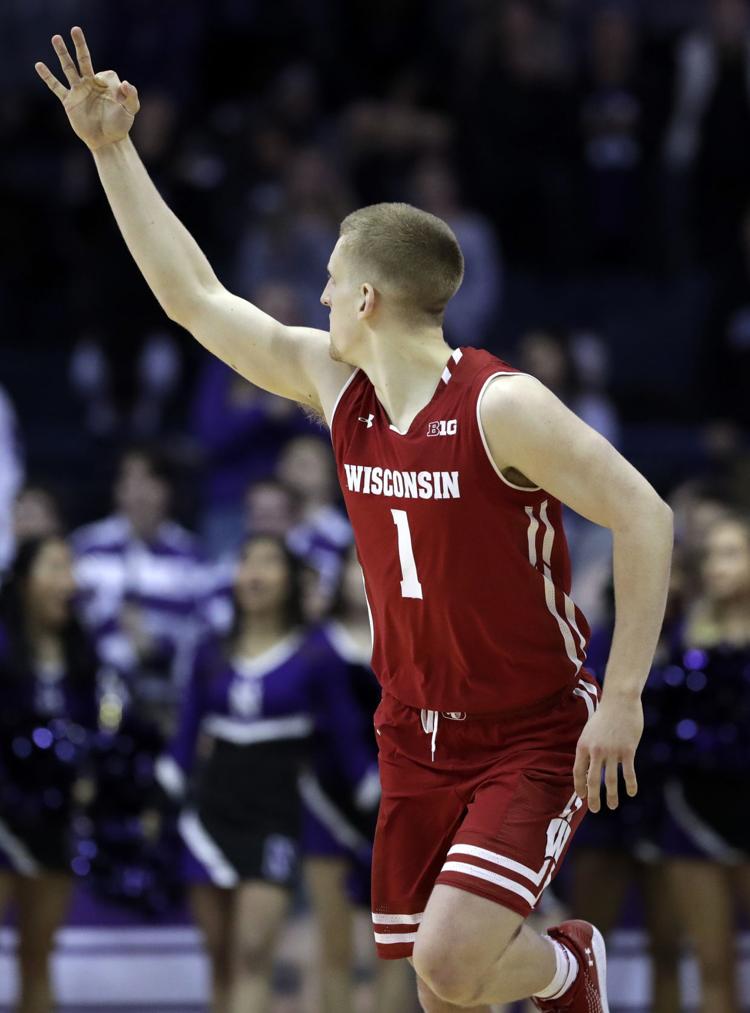 Two free throws by Iverson with 17.4 seconds left sealed it for UW, which has won four its past five games and clinched the No. 9 seed in the Big Ten tournament, which begins next week in New York.
"I think early we were finding ways to lose games," Happ said, "and now we're finding ways to win them."
The loss ruined Senior Night for the Wildcats (15-15, 6-11), who were playing without injured junior forward Vic Law (foot) and only dressed eight players.
Senior guard Scottie Lindsey scored 26 points and senior guard Bryant McIntosh added 18 in their final home games, but the Wildcats struggled defensively without Law.
Northwestern hasn't finished above UW in the Big Ten standings since the 1983-84 season, a streak that will continue for at least another year.
"Give Wisconsin credit, I thought they got into a great rhythm early against our defense," Northwestern coach Chris Collins said. "They were attacking us very well and we were having a lot of problems and I thought we adjusted well, got us back in the game."
UW coach Greg Gard said he "dusted off an old zone offense" prior to practice Wednesday in an attempt to "stretch the floor more from corner to corner."
He also unveiled a secret weapon, inserting Van Vliet 2:13 into the game. The 7-foot Belgium native worked both corners, draining three 3-pointers to help the Badgers build an 18-7 lead just over six minutes into the game.
How unlikely was Van Vliet's performance? He had played a total of 11 minutes since the calendar flipped to 2018 and didn't leave the bench when the Wildcats beat the Badgers 60-52 on Feb. 1.
"When you shoot it like he does in practice, that's going to pay off. I knew it was coming," Pritzl said. "He just needed the opportunity for a team that he matched up well with and today was that game, especially a team playing zone and he actually did a good job chasing shooters around. He played great."
Van Vliet had scored 44 points this season before Thursday, and 31 of those came in the first two games of the season. He lost his starting spot after four games in large part because he struggled in two important categories: defensively and rebounding.
"Yeah, it was frustrating," Van Vliet said. "But I don't lose hope in myself, because if I don't believe in myself, who is?"
Making matters worse for Van Vliet is the vitriol he received on social media. He said some even went as far as telling him, via direct messages on Twitter, to leave the program.
"They can say whatever they want," Van Vliet said. "I'm just going to keep coming into practice every day and work."
Pritzl has received his fair share of disparagement this season as well, but he's been playing well of late and provided a dagger against the Wildcats.
After Lindsey scored to cut UW's lead to 65-64, the Badgers called a timeout with 50.7 seconds remaining. The ensuing possession was going nowhere and Northwestern junior center Dererk Pardon nearly poked the ball free for a steal, but Happ hit the floor to secure a loose ball and UW retained possession after Pardon was ruled out of bounds.
That left 31.3 seconds remaining and only six on the shot clock. UW's first option was to go to Happ, but Northwestern shut that down. While UW freshman guard Brad Davison ran interference, Iverson inbounded the ball to redshirt freshman forward Aleem Ford, who drew a defender and found Pritzl wide open on the right wing.
"Most open shot I had all day," Pritzl said. "It was just a matter of getting my feet set and following through and knocking it down."
Afterward, Pritzl was more excited to talk about Van Vliet, his roommate, than himself.
"He's buckets," Pritzl said. "Straight buckets, homey."
Van Vliet, meanwhile, soaked it all in, a picture of happiness as he was swarmed by the youngsters who wanted some time with him.
"None of that would have been important or mattered," Van Vliet said, "if we didn't win."