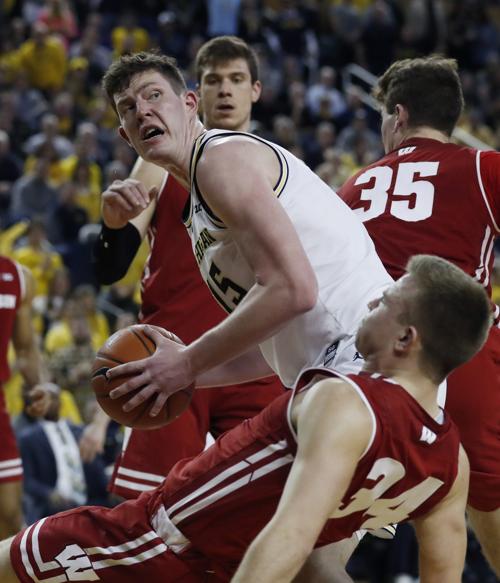 ANN ARBOR, Mich. – Three days after a controversial moment at Minnesota, Brad Davison landed in the spotlight again.
The sophomore guard for the University of Wisconsin men's basketball team was assessed a Flagrant-1 hook-and-hold foul early in the second half Saturday afternoon at Crisler Arena, a significant sequence in the No. 19 Badgers' 61-52 loss to the No. 7 Wolverines.
After a miss by Michigan's Charles Matthews, Davison got tangled up with Wolverines junior center Jon Teske battling for a rebound. The three veteran officials – Terry Wymer, Lamont Simpson and Kelly Pfeifer – wanted a closer look and apparently determined that Davison latched onto Teske.
State Journal reporter Jim Polzin asked Badgers fans on Twitter what they thought of No. 19 Wisconsin's 61-52 loss to the No. 7 Michigan Wolve…
Teske was awarded two free throws and made both. Michigan retained possession of the ball and Matthews made a baseline jumper to finish off a four-point possession that gave the Wolverines the lead for good.
UW coach Greg Gard said after the game that he had yet to see a clip of the play. He was told by the officials that there was "a clamping at some point" by Davison.
A request for clarification from the officials after the game was denied by the Big Ten office due to it being a "judgment call, not a rules and regulations situation."
Asked about the play, Davison said: "I haven't seen it. I have no idea what happened. I know I switched onto a 7-foot-1 guy and I'm supposed to box him out, so I went to box him out and I remember having my hands up in the air. I'm not sure what happened. I'm sure I'll see it at some point. But again, it's something I can't really control. I'm just going to keep playing the way I've always played."
This was the first time Davison spoke to reporters since an incident during the Badgers' 56-51 win at Minnesota on Wednesday night.
Early in the game, Davison missed a layup and Minnesota's Jordan Murphy grabbed the rebound. A slow-motion clip was posted on Twitter showing Davison's left foot ending up beneath Murphy as the Golden Gophers junior forward was on his way down.
No contact was made, and Murphy didn't even know what reporters were talking about after the game when they asked him about the play.
The No. 19 Wisconsin Badgers men's basketball team fell to the No. 7 Michigan Wolverines, 61-52, on Saturday at the Crisler Center in Ann Arbo…
Still, Davison was branded as being a dirty player by opposing fans and at least one ESPN talk-show host.
After the loss to Michigan, he responded to the criticism with a passionate, 270-word response when asked about the play at Williams Arena.
"Obviously, it wasn't intentional," Davison said. "What happened is I drove and got a catch going to the rim and missed a wide-open layup. And I was watching the ball, willing it to go through the net, and when it came out I was going to dig up like we're taught to try to get a rebound and I realized that Murphy's a little taller than me so there's no way I'm going to get it. So I went to run down the court and you know how it looks, perception kind of becomes reality and people can say what they want and they can twist it that way and this way.
"Again, that's something that I can't really control. I know who I am, I know what I stand for, I know where I find my identity and at the end of the day I'm really the only one who knows what my intentions are. I don't play for the approval or for the opinion of opposing fan bases or anything like that. I play for my family, my friends, my team and, to me, my Lord and Savior Jesus Christ.
"Of course, I'd like everyone to like me. But at the same time I'm not going to let those opinions ever affect the way that I play, the way that I live my life and the person that I am because you're giving them way too much power if you do that. So obviously, I would never try to hurt somebody, especially somebody that I know. And it's just an unfortunate incident that happens in a high-level, full-speed sport."