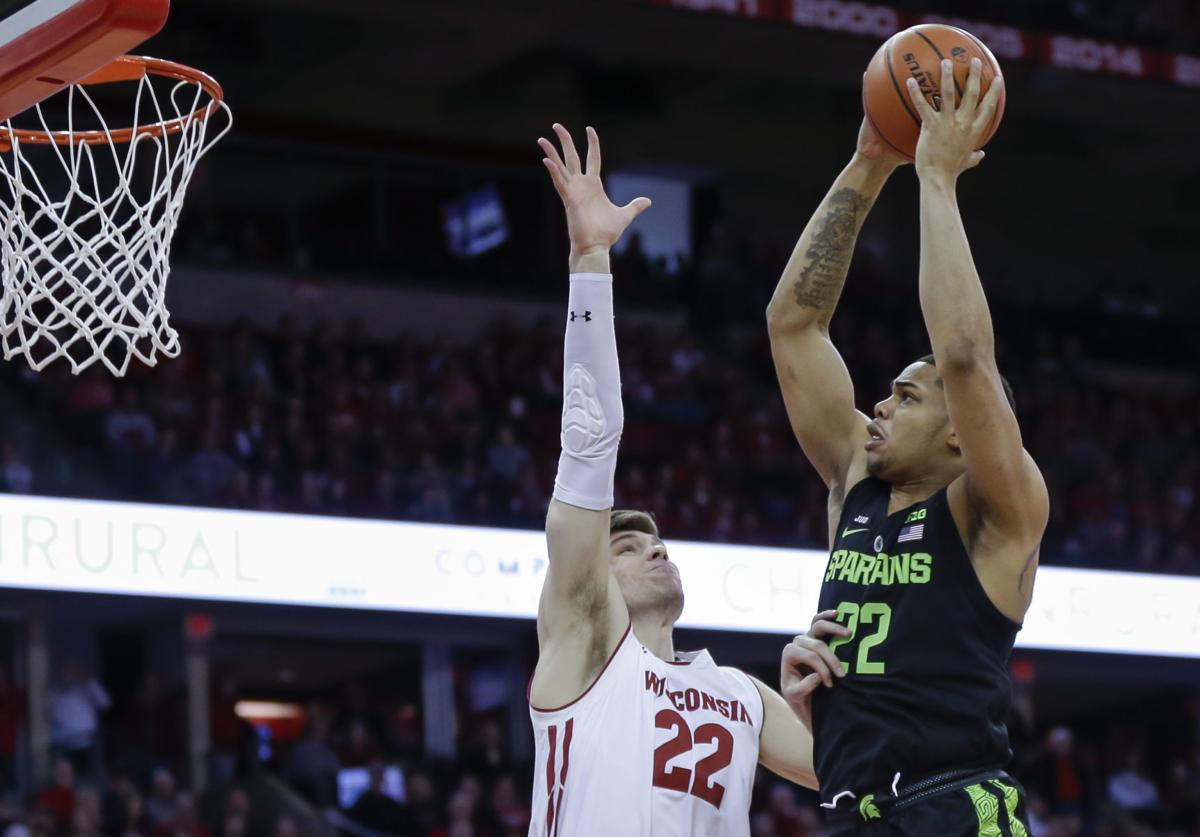 The legend of Brad Davison grew Sunday afternoon at the Kohl Center.
There was only one thing missing, and it just happened to be the thing that matters the most to the gritty freshman guard on the University of Wisconsin men's basketball team.
"I'm really all about winning," Davison said after the Badgers' 68-63 loss to No. 2 Michigan State. "That's really all I care about."
So Davison didn't get much satisfaction out of finishing with a career-high 30 points, 23 of which came in the second half. His brilliant performance nearly helped UW pull off its second upset of a top-10 team in a span of 11 days, but the Spartans held on to clinch their first outright Big Ten regular-season title in nine years.
"We were right there," Davison said after becoming the first UW freshman to score 30 points in a game since Sam Okey accomplished the feat vs. UW-Milwaukee on Dec. 10, 1996. "Hopefully, looking forward to the opportunity to play them again next week."
UW could meet the Spartans again in a Big Ten tournament quarterfinal on Friday at Madison Square Garden in New York, but the ninth-seeded Badgers first need to get past Maryland a day earlier.
Photos: Michigan State Spartans 68, Wisconsin Badgers 63
The Wisconsin Badgers men's basketball team couldn't pull off the upset, losing to the second-ranked Michigan State Spartans 68-63 on Sunday at the Kohl Center in Madison. 
Sophomore guard Cassius Winston scored 20 points to help Michigan State (28-3, 16-2 Big Ten) win its 12th consecutive game.
The Spartans haven't gotten the chance to celebrate a Big Ten regular-season title since sharing it with Michigan and Ohio State in 2011-12, and this one comes with a dark cloud hanging over the program.
Michigan State coach Tom Izzo answered more questions in his postgame news conference about off-the-court issues than he did about what happened against the Badgers (14-17, 7-11).
"My team seemed a little discombobulated, if you want the truth," Izzo said. "They did not seem mentally as into it. Physically they were, they were trying to play hard, but we made some mental mistakes."
Michigan State sophomore forward Miles Bridges, who was named in a Yahoo! Sports report detailing potential NCAA rules violations for receiving impermissible benefits, went 3 of 15 from the field a day after finding out he was cleared to play.
But eight of Bridges' 10 points came in the final 6 minutes, 14 seconds, including four free throws in the final 37.9 seconds that helped seal the win.
"I felt like with everything we've been through, these guys, boy, they've showed incredible mental toughness and persevered through," Izzo said. "I thought there was some championship DNA in there."
You have free articles remaining.
As great as Davison played, he couldn't do it alone. He went 10 of 19 from the field, while his teammates were a combined 12 of 40; Davison was 3 of 7 from 3-point range, while the rest of the team was a combined 2 of 11.
UW junior center Ethan Happ finished with 13 points, but he finished 6 of 17 from the field and 1 of 5 from the free throw line.
Izzo had plenty of options to match up with Happ. Nick Ward (6-foot-8, 245 pounds), Jaren Jackson Jr. (6-11, 242) and Xavier Tillman (6-8, 260) took turns making Happ work every time he got the ball on the block.
The Spartans also dominated the glass, finishing with a 40-28 advantage in that category.
"Michigan State sets their defense really well," Happ said. "Playing against length like that is tough."
Davison's signature stretch came in the second half, when he scored 11 consecutive points for the Badgers.
After Ward was called for a technical foul, Davison made two free throws with 14:13 remaining to tie the game at 36. At the 13:59 mark, Davison re-injured his left shoulder while defending a lob pass that Michigan State forward Kenny Goins converted into a three-point play.
Davison left the court to have his shoulder manually put back into socket – it's the sixth time that's happened in a game this season – and was back on the court at the 13:36 mark. Thirteen seconds later, he made a fadeway jumper from the right corner to pull UW within one.
Two more long jumpers over a span of the next three possessions, and Davison had matched his career high of 20 points with 11:32 remaining in the game.
"I love playing basketball, so whether it's a bruise or whatever it is, I just try not to let anything hold me back," Davison said. "I'm just going out there trying to win."
UW led 49-47 after a pair of free throws by freshman forward Nate Reuvers with 7:18 left, but a pair of 3-pointers from Winston served as the book ends of an 11-2 run that gave Michigan State the lead for good.
After the Badgers cut Michigan State's lead to 58-56 on two free throws by Davison with 3:49 remaining, Bridges made a tough hook shot and Jackson hit two free throws to stretch the Spartans' cushion to six with 1:32 left.
A 3-pointer by Davison drew the Badgers within 66-63 with 5 seconds remaining. But Bridges, serenaded by chants of "FBI" and "cheater" during his trips to the line, made two free throws to end UW's chances of closing the regular season with four consecutive wins, a streak that began with an upset of then-No. 6 Purdue on Feb. 15.
All told, Davison scored 16 points after returning from his injury.
"His mentality and his approach and his competitiveness has become infectious," UW coach Greg Gard said, "and I think that's part of the reason why we've surged here is because of his persona (and) his presence has started to infiltrate in other areas."