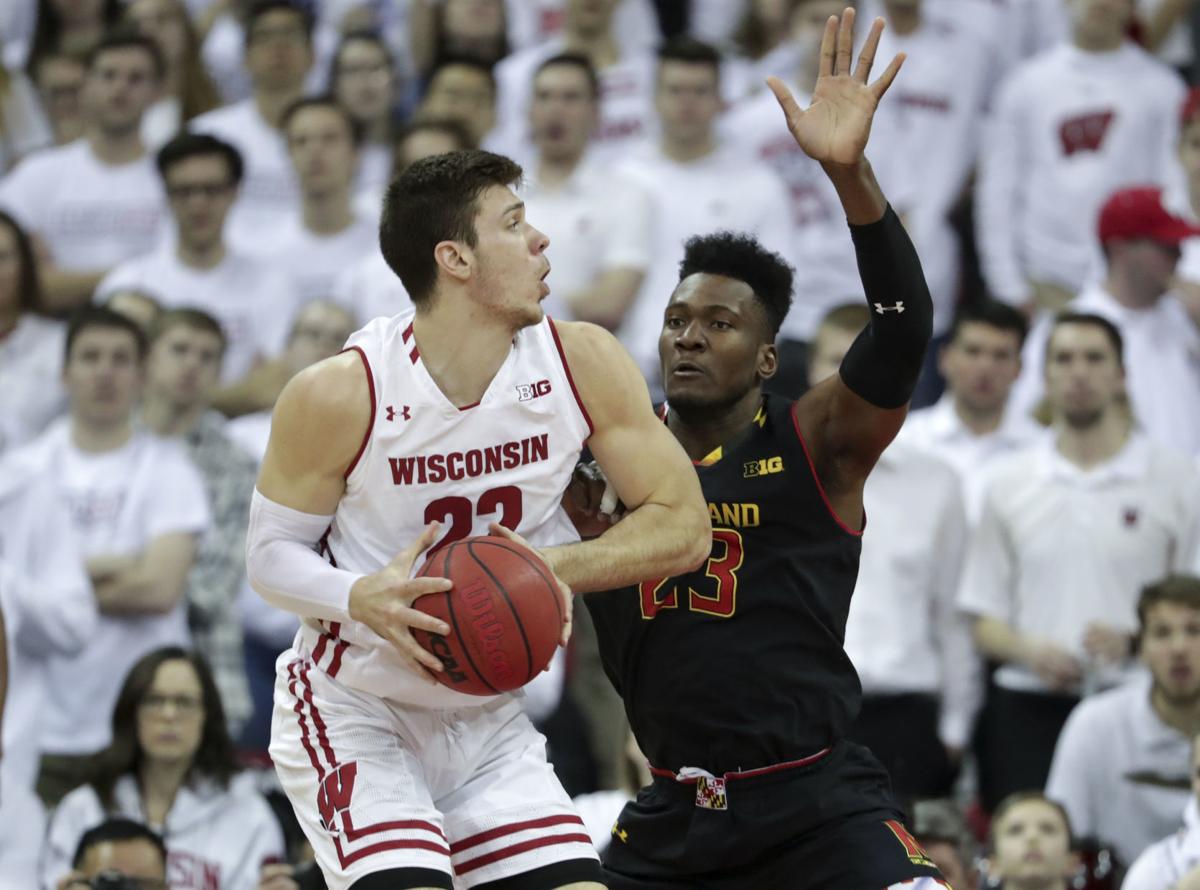 More than two weeks had passed, giving Brad Davison and the University of Wisconsin men's basketball team plenty of time to get over a loss at Maryland on Jan. 14.
Or not. Based on Davison's demeanor earlier this week, the Badgers were still steaming from that defeat.
"I think we still have a sour taste in our mouths from the first 20 minutes of that game," the sophomore guard said. "We didn't show up, we didn't play the way that we knew we could play."
That wasn't the case Friday night at the Kohl Center, where Davison and the No. 24 Badgers gained a measure of revenge and kept themselves in Big Ten title contention with a 69-61 win over the No. 21 Terrapins.
Davison scored a game-high 21 points, while senior center Ethan Happ finished with 18 points, 11 rebounds, six assists and no turnovers in 36-plus minutes to help UW (16-6, 8-3 Big Ten) extend its winning streak to five games.
The Badgers also got some big production off the bench from sophomore forward Aleem Ford and junior guard Brevin Pritzl to avenge a 64-60 loss to the Terrapins 18 days earlier.
The victory gave the Badgers more wins than they had all of last season, when they finished 15-18 to miss the NCAA tournament for the first time in 20 years. UW also topped its Big Ten win total from 2017-18, when it went 7-11 in conference play.
Wisconsin State Journal reporter Jim Polzin asked Badgers fans on Twitter what they thought of No. 24 Wisconsin's 69-61 win over the 21st-rank…
Friday was the start of a redemption tour within the redemption tour, with Maryland the first of back-to-back opponents who had handed UW defeats earlier in conference play.
One of the main reasons the Terrapins won the first meeting was because they outscored the Badgers 24-3 at the line. The script was flipped this time, with the Badgers outscoring the Terrapins 14-3 at the stripe and finishing with 15 more attempts.
That disparity clearly bothered Maryland coach Mark Turgeon, whose team went 3 of 8 from the line after going 24 of 29 in the game in College Park.
"They shot 23, we shot eight, OK?" Turgeon said. "We've shot 150 more free throws than our opponents. They've shot less free throws than their opponents. Tonight, what's happened all year didn't happen. We missed some free throws but, hell, we've got to get there a little bit more."
Freshman guard Eric Ayala scored 18 points for Maryland (17-6, 8-4), which was cruising along until its two starting big men, sophomore Bruno Fernando and freshman Jalen Smith, got in foul trouble early in the second half.
Fernando finished with 13 points and 10 rebounds, his 14th double-double of the season. Junior point guard Anthony Cowan Jr. added 11 points for the Terrapins.
UW coach Greg Gard said his team did a better job against the Terrapins in pick-and-roll situations this time around. The Badgers committed plenty of silly fouls in the first meeting, but that wasn't the case on Friday.
Plus, the Badgers were more assertive on the offensive end, particularly early in the second half.
"We did a better job, for the most part, of not settling for jump shots," Gard said. "And we were able to attack the rim and draw fouls."
The 24th-ranked University of Wisconsin men's basketball team pulled away late in the second half to beat the 21st-ranked Maryland Terrapins, …
Happ scored all of UW's points during a 7-0 run that tied the game at 40 with 16 minutes, 10 seconds left, but the Badgers struggled to take the lead even though Fernando and Smith were sitting on the bench with three fouls apiece.
After myriad wasted opportunities, Davison made a 3-pointer from the top of the key to finally give the Badgers the lead at 54-52 with 6:08 remaining.
A free throw by Cowan and a basket by Fernando put Maryland back in front, but Ford made a 3-pointer from the right wing to start a 12-1 run that decided the game.
"We just had to get over that hump," Davison said. "Once we got over the hump, we kind of took control of the game."
Maryland was within 59-56 until Ford hit another 3-pointer with 2:59 remaining. After two free throws from Davison and a pull-up jumper from sophomore point guard D'Mitrik Trice, the Badgers had a double-digit cushion with 1:37 remaining.
Four of Happ's assists came after halftime and he fed Ford on both of the 3-pointers. After the second one, Happ forced a turnover by diving out of bounds and into the scorer's table to save a loose ball.
"Ethan Happ was Ethan Happ," Gard said. "He was phenomenal."
Ford had gone 0 of 10 overall from the field and 0 of 7 from 3-point range over the previous three games, but he took on an expanded role with sophomore forward Nate Reuvers in foul trouble against the Terps. Ford missed his first two 3-point attempts Friday before delivering two clutch shots down the stretch.
"It's just staying confident and believing in yourself and believing that the next one will fall," Ford said, "because these guys believed in me so it's just believing it myself."
Happ wasn't the only one dishing out assists. Gard also handed one out in the opening statement of his postgame news conference.
"I thought the crowd was amazing," Gard said. "That's the electricity and noise level we need in this place."