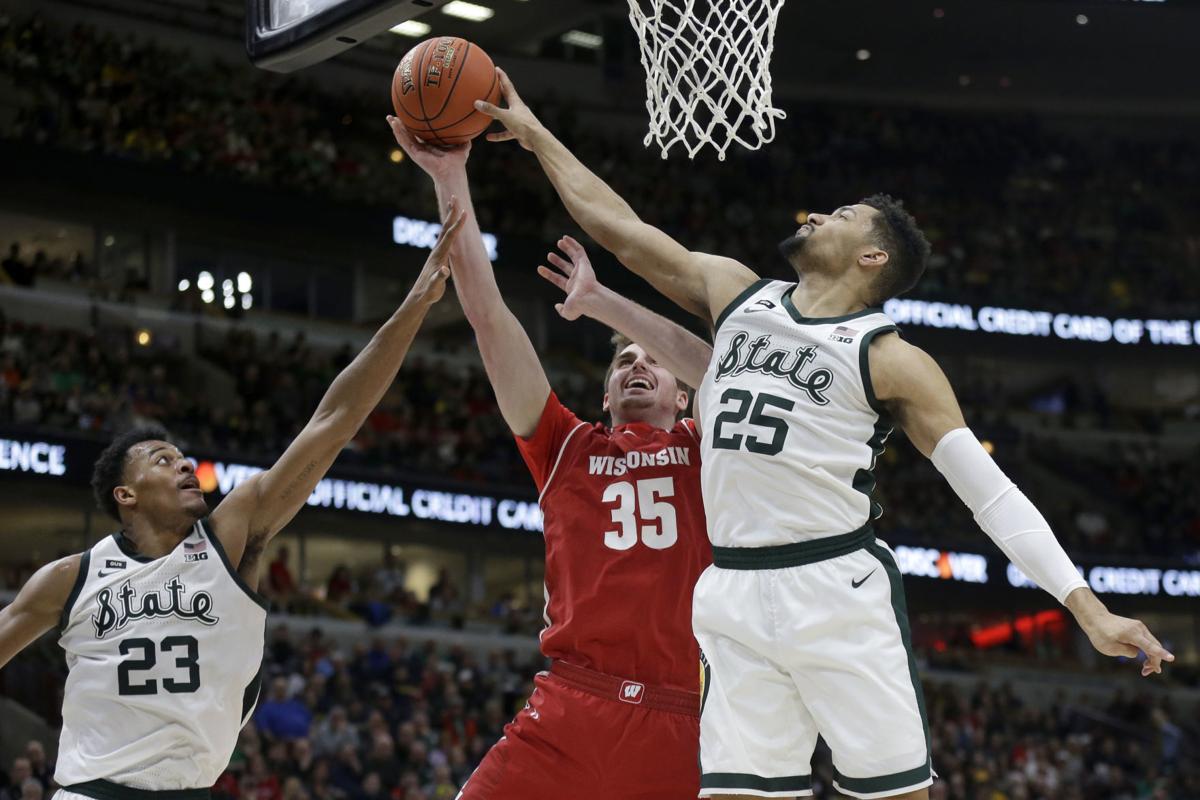 A review of the first 33 games of the season would indicate a solid body of work for the University of Wisconsin men's basketball team. That's solid, not spectacular.
The Badgers (23-10) accomplished a major mission by getting back to the NCAA tournament after a one-year absence. They're a No. 5 seed in the South Region in the 2019 field and will open against red-hot Oregon (23-12) on Friday at approximately 3:40 p.m. CDT in San Jose, California.
UW has been good against a tough schedule. It's taking that next step that has proven to be difficult for the Badgers, who finished fourth in the Big Ten standings and were knocked out in the semifinal of the conference tournament.
There's still time for Greg Gard's team to do something special and enhance the notion that this was a bounceback season for a program that had advanced to the Sweet 16 in four consecutive seasons until watching the tournament from home last season.
"Great teams are made in March, and made in the NCAA tournament, so we still have that in front of us," UW sophomore guard Brad Davison said. "We can look back at our Big Ten season and our conference and non-conference, but we can't change it now. So I think we've got to focus on becoming great in the NCAA tournament, and make a run at this thing."
UW went 7-8 against teams in the NCAA field, and the breakdown of that record offers evidence of its struggle to make the jump from good to great this season.
The Badgers went 5-1 against teams seeded in the bottom half of the 68-team field. They went just 2-7 against teams seeded 1 through 6.
There's a potential matchup with fourth-seeded Kansas State (25-8) in the second round — the Big 12 co-champs open with UC Irvine (30-5) — but first UW needs got get past Oregon.
The Ducks have won eight consecutive games and avoided missing the NCAA tournament for the second consecutive season by winning four games in as many days at the Pac-12 tournament over the weekend.
That run to book an automatic berth included an overtime win over Arizona State on Friday and a 68-48 victory over top-seeded Washington in the final the following day.
You have free articles remaining.
UW and Oregon have a recent history in the NCAA tournament. The Badgers eliminated the Ducks in the round of 32 in back-to-back seasons en route to Final Four appearances in 2014 and '15.
Oregon bounced back the next two seasons to reach the Elite Eight and, in 2017, the Final Four.
The Ducks' roster took a big hit in mid-December when freshman sensation Bol Bol sustained a foot injury. Bol, who averaged 21.0 points and 9.6 rebounds and 2.7 blocks in nine games, announced in January that his Oregon career was over and he'd be entering the 2019 NBA draft.
Even without the 7-foot-2 Bol, the Ducks are big. They start four players who are listed at 6-9, including freshman forward and leading scorer Louis King (13.1 ppg).
Sophomore Kenny Wooten averages 2.0 blocks per game as the rim protector on a team ranked No. 18 nationally in the KenPom adjusted defensive efficiency ratings.
Joining that group of big men is junior point guard Payton Pritchard, who averages 12.7 points and 4.6 assists per game. Pritchard, who was heavily recruited by UW in the 2016 class, finished with 20 points and seven assists in the title game against Washington.
"He's become what I think we thought (he would)," UW coach Greg Gard said, "a really good point guard that is smart, savvy."
Missing out on the NCAA tournament in 2018 was something the Badgers used as motivation during the offseason, according to senior center Ethan Happ. UW entered Selection Sunday knowing it would be in the field, but there was still meaning in seeing its name pop up on the screen.
"Seeing our name up on that board after not seeing it last year," sophomore guard D'Mitrik Trice said, "is definitely an excitement-booster."
Now, how long can the Badgers keep the excitement going? Nothing's come easy on offense since the calendar flipped to 2019, and one more drought could end their season.
Oregon over UW will be a popular 12-over-5 upset pick, or perhaps the Badgers finally pull it all together and advance to the second weekend in Louisville.
"We've been really good (at times)," Gard said after UW's 67-55 loss to Michigan State in Chicago. "We were really good (Saturday) in stretches. But in order to take that next jump, to play deep into the tournament, we've got to become more consistent and eliminate those blips on both ends of the floor."