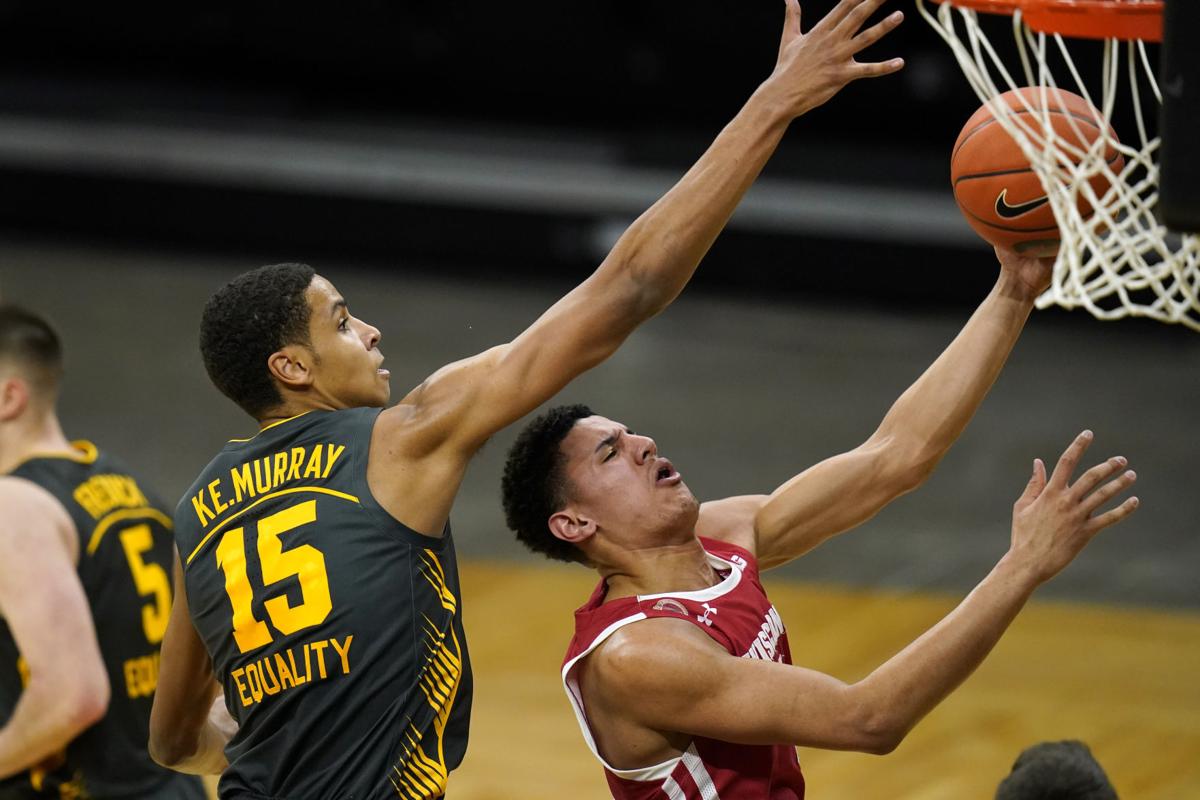 Last season, the Big Ten Tournament got in only one day of games before shutting down because of the COVID-19 pandemic. Teams are eager to make up for lost time.
The tournament tips off Wednesday at Lucas Oil Stadium in Indianapolis, where potential drama awaits.
A possible showdown in the brewing Illinois-Michigan rivalry looms in the championship game. Michigan (19-3, 14-3) won the Big Ten regular-season title based on winning percentage despite losing to Illinois and playing fewer games because of a long pause in competition due to COVID-19 issues.
The Illini (20-6, 16-4) have asserted they deserve to be at least co-champions and shouldn't be punished for playing all of the games on their schedule.
Michigan coach Juwan Howard attempted to close the door on the debate after a loss to Michigan State on Sunday.
"I don't get into that stuff, man," he told reporters. "You're not going to get any sound bites from me or any bulletin-board (material).
"That's amazing what our student-athletes were able to endure and overcome and then at the same time accomplish something special, that's the Big Ten title. So I'm not going to let anyone — I repeat, anyone — try to ruin it for them. They earned it."
Let's hope they can settle this on the court for the Big Ten Tournament championship.
Here's a look at what's at stake for each team this week.
1. Michigan (19-3)
What's at stake: The Big Ten champions lost two of their last three and would like to stride into the NCAA Tournament as a No. 1 seed with confidence.
Player to watch: Eli Brooks. The senior guard injured his left ankle in the regular-season finale against Michigan State. A reliable two-way player who averages 8.7 points, a healthy Brooks is essential to the Wolverines.
Reason the Wolverines will win: They are stacked with a powerful offense and a potent defense. Most teams struggle to stop big men Franz Wagner and Hunter Dickinson.
2. Illinois (20-6)
What's at stake: The Illini seem set for a No. 1 seed, but they could solidify that with at least another win in Indianapolis. They haven't won the tournament title since 2005.
Player to watch: Andre Curbelo. The freshman point guard has been a sensation, especially lately. With dazzling passes and a lightning pace, he has averaged 15 points, 6.8 rebounds and 3.8 assists and shot 51% in the last five games.
Reason the Illini will win: The dynamic duo: Ayo Dosunmu and Kofi Cockburn. No other team has as dominant an inside-outside combination. Dosunmu is a clutch shooter who leads the fast break, while the 7-foot, 285-pound Cockburn dominates the paint.
3. Iowa (20-7)
What's at stake: The Hawkeyes probably will remain a No. 2 seed in the NCAA Tournament, which is where they're currently projected. But it has been a long time (2006) since they hoisted the Big Ten Tournament trophy.
Player to watch: Joe Wieskamp. The junior guard ranks second on the team in scoring behind Luka Garza with 15.1 points per game and shoots 48.1% on 3-pointers. He injured his right ankle and left the regular-season finale against Wisconsin. The Hawkeyes will need him.
Reason the Hawkeyes will win: Garza, the Big Ten's leading scorer at 23.8 points per game, has 12 double-doubles this season. Iowa already retired his No. 55 after Sunday's game, so if he leads the Hawkeyes to the tournament title, they might just make him mayor of Iowa City.
4. Purdue (18-8)
What's at stake: Winning in the Big Ten Tournament not only could cement a top-four seed in the NCAA Tournament for the Boilermakers, but also would pay dividends next season for this young, talented squad.
Player to watch: Zach Edey. The 7-4 freshman has scored 41 points in the last two games.
Reason the Boilermakers will win: Momentum can mean a lot this time of year, and they seem to be in a rhythm with five straight victories.
5. Ohio State (18-8)
What's at stake: Not so long ago, the Buckeyes were projected as a No. 1 NCAA Tournament seed. Now they're fighting to keep a No. 2 seed.
Player to watch: E.J. Liddell. The sophomore forward from Belleville, Ill., has been solid all season. Despite the Buckeyes' recent losses, Liddell is producing with a 20-point average in the last six games.
Reason the Buckeyes will win: They can get on track in the second round against the first-round winner between Minnesota and Northwestern, although both teams beat Ohio State this season. Then they would play the lowest seed in the quarterfinals in Purdue, which is the preferable path.
6. Wisconsin (16-11)
What's at stake: The Badgers are in a serious funk with eight losses in 12 games, including three straight. They're projected as a No. 7 seed in the NCAA Tournament but could use a boost.
Player to watch: Micah Potter. The 6-10 senior forward averages 12.5 points and six rebounds while shooting 51% from the field.
Reason the Badgers will win: They seem to have a chip on their shoulder after recent hook-and-hold foul calls against Brad Davison. Will it give them a new edge?
7. Rutgers (14-10)
What's at stake: The Scarlet Knights are projected as a No. 10 seed in the NCAA Tournament. They could play themselves into a higher seed with wins against Indiana in the second round and Illinois in the quarterfinals.
Player to watch: Ron Harper Jr. The junior guard leads the Scarlet Knights with 15.3 points per game and ranks second with 5.9 rebounds per game.
Reason the Scarlet Knights will win: They beat Illinois at the start of the conference season. Can they channel that performance?
8. Maryland (15-12)
What's at stake: Also projected as a No. 10 seed, the Terrapins are trending down after losses to Penn State and Northwestern.
Player to watch: Eric Ayala. The junior guard can be brilliant at times, and he might be raring to go after a 2-of-12 shooting performance against Northwestern.
Reason the Terrapins will win: They seem to play their best against the best with wins against Illinois, Purdue and Wisconsin.
9. Michigan State (15-11)
What's at stake: The Spartans have played in 22 straight NCAA Tournaments. They don't want the streak to end.
Player to watch: Aaron Henry. He scored 18 points against Michigan, 22 against Indiana, 18 against Ohio State and 20 against Illinois - all wins.
Reason the Spartans will win: Tom Izzo in March.
10. Indiana (12-14)
What's at stake: Can coach Archie Miller save his job with a strong run?
Player to watch: Trayce Jackson-Davis. The sophomore forward is one of the best players in the Big Ten, ranking fourth in scoring with 19.1 points per game and second in rebounding at nine per game.
Reason the Hoosiers will win: If desperation motivates, count the Hoosiers as a contender.
11. Penn State (10-13)
What's at stake: It has been a rough stretch for the Nittany Lions, who are operating under an interim coach. A victory in Indy would be a morale boost.
Player to watch: Seth Lundy. He has a hot hand after scoring 31 points to beat Maryland.
Reason the Nittany Lions will win: Things would have to go wrong for a lot of other teams, but Penn State has won three of its last four games.
12. Northwestern (9-14)
What's at stake: The Wildcats have had a roller-coaster season. Ending on an upswing would help instill confidence in coach Chris Collins among fans.
Player to watch: Chase Audige. In the last two games, he scored a combined 28 points on 11-of-21 shooting, including 6 of 8 on 3-pointers.
Reason the Wildcats will win: They have momentum for the first time since the start of the Big Ten season, ending a 13-game skid with a three-game winning streak.
13. Minnesota (13-14)
What's at stake: The Gophers have been tanking, and coach Richard Pitino's job may be on the line.
Player to watch: Marcus Carr. Ranked third in the Big Ten in scoring (19 ppg) and assists (4.9), Carr is one of the conference's best. He needs help from his teammates.
Reason the Gophers will win: Unless some of their injured players make a miraculous return, it's hard to imagine the Gophers going far.
14. Nebraska (7-19)
What's at stake: The Cornhuskers' reputation. They've lost seven of their last nine games.
Player to watch: Lat Mayen. The 6-9 junior has been productive the last few games with 25 points against Iowa and a double-double against Northwestern.
Reason the Cornhuskers will win: A zombie apocalypse?
---
Photos: Wisconsin Badgers close regular season with tough loss to Iowa Hawkeyes