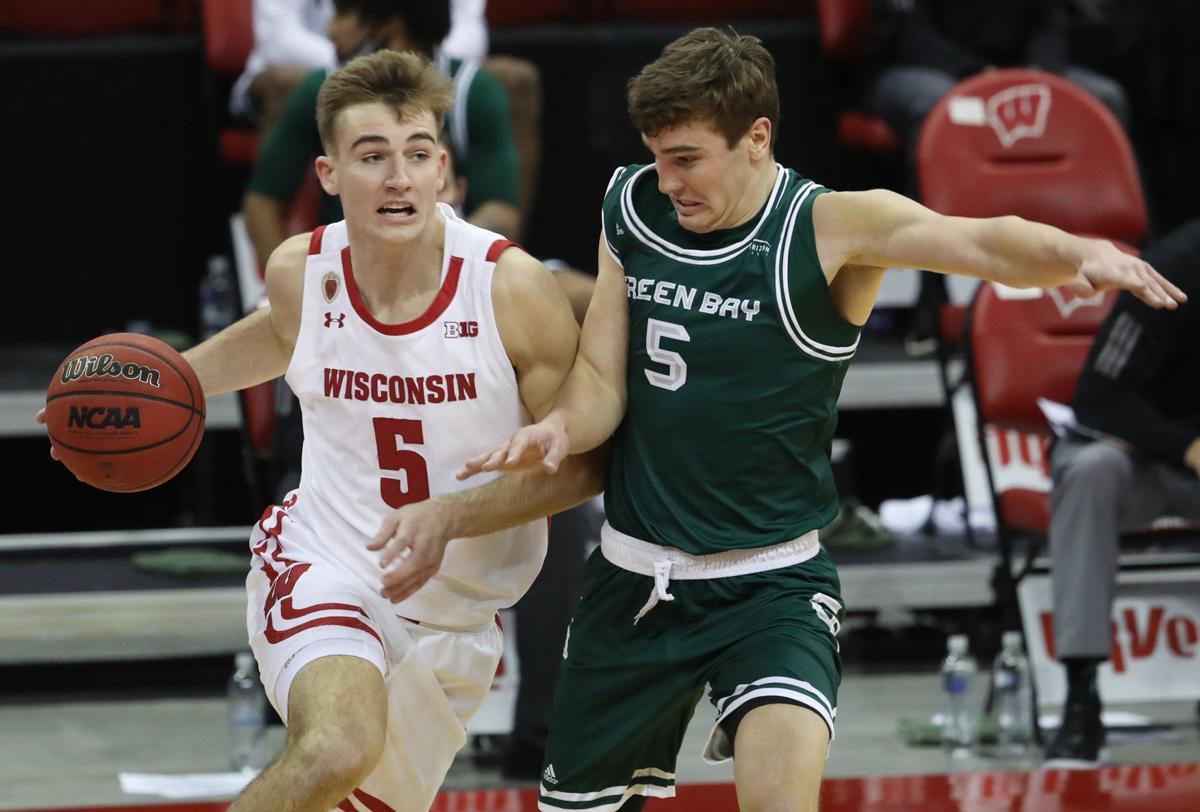 Tyler Wahl caused jaws to drop — not once, but twice — at a restaurant in the Minneapolis area this summer.
Wahl was gathered with family members for a meal and had a big appetite, an offseason theme for the sophomore forward on the University of Wisconsin men's basketball team. When he ordered an appetizer followed by two entrees — steak with potatoes, and a pasta dish — it got the attention of a group that included his parents, uncle and aunt.
Any snickering about Wahl's eyes being bigger than his stomach ended when he finished every last bite.
The least surprised person at the table was Kaye Wahl, who had the primary responsibility of preparing meals for her growing son during an offseason in which he spent more time at home than usual due to the COVID-19 pandemic. She estimates that he was consuming 5,000 to 6,000 calories per day while eating every couple hours.
"During COVID," Kaye Wahl said, "basically I was just cooking and going grocery shopping every day."
Wahl gained about 15 to 20 pounds in the offseason and the early returns suggest that added weight is paying off for him. He also was hungry to make improvements to his game on the court, and those skills have been on display as well through the first three games of the season.
The first big test of the season — for Wahl and the No. 4 Badgers (3-0) — arrives Friday night when they face Marquette (2-1) at Fiserv Forum in Milwaukee.
Wahl's offseason improvement was one of the key storylines heading into the 2020-21 campaign, and that talk has carried over into the early stages of the season. The buzz grew louder after Wahl posted his first career double-double in Tuesday's 82-42 victory over UW-Green Bay, finishing with career highs in points (11) and rebounds (15) to go with four assists, two blocks and two steals.
"He does all the little things well and he plays so stinkin' hard," teammate Micah Potter said, "and that's annoying for defenses and offenses."
Bigger is better
Wahl's effort and willingness to scrap weren't issues last season, when he was a valuable member of the rotation on a team that won a share of the Big Ten regular-season title. But there were constant reminders to Wahl that he needed to bulk up to be better equipped to handle the bigger bodies he faced on a nightly basis during conference play.
One snapshot that stuck in Wahl's mind — an Associated Press photographer captured the moment — was being manhandled by Rutgers forward Ron Harper Jr. during a battle for a rebound. Harper wrestled the ball away from Wahl and scored a putback during the Scarlet Knights' 72-65 win over the visiting Badgers early in the Big Ten campaign.
Replays showed Harper essentially giving Wahl a bear hug, and the Big Ten Network crew calling the game even thought Harper should have been called for a foul. Wahl instead was whistled for a foul on the shot that gave Harper a chance at a three-point play.
Wahl didn't complain at the time or now. He simply used that play and others as motivation to get bigger heading into his second season at UW.
"It's one thing that kind of sticks in your head," Wahl said. "I don't want that to happen again."
The 2019-20 season ended abruptly due to the pandemic and UW soon after went to virtual classes for the spring semester. Before Wahl even had arrived home in Minnesota in April, he'd sent a text message to Trevor Morning: "Hey, can I get in the lab when I get back?"
Wahl's words put a smile on the face of Morning, the director of operations at the South Metro location of Englebert Training Systems. The company, founded by a former member of the UW football team (Ryan Englebert) and Minnesota Vikings wide receiver Adam Thielen, specializes in sports performance and Wahl has been going to the facility in Lakeville, his hometown, since he was in high school.
When ETS wasn't closed due to the pandemic, Wahl would arrive at 6:30 a.m. four days a week for 90-minute sessions that included other college athletes from the Twin Cities. Morning put together an eight-week individual strength and conditioning program for Wahl and tacked on two additional four-week programs once UW's summer session was delayed.
Morning, a Wisconsin native who played football at UW-Stout, always has had a soft spot for Wahl because he's a Badgers fan. But Wahl's work ethic also made an immediate impression on his instructor.
"He's got that mindset that I'm going to do whatever I can to be better," Morning said. "He's just different in a great way."
Wahl wanted to get bigger and stronger, but Morning's program went beyond that. They worked on improving Wahl's explosiveness and ability to change direction efficiently.
When Morning tuned in for the first couple games this season, it wasn't hard to notice that Wahl had more pop in his steps and jumps. "It's awesome to see," Morning said.
Wahl was listed at 214 pounds as a freshman, but he was down to around 200 by the end of the season. One of the first priorities was to get some weight back on him, and Morning stressed the importance of nutrition and good sleep with a goal of adding at most two pounds per month.
At home, Wahl was gobbling down his mother's meals that by design were loaded with protein and good carbohydrates. While he wasn't necessarily noticing a change in his body when he looked in the mirror each day, others could tell.
"I'd see relatives or friends that I hadn't seen in a while and they'd say, 'Wow, you look a lot bigger,'" said Wahl, now listed at 220 pounds. "That was kind of the point where I'm like, 'Oh, I'm doing something right.'"
Long-range goals
Morning stressed to Wahl that he should trust a process that would take some time. That's the same message Wahl was hearing from Jay Fuhrmann, a longtime coach with the D1 Minnesota AAU program.
Fuhrmann is familiar with Wahl's game after coaching him since he was 14. He watched last season as Wahl established a spot in UW's rotation by being a Swiss Army knife of sorts, mostly providing hustle and sound defense off the bench.
Wahl already knew he wanted to become a sturdier version of that knife. He also wanted to add more tools and approached Fuhrmann for help.
Usually twice a week, Fuhrmann would run Wahl, Marquette freshman Dawson Garcia and George Washington sophomore Jamison Battle through a workout that included shooting and ball-handling drills. Wahl was particularly interested in improving his shot after going 6 of 28 from 3-point range (21.4%) while averaging 2.6 points and 2.6 rebounds in 31 games as a freshman.
Fuhrmann's first order of business was to make Wahl less "robotic" and more natural. He recommended that Wahl, who had a wide base when shooting, move his feet closer together.
"It was like he was trying to be perfect instead of just being a natural athlete," Fuhrmann said. "Just by moving his feet a little bit, he was able to spring off the floor and use his natural athleticism and just kind of release the ball in one motion.
"It was just kind saying, 'Let's try this.' All of a sudden, it just clicked. The ball started going in and we're like, 'We've got it now.' Then it was just about repetition, repetition, repetition."
Fuhrmann was watching from home when Wahl attempted a 3-pointer during the game against Arkansas-Pine Bluff last week. He didn't even follow the path of the ball, instead focusing on where Wahl's feet landed after releasing the shot.
Wahl nailed the landing — his base wasn't wide — and Fuhrmann knew the ball was going through the hoop. Since going 0 of 3 from beyond the arc in the opener against Eastern Illinois, Wahl has made two of his three attempts over the last two games.
That's a small sample size, and so is this one: Wahl is 5 of 6 from the free throw line after going 7 of 18 as a freshman. Fuhrmann said he wasn't worried about Wahl's free throw shooting because he always was between 70-80% during his AAU days and attributed the struggles last season to confidence and the toll of being a freshman in a physical conference.
"I'm excited to watch him this year because when he left this summer, he was in a really good spot mentally shooting the ball," Fuhrmann said. "So now it's just about translating that over to practice and then over to games. He put the work in, so I think he's just much more confident."
Future is bright
Wahl indeed is confident in both areas he worked to improve since last March.
While UW charts shooting numbers in practice, Wahl said he doesn't pay attention to them. "It goes in a lot more than it did last year," he said.
As for his bigger body — he also grew an height and now is listed at 6-foot-9 — Wahl immediately noticed the benefit of those gains as well. "I don't get pushed around at all," he said, "and I'm kind of the initiator now."
Wahl doesn't have to be a star on a team with six seniors. He can continue his jack-of-all-trades role, albeit a more durable version with the ability — and confidence — to add more on offense when necessary.
The beauty of Wahl always has been the willingness to do whatever it takes to help his team win. Some of that comes from being raised by a father who played the game — Tim Wahl was a standout at Mankato State in the late 1970s and early 1980s — and stressed the importance of keeping his teammates involved on offense while playing hard on the other end of the court.
"Every level that he's played at, he's figured out a way to be a really good, solid teammate," Tim Wahl said. "I think he's willing to do anything to make the team better. I was really proud of him how he did that as a freshman going into a team with all those really good players. That stood out the most. And he'll continue to do that. He'll get bigger and better."
That certainly was the goal this offseason. That hard work so far is paying dividends for Wahl and the Badgers.
"Tyler's going to have an amazing career here," Potter said about Wahl, who is fourth on UW in points (25), second in rebounds (16), tied for fourth in assists (4), second in blocks (6) and first in steals (4). "I don't know if I've ever told him that. I think he knows that, I think everyone knows that."
---
Get to know the Wisconsin Badgers' 2021 men's basketball recruits
Chucky Hepburn
Hepburn was named the Gatorade Player of the Year in Nebraska last season after helping Bellevue West go 21-3 and win the Class A state title. A two-time first-team all-state pick, Hepburn averaged 17.7 points, 6.1 assists, 4.6 rebounds and 3.1 steals as a junior. Off the court, Hepburn earned the HomeSchool Papillion TeenService Award and was a Special Olympics Volunteer Award winner.
UW coach Greg Gard: "Chucky is a proven winner. Our staff watched as he led his Bellevue West team to a state championship last winter. A true point guard, Chucky brings everything we look for at that position. He leads by example, always giving maximum effort on both ends of the floor. He has tremendous vision and feel for the game, combined with the ability to score from all three levels. As much as he is able to carry his team on offense, what makes Chucky a great fit here at Wisconsin is that his defense and toughness is where he hangs his hat. A leader and role model in the community and a motivated student, Chucky is the kind of person we are excited to add to our Badger Family. We're excited to get to work with him and to help him reach his potential as a Badger in the years to come."
Chris Hodges
Hodges, who played in the same Illinois Wolves AAU program that produced former UW standout Frank Kaminsky, was named Mid-Suburban League West Player of the Year after helping Schaumburg go 25-7 and winning the MSL title while advancing to the regional finals. He averaged 15.5 points, 8.0 rebounds and 2.0 blocks per game to earn second-team Class 4A all-state honors in Illinois.
Gard: "Chris is an excellent addition to our program and member of another strong recruiting class. He impressed our staff immediately during our advanced camp and has continued to improve since. Chris has tremendous potential with his large frame and natural strength, paired with an eagerness to get better. He will immediately bring both physicality and tenacity to our program. Chris fits in well with the work ethic and culture that our program has established. He comes from a great family that has clearly taught him to value hard work and education first. We are excited to welcome both Chris and his family to the Badger Family."
Matthew Mors
Mors is the reigning back-to-back Gatorade Player of the Year in South Dakota and has been named all-state four times during a career that began when he played on the varsity in the seventh grade. He averaged 19.4 points, 8.2 rebounds, 2.9 assists and 2.1 steals per game as a junior and enters his final season as South Dakota's Class AA all-time leading scorer with 2,127 points.
Gard: "We are very excited to add Matthew to our program. He has challenged himself as a student-athlete year in and out to become as well rounded a competitor as possible, both on and off the court. As a state champion in basketball and a successful multi-sport athlete in Yankton, Matthew has gained valuable lessons that will help him become the best leader and player possible. On the court, he plays with a certain level of toughness and physicality that fits our style of play, specifically in the Big Ten. He has a versatile skill set that will allow him to be effective in the post, off the dribble and is a terrific shooter from outside. Matthew's skillset, combined with a championship mentally, has us excited to begin working with him. We're excited for Matthew to join our Badger Family and we can't wait to begin working with him to help him reach his goals as a Badger."