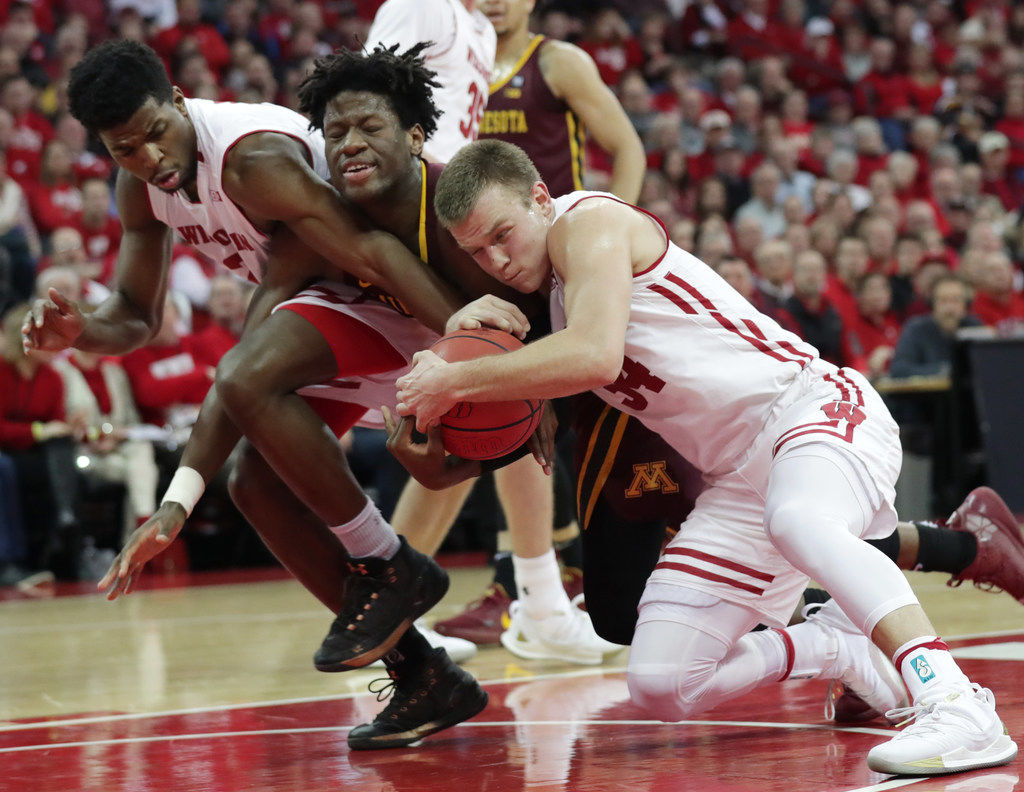 Ethan Happ had just logged 35 minutes, putting the University of Wisconsin men's basketball star at exactly 800 for the season and pushing his career total past the 3,800 mark.
These 35, which came in a 67-59 home loss to Michigan State last Tuesday night, were particularly demanding and left the senior center's body crying out in pain. The Big Ten is physical, and nobody in the conference delivers as many bruises as the Spartans.
Happ was exhausted afterward, for good reason. A reasonable response would have been to head back to his apartment to mope after a defeat that left UW's Big Ten title hopes hanging by a thread.
Instead, Happ followed his typical routine after home games, remaining at the Kohl Center for two hours after the final buzzer had sounded to go through treatment on his aching muscles. Call it the road to recovery.
"It's like a job almost trying to take care of your body," Happ said, "but it's crucial especially as you get older in your career."
Happ hasn't missed a game in his UW career and will make his 131st consecutive start when the No. 20 Badgers (17-8, 9-5 Big Ten) host Illinois (10-15, 6-8) on Monday night. A streak like that requires good fortune, but there's also plenty of dedication involved. From Happ, and from his support network at UW.
Keeping players healthy is hard over the course of a long season. The challenge became even greater when the Big Ten added two games this season, creating a 20-game grind that includes precious few opportunities for players to stop, catch their breath and heal.
"As fatigue sets in," UW athletic trainer Henry Perez-Guerra said, "the chance of injury goes up."
For big-minute players such as Happ, D'Mitrik Trice and Brad Davison, the wear and tear can take a toll. That's why the tag-team efforts of Perez-Guerra and Erik Helland, the team's strength and conditioning coach, are so valuable for the Badgers.
"There are a lot of things that go on behind the scenes," Davison said. "We always talk about valuing the fractions. With rehab and treatment, it all goes into that."
Recovery tools
The post-game treatment routine that sometimes has Happ leaving the Kohl Center after midnight following late games includes stretching, contrast bath therapy and some time in a NormaTec recovery system.
After an activity, Perez-Guerra typically recommends three cycles of the bath therapy: each sequence includes three minutes in the cold tub (55 degrees) and two minutes in the hot tub (90-plus degrees).
The NormaTec system looks like a pair of inflatable nylon pants and is connected to a compressor. It extends from the toes up to the hip and pulsates in sequences, starting at the foot and moving to the calf, knee and thigh regions.
The idea is to get the blood flowing and decrease swelling, soreness and lactic-acid buildup in the muscles.
When players are really sore, Perez-Guerra has another tool at his disposal: a HydroWorx underwater treadmill that has a massage hose attached to it.
UW also utilizes a massage therapist, Andrea Kean, who typically does treatment the day before games. Kean doesn't travel with the team during the regular season but will once postseason play begins.
Helland, who arrived at UW in 2013 after spending 25 seasons with the Chicago Bulls, brought along some tricks of the trade from the NBA that he and Perez-Guerra use to assess fatigue and readiness for practice and games.
One of them, a Firstbeat device, helps the staff monitor the physical stress players are under. The apparatus monitors heart rates and gives Helland and Co. an all-inclusive workload figure once the Firstbeat data is combined with self-reporting of rate of perceived exertion (RPE) by players.
Each of the Badgers also has an application on his phone called MetriFit, which gathers information on how the players are feeling. The app includes eight categories that measure everything from sleep quality and duration to general health to mood state. Each morning, players can rate these areas on a 1-to-5 scale, giving Helland and Perez-Guerra a clear picture before the Badgers even arrive at the Kohl Center for practice.
The Badgers have plenty of education and resources at their disposal. Ultimately, however, it's up to them to make the most of those tools because they spend so much time on their own.
"If diet and sleep are not dialed in," Helland said, "all the modalities — the NormaTecs, the massages — they don't mean very much."
There's another important piece of the puzzle: a commitment from UW coach Greg Gard. When Perez-Guerra and Helland feel strongly that Happ or another big-minute player needs a day off from practice, they know that input will be taken seriously by Gard.
"Part of it is getting your coach to buy into this, and he does," Perez-Guerra said. "I think more coaches across the country, as these schedules get deeper and deeper into March, you have to take that into account. You just can't beat them into the ground."
Stressed out
UW's recent six-game winning streak included a stretch of four games in 10 days. Add in two practices at the start of that run, and the Badgers went 12 consecutive days without an off day.
Two of those games — at Illinois and Nebraska — led to overnight arrivals back in Madison due to either late tipoff times or bad weather or both.
As much as Helland preaches about the importance of sleep and dietary habits, he understands how sometimes it's out of the players' control. Short nights of sleep followed by cramming in breakfast before walking to class in below-zero temperatures is a less-than-ideal process while trying to fight off fatigue.
One of the MetriFit categories is stress level, a figure Helland pays particularly close attention to because of the trickle-down effect it can have on everything else in a player's life. Now that the second semester is in full swing, there's academic stress added to the mix.
"Your body can't differentiate one stressor from the other," Helland said. "It's just added to this kind of soup."
While Helland can put a number on the stress on a body during games, there's no way to quantify the amount of stress put on a player's mind. But it's real, and it's something that Helland and Perez-Guerra consider when assessing fatigue levels and treatment plans.
For example, losses to Minnesota and Maryland earlier this season were double-whammy defeats in some respect. Both times, UW dug itself a huge hole before halftime and spent the second half trying to climb out of it.
"Losing is expensive," Helland said, "and chasing a team is expensive from an energy perspective."
All of which brings us to mid-February, the dog days of a season that is now three months old.
After the loss to Michigan State, UW had almost a week before Illinois comes to town. That's essentially a mini-bye in a schedule in which byes were eliminated prior to the 2017-18 season.
It couldn't have come at a better time, either. The Badgers needed a break after back-to-back defeats against physical teams, and Gard understandably gave his team off on Wednesday and Friday. Sandwiched between those off days was a practice in which the Badgers focused less on the Fighting Illini and more on areas where they needed work.
Helland, meanwhile, saw this week as a luxury in a long season. He viewed it as a time to reload, increasing training volume in the weight room on Thursday while encouraging the Badgers to get back to their normal sleep patterns.
Happ, who took the Michigan State loss particularly hard after committing six turnovers and going 0 of 6 from the free throw line, would have loved to get right back on the court for a game later in the week. His body was telling a different story than his brain, though.
"Mentally, probably you want a quicker turnaround," Happ said. "For everyone in the Big Ten right now is feeling it a little bit in their bodies and their legs, so it's good to get a little break."