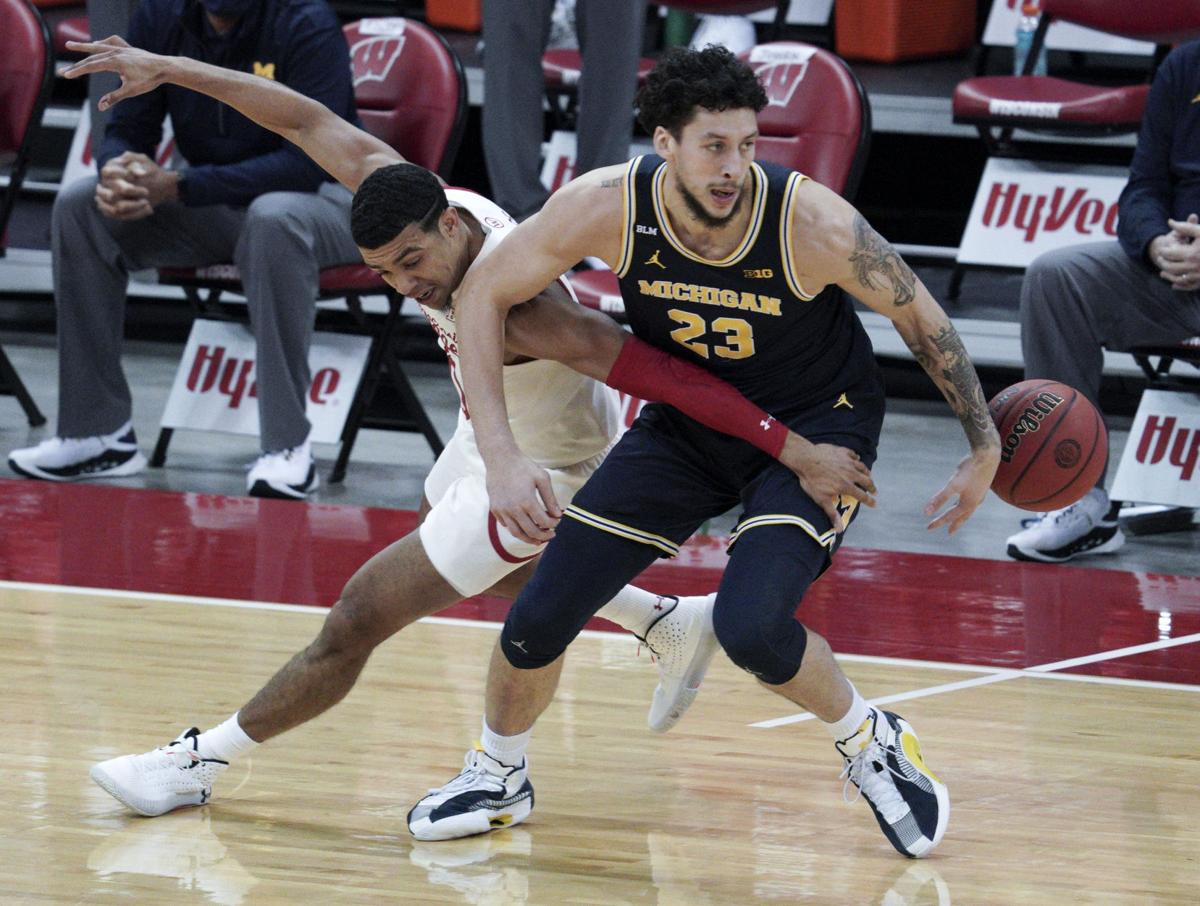 When the NCAA men's basketball selection committee made its early bracket reveal Saturday, 21st-ranked University of Wisconsin was nowhere to be found among the 16 teams.
That wasn't a huge surprise given that UW has been taking two steps forward and one step back throughout its Big Ten Conference schedule. However, it was a wake-up call for a team that had spent much of the season in the top 10 of both the human polls and computer ratings.
But Big Ten basketball is nothing if not a land of opportunity. If you want an opportunity to show people who you really are, there is usually a chance to prove it very quickly in the strongest and deepest conference in the country.
That is especially true for UW, which began a back-loaded Big Ten stretch run with a game against Michigan, third in the NCAA's latest NET Rankings, Sunday at the Kohl Center. Also included in the six-game, end-of-the-season gauntlet are a game against Illinois, which is fourth in the NET, two against Iowa, which is eighth, and one against Purdue, which is 26th.
As they always do, the Badgers viewed that brutal stretch as an opportunity, a chance to show that they're the team everyone thought they would be when the season began, one of the nation's top teams. If they hoped to work their way onto one of the top four seed lines when the NCAA tournament field is set in a month, they had the means to do it at their disposal.
Well, the Badgers revealed themselves Sunday, just not in the way they or their fans had hoped. UW played superbly on both ends of the floor in the first half, leading by as many as 14 points, but couldn't sustain its efficiency or intensity in the second half and suffered a hard-to-stomach 67-59 loss to the Big Ten-leading Wolverines.
With the loss dropping them to 15-7 overall and 9-6 in the conference, any chance the Badgers had of winning a second consecutive Big Ten title went out the window. More important, their chances of making a long run in the NCAA tournament next month dimmed considerably. They showed against Michigan what they had shown all season, that they are simply too inconsistent to hold up for an entire game against a top-tier team.
"That's a really, really good team and you've got to play the full 40 minutes against really good teams," coach Greg Gard said. "We're not at the point where we're doing that."
They haven't been at that point since the Big Ten season began. They are 0-4 against the best of the best, with two losses to Michigan, one to Illinois and one to Ohio State, which is seventh in the NET. Their only win over a team with a NET ranking better than 29 was against Loyola of Chicago (10th) in a hastily arranged non-conference game.
UW is close. It can hold its own against the top teams for long stretches. But whether those teams are more talented, more physical, more together or all of the above, the Badgers can't match up for 40 minutes when push comes to shove. Indeed, when Michigan pushed Sunday, UW didn't push back. At least not hard enough.
"We showed them first off that we can do it, that we can be a really, really special team," guard D'Mitrik Trice said. "We've just got to continue to put up a full 40 minutes. It can't be 35, it can't be 38, it's got to be a full 40 against these really good teams, these top-tier teams. If we want to be considered one of the best in the country, we've got to continue to work and continue to compete through the whole 40 minutes of the game."
For 20 minutes Sunday, UW did almost everything it set out to do. It snapped out of its 3-point shooting slump by going 5-for-7, its tenacious team defense kept Michigan from getting to the rim and it took a 12-point halftime lead over a Wolverines team that is now 14-1 overall and 9-1 in the Big Ten.
In the second half, however, Michigan turned up its aggressiveness on defense and grabbed key offensive rebounds and turned them into points. Offensively, UW hit a wall — it shot only 1-for-12 from 3 and had six costly turnovers in the half — and only freshman Jonathan Davis was able to consistently make plays against Michigan's aggressive defense.
"What we did in the first half is what we wanted to do in the second half, but that's what they did to us," forward Aleem Ford said. "They put us on our heels and made us uncomfortable on the offensive end and they were able to get comfortable on the offensive end themselves. So it's just putting together a complete 40 minutes and when they punch us to punch back. The second half today we didn't do really a good job with that and just being the aggressor."
Losing a game they had under control was what made the loss to Michigan so telling and, for the Badgers, so painful.
"Obviously, we don't want to take any (losses)," Trice said. "But this one, where we did lead for most of the game, definitely hurts. We're definitely going to watch the film and figure out what went wrong, especially in the second half. We've still got a lot of opportunities here in the second half of the season and really in these last five games. We've got a lot of top-tier teams, so we can't hang our heads for too long. Just get back and get better and be ready to attack the next day."
The Badgers have been saying that for months. Now time is running out.
---
Photos: Badgers struggle in second half as Wolverines storm back