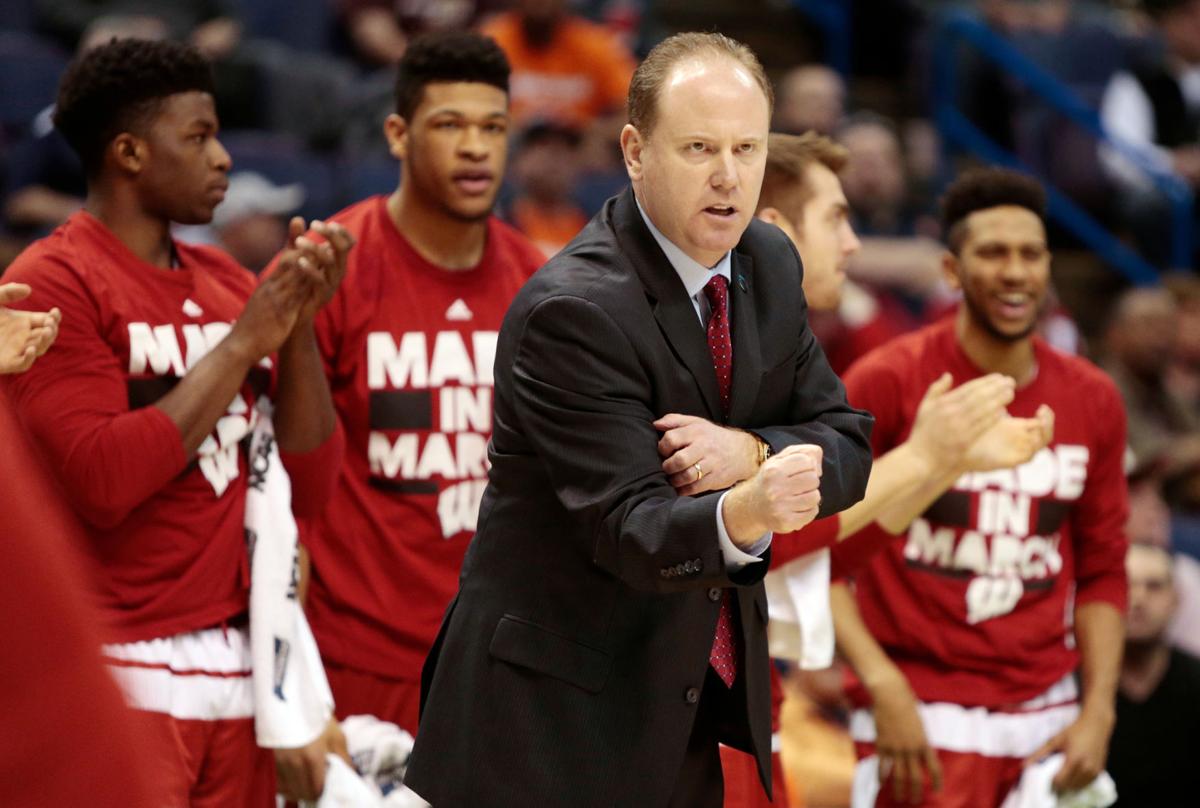 PHILADELPHIA — After a two-year respite from the noise, courtesy of Frank Kaminsky, Sam Dekker and the high-powered University of Wisconsin teams that reached back-to-back Final Fours, the Badgers have seen their critics return.
The network TV know-it-alls, who usually learn two or three generalities about a team and repeat them over and over, are back at it. To hear them tell it, people once again should cover their eyes whenever UW plays.
"Wisconsin makes the game ugly," ESPN analyst Jay Williams said after the seventh-seeded Badgers won low-scoring street fights with No. 10 Pittsburgh and No. 2 Xavier in the first two rounds of the NCAA men's basketball tournament last weekend.
Williams isn't alone in repeating this tired, uninformed refrain. The same experts who gushed over UW's unselfish, ultra-efficient, pleasing-to-the-eye offense the past two years are now hammering the Badgers for their slow-paced, boring style, just like they did for much of retired coach Bo Ryan's tenure.
However, such criticism misses the point because if they bothered to look, the experts would see that not all that much changed except UW was putting more experienced, offensively gifted players on the floor the past two years than it usually does. The biggest difference isn't the style, it's the players.
Not to worry, the Badgers have lived with such criticism for years and their answer is always the same: Winning is never ugly.
"We're winning games, so it doesn't really bother me at all," guard Bronson Koenig said. "We're just playing to the strengths of our players, especially this year. We have to ugly up the game to win. We're not talented enough to do what we did the past two years."
Instead of criticizing the Badgers for their style of play, the analysts should be commending coach Greg Gard, his staff and his players for figuring out a way to get a team that lost five seniors — three to the NBA, two to other levels of professional basketball — and endured a coaching change 12 games into the season to make its fifth Sweet 16 appearance in six seasons. There are a lot of ways to get the job done in basketball and they should be praising UW for being able to adapt its style to its talent without missing a beat.
"What's the end-all goal? To win the game, right?" said Gard, who has a 15-7 record since replacing Ryan in December. "So you try to find a way to win the game."
Few schools have done that better than UW in recent years. The Badgers have finished in fourth place or better in the Big Ten Conference for a record 15 straight seasons. They are playing in their 18th consecutive NCAA tournament, the fifth-longest streak in NCAA history. They are the only team that advanced to the Sweet 16 in five of the past six seasons. They have won 15 NCAA tournament games since 2011; only Kentucky, with 20, has won more.
With Koenig and Nigel Hayes as the only returning starters, this UW team plays more like the 2010-11 team led by Jon Leuer and Jordan Taylor than the star-studded cast that won the nation's hearts the past two years, even going back to the swing offense. Yet, the Badgers are still grinding out victories.
You have free articles remaining.
"I rarely even look at the tape of last year's group when we're playing a common opponent because it was such a video game of talent and experience," Gard said. "We can't replicate all the things that came together with last year's team offensively because we don't have the same pieces. For me to try to try to replicate that wouldn't do this group any good. It would be a disservice to this group.
"This group had to learn how to defend, had to learn how to take care of the ball better, had to learn how to be tougher, had to learn what was a good shot and what wasn't a good shot because there wasn't a margin for error. That margin was so small we had to make sure and say, 'Hey, we might not be able to score every night. We don't have a boatload of experienced scorers like we had before or a 7-footer that can make plays from 30 feet out.' So the personnel has changed and you have to adapt to what gives you the best chance to have success. That's what we've tried to do."
That's what UW has done since Ryan, with Gard as his assistant, arrived 15 years ago. The Badgers have never been a high-wire act. Most years, they don't have the personnel for that so they have to figure out other ways to win.
The problem with the critics is they don't respect teams unless they play entertaining (read: high-scoring) basketball, even if they win a lot. To them, defense is something that should be legislated out of the game. Instead of a 30-second shot clock, they want it at 24.
For some reason, they fail to grasp the notion that not every school can play the way Duke, Kentucky, Kansas and North Carolina do. Most schools don't have the ability to recruit exclusively off the McDonald's All-American rosters, so they have to figure out other ways to keep up with the big boys. They have to get next-level players and develop them. They have to change the game by limiting turnovers, working for good shots, playing great defense or controlling the tempo.
Few, if any programs do that better than UW. The Badgers rank 11th in the nation with 162 victories over the past six seasons. Of the teams ahead of them, three — Wichita State, Gonzaga and San Diego State — play in mid-major conferences. The only power-conference programs with more wins than UW during that time are Kentucky and Kansas with 182 each, Duke with 175, Arizona with 172, Louisville with 171, North Carolina with 166 and Ohio State with 164.
The combined number of McDonald's All-Americans recruited by those seven schools over the past eight seasons is 83. No school in the group had fewer than four. UW, on the other hand, didn't have one.
If you define pretty basketball as scoring points, then UW doesn't play the prettiest game in the nation. But no school has adapted its game to the kind of players it can recruit better than UW.
The Badgers rank 345th out of 351 teams in KenPom.com's tempo rankings this season, averaging 63.9 possessions per game. What most don't realize is last year UW ranked 346th at 59.0 possessions per game. Of course, last year's team ranked first in KenPom.com's offensive efficiency rankings while this year's team is 87th.
And, oh by the way, coach Tony Bennett's Virginia team, which also is in the Sweet 16, ranks 351st and last in tempo. Still, the Cavaliers aren't being criticized because their upperclassman-dominated team is playing very efficiently on offense.
But let the critics have their say. UW will settle for winning, no matter how it looks.
"If winning is ugly, I'll take it," assistant coach Howard Moore said. "People talk about what something is supposed to look like. People talked for years about how the (San Antonio) Spurs were boring to watch or their style of play wasn't this, that and the other. But they win. And we find ways to win. That's important. But we do it within our principles. We aren't changing what we are or who we are and we're definitely not going to change how we do it. People can say what they want, but guess what? We're in the Sweet 16."